It's that moment you come to the realization you have forgotten the birthday of someone you care about. First step, you instantly accept the absent-mindedness, second step, you search "Happy Belated Birthday Images", and there you are!
If you happen to be the one who's ready to apologize for forgetting and wish them a Happy Birthday – even a bit later – this collection of free belated happy birthday pics is yours to share with the birthday girl or birthday boy! Yes, NOW!
Funny Happy Belated Birthday Images
Humor is the best way to say you're sorry for wishing a bit later…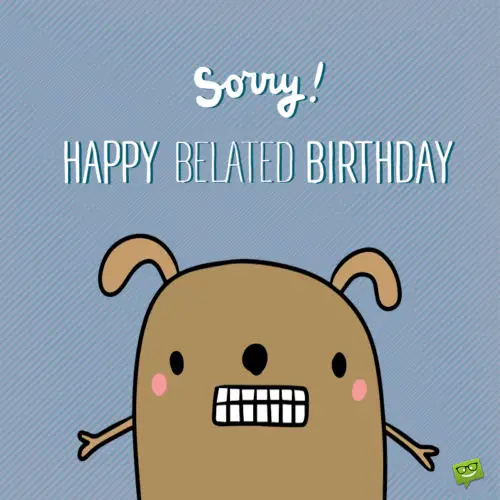 It's surely happened to many, and wishing someone after that special day
doesn't mean the wishes aren't as special. It's a lovely image to say just that,
in this light blue background and funny looking dog,
with that adorable "oh no" expression.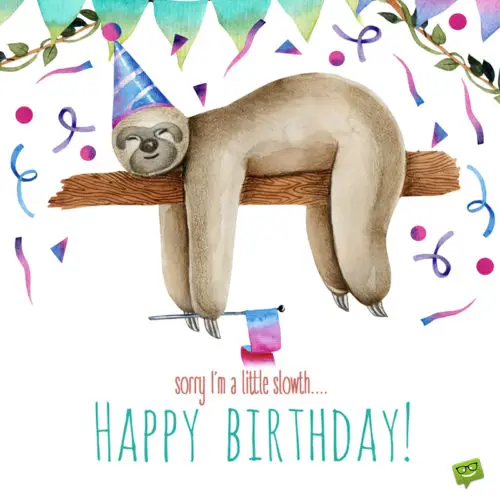 No loved one will mind receiving birthday wishes a bit belated, especially when
they know their beloved 'slowth' loves them. All the party decorations
in the background and that funny sloth just hanging around
will put a smile on their face on any day.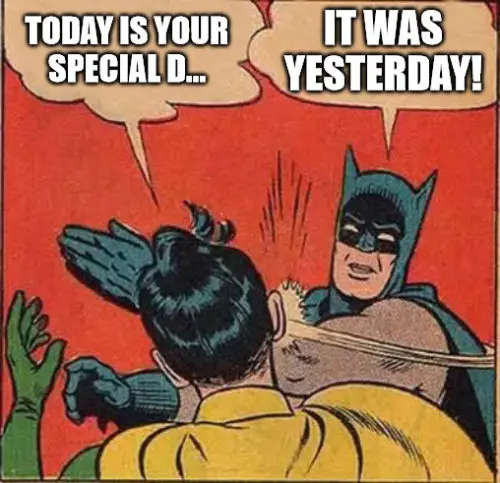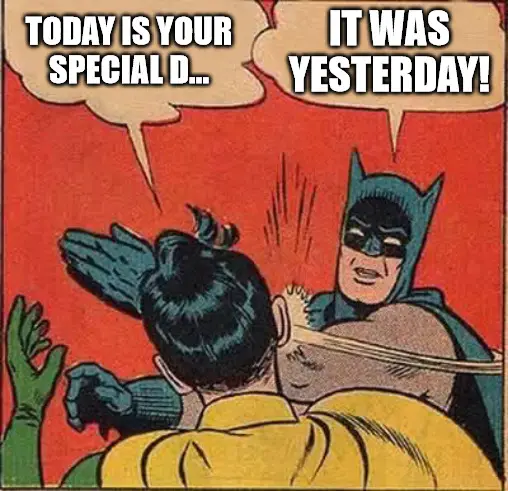 What a wonderful way for super heroes to debate on what day is your birthday.
When Batman and Robin are at it about that special day, then surely you are quite important.
A very colorful meme with a funny comic concept. Great belated wish.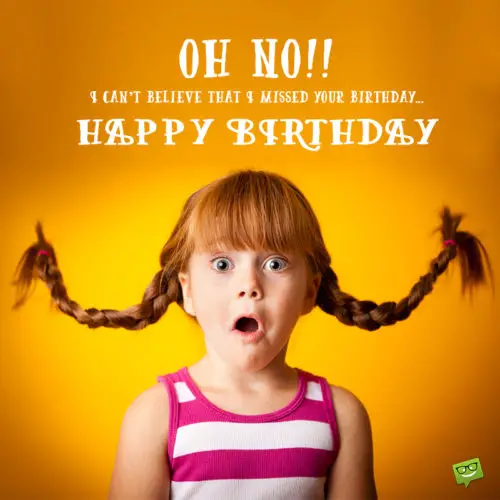 How can you not smile when you see this sweet blue eyed little girl?
The amazing red haired braids flowing in air with that
"oh, I'm sorry I didn't wish you the best on your special day" is a heart melter.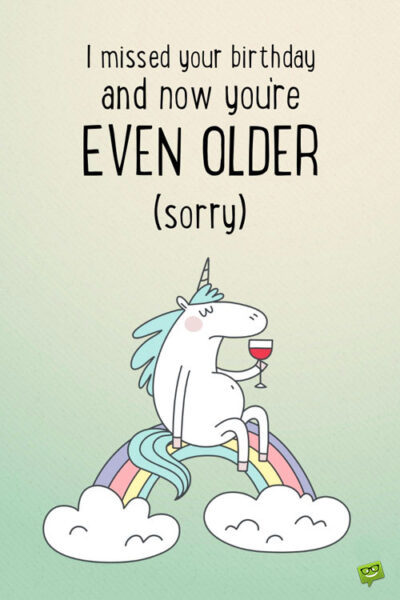 Wouldn't you want to see the funniest unicorn? Well here it is,
sitting on his rainbow, drinking and cheering in your honor.
He is celebrating your birthday! So what, it's a bit later.
Sometimes you need that great old Simpson character to make another day special.
Homer hitting his head for being forgetful and thinking of how much he would have loved not to
shows how important you are. What matters is that the wishes you receive, are welcomed every day.
Happy Belated Birthday Images for Her
If she's the lovely woman, these belated happy birthday images will try to out-cute her.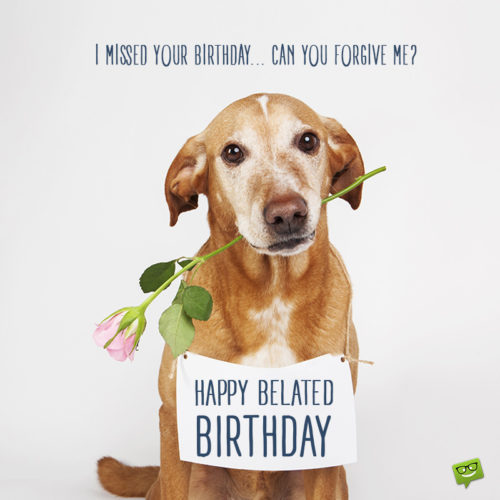 Wouldn't you be happy if this cute, adorable dog looked at you with these lovely brown eyes?
And if that isn't enough, how about that beautiful pink rose in his mouth, just for you.
No matter who forgot to wish you on your special day,
they are forgiven the second you set eyes on this beauty.
Also read: 60 Ways to Say "Happy Birthday Beautiful!"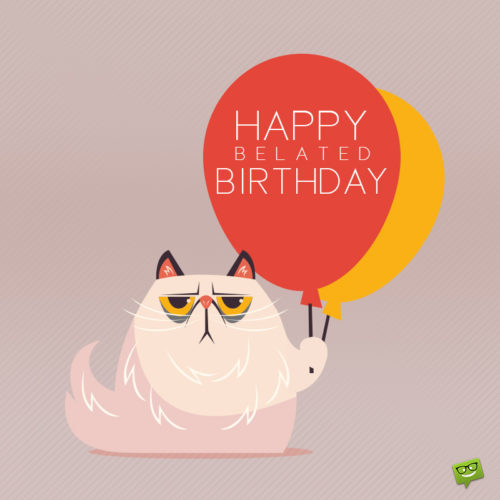 What could be funnier than this thick white haired serious looking cat,
staring straight at you because he missed wishing you on your special day.
It seems he can't believe it either, as he is holding up his yellow
and red happy belated birthday balloons. Surely he is forgiven.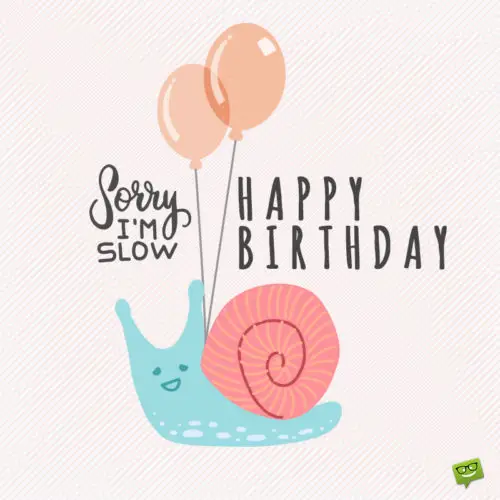 What a more appropriate way to point out speed than this cute light blue
and pink snail. You know it's on its way, just don't' hold your breath.
Oh, and how thoughtful to be carrying balloons for your
belated happy birthday wishes.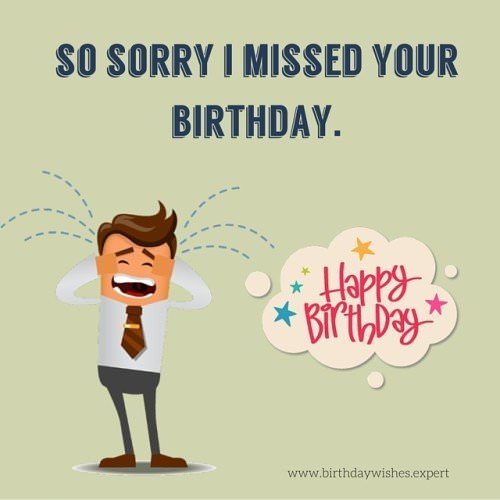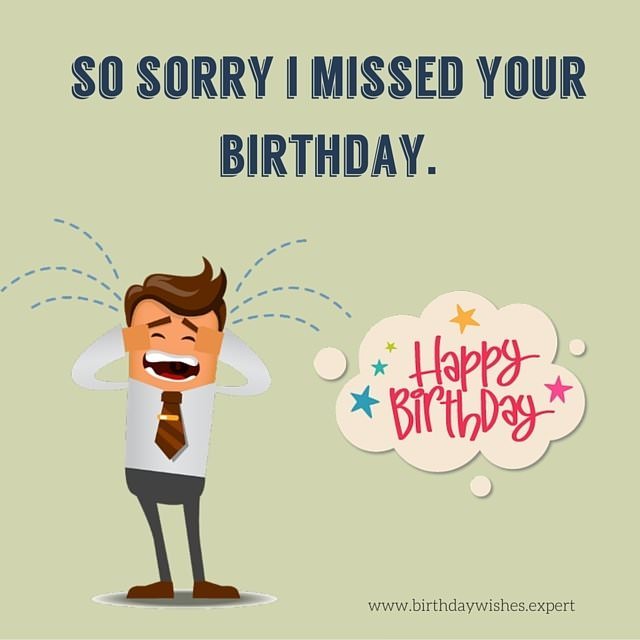 There's no better image than this man just kicking himself,
to convey what you feel for not remembering something so important.
Missing one's birthday will do that, especially when you've remembered
it all the previous days. Cheer up, it's clear how sorry you are and
yes, you will be forgiven.
Related: Cute Birthday Messages to Impress your Girlfriend
Happy Belated Birthday Images for Him
Friend, colleague, relative, lover, he deserves those wishes even now. Better late than never!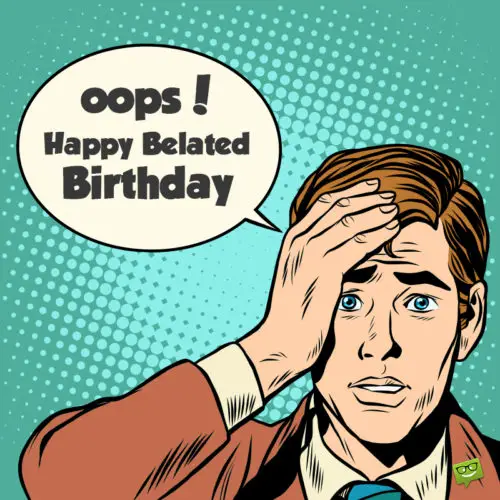 It is always great to know that, better late than never may apply for just anything.
This young man holding his head seems to be feeling quite badly
for being forgetful on that special day. That alone says a lot on
how important you are. Wishes are a must even if it's later.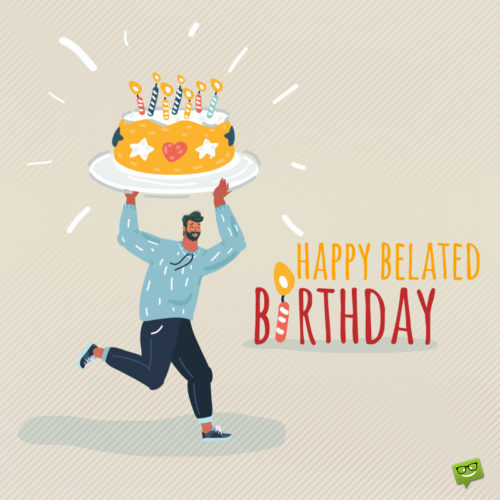 What an amazing fun and exciting way to express joy for a birthday
even though it's celebrated a bit later. This energetic man carrying a huge
yellow birthday cake up high over his head and running
towards you to say "happy belated birthday" is simply wonderful.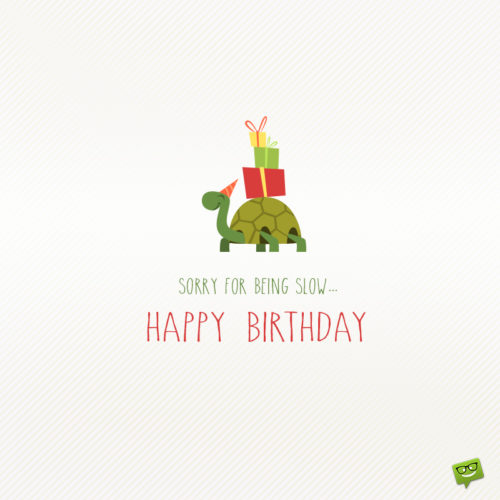 Wouldn't you be happy if someone expressed his wishes in this cute way
of a turtle carrying colorful gift boxes on its shell?
Indeed, he is a little slow but, most importantly,
the best belated birthday wishes are upon arrival.
Happy Belated Birthday, Nephew Images
It must be heratbreaking to be his favorite aunt or uncle and then realize you forgot!
These images will make it up to your nephew…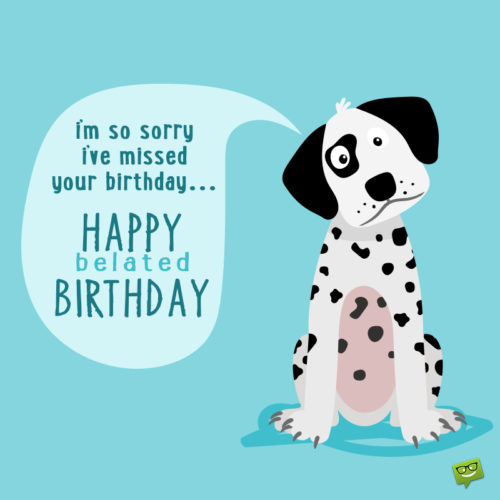 What would be more appropriate than this beautiful Dalmatian
to express how much you regret forgetting your nephew's special day?
Surely your wishes will bring much joy in spite of being overdue.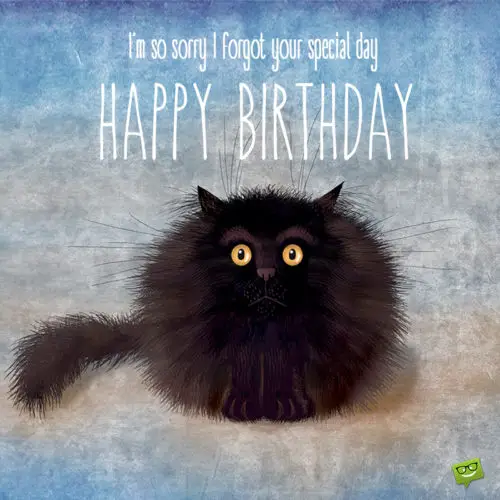 It's a great funny way to say you are sorry for forgetting one's special day.
This amazing cat with its eyes so wide open expresses his own shock
that it simply slipped his mind. The very best birthday wishes
are still to be accepted.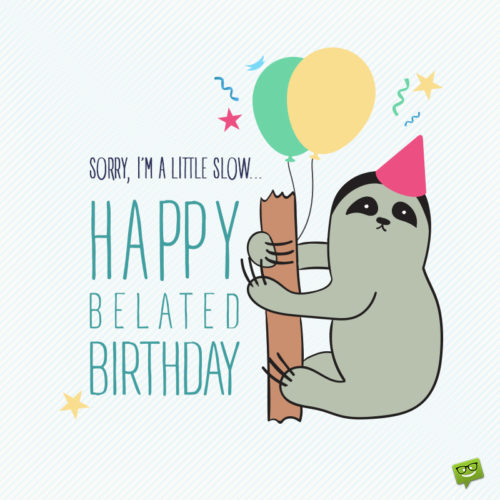 Oh, such a cute way to say happy belated birthday. This amazing sloth
with a sad face portrays how you feel about it.  The balloons
he's holding though are festive and still in tact with the birthday spirit.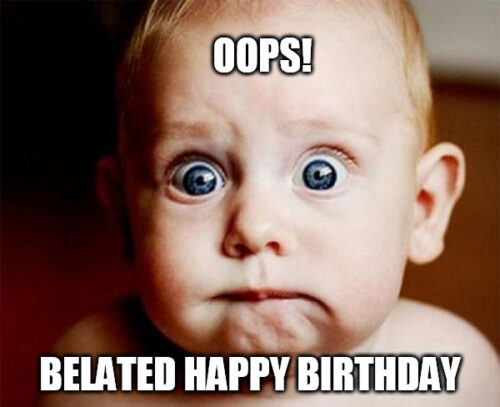 Who wouldn't want to receive this cutest ever baby face,
showing how bad he feels for forgetting your birthday?
His big wide blue eyes say it all. Belated Happy birthday.
If you enjoy this post you may also want to check out our collection with Birthday Wishes for Nephew
Happy Belated Birthday, Boss Images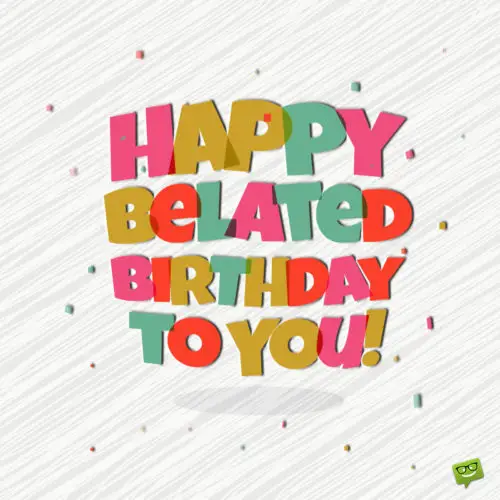 What a vivid and fun way to keep the excitement of that special day
even though your wishes are expressed afterwards. You are on the right track
as the colorful letters and party confetti still have that birthday celebrating spirit.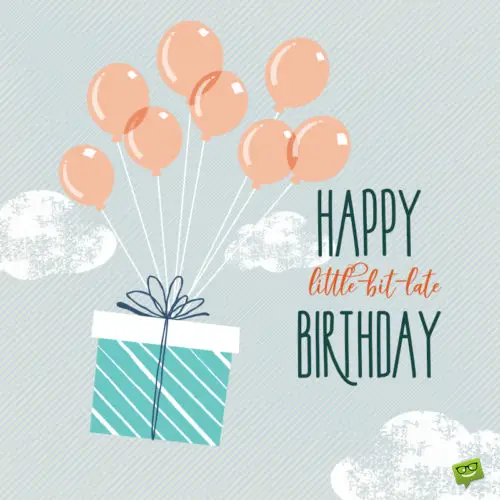 Wouldn't it be wonderful if you received this beautiful, elegant image,
full of birthday wishes and balloons carrying a gift box?
A very graceful pic expressing the best, though a little late.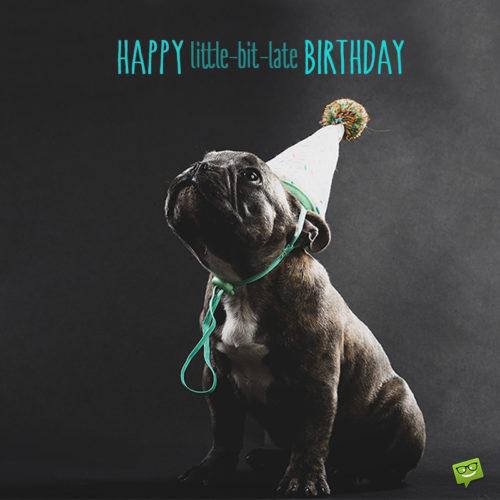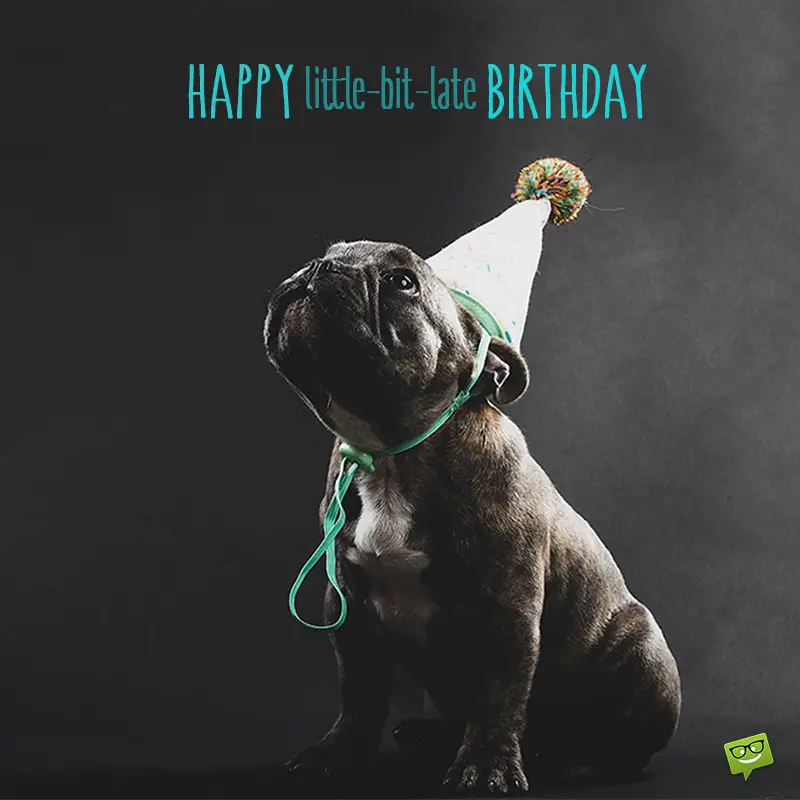 What a funny way to say happy belated birthday.
The birthday hat on this cute dog and his expression
of "hey, I may be late but I'm here" is a heart warmer. 
You will find more ways to wish your boss on their big day in our article with Birthday Wishes for Boss
You May Also Like:
100 Belated Happy Birthday Wishes to Say You're Sorry You Forgot and Wish Them the Best
200 Great Happy Birthday Images for Free Download & Sharing