Hey, Friends and Foodies! Ready to shake up this year's Thanksgiving with a side of sass and a dash of dazzle? As we prep for the parade of pumpkin pie and our favorite mashed potato mountains, there's something else that deserves a sprinkle of creativity—your funny Thanksgiving captions for your Instagram pics! Sure, your feed will be flooded with plates piled high and turkeys golden-brown, but it's the words beneath your pic that can turn that 'like' into love.
So, before you dive fork-first into the holiday spirit, let's up your caption game. We're here to arm you with the cheekiest, grin-inducing one-liners that'll make your posts as memorable as that secret family recipe. Snap those pics, hit 'post', and watch the heart emojis roll in faster than Aunt Marge saying, "More gravy, anyone?"
Table of Contents
Classic Thanksgiving Captions
Kick off your Thanksgiving with a nod to tradition sprinkled with a touch of fun. These punchy captions will pair perfectly with any Turkey Day snapshot—from the first slice of turkey to the last piece of pie.
Feast your eyes, it's Turkey Time!
Talk turkey to me—it's gobble o'clock!
A grateful heart is a magnet for miracles… and second helpings!
Stuffed with stuffing and feeling grateful.
Keep calm and gobble on.
Thankful for the food before us, the friends beside us, and the stretchy pants among us.
Gather 'round and let's give 'thanks' for stretchy pants.
Here's to a day filled with family, food, and unforgettable memories.
Turkey: check. Pie: check. Nap: in progress.
Eat, drink, and be thankful—today, we feast!
Carving out good times and great memories.
Pumpkin spice and everything nice—that's what Thanksgivings are made of.
Getting basted this Thanksgiving.
Nothing beats a table full of food and a heart full of thanks.
Gravy train to mashed potato mountain.
Pass the turkey and turn up the thankfulness.
Thankful today, thankful always.
Pie love spending Thanksgiving with you.
My happy meal: a plate full of Thanksgiving.
Thanksgiving: Bringing out the best of family, food, and funny stories.
Gobble 'til you wobble.
Pies before guys.
Thanksgiving: A time to count blessings, not carbs."
Keep calm and gobble on.
Leftovers are for quitters.
Feast mode: ON.
Eat, drink, and be cranberry.
This stuffing is the tur-key to my heart.
Oh my gourd, I love Thanksgiving!
Winner, winner, turkey dinner.
Talk turkey to me.
Hit me with your best gravy shot.
Feast your eyes on this.
Who's ready for some football and full bellies?
Bad day to be a turkey.
Turkey and wine and I'm feeling fine.
Let's give 'em pumpkin to talk about.
Wham, bam, thank you yam.
Gravy train conductor at your service.
Stuffing is the glue holding this day together.
May your pants be stretchy, glasses stay full, and family be bearable.
You can't live a full life on an empty stomach.
Family, Turkey, and Football – Oh My!
Here's to family, food, and awkwardly avoiding politics at the dinner table.
The turkey isn't the only thing in the oven – I'm baked too.
More rolls? You butter believe it!
Just keep eating, just keep eating…
Related: Grateful Thanksgiving Messages for your Boss
Hashtags for Sharing the Festive Spirit
#ThanksgivingVibes, #TurkeyTime, #GiveThanks, #FeastMode, #ThankfulHeart, #FoodComa, #PieLove, #GobbleGobble, #FamilyFun, #Stuffed, #PumpkinEverything, #TurkeyDay, #GratefulGang, #AutumnAesthetic, #ThankfulForFood, #BastedInBlessings, #CarvingMemories, #Thanksgiving2023, #FeastingFam, #HappyThanksgiving
Turkey Day Humor
Ready to ruffle some feathers with your captions this year? Dive into our trove of turkey-themed zingers and overeating one-liners that'll make your followers want to join your table—or at least double-tap your photo.
Gettin' basted: it's not just for turkeys anymore.
This turkey is so stuffed, it just asked for a glass of wine.
Warning: May fall into a turkey-induced coma soon.
The turkey isn't the only thing getting roasted today!
I'm about to turn Thanksgiving into Thanks-living-on-the-couch.
Why did the turkey cross the road? To get to the fun side of the table.
Just to be clear, 'Juicy' is a term for turkey, not my post-dinner sweatpants situation.
Squash goals: Eating this meal until I'm one with the couch.
Let's get cranberry sauced!
Thanksgiving: Where calories don't count and the turkey is always right.
Buckle up, buttercup. We're on the gravy train.
Elastic is fantastic—said every Thanksgiving pants ever.
It's leg day for the turkey, but not for me.
I'm all about that baste, no trouble.
This stuffing has more layers than my family's dinner conversation.
I came. I saw. I conquered… the turkey, of course.
Found the turkey's wishbone, which I obviously used to wish for more turkey.
Feast your eyes on my plate, if you dare.
Gobble till you wobble, then lie down and moan about it.
Who needs a six-pack when you can have a turkey pack?
Hashtags for Your Best Thanksgiving Instagram Captions
#TurkeyHumor, #StuffedLikeATurkey, #FoodComaChronicles, #GobbleTilYouWobble, #FeastBeast, #ElasticWaistbandDay, #PoultryInMotion, #CranberrySauced, #ThanksgivingLaughs, #ThankfulForHumor, #TurkeyDayPuns, #GetYourGobbleOn, #StuffingNotEnoughing, #GravyBoatCaptain, #MorePiePlease, #LegDayTurkey, #BasteMode, #WishboneWishes, #PlatefulOfFunny, #TurkeyPack
Gratitude with a Twist Captions
When gratitude turns into great attitude, that's when Thanksgiving really shines. Here's to captions that mix thankfulness with a pinch of humor—perfect for reflecting the joy of the day from the dinner table to your Insta feed.
Feast mode: activated. Gratitude mode: even more activated.
The only thing higher than my cholesterol today is my level of gratitude.
Here's to having the best attitude, and the fullest plate at the table.
Grateful for the feast, thankful for the fam, and yes to more yams!
Today's forecast: 100% chance of gratitude and a side of gravy.
Feeling blessed and mashed potato obsessed.
Gratitude turns what we have into enough… plus, leftovers!
Thanksgiving: a time to count blessings and blessings disguised as pie.
Cheers to cheerfully eating all day and accepting gratefully the need for stretchy pants.
The dinner table's set, the gratitude's high—let's eat until the turkey's dry!
Blessed with the best, from the turkey to the zesty rest."
My heart is as full as this Thanksgiving day plate—overflowing, really.
Pumpkin pie and sparkly eyes, grateful hearts bring the best highs.
Giving thanks and taking names—and servings of stuffing, obviously.
This Thanksgiving, I'm all about that baste and the blessing.
Serving up a slice of gratitude with every piece of pie.
On Thanksgiving day, we turn our gratitude into a feast mode celebration!
Thankful, grateful, and significantly less able to fit into my jeans.
Grateful for the family, thankful for the friends, and yes, even thankful for the end-of-night food coma.
Today's mantra: Inhale blessings, exhale gratitude. And maybe unbutton the pants.
Hashtags for Your Thanksgiving Captions about Gratitude
#GratitudeAttitude, #BlessedAndStressed, #ThanksgivingThankful, #GratefulHeart, #FeastWithGratitude, #ThanksgivingTableTalk, #BlessedBeyondMeasure, #GratitudeGang, #ThanksgivingDayJoy, #CountYourBlessings, #GratitudeAndGravy, #FeastModeThankful, #PlatefulOfGratitude, #ThankfulForLeftovers, #GobbleGratitude, #HappyThanksLiving, #MashedPotatoMood, #BlessedFeast, #AttitudeOfGratitude, #ThankfulTidings
Related: Thanksgiving Messages for Teachers When Feeling Thankful and Grateful
Slice Up Laughter: Hilarious Pumpkin Pie & Dessert Captions
Ditch the diet and dig into some humor with your dessert this Thanksgiving! Here's a sweet serving of punchy and funny captions that'll make your pumpkin pie pics and dessert snaps the life of the party.
Pumpkin pie: because you gotta have something to do while avoiding family drama.
Keep your friends close and your pumpkin pie closer.
This Thanksgiving, I'm grateful for elastic waistbands and second helpings of pie.
Pie'm so excited, I just can't hide it. #PumpkinLove
Just a pilgrim on the pursuit of pumpkin pie.
Pumpkin spice and not everything nice—when you fight for the last pie slice.
Eat, drink, and be berry—because tomorrow's diet can wait.
Pumpkin pie: making family gatherings bearable since 1621.
If you didn't have pumpkin pie, did Thanksgiving even happen?
Is it even a feast if your pants don't feel the least bit threatened?
Whoever said diamonds are a girl's best friend clearly never had pumpkin pie.
Family: can't live with 'em, can't eat all this pumpkin pie without 'em.
Thankful for stretchy pants and the kind of friends you can eat an entire pie with.
Sweet as pumpkin pie and twice as spicy.
My Thanksgiving workout: fork lifts, pie curls, and dinner dashes.
Life's short, eat the pie. 'No' is not a pie flavor.
On Thanksgiving, I'm a multi-slacking champ—eating pie and judging your whipped cream dollop.
I didn't choose the pie life, the pie life chose me.
Feeling thankful for the three Ps: pumpkin pie and more pumpkin pie.
Pie'll love you forever, but I may not share my slice. #ThanksgivingSavage
Hashtags for Your Sweetly Hilarious Posts
#PumpkinPieHumor, #PieBeforeGuys, #ThanksgivingEats, #SliceToMeetYou, #MorePiePlease, #DessertDrama, #FunnyFeast, #PilgrimPlates, #ThanksgivingThickening, #PieNot, #ElasticPantsDay, #DessertDebacle, #PumpkinPieOrBust, #LaughsAndLeftovers, #PieHappy, #SweetSliceOfLife, #ThanksgivingGiggles, #LastSliceStand, #PieJokes, #WhippedCreamWars
Related: Thanksgiving Wishes for your Sister and Brother
Family, Feast, & Fashion: Thanksgiving's Triple Threat Captions
When it comes to Thanksgiving, it's not just about the turkey and the trimmings—it's about the quirky family's questions, the trendy toasts, and, of course, the outfits that have to be as stuffed as our bellies. Dive into a mix of heartwarming and humorous captions that capture the essence of family, the feasting frenzy, and those fabulous Thanksgiving OOTDs.
Coffee kickstarts my heartbeat, but Thanksgiving's all about cereal interrogations and fancy toast debates.
This Turkey Day, we're all in for the three S's: Stretchy pants, second helpings, and sincere thanks.
Family language? It's all about 'please pass the gravy' and 'more turkey, thanks!'
It's a mashed potato kind of love affair. Thankful and all in for the starch.
Gobble till you wobble! It's eat, drink, and be cranberry merry!
Family + Feast = Forever. Let's stay stuffed with love and pumpkin kisses.
Toast to food, love, and the patience for those 'marriage-when' probes with a thankful, full heart.
Feast mode: because 'moderation' on Thanksgiving is just another word for 'leftovers'.
Happy Thanksgiving, where we talk fifty shades of gravy and no one judges your plate piling skills.
Hit me gravy one more time—it's not just a song, it's my Thanksgiving dinner strategy.
Thanksgiving outfit requirement: must accommodate food baby and facilitate the transition to feast mode.
Dressed to impress my plate because Thanksgiving dinner is the real catwalk.
Fashionable enough for Insta, comfy enough for seconds—OOTD nailed.
My OOTD: a fabulous mix of chic and elastic—a perfect pair for a day of thanks and planks.
Rocking my Thanksgiving best—grateful for elastic and a vest that hides the rest!
Leftovers Love: Celebrating Thanksgiving's Second Round
Who says the party ends after Thanksgiving? For many of us, the love affair with leftovers is just beginning. Here are captions that capture the glory of round two, because let's face it, the fridge is full as my plate was yesterday, and that's a wonderful place to be.
Leftovers are just a silent gratitude that takes eating to a whole new level.
Day after Thanksgiving: where my fridge is as stuffed as I am.
Finding someone who puts gravy on their leftovers like you do: that's the same food language.
Leftovers: because the Thanksgiving dress code should really last all weekend.
Eats hard, naps harder, loves leftovers hardest.
When the leftovers look at you and say, 'Welcome back!'
In this house, we believe in second chances… especially for stuffing and pie.
Who needs Black Friday when you've got Tupperware full of Thanksgiving hits?
My cardio today? Jogging to the fridge for more leftovers.
Thankful for leftovers: making sure the feast continues and the stretchy pants stay on.
Hashtags for Leftover Lovers to add to your Thanksgiving Instagram Captions
#LeftoversForDays, #FullAsMyPlate, #WonderfulLeftovers, #SecondHelpingSquad, #SilentGratitude, #GravyWithEverything, #EatsHardLeftoversHarder, #ThanksgivingDressCode, #SameFoodLanguage
As we wrap up our cornucopia of clever Thanksgiving captions, remember that they're the perfect side dish to a holiday filled with too much food and just enough family time—where talking politics is best left off the menu. May these quips bring a dash of wit to your celebration and pair perfectly with every snapshot you share. Happy Thanksgiving to all, and here's to finding the right words that capture the belly laughs and the heartfelt moments in equal measure.
Pin this Image to Save this Post for Later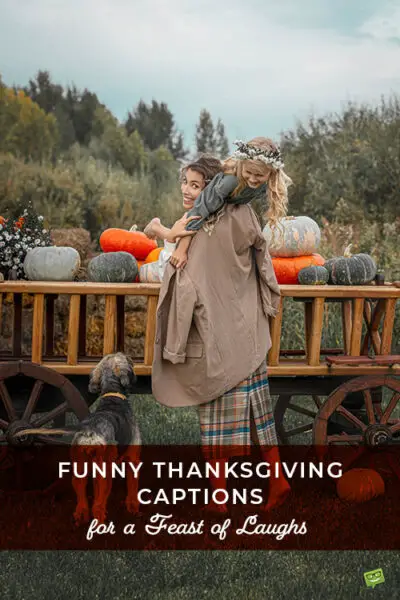 You May Also Like:
150+ Thanksgiving Quotes for a Day of Real Gratitude
Best 12 Thanksgiving Cards that Capture the Spirit of Gratitude
Find the Right Words to Express your Gratitude : Thanksgiving Messages