On Thanksgiving Day, the best words ever uttered for this day of gratitude will express how you truly feel. This collection of famous Thanksgiving quotes will help you do that in the best way possible.
It was George Washington who proclaimed the first nationwide thanksgiving celebration in America marking November 26, 1789, "as a day of public thanksgiving and prayer to be observed by acknowledging with grateful hearts the many and signal favors of Almighty God."
Since then, many prominent figures made historic comments on Thanksgiving Day and the concept of gratitude itself. Share some of these truly thankful quotes made by famous people that will inspire you and your loved ones, so that they will remember and appreciate the true importance and meaning of this day.
Short Thanksgiving Quotes You Can Use as Captions for Instagram
The Thanksgiving holiday is a time to give thanks for all the blessings in our lives. What better way to express our gratitude than with a few thoughtful quotes? Here are some of our favorites:
Gratitude paints little smiley faces on everything it touches. Richelle E. Goodrich
The thankful receiver bears a plentiful harvest. William Blake
Be present in all things and thankful for all things. Maya Angelou.
He who thanks but with the lips Thanks but in part; The full, the true Thanksgiving comes from the heart. J.A. Shedd
No one has ever become poor by giving. Anne Frank
Gratitude makes sense of our past, brings peace for today, and creates a vision for tomorrow. Melody Beattie
I'm thankful for every moment. Al Green
On Thanksgiving Day we acknowledge our dependence. William Jennings Bryan
Thanksgiving is a time of togetherness and gratitude. Nigel Hamilton
An attitude of gratitude brings great things. Yogi Bhajan
The most thankful person is the most fully human. Thomas Goodwin
If you are really thankful, what do you do? You share. W. Clement Stone
Now is no time to think of what you do not have. Think of what you can do with what there is. Ernest Hemingway
Gratitude turns what we have into enough. Unknown
Thankfulness is the quickest path to joy. Jefferson Bethke
Thanksgiving, after all, is a word of action. W.J. Cameron
Small cheer and great welcome makes a merry feast. William Shakespeare
Give thanks for a little, and you will find a lot. Hausa Proverb
When we give cheerfully and accept gratefully, everyone is blessed. Maya Angelou
Showing gratitude is one of the simplest yet most powerful things humans can do for each other. Randy Pausch
Thanksgiving creates abundance. Ann Voskamp
Even though we're a week and a half away from Thanksgiving, it's beginning to look a lot like Christmas.  Richard Roeper
My Thanksgiving is perpetual. It is surprising how contented one can be with nothing definite — only a sense of existence. Henry David Thoreau
When asked if my cup is half-full or half-empty my only response is that I am thankful I have a cup. Sam Lefkowitz
Thanksgiving is the meal we aspire for other meals to resemble. Jonathan Safran Foer
It is not joy that makes us grateful; it is gratitude that makes us joyful. David Steindl-Rast
Embrace every new day with gratitude, hope and love. Lailah Gifty Akita
If the only prayer you ever say in your entire life is thank you, it will be enough. Meister Eckhart
Be consistent in your dedication to showing your gratitude to others. Gratitude is a fuel, a medicine, and spiritual and emotional nourishment. Steve Maraboli
I'm vegetarian, but I love Thanksgiving dinner: faux turkey, stuffing and mashed potatoes. Leigh Lezark
If a fellow isn't thankful for what he's got, he isn't likely to be thankful for what he's going to get. Frank A. Clark
If you want to turn your life around, try thankfulness. It will change your life mightily. Gerald Good
Drink and be thankful to the host! What seems insignificant when you have it, is important when you need it. Franz Grillparzer
If you think Independence Day is America's defining holiday, think again. Thanksgiving deserves that title, hands-down. Tony Snow
The act is unjustifiable that either begs for a blessing, or, having succeeded gives no thanksgiving. Merle Shain
My fondest memories are generally the day after Thanksgiving. I get the total decorating Christmas itch. Katharine McPhee
There is always something to be thankful for. Unknown
Forever on Thanksgiving Day the heart will find the pathway home. Wilbur D. Nesbit
The struggle ends when gratitude begins. Neale Donald Walsh
It is not happy people who are thankful. It is thankful people who are happy. Unknown
Appreciation can change a day, even change a life. Your willingness to put it into words is all that is necessary. Margaret Cousins
Good mashed potato is one of the great luxuries of life. Lindsey Bareham
An attitude of gratitude brings great things. Yogi Bhajan
Nothing is more honorable than a grateful heart. Seneca
A thankful heart is not only the greatest virtue, but the parent of all the other virtues. Cicero
And though I ebb in worth, I'll flow in thanks. John Taylor
Feeling gratitude and not expressing it is like wrapping a present and not giving it. William Arthur Ward
Let us be grateful to the people who make us happy; they are the charming gardeners who make our souls blossom. Marcel Proust
The thankful heart opens our eyes to a multitude of blessings that continually surround us. James E. Faust
A moment of gratitude makes a difference in your attitude. Bruce Wilkinson
When you love what you have, you have everything you need. Unknown
Funny Thanksgiving Quotes for a Smile
Thanksgiving is a time for family, friends, and of course, food. But it can also be a time for funny quotes and memes. If you're looking for a laugh this Thanksgiving, check out these funny quotes about the holiday. From turkey to stuffing to pie, there's something here for everyone. And don't forget to also check our collection of Thanksgiving memes!

I come from a family where gravy is considered a beverage. Erma Bombeck
You oughta be thankful, a whole heaping lot, For the places and people you're lucky you're not! Dr. Seuss
After a good dinner one can forgive anybody, even one's own relations. Oscar Wilde
An optimist is a person who starts a new diet on Thanksgiving Day. Irv Kupcinet
My cooking is so bad my kids thought Thanksgiving was to commemorate Pearl Harbor. Phyllis Diller
It took me three weeks to stuff the turkey. I stuffed it through the beak. Phyllis Diller
A lot of Thanksgiving days have been ruined by not carving the turkey in the kitchen. Kin Hubbard
If you think about a Thanksgiving dinner, it's really like making a large chicken. Ina Garten
I absolutely adore Thanksgiving. It's the only holiday I insist on making myself. Ina Garten
Thanksgiving is nothing but a toast to genocide. Stephen Evans
I suppose I will die never knowing what pumpkin pie tastes like when you have room for it. Robert Brault
I love chicken. I would eat chicken fingers on Thanksgiving if it were socially acceptable. Todd Barry
I celebrated Thanksgiving in an old-fashioned way. I invited everyone in my neighborhood to my house, we had an enormous feast, and then I killed them and took their land. Jon Stewart
It's so warm now, and Thanksgiving came so early – is it just me, or does it not really feel like Ramadan? David Letterman
One of my most memorable Thanksgiving memories was probably the first year that me and my two brothers decided to start our annual eating contest. We ate throughout the whole day. We started that morning and weighed ourselves, and at the very end of the night, we weighed ourselves out. And all three of us equally gained five pounds. Charles Kelley
I like football. I find its an exciting strategic game. It's a great way to avoid conversation with your family at Thanksgiving. Craig Ferguson
You can tell you ate too much for Thanksgiving when you have to let your bathrobe out. Jay Leno
Inspirational and Spiritual Thanksgiving Quotes
Thanksgiving is fast approaching, and with it comes all the food, family, and fun that we associate with the holiday. But sometimes in the midst of all the craziness, we forget to stop and give thanks for everything we have. That's why we've compiled a list of some of our favorite inspirational Thanksgiving quotes. These quotes remind us of what's truly important on this special day. So take a break from stuffing your face with turkey and pumpkin pie, and enjoy these words of wisdom!
The more we express thanks, the more gratitude we feel. The more gratitude we feel, the more we express thanks. It's circular, and it leads to a happier life. Steve Goodier
As we express our gratitude, we must never forget that the highest appreciation is not to utter words, but to live by them. John F. Kennedy
Let gratitude be the pillow upon which you kneel to say your nightly prayer. And let faith be the bridge you build to overcome evil and welcome good. Maya Angelou
Be thankful for what you have; you'll end up having more. If you concentrate on what you don't have, you will never, ever have enough. Oprah Winfrey
Best of all is it to preserve everything in a pure, still heart, and let there be for every pulse a thanksgiving, and for every breath a song. Konrad von Gesner
Gratitude can transform common days into thanksgivings, turn routine jobs into joy, and change ordinary opportunities into blessings. William Arthur Ward
To give thanks in solitude is enough. Thanksgiving has wings and goes where it must go. Your prayer knows much more about it than you do. Victor Hugo
Reflect upon your present blessings, of which every man has plenty; not on your past misfortunes, of which all men have some. Charles Dickens
Give thanks not just on Thanksgiving Day, but every day of your life. Appreciate and never take for granted all that you have. Catherine Pulsifer
I've realized that sometimes you get no second chance and that it's best to accept the gifts the world offers you. Paulo Coelho
Thankfulness is the beginning of gratitude. Gratitude is the completion of thankfulness. Thankfulness may consist merely of words. Gratitude is shown in acts. David O. McKay
Thanksgiving comes to us out of the prehistoric dimness, universal to all ages and all faiths. At whatever straws we must grasp, there is always a time for gratitude and new beginnings. J. Robert Moskin
Gratitude opens the door, the power, the wisdom, the creativity of the universe. You open the door through gratitude. Deepak Chopra
Some people grumble that roses have thorns; I am grateful that thorns have roses. Jean-Baptiste Alphonse Karr
Gratitude unlocks the fullness of life. It turns what we have into enough, and more. It turns denial into acceptance, chaos to order, confusion to clarity. It can turn a meal into a feast, a house into a home, a stranger into a friend. Gratitude makes sense of our past, brings peace for today and creates a vision for tomorrow. Melody Beattie
A great meal is an experience that nourishes more than your body. Ruth Reichl
The real gift of gratitude is that the more grateful you are, the more present you become. Robert Holden
Make enthusiasm a way of life. Make optimism a way of success. Make gratitude a way of happiness. Debasish Mridha
I love Thanksgiving because it is a holiday centered around food and family, two things that are of utmost importance to me. Marcus Samuelsson
Focusing on one thing that you are grateful for increases the energy of gratitude and rises the joy inside yourself. Oprah Winfrey
Living in a state of gratitude is the gateway to grace. Arianna Huffington
Gratitude is a quality similar to electricity: It must be produced and discharged and used up in order to exist at all. William Faulkner
Let us remember that, as much has been given us, much will be expected from us, and that true homage comes from the heart as well as from the lips, and shows itself in deeds. Theodore Roosevelt
Gratitude is the inward feeling of kindness received. Thankfulness is the natural impulse to express that feeling. Thanksgiving is the following of that impulse. Henry Van Dyke
My favorite meal is turkey and mashed potatoes. I love Thanksgiving, it's just my favorite. I can have Thanksgiving all year round. Cindy Margolis
What I love about Thanksgiving is that it's purely about getting together with friends or family and enjoying food. It's really for everybody, and it doesn't matter where you're from. Daniel Humm
I started out giving thanks for small things, and the more thankful I became, the more my bounty increased. Oprah Winfrey
O Lord that lends me life, Lend me a heart replete with thankfulness.William Shakespeare, Henry VI
There are only two ways to live your live. One is as though nothing is a miracle. The other as is though everything is a miracle. Albert Einstein
As much as I love crisp, clean whites, there's always a time for rich but balanced Chardonnays with oak, especially at Thanksgiving. Gary Vaynerchuk
The turkey. The sweet potatoes. The stuffing. The pumpkin pie. Is there anything else we all can agree so vehemently about? I don't think so. Nora Ephron
Thanksgiving dinners take eighteen hours to prepare. They are consumed in twelve minutes. Half-times take twelve minutes. This is not coincidence. Erma Bombeck
What if today, we were just grateful for everything? Charlie Brown
Thanksgiving is a joyous invitation to shower the world with love and gratitude. Amy Leigh Mercree
Gratitude is looking on the brighter side of life, even if it means hurting your eyes. Ellen DeGeneres
The more you practice the art of thankfulness, the more you have to be thankful for. Norman Vincent Peale
Pride slays thanksgiving, but a humble mind is the soil out of which thanks naturally grow. A proud man is seldom a grateful man, for he never thinks he gets as much as he deserves. Henry Ward Beecher
I'm so thankful for friendship. It beautifies life so much. L.M. Montgomery
My whole problem is that all of my favorite things at Thanksgiving are the starches, and everyone is trying to go low-carb this year, even a green vegetable has carbs in it. Ted Allen
Thanksgiving Day is a good day to recommit our energies to giving thanks and just giving. Amy Grant
Gratitude is the closest thing to beauty manifested in an emotion. Mindy Kalin
Knowing it can always get worse, I try to be grateful for whatever good I have. Elizabeth Smart
Thanksgiving Day Quotes
Thanksgiving is the holiday that encompasses all others. All of them, from Martin Luther King Day to Arbor Day to Christmas to Valentine's Day, are in one way or another about being thankful. Jonathan Safran Foer
Thanksgiving isn't just a day. It's a way we can live our lives every day. Katrina Mayer
Thanksgiving Day is a jewel, to set in the hearts of honest men; but be careful that you do not take the day, and leave out the gratitude.  E.P. Powell
There is one day that is ours. There is one day when all we Americans who are not self-made go back to the old home to eat saleratus biscuits and marvel how much nearer to the porch the old pump looks than it used to. Thanksgiving Day is the one day that is purely American. O. Henry
My most memorable meal is every Thanksgiving. I love the food: the turkey and stuffing; the sweet potatoes and rice, which come from my mother's Southern heritage; the mashed potatoes, which come from my wife's Midwestern roots; the Campbell's green-bean casserole; and of course, pumpkin pie. Douglas Conant
There is no racial or ethnic involvement in Thanksgiving, and people who may be very distant from the Christian system can see the beauty and the positive spirit that comes from the holiday. John Clayton
The truth is the Super Bowl long ago became more than just a football game. It's part of our culture like turkey at Thanksgiving and lights at Christmas, and like those holidays beyond their meaning, a factor in our economy. Bob Schieffer
Christmas is the antithesis of Thanksgiving. Christmas is pretty much a man-made holiday. John Clayton
Religious Thanksgiving Quotes
Acknowledging the good that is already in your life is the foundation for all abundance. Eckhart Tolle
Dear Lord; we beg but one boon more: Peace in the hearts of all men living, peace in the whole world this Thanksgiving. Joseph Auslander
Gratitude is the ability to experience life as a gift. It liberates us from the prison of self-preoccupation. John Ortberg
Thanks are the highest form of thought, and gratitude is happiness doubled by wonder. G.K. Chesterton
Thanksgiving is a season that is very much in accord with the themes and teachings of Jesus Christ. John Clayton
We would worry less if we praised more. Thanksgiving is the enemy of discontent and dissatisfaction. H.A. Ironside
Thanksgiving is a time when the world gets to see just how blessed and how workable the Christian system is. The emphasis is not on giving or buying, but on being thankful and expressing that appreciation to God and to one another. John Clayton
For what I have received may the Lord make me truly thankful. And more truly for what I have not received. Storm Jameson
We hope these quotes inspire you to reflect on all the things you're thankful for this Thanksgiving! Wishing you and yours a happy and healthy holiday season.
Thanksgiving Quotes On Images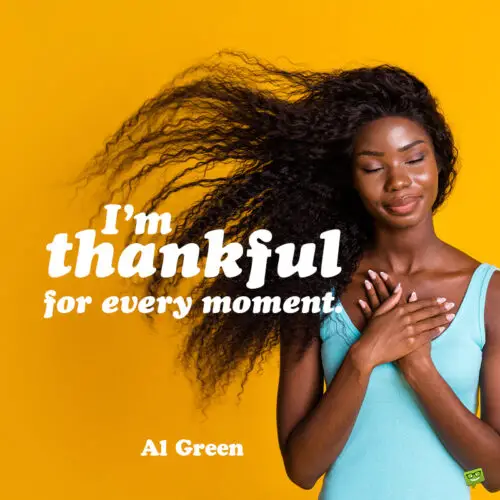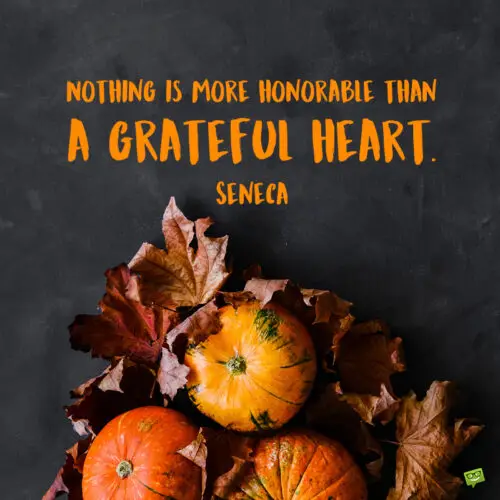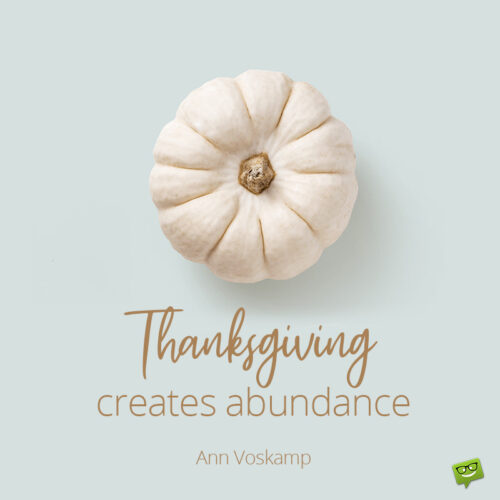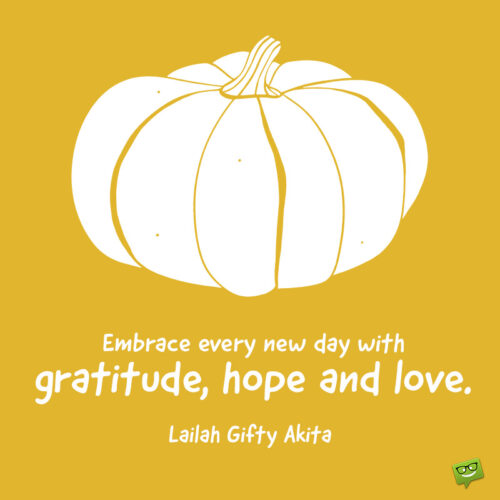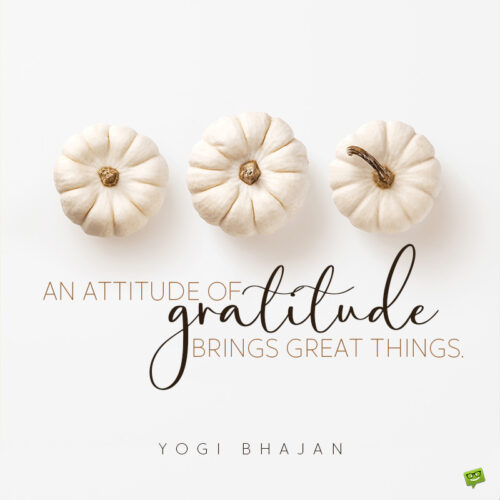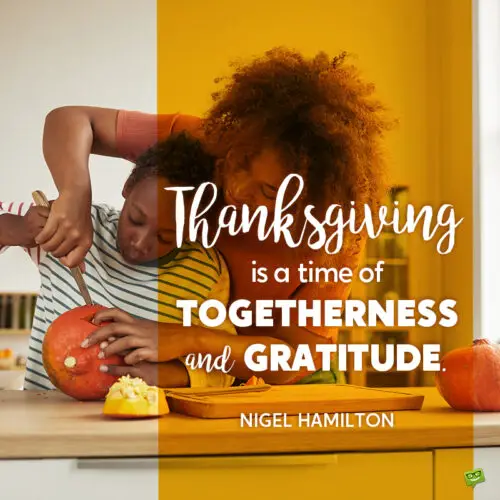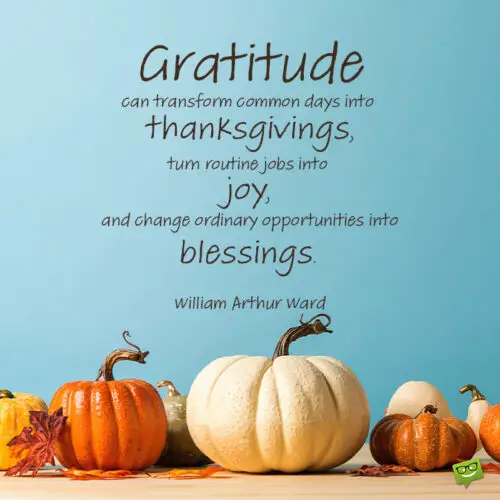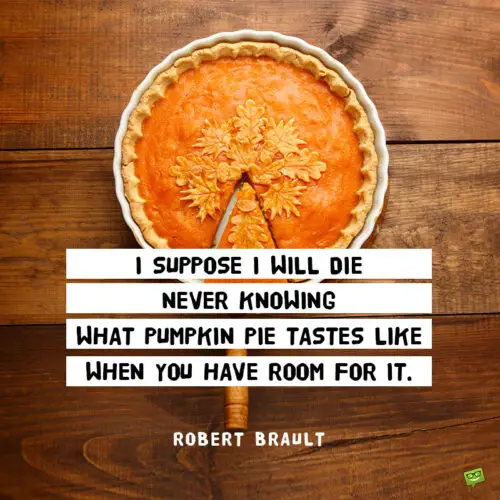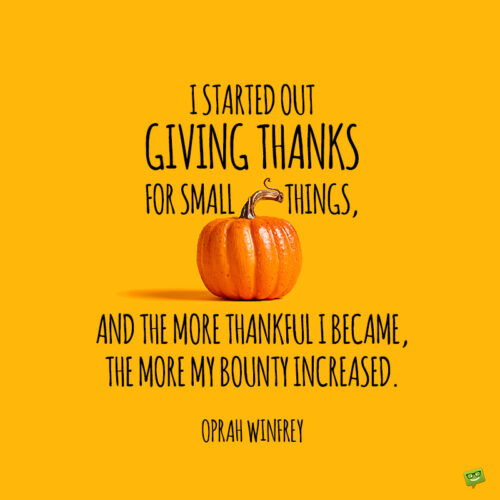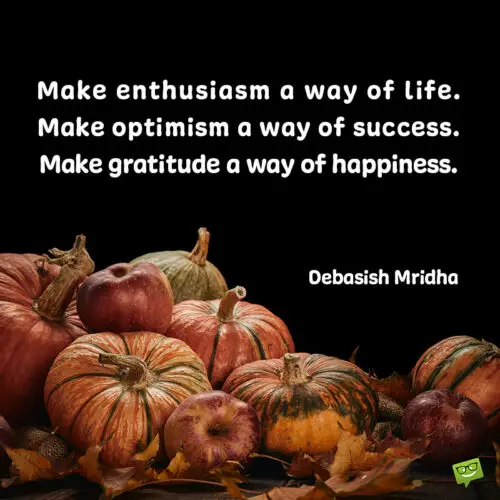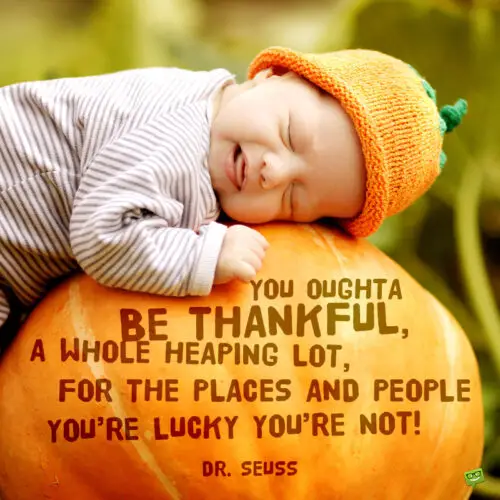 You may also like:
65 Heart-Warming Thanksgiving Quotes and Messages for your Family
80+ Touching Happy Thanksgiving Day Wishes
Words of Gratitude | Happy Thanksgiving Wishes for Friends
Grateful for that Sibling | 51 Thanksgiving Wishes for your Sister and Brother