Starting your day is important. So, too, is telling the special someone in your life just how special they are each morning when they wake. In fact, there's no better way to show him or her how near and dear they are to your heart.
Unfortunately, wishing good morning can be challenging. Don't let a busy schedule keep you from expressing your love. We offer this collection of original messages to make the special person in your life smile each day.
Good Morning Quotes for my Love
Let your beloved know she is the wind beneath your wings and fill her mornings with romance with these heartfelt whimsical words of love:
Sweetheart, every morning I wake up, I thank God for blessing me with two priceless things. One is for the gift of life, and the other is for putting such a wonderful person like you in my life. Have a beautiful morning, my love.
The best thing about waking up every morning is knowing that I have someone like you in my life. Good morning.
Honey, nothing is impossible for me to achieve with you by my side. Good morning.
Waking up next to you is all I need to have a wonderful day. Good morning, my love.
Good morning, sweetheart. A day without you in my life is a day wasted. That's how much you mean to me, honey. Hope your day is as beautiful as you are. I love you.
Darling, I love every minute of my life because you're sharing it with me. Good morning.
Honey, with you by my side, I surmount life's challenges so easily. Thanks for being that special person in my life. Good morning and have a lovely day.
Honey, you're one of my biggest sources of motivation. Thank you for giving me the inspiration I need to make the most of every blessed day. Good morning.
No matter how bad things are, I'll never feel sad because I have you by my side, honey. Good morning.
I love the way the way the sun illuminates the room each morning, filling it with warmth and showcasing your beauty in the most mesmerizing way.
You're so adorable all of the time but especially in the morning. Maybe it's the light or the sleepies in my eyes. Just kidding, you are perfect, even with 20/20 vision!
Good morning, beautiful. Your beauty took my breath away, but your care and kindness stole my heart.
Hello sunshine! I can't imagine starting my day without you. Let's always wake up together….k?
Nothing could be better than waking up next to you, the woman I love. Well, waking up next to you on an exotic island would be pretty sweet too.
Do you hear that beautiful songbird outside? I gave him some extra sunflower seeds to help me express just how sweet and deep my feelings for you run.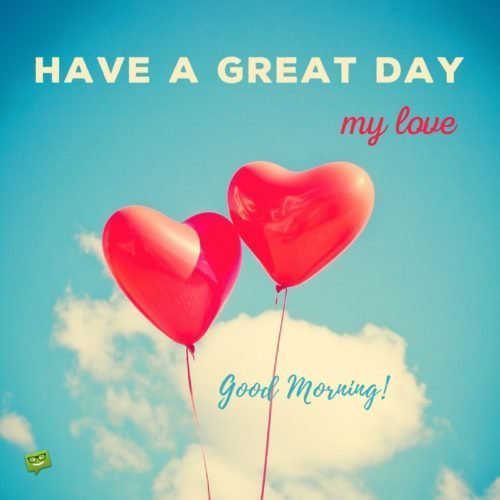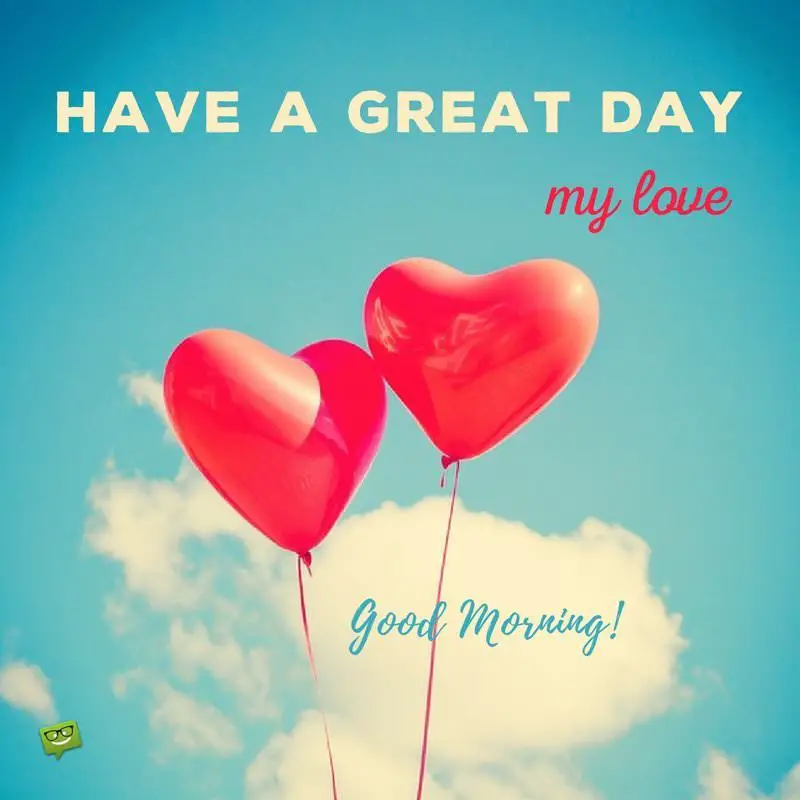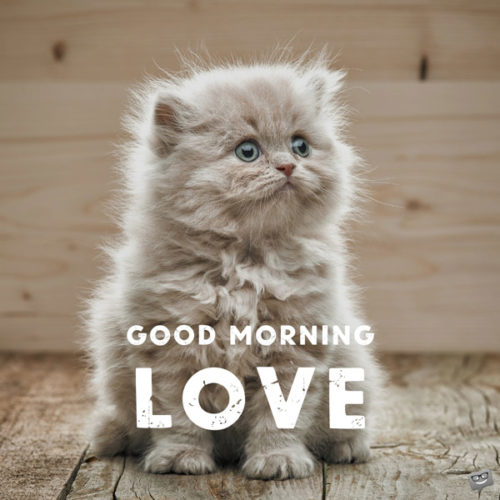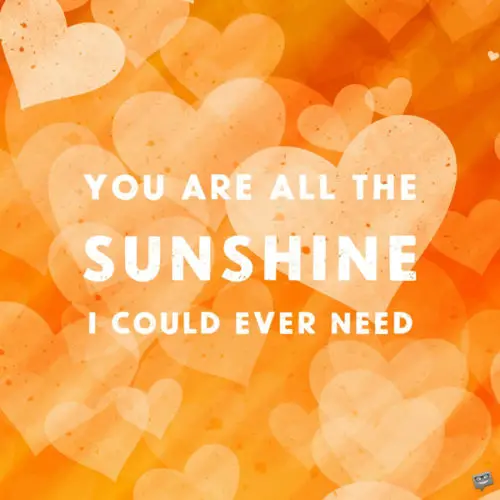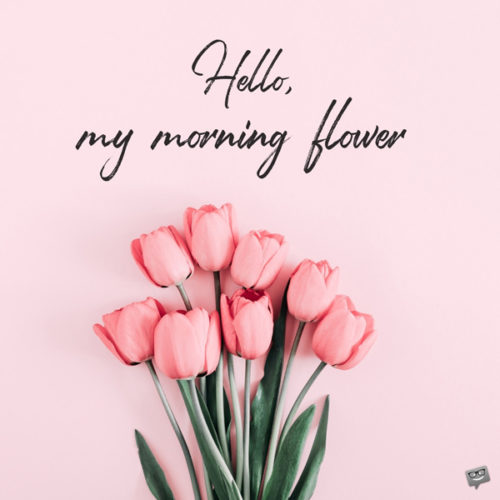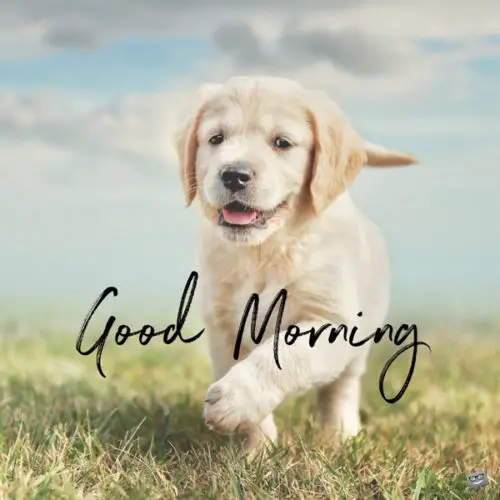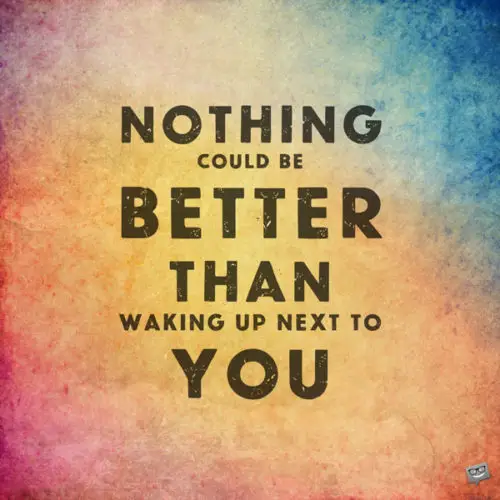 Do you know what I could do every day for the rest of my life? Run my fingers through your silky hair and speak from my heart. I love you!
Rise and shine my little ray of light. The day ahead is filled with challenges, but it's also filled with wonder, excitement, and my love for you.
Let's enjoy morning tea in London, the afternoon sun in Monaco, and a magical night in Paris. Time to wake. Ready?
The morning sun illuminates the delicate flower you are, and all I want to do is hold you in my protective arms and never let go.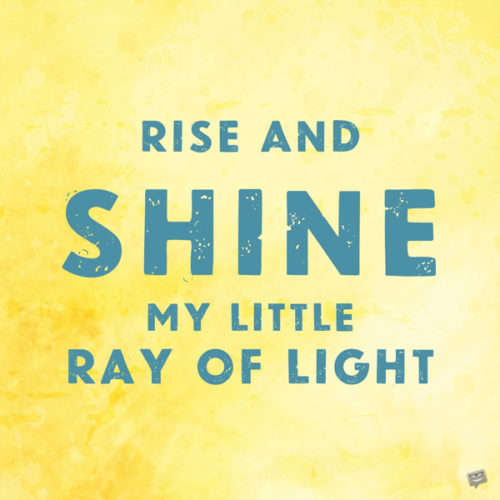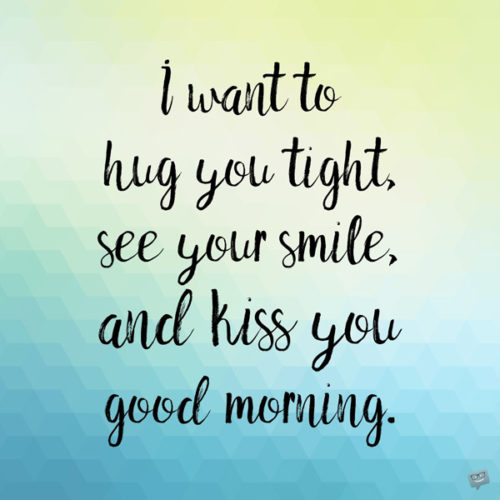 Hello, my beloved angel. The world awaits your beauty, strength, and charisma. However, I'd rather be selfish and keep you all to myself.
Last night, a blizzard formed, keeping Spring at bay for yet another day. Thanks to your love, however, flowers have already begun to bloom in my heart.
The perfect morning for me is waking up on the beach next to you and watching your eyes sparkle like an infinite ocean on a starry night.
A beautiful world awaits. Wake up and greet yet another magnificent day.
Every minute I hold you in my arms is a moment I treasure. The coffee is brewing but I don't want to let go.
The purity and sincerity of your love helped me navigate through troubled waters. I thank God each morning for having you in my life.
Want to start the day out right? Then, roll over beautiful and give me a kiss.
My beloved, there are billions of stars in the universe, but none compare to your splendor. Hope your day is as beautiful as you!
Most people think the sun rises due to the Earth's rotation. It really rises to welcome you!
Hello, my morning rose. May the sun open your beautiful petals and keep your thorns at bay.
My darling, today will be the best day ever. I took the day off. Are you ready for your dreams to come true?
Some people don't like mornings. I used to be one of them until I met you. Now every morning is amazing!
It may be winter, but your bright morning smile brings warmth to my heart. I love it when you have good dreams.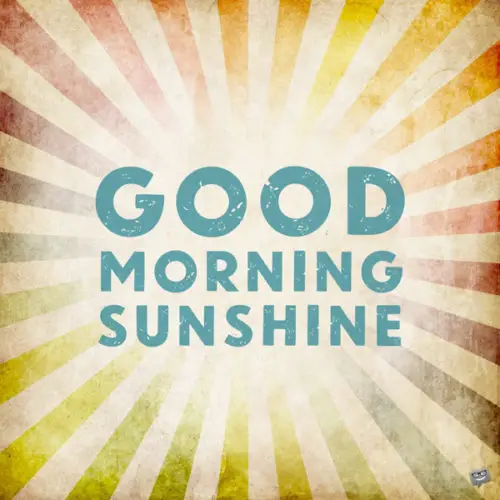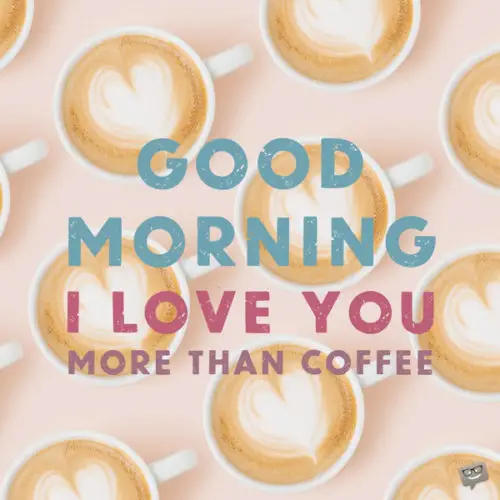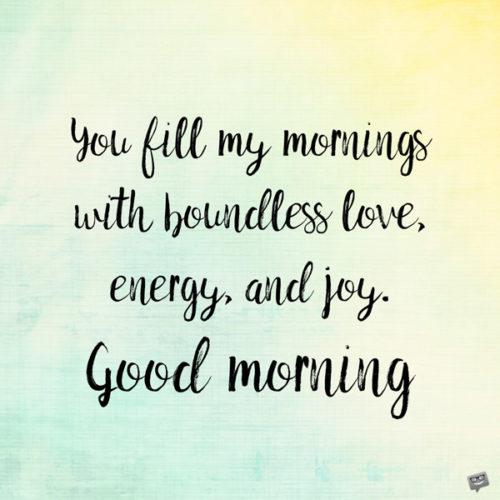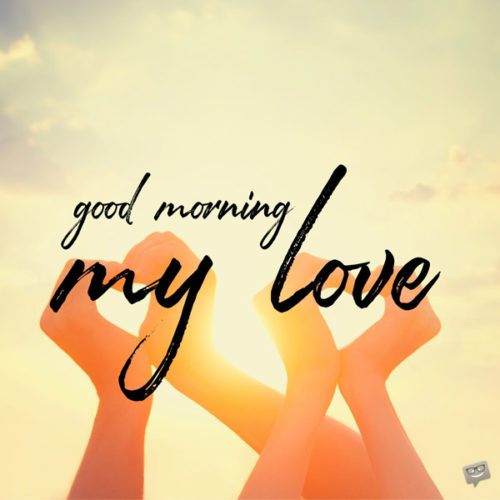 My angel, you must be the sun in the sky of life, because I'm blinded by your beauty and warmed by your love.
Your smile is the only makeup you need. Along with your radiant energy, you're guaranteed to have a beautiful day!
There are butterflies outside the window and inside my heart. Thank you for making each day a beautiful one in so many ways.
You are my light and the air that I breathe. Even without oxygen, I would survive thanks to your love.
Holding you in my arms is like holding a little slice of heaven. I can't wait to hold you again tonight.
I always think of you, but this morning I wanted to send you a message letting you know how much.
Every minute without you by my side is torture for my soul. Let's hold hands and face this day together.
Rise and shine beautiful. Your teddy bear wishes you were here. Hope you're ready for hugs.
Thoughts of you overwhelm my dreams every night, and your beauty overwhelms my senses each morning when holding you in my arms.
Open your eyes and say hello to the wonderful world. It's your oyster, so dig in and find some pearls!
There were billions of stars shining last night. Guess what – our love will outlive all of them!
My special girl, your smile is the only inspiration I need to tackle the day. Thank you for more than you know!
I would run through fire and ice each day to watch every sunset and sunrise with you. The sunrise this morning is especially beautiful, just like you.
Let today be filled with unbelievable emotions and unforgettable memories.
Kiss me beautiful, morning breath and all!
Morning. I need you more than a cup of coffee.
I may not be a morning person, but I love waking up next to you.
Don't get me wrong, the sun feels great, but you are all the sunshine I could ever need. Morning!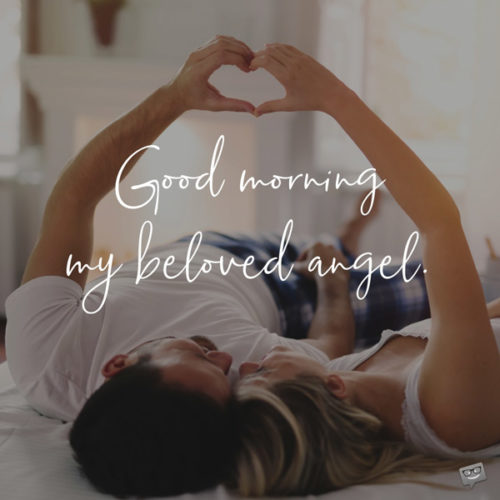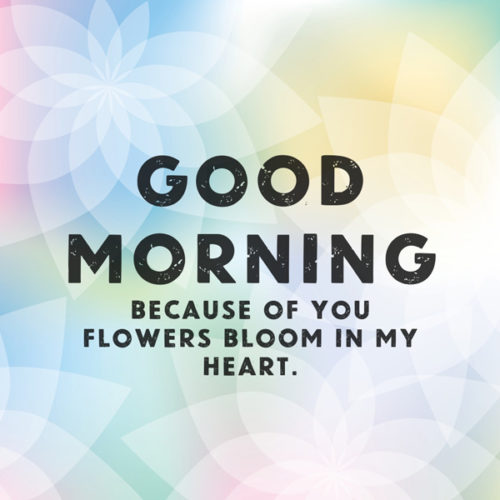 Morning, sweetheart! Being late is worth spending another minute with you.
The smell of coffee and your beautiful smile – the only two things I need for a perfect morning!
Mornings are my favorite part of the day, because each one marks another beautiful day spent with you. I can't wait til' tomorrow.
Morning, my love! Spend the next 24 hours in an inexplicable state of bliss. I know I will!
Yesterday came and went and tomorrow is yet to come. All we have is today and each other, so let's make it a great one together.
Whether it's cloudy and rainy or bright and sunny, each morning spent with you is paradise.
Morning, sleeping beauty. They say love makes the world go around. I'm getting dizzy from your love…in all the right ways!
Good Morning Love Images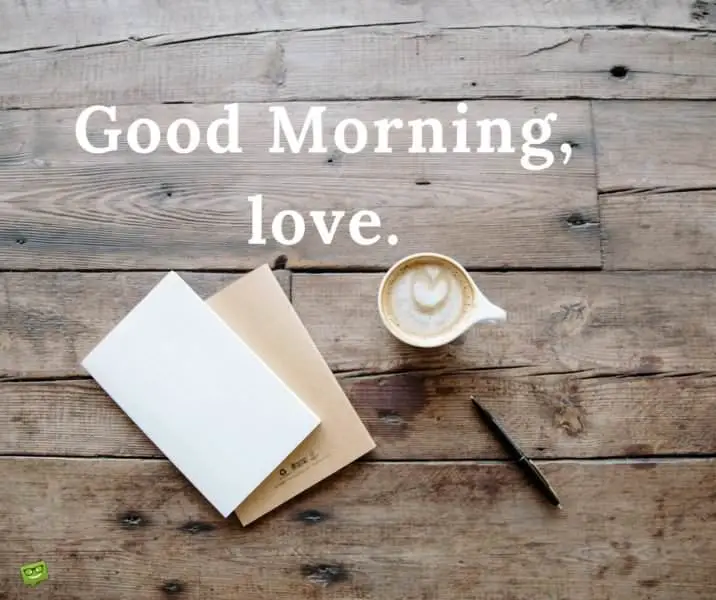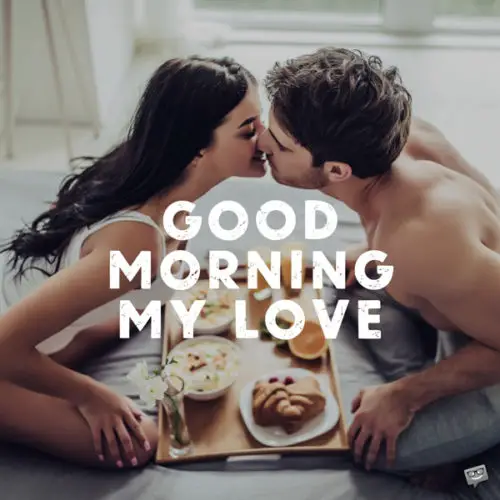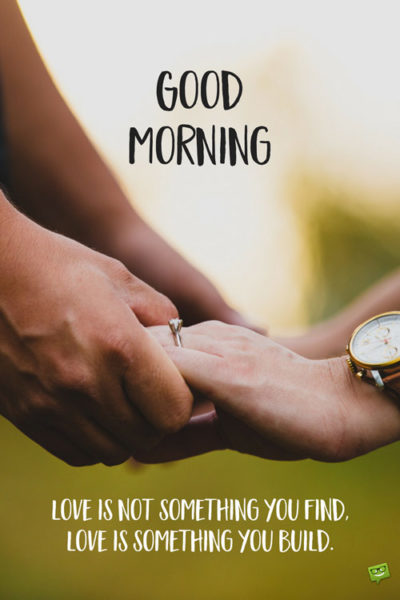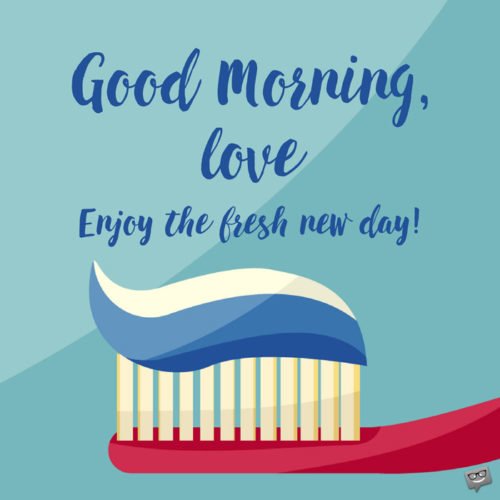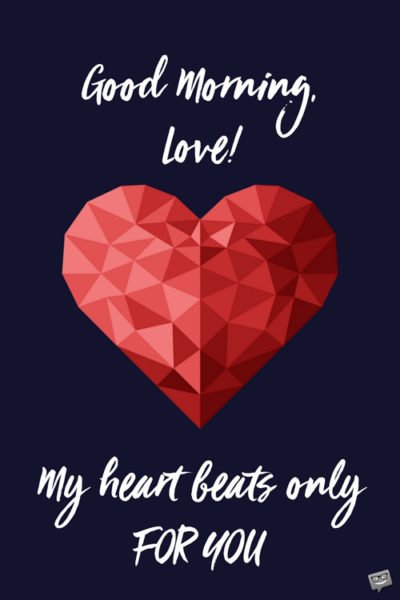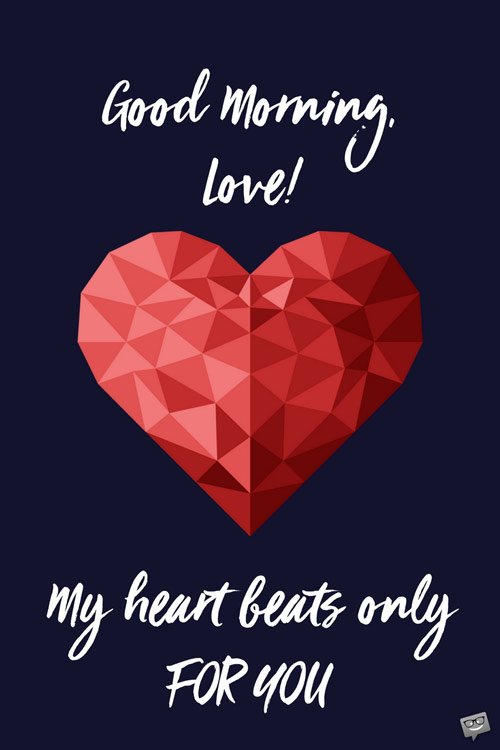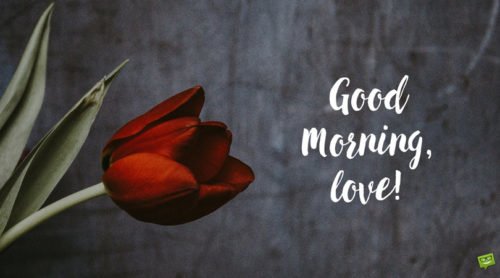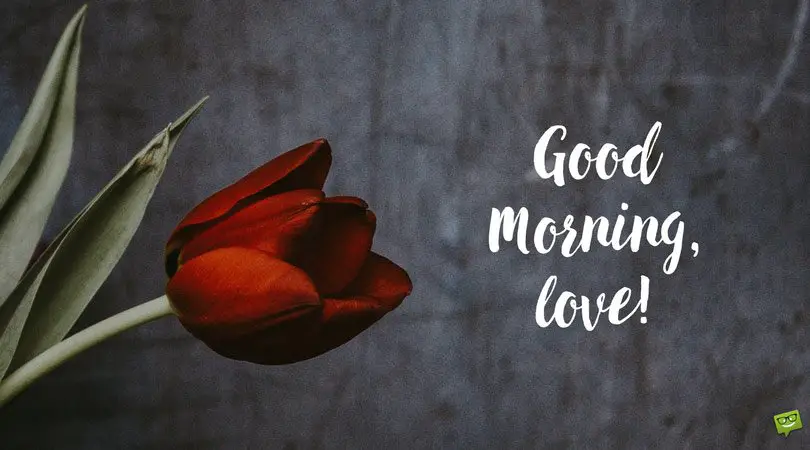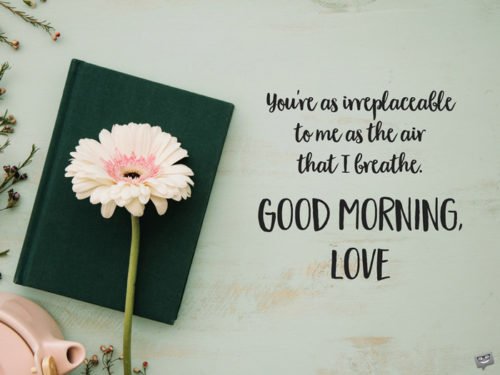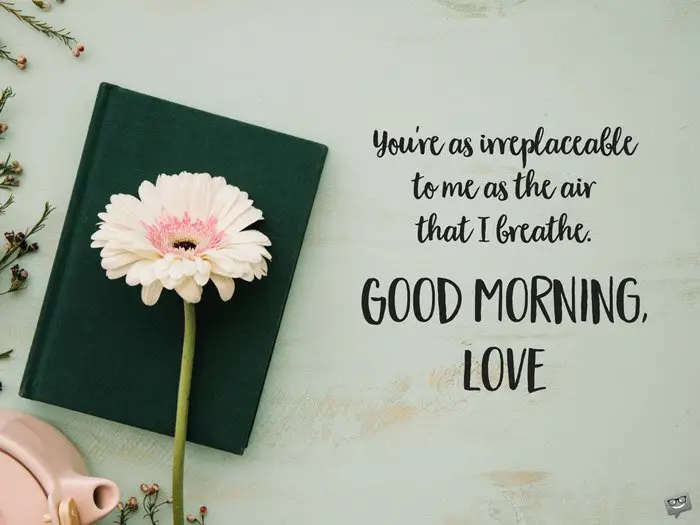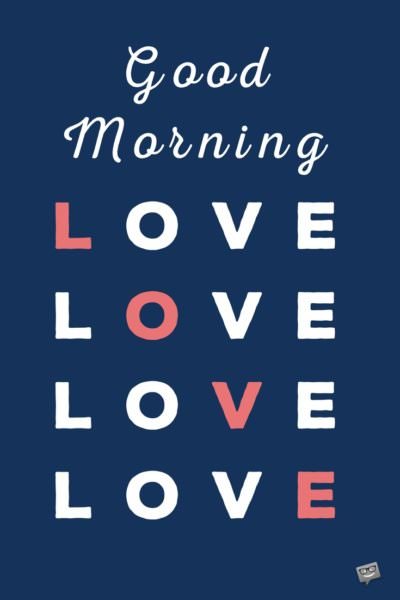 Good Morning, Sweetheart!

Nothing is as beautiful as seeing your face without all the war paint on it. You are naturally beautiful inside and out. Have a wonderful day, sweetheart!
Good Morning Princess, I hope your day goes as beautiful as you are! Love, Your Dashingly Handsome Prince.
I am so lucky and blessed: you are the first thing on my mind every day! Have a great day, mon amour!
Your day will go how you decide it will go. It's all up to you! If you want a good day, decide you will have a good day. If you want a bad day, decide to have a bad day.
Seeing your face in the morning is like a second rising of the sun. Good morning, sweetheart.
When I woke up and saw your face, I thought that I was still dreaming about a visitation from an angel.
The best dream my mind could conjure up is still not equal to waking up in your arms. Have a beautiful day, my love.
As the sun rises every morning to brighten our days, may each morning of my life also be blessed with your presence.
Good morning, sweetheart. Today is going to be an amazing day because we have each other.
Nothing will ever come between us because you are my paradise. Good morning, sweetheart!
I need you so much that waking up without you almost makes me not want to wake up at all.
Waking up next to you, is all I ever want hard to tell when the dream ends and the real day begins.
The melody of the sweetest songbird is nothing compared to the song my heart sings when I wake up next to you.  Good morning, sweetheart.
Waking up in the embrace of your love makes me forget just how bad yesterday may have been.
As the moon makes way for the sun so does the disappointments of yesterday disappear when I am graced by your love in the morning.
One of the greatest mysteries of life is how each morning your face is even more radiant than it was the day before.
Your parents should have named you "Morning", because you bring light and hope into my life every day.
The rising of the sun is my alarm to get up and serve you, and each passing hour is a reminder that the love I have is something to cherish forever.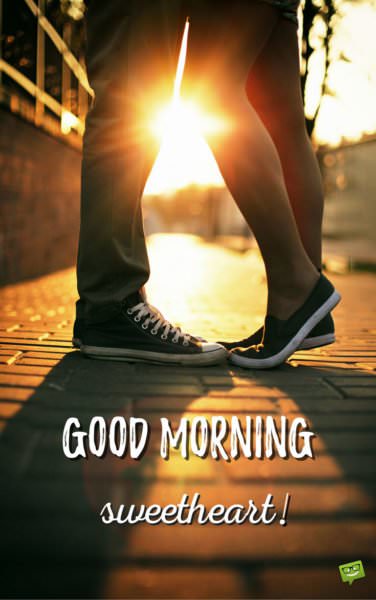 Cute Good Morning Quotes For a New Love
Good Morning! Although our relationship is new, I feel a deep connection with you, that I have never experienced with anyone else. May we have a multitude of mornings, together!
Wishing my new love a Good Morning! I hope your day is exciting and fantastic!
Good Morning, to a love that is fresh and will always feel that way! You evoke tender feelings, any time I think of you!
It does not matter to me that we have not been together for very long. I know the way that I feel about you! You are the person who understands me better than anyone, and I hope that I am that person for you! Have an excellent morning!
Sending the person who makes my heart beat faster, a Good Morning message! I feel as if we have been together, for a while, and that things will only get better, between us! Have a splendid day!
Good Morning! Because of you, my heart is full! In the short amount of time that we have known each other, you have filled a void that was within me, for so long, that I was starting to lose faith! Thanks for giving it back to me! May all that you believe in, prove itself to be real!
Good Morning to someone who has given me the kind of relationship that I have always wanted! In the few weeks that we have been going out, I have never felt more special and loved! I hope you have a day that stands out and constantly reminds you of the way that I feel about you!
Good Morning! Our time together has been unforgettable! May we spend more days in each other's presence and create more unforgettable moments!
Taking the opportunity to let you know that there is, and will never be, anyone like you! May the start of your day be good and full of tremendous possibilities!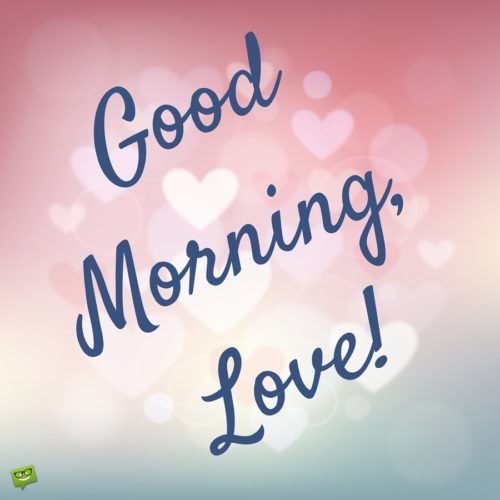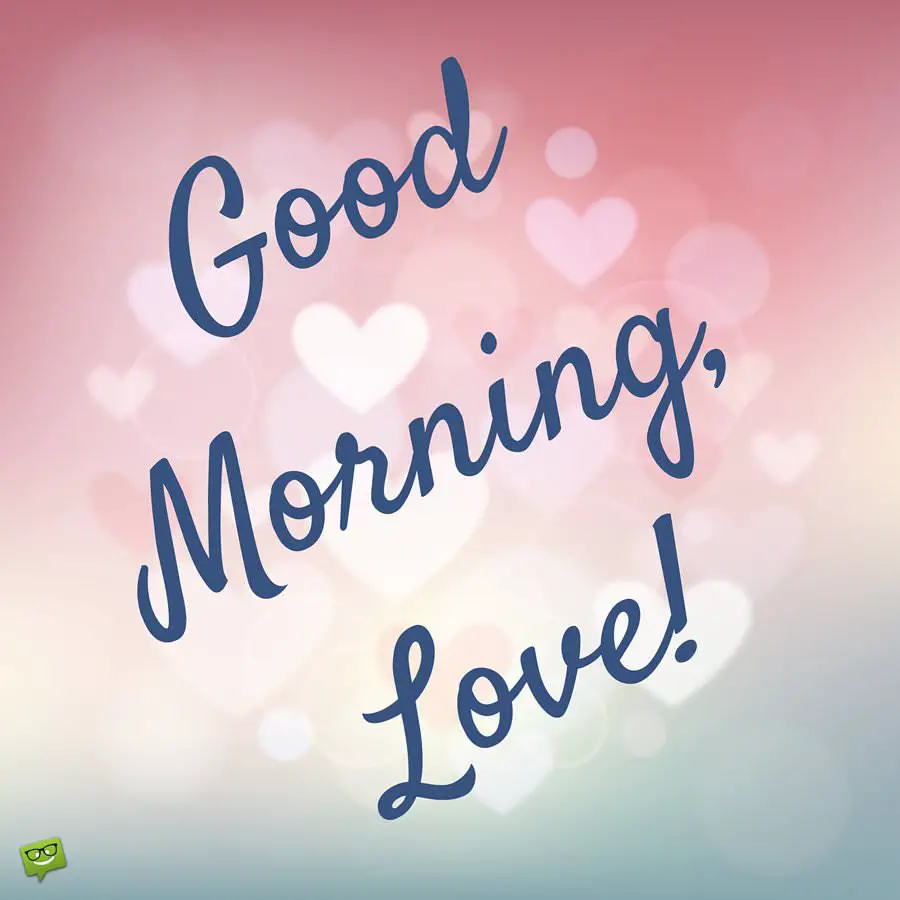 I don't need any sugar in my morning coffee since your love provides me with all the sugar I need. Good morning.
I received the most wonderful gift on earth the moment you came into my life. You are the only thing that matters to me in the entire universe. Good morning, my love.
Sweetheart, I hope your day brings you all the sweetness you bring into my world. I love you more than any word in English can ever say.
You are the first thing that enters my mind whenever I open my eyes in the morning. You are also the last person I think about before drifting to sleep at night. Simply put, I think about you all the time.
Good morning, my angel! Thanks to you, my lonely nights are a thing of the past.
You are the reason why I welcome every new day with a wide smile on my face. Have a great day, sweetheart.
I don't think about anything on earth as much as I think about your love. Such is how precious your love is to me. Good morning.
Anytime your body is next to mine, I feel wondrous. And whenever you smile, you beauty becomes absolutely breathtaking. I hope your day is as amazing as your smile.
I thank God every time I remember that He has blessed me with you. Good morning, sweetheart.
I'm so lucky a phenomenal person like you waited around for someone like me. I find everything about you particularly delightful. <3
Cute "Good Morning, Babe!" Quotes To Impress a Girl or a Boy
Good Morning to the most beautiful girl I have ever laid eyes on! Have a day as gorgeous as you are!
Good Morning, to a great guy! You are very sweet and nice! Enjoy your day!
Have a Good Morning! Your beauty leaves me in awe! I hope that you are aware of your uniqueness!
Good Morning to a handsome man! May your day be breath-taking!
Babe, loving you is my specialty. Good morning.
Sending a phenomenal woman a Good Morning kiss! I want to note how impressed I am by you and how glad I am to have you in my life!
Showing you, this morning, how much I care! You are a woman who is accustomed to receiving the very, best treatment! Today, I want you to know that I will always show you respect!
Good Morning! Letting you know that you are a man whose kindness causes me to think of you, often! May others extend good will to you!
Sending you a Good Morning wish that conveys what a brilliant woman you are! You intrigue me! Have a day that highly interests and engages you!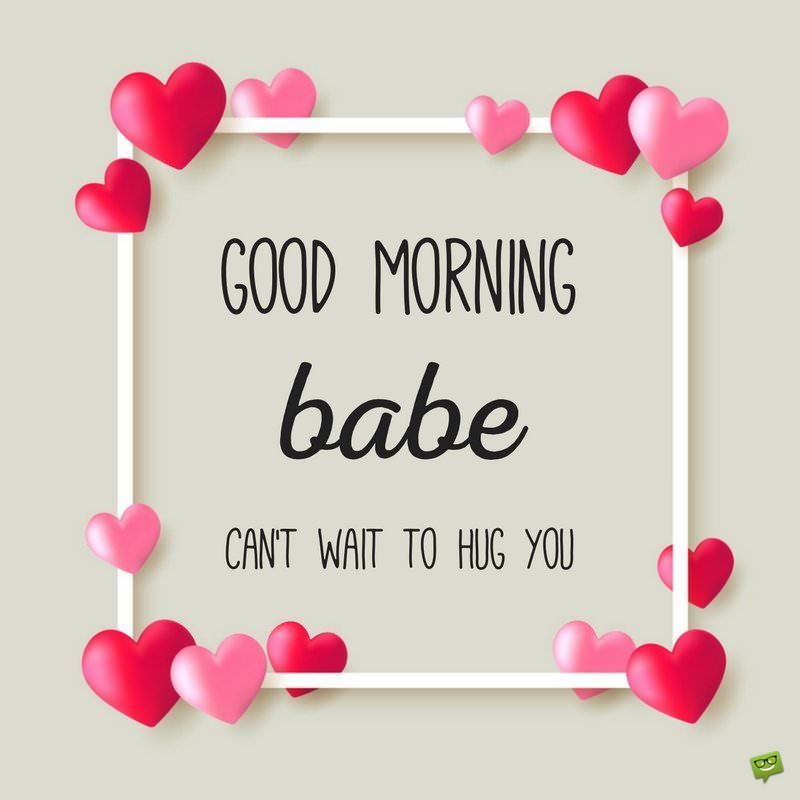 The greatest thing I know how to do here on Earth is to love you from the bottom of my heart.  Good morning, sugar.
Sweetheart, your comfort and happiness shall forever remain my number one priority in life because none has ever brought me the paradise you bring my body and soul. Have a splendid morning!
In my eyes, you are the most phenomenal person ever sent to Earth from Heaven. I love you more than the human brain can ever fathom. Good morning.
Your love is the most priceless thing on earth to me. With you by my side, I feel like the richest and most blessed person on earth.
You are the reason I always look forward to waking up from sleep. If I ever did anything right, it was letting you into my life. I love you so much, sweetheart.
My heart only knows true happiness when you are next to me. Good morning!
Every time you flash a smile at me, my breath gets stuck in my chest. Such is the power of your love! Good morning, my dear.
Your extraordinary beauty and loving heart are just some of the countless reasons why I love you from the bottom of my heart. There's nothing in this world that I wouldn't do to put a smile on that lovely face of yours. Good morning.
Your wondrous love and beauty always leave me breathless. Have a day as wondrous as your love.
You always make me feel like I'm on the top of the world whenever you are in my arms, and that is why you shall forever be that special someone in my life.
Babe, you look particularly breathtaking today. Hope your day will be filled with laughter, smiles and peace. I love you so much, babe.
Good morning, my lovely. You are the miracle I have been searching for all my life. I fall in love with you every time you smile at me.
Everything I've ever wanted in this world, I find in your eyes. Thank you for giving me a taste of what it feels like to be truly happy. Good morning, my love.
You may also like:
60 Sweet Good Morning Texts for the Woman You Love
Love of My Life | Quotes for Her & Him
I Love You With All My Heart | 90 Love Messages for Her