Start each day with intention, optimism and strength! This post is the perfect spot to get inspired for the new day's adventure. Famous artists, athletes, presidents and musicians share their uplifting messages through our collection of positive good morning quotes – encouraging us to stay resilient in pursuing dreams while connecting meaningfully with ourselves and those around us. Let these wise words awaken your spirit every morning so you can make the most out of a new opportunity; seize it confidently with an open heart that radiates positivity all day long!
These good morning quotes can serve as a daily reminder of the power of positivity and can be used in quite a few ways to enhance your day: You can use them as your morning affirmations, write them down and place them somewhere you will see them often, or share them with friends and family to spread the message of hope, encouragement and inspiration. Reflection upon these quotes will also bring a deeper understanding of their message and help you integrate easier it into your everyday life. They can serve as a source of motivation, empowerment, and even comfort during challenging times. Finally, sharing these quotes on social media or sending them to loved ones through online platforms can be a small but meaningful way to brighten their day. So, use these quotes in any way that resonates with you and let their messages bring positivity and purpose to your life.
Great Positive Good Morning Quotes To Help You Embrace the Day Ahead
Starting the day off with a positive mindset is essential to having a good and productive day. Here are some inspiring quotes to help you get into the right frame of mind and make the most of your day! These quotes will help you to focus on the good and fill your day with positivity and motivation. Let's dive in!
The most important decision you make is to be in a good mood. Voltaire
Find out what your gift is and nurture it. Katy Perry
If everything was perfect, you would never learn and you would never grow. Beyoncé
Do the things you believe in, in the name of love. And know that, you aren't alone. We all have doubts and fear. Carole King
Change the way you look at things and the things you look at change. Wayne W. Dyer
Smile in the mirror. Do that every morning and you'll start to see a big difference in your life. Yoko Ono
All I can be is me- whoever that is. Bob Dylan
I've had a lot of worries in my life, most of which never happened. Mark Twain
Make mistakes, make mistakes, make mistakes. Just make sure they're your mistakes. Fiona Apple
You've gotta dance like there's nobody watching,
Love like you'll never be hurt,
Sing like there's nobody listening,
And live like it's heaven on earth.
William W. Purkey
You must take life the way it comes at you and make the best of it. Yann Martel
The power of finding beauty in the humblest things makes home happy and life lovely. Louisa May Alcott
If you have good thoughts they will shine out of your face like sunbeams and you will always look lovely. Roald Dahl
You've got to get up every morning with determination if you're going to go to bed with satisfaction. George Lorimer
When you arise in the morning,think of what a precious privilege it is to be alive – to breathe,to think,to enjoy,to love. Marcus Aurelius
Beauty begins the moment you decide to be yourself. Coco Chanel
Attitude is a little thing that makes a big difference. Winston S. Churchill
Optimism is the faith that leads to achievement. Nothing can be done without hope and confidence. Helen Keller
The world belongs to those who set out to conquer it armed with self confidence and good humour. Charles Dickens
The easiest thing to be in the world is you. The most difficult thing to be is what other people want you to be. Don't let them put you in that position. Leo Buscaglia
Only those who attempt the absurd can achieve the impossible. Albert Einstein
To achieve great things, two things are needed; a plan, and not quite enough time. Leonard Bernstein
It is confidence in our bodies, minds, and spirits that allows us to keep looking for new adventures. Oprah Winfrey
In the long run, the sharpest weapon of all is a kind and gentle spirit. Anne Frank
When I wake up every morning, I thank God for the new day. F. Sionil José
The sun is a daily reminder that we too can rise again from the darkness, that we too can shine our own light. S. Ajna
Lesson learned: Take action towards your goals, believe in yourself, and appreciate the love, romance, and beauty in your life. Look within to improve yourself, as many successful individuals have done. A positive outlook will only lead to a positive outcome.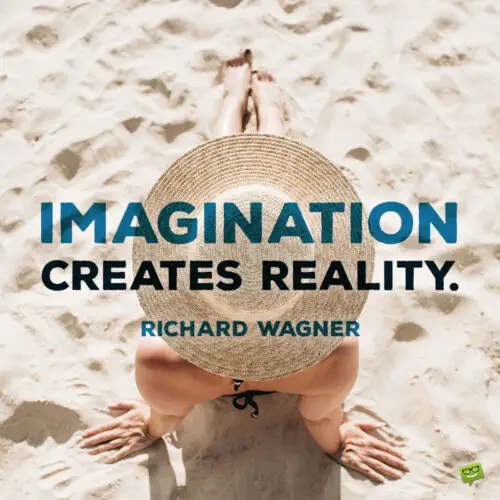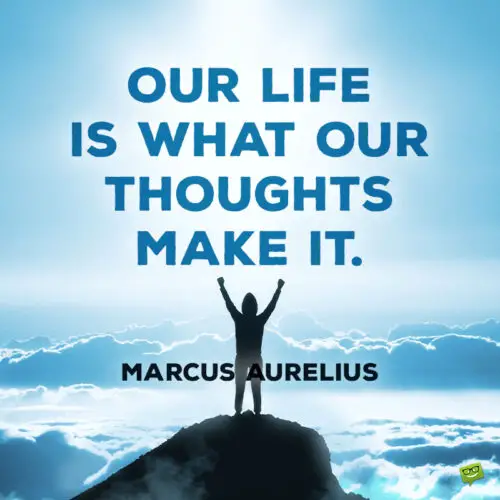 Short Positive Quotes for your Morning Instagram Posts
Elevate your mornings with these words of positivity! These short, inspiring quotes will give you motivation and courage to start the day off right when you update your Instagram feed or when you post a story. Sharing empowering words will never run out of style! Here are some great positive quotes to help you stay motivated and have a beautiful day.
Everything's a risk. Not doing anything is a risk. It's up to you. Nicola Yoon
Without deviation from the norm, progress is not possible. Frank Zappa
Life doesn't get easier or more forgiving, we get stronger and more resilient. Steve Maraboli
Imagination creates reality. Richard Wagner
Be willing to be a beginner every single morning. Meister Eckhart
You must find the place inside yourself where nothing is impossible. Deepak Chopra
God's mercy is fresh and new every morning. Joyce Meyer
Sometimes you have to create your own sunshine. Sam Sundquist
I like my coffee black and my mornings bright. Terri Guillemets
Opportunities are like sunrises. If you wait too long, you miss them. William Arthur Ward
Without music, life would be a mistake. Friedrich Nietzsche
I can't understand why people are frightened of new ideas. I'm frightened of the old ones. John Cage
Whether the day is for writing, designing, or painting, the consistent practice of a morning routine is the doorway into it all. Elle Luna
Well-behaved women seldom make history. Laurel Thatcher Ulrich
What is now proved was once only imagined. William Blake
Every day do something that will inch you closer to a better tomorrow. Doug Firebaugh
The best thing to hold onto in life is each other. Audrey Hepburn
Our life is what our thoughts make it. Marcus Aurelius
Love is like nothing else on this earth, but only when it is shared with someone wonderful like you. Mandy Moore
Love, love, love, that is the soul of genius. Wolfgang Amadeus Mozart
Light tomorrow with today! Elizabeth Barrett Browning
Life itself is the most wonderful fairy tale. Hans Christian Andersen
Build your own dreams, or someone else will hire you to build theirs. Farrah Gray
Today's goals: Coffee and kindness. Maybe two coffees, and then kindness. Nanea Hoffman
The roughest roads often lead to the top. Christina Aguilera
Rise up, start fresh see the bright opportunity in each day. Unknown
Never dull your shine for somebody else. Tyra Banks
No act of kindness, no matter how small, is ever wasted. Aesop
Just one look at you and I know it's gonna be a lovely day. Bill Withers
What you do today can improve all your tomorrows. Ralph Marston
If you set your goals ridiculously high and it's a failure, you will fail above everyone else's success. James Cameron
Every morning is a beautiful morning. Terri Guillemets
Some people dream of success, while other people get up every morning and make it happen. Wayne Huizenga
Ιt is a serious thing
just to be alive
on this fresh morning
in this broken world.
Mary Oliver
Now that your eyes are open, make the sun jealous with your burning passion to start the day. Make the sun jealous or stay in bed. Malak El Halabi
Success is the sum of small efforts – repeated day in and day out. Robert Collier
A morning coffee is my favorite way of starting the day, settling the nerves so that they don't later fray. Marcia Carrington
Your imagination is your preview of life's coming attractions. Albert Einstein
Lesson learned: Every day is an opportunity to hit the reset button – start fresh and seize it with a positive outlook! Value yourself, go after your ambitions, stay motivated. Make today one for the books: choose love over fear; appreciate all that you have; access untapped potential by looking within. Get inspired by those who've gone before you, take their words of wisdom as fuel on your journey towards greatness! It's time set sail on this amazing adventure we call life so get ready…today awaits YOUR story. Rise up & go make some magic happen!
A Cup of Positive: Good Morning Quotes to Remind You of the Good Things
Gratitude and positive affirmations are two of the best ways to start your day off on the right foot. Here is a collection of inspiring good morning quotes that will remind you of the good things in life and encourage you to live each day with a positive attitude.
The morning cup of coffee has an exhilaration about it which the cheering influence of the afternoon or evening cup of tea cannot be expected to reproduce. Oliver Wendell Holmes Sr.
Don't you ever let a soul in the world tell you that you can't be exactly who you are. Lady Gaga
A hero is no braver than an ordinary man, but he is brave five minutes longer. Ralph Waldo Emerson
A day without laughter is a day wasted. Charlie Chaplin
Don't let anything morph you or push you around or have you be something you're not. Christina Aguilera
Imperfection is beauty, madness is genius and it's better to be absolutely ridiculous than absolutely boring. Marilyn Monroe
Once we believe in ourselves, we can risk curiosity, wonder, spontaneous delight, or any experience that reveals the human spirit. E.E. Cummings
Never stop fighting no matter what anyone says. If it's in your gut, your soul, there's nothing, no worldly possession that should come between you and your expression. Kanye West
Success is not final, failure is not fatal: it is the courage to continue that counts. Winston S. Churchil
In this life, to earn your place you have to fight for it. Shakira
I am always doing what I cannot do yet, in order to learn how to do it. Vincent Van Gogh
The desert, when the sun comes up…I couldn't tell where heaven stopped and the Earth began. Tom Hanks
An early-morning walk is a blessing for the whole day. Henry David Thoreau
I get up every morning and it's going to be a great day. You never know when it's going to be over so I refuse to have a bad day. Paul Henderson
Go where you are wanted and stray from where you aren't. Surround yourself with positive people and environments. Demi Lovato
If you do something you hate and have success, you'll still hate it, if you do something you hate and fail, all the worse, if you do something you love and fail, at least you did something you loved, if you do something you love and succeed, double win. Moby
Talk to yourself like you would to someone you love. Brene Brown
Outside the open window
The morning air is all awash with angels.
Richard Wilbur
Embrace what makes you unique, even if it makes others uncomfortable. I didn't have to become perfect because I've learned throughout my journey that perfection is the enemy of greatness. Janelle Monae
One key to success is to have lunch at the time of day most people have breakfast. Robert Brault
Our goal should be to live life in radical amazement. ….get up in the morning and look at the world in a way that takes nothing for granted. Everything is phenomenal; everything is incredible; never treat life casually. To be spiritual is to be amazed. Abraham Joshua Heschel
It is in the early morning hour that the unseen is seen, and that the far-off beauty and glory, vanquishing all their vagueness, move down upon us till they stand clear as crystal close over against the soul. Sarah Smiley
Lesson learned: Make every morning a chance for something new! Start your day off with ambition and good vibes, believing in yourself wholeheartedly. Show gratitude to the world that surrounds you – fill up on all its love and beauty so YOU can shine. You have immense potential held inside just waiting to be unleashed — don't forget it! It's time to take charge: today is yours — make it one memorable journey! Rise 'n' reach those dreams; here's hopin' ya an incredible 24 hours ahead
Positive Good Morning Quote About Life and Relationships
The way we relate to each other and experience life can be greatly influenced by our mindset. Take a moment to reflect on the following positive good morning quotes about life and relationships to help inspire you to make the most out of your day.
I offer you peace. I offer you love. I offer you friendship. I see your beauty. I hear your need. I feel your feelings. Mahatma Gandhi
No matter what happens in life, be good to people. Being good to people is a wonderful legacy to leave behind. Taylor Swift
If you have only one smile in you, give it to the people you love. Don't be surly at home, then go out in the street and start grinning 'Good morning' at total strangers. Maya Angelou
Life is funny. Things change, people change, but you will always be you, so stay true to yourself and never sacrifice who you are for anyone. Zayn Malik
Life's great happiness is to be convinced we are loved. Victor Hugo
You see, we are here, as far as I can tell, to help each other; our brothers, our sisters, our friends, our enemies. That is to help each other and not hurt each other. Stevie Ray Vaughan
You are who you surround yourself with. I know that's such a cliché quote, but it's true. Selena Gomez
You get what you give. What you put into things is what you get out of them. Jennifer Lopez
There must be those among whom we can sit down and weep and still be counted as warriors. Adrienne Rich
For each new morning let there be flow of love. Let there be light of happiness in every direction. Amit Ray
Some people come into our lives, leave footprints on our hearts, and we are never the same. Franz Schubert
I wake up every morning literally with a smile on my face, grateful for another day I never thought I'd see. Dick Cheney
There was never a night or a problem that could defeat sunrise or hope. Bernard Williams
Life is too short to wake up in the morning with regrets. So, love the people who treat you right and forget about the ones who do not. Christy Chung
Lesson learned: Every day can be an opportunity to make new connections! Open your heart and look for ways that you can build bridges of understanding with those around you. Let love, respect, admiration, and the wise words of others guide how you interact – whether it's friends, family or even strangers. At the same time don't forget to appreciate yourself too – take a moment each day check in with yourself so see what qualities define who YOU are as well as any areas where self-improvement is needed. Celebrate every relationship made along life's journey while remembering they all add something special; let these relationships bring joy and fulfilment into your world today!
A Positive Thought for Reflection During the Day
A positive thought can be like a ray of sunshine to brighten up your day. Here are some inspirational quotes to reflect on and help guide you during your day. Whether it's to stay motivated or just keep a positive attitude, these quotes are sure to help make the most of every moment.
It is important to ask yourself why you're doing what you're doing and what purpose it serves in the big picture. Miley Cyrus
Never let the future disturb you. You will meet it, if you have to, with the same weapons of reason which today arm you against the present. Marcus Aurelius
I can't give you a sure-fire formula for success, but I can give you a formula for failure: try to please everybody all the time. Herbert Bayard Swope
There is a candle in your heart, ready to be kindled.
There is a void in your soul, ready to be filled.
You feel it, don't you?
Rumi
Find someone who has a life that you want and figure out how they got it. Read books, pick your role models wisely. Find out what they did and do it. Lana del Rey
The beautiful thing about learning is that nobody can take it away from you. BB King
When you see a good person, think of becoming like her/him. When you see someone not so good, reflect on your own weak points. Confucius
Increase your confidence in your self-worth and in your ability to contribute good things to the world. Lindsey Stirling
What you do in first couple of hours after you wake up in the morning is a firm indicator of not only the quality of the day you're going to have but by extension, the quality of your entire life. Invajy
The rights of every man are diminished when the rights of one man are threatened. John F. Kennedy
I have always been delighted at the prospect of a new day, a fresh try, one more start, with perhaps a bit of magic waiting somewhere behind the morning. J. B. Priestley
Do you know what you are?
You are a manuscript of a divine letter.
You are a mirror reflecting a noble face.
This universe is not outside of you.
Look inside yourself;
everything that you want,
you are already that.
Rumi
I want to live my life in such a way that when I get out of bed in the morning, the devil says, "aw shit, he's up!" Steve Maraboli
I'm always thinking about creating. My future starts when I wake up every morning… Every day I find something creative to do with my life. Miles Davis
I arise in the morning torn between a desire to improve (or save) the world and a desire to enjoy (or savor) the world. This makes it hard to plan the day. E. B. White
Every sunrise gives you a new beginning and a new ending. Let this morning be a new beginning to a better relationship and a new ending to the bad memories. Its an opportunity to enjoy life, breathe freely, think and love. Be grateful for this beautiful day. Norton Juster
When you do something noble and beautiful and nobody noticed, do not be sad. For the sun every morning is a beautiful spectacle and yet most of the audience still sleeps. John Lennon
Starting the day with a positive mindset sets you up for success! By taking time to think of what we are grateful for and speak encouraging words and thinking positive thoughts, each morning can be filled with hope and opportunity. Remember: start your day off right – fill it with positivity, gratitude & optimism. Here's wishing you every amazing blessing as you head into today!
Pin this post to save it for later!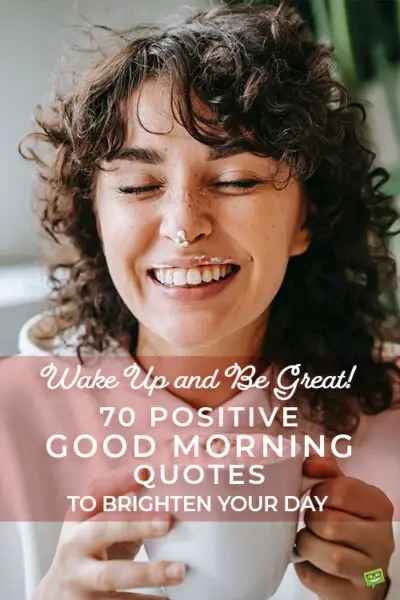 You May Also Like:
Get on the Right Track | 150+ Fresh Inspirational Good Morning Quotes for the Day
80 Motivational Good Morning Wishes to Kick Start Your Day
Rise & Shine! | 111 Good Morning Messages for your Love