Ah, birthdays – a time for cake, candles, and cheesy "Happy Birthday" tunes. But, if you're an Instagram user, it's also a time to capture that perfect shot and come up with a witty, relatable caption that will get all your followers double-tapping and commenting. No pressure, right?
Well, here's the thing: coming up with the right birthday cake caption when you need it is crucial. It's what helps to transmit those birthday vibes to your followers, to make them feel part of the celebration, even if they can't be there in person. But, what makes a great birthday cake caption? And how do you know when you've nailed it?
Fear not, because we've got you covered. In this post, we've rounded up 100 of the best birthday cake captions out there. From sentimental to sassy, these captions are sure to make your followers smile and, dare we say it, a little bit jealous of your delicious-looking cake. But, before we dive into the captions themselves, let's talk about what makes a great birthday cake caption.
What Makes A Birthday Caption Great?
Let's be real, not all birthday cake captions are created equal. Sure, you can slap a generic "Happy Birthday to me!" on your Instagram post and call it a day, but where's the fun in that? A great birthday cake caption should be like the icing on the cake – it's the finishing touch that takes your post to the next level.
So, what makes a birthday cake caption great? For starters, it should capture the essence of your birthday celebration. Are you feeling sentimental about another year of life? Are you excited to party it up with your besties? Or maybe you just want to indulge in a slice (or three) of cake in peace. Whatever your vibe, your caption should reflect it.
But, a great birthday cake caption goes beyond just capturing the moment – it should also be relatable and witty. It's the perfect opportunity to poke a little fun at yourself, make a joke about getting older, or share a birthday-related pun that's so bad, it's good. Trust us, your followers will appreciate a little levity on their Instagram feeds.
Last but not least, a great birthday cake caption should be short and sweet. After all, the star of the show is that delicious-looking cake, not your lengthy caption. Keep it to a few words or a short sentence, and let your photo (and the cake!) do the talking.
Funny Birthday Cake Captions That Are a Deliciously Good Time
Don't just blow out the candles, blow up your followers' feeds with these funny birthday cake captions
Growing up is optional, but cake is mandatory.
They say laughter is the best medicine, but I say cake is a close second.
I'd love to stop eating cake, but I'm not a quitter. Happy birthday to me!
Cake is like a best friend – it's always there for you, no matter how old you are.
Another year, another excuse to eat cake for breakfast. Don't judge me.
I'm not getting older, I'm just increasing my cake intake.
Let's eat cake and pretend we're not getting older.
The only thing better than a slice of cake is a second slice of cake.
I'm not saying I'm the queen of birthdays, but this cake definitely makes me feel like royalty.
It's my birthday, and I'll eat cake if I want to. And I want to. So there.
I'm not saying this cake is a masterpiece, but it definitely deserves a spot in a museum.
I never met a cake I didn't like. Especially on my birthday.
Cake is the best accessory for any birthday outfit.
Birthdays are nature's way of telling us to eat more cake.
This cake is so good, it's worth every calorie. And I'm not even counting.
Let them eat cake, said someone who clearly never had this one.
This cake is so good, I may just have to have another birthday next week.
Today's forecast: 100% chance of cake, with a side of sass.
Growing older may be scary, but cake is always there to comfort you.
Age is just a number, but cake is a universal language. And this one speaks to me on a spiritual level.
Life is uncertain, but cake is a sure thing. Happy Birthday to me!
It's not a real birthday until you've blown out the candles on a cake you can barely fit on the table.
Cake is the ultimate multitasker – it can be dessert, breakfast, or a snack all at once.
Bite-Sized Birthday Cake Captions That Say It All in Just a Few Words
Sometimes all you need are a few words to add some sweetness to your birthday cake post – check out these short and sweet captions!
Cake, cake, and more cake – that's my kind of birthday!
Life is short, but cake makes it sweeter.
It's not a party until someone brings out the cake.
I didn't choose the cake life, the cake life chose me.
I may be getting older, but at least I can still eat cake like a kid.
I may be another year older, but at least I have this cake to console me.
Another year, another reason to indulge in a little slice of heaven. Or four.
Why age gracefully when you can eat cake recklessly?
Another year of wisdom, wrinkles, and cake. But mostly cake.
Age is just a number, but my love for cake is infinite.
Aging is inevitable, but cake is forever.
Age is just a number, but cake is a state of mind.
I don't always have birthdays, but when I do, I eat cake.
Cake is the answer to every birthday question.
Birthday wishes come true when there's cake involved.
It's not just a birthday cake – it's a work of art.
Birthdays are the perfect excuse to indulge in cake. As if we needed an excuse.
My birthday wish? More cake, please!
Cake is like a warm hug from the inside out.
Spice up your birthday cake photos with a touch of sass and a sprinkle of humor – these sassy captions are sure to make your followers smile!
If you don't take a selfie with your birthday cake, did you even really celebrate?
If cake were a superpower, I'd be a superhero by now.
Another year older, but my cake game is forever strong.
I can't keep calm, it's my birthday and there's cake involved.
Growing older is like eating cake – it's messy, it's indulgent, and it's worth it.
I'm not getting older, I'm just getting better at eating cake.
My philosophy on birthdays: more cake, less problems.
You know what they say: cake now, deal with the consequences later.
Life is short, but my cake is tall.
Cake is the only reason I get excited about birthdays.
Another year, another excuse to eat cake like it's my job.
I'm not saying I'm a cake expert, but I'm pretty sure I could eat it all day.
You can't buy happiness, but you can buy cake. And that's pretty much the same thing.
Growing up is overrated. Eating cake, on the other hand, is not.
Cute Words To Caption Your Birthday Cake Photos in Style
These sweet and delicious cake captions are perfect for sharing on your special day!
Cake may be sweet, but the memories it creates are even sweeter.
A birthday cake is like a present you can eat, and who doesn't love presents?
Life is like a slice of cake – it's sweet, indulgent, and something to savor with every bite.
Celebrating another year of life with a sweet treat and a heart full of gratitude for all the blessings in life.
Cake + Birthday = Perfect equation!
More cake, more birthdays, more reasons to celebrate!
A slice of heaven on my birthday!
Sweetest birthday ever!
Today, I'm one year older and one slice of cake happier!
Another year, another delicious cake! Let's celebrate!
Let's eat cake and celebrate another year of life, love, and laughter!
One cake, one birthday, one special day to remember forever!
My birthday is not just a celebration, it's a cake-ation!
A slice of cake, a smile on my face, and a wish for another amazing year!
Age-Related Birthday Cake Captions That Will Make You Smile
Aging may be inevitable, but that doesn't mean we can't poke fun at it – so here are the best age-related birthday cake captions that are sure to make you feel young at heart (even if your knees don't quite agree!)
Age is just a number, but cake is a feeling. And right now, I'm feeling pretty sweet.
This cake is making me feel young again.
I'm not getting older, I'm just increasing in value. And the cake helps.
Age is just a number, but cake is a state of mind. And my mind is definitely in a cake state.
You know you're getting older when you need a spreadsheet to keep track of all the candles on your cake.
The older I get, the more I realize that cake is the answer to everything. Except maybe wrinkles.
Another year of blessings, memories, and cake. But mostly cake.
I may be older, but at least I can still eat cake like a kid. And this cake is worth every bite.
Growing older is like eating cake – you can't avoid it, so you might as well enjoy it.
I'm not saying I'm old, but I remember when birthday cakes had one candle. And dinosaurs roamed the earth.
Another year wiser, another cake to eat. It's a win-win.
Some people count their age in years. I count mine in cake slices.
Growing up is overrated, but growing into a cake connoisseur is a life goal.
Whether you're celebrating your own birthday or someone else's, these hashtags for birthday cakes are sure to add some sweetness and fun to your Instagram posts!
#HappyBirthdayToMe
#CakeIsLife
#EatCakeForBreakfast
#BirthdayCelebration
#SweetTooth
#AgeIsJustANumber
#LetThemEatCake
#BirthdayWishes
#CelebratingAnotherYear
#CakeTime
#PartyTime
#BlowingOutCandles
#FeelingBlessed
#BirthdayCakeLove
#MakingWishesComeTrue
#LetThemEatFrosting
#GrowingOlderButNotUp
#CakeGoals
#CheersToAnotherYear
#SatisfyingMySweetTooth
Pin it to save for later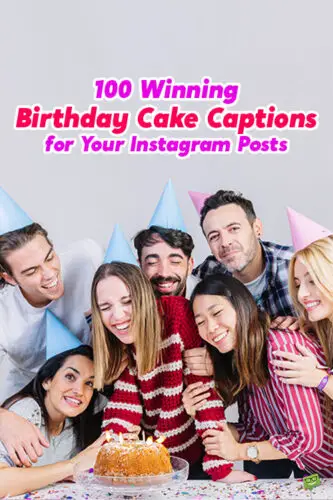 You May Also Like:
40 Perfect Captions for Your Birthday Weekend Instagram Posts
25+ It's My Birthday Month Quotes and Memes
70 Perfect Dog Birthday Captions for Instagram Posts
40 Captions That'll Make Her Day Even Brighter! Happy Birthday, Mom!