It's that special time of year when your fur-baby celebrates their birthday. This milestone marks a lifelong journey together with lots of adventures, memories, and hugs! But how can you express your love and commemorate this momentous day on Instagram? With dog birthday captions, of course! Whether they're funny, sweet, or just plain silly, these captions will make your puppy's big day even more special. Read on for some creative ideas to use as dog birthday captions for Instagram – it'll be ruff trying to choose just one!
Happy celebrating – woofs and kisses from us to you!
Celebrate Your Pup's First Birthday with Furry Fun Captions!
A dog's first birthday is an extra special event! Make sure to commemorate it with a caption that's as heartwarming and memorable as the day itself. Here are some ideas for dog's first birthday captions for Instagram:
One year of puppy kisses, tail wags, and fur shenanigans!
The best adventure starts with a pup's first year.
A pawfect celebration – happy 1st bday!
Unleashing our love on your very first birthday.
Time flies when you're having fun (and fetch!).
Cheers to one year of cuddles and mischief!
Woof! It's my first birthday and I'm as excited as a puppy with two tails!
Barking up the right tree… one year old today!!
First year of life down, who knows what adventures await?
Happy 1st birthday to my fur-ever friend!
It's been one ruff year! Happy 1st barkday pup!
Here's to the start of an incredible journey together! Happy 1st Birthday, pup!
Time flies when you're having fun! My first birthday is here already!
Pawty time! Here's to wishing you a happy 1st barkday!
I'm one today and ready for a pup-tastic second year ahead!
Ready to party like it's my first birthday (because it is!).
Cheers to a furry good time on my first birthday!
A year of puppy love later, and I'm ready for more!
It's my special day and I'm celebrating like a true pup-star! Happy 1st Birthday to me!
Bonus: We can't believe it's been a year since you entered our lives – cheers to many more birthdays together!!
Totally Pawsome Birthday Captions for Your Dog's Big Day!
Instagram is the perfect place to share your pup's big day with all of your friends and followers! Whether you have a tiny Pomeranian or a Great Dane, make sure you give them the birthday celebration they deserve. To get you started, here are some outrageous and unique dog birthday captions that will make everyone smile – even if it's just through an emoji.
It's not every day that my pup turns one…but when he does, let's paw-ty!
This doggo is now one year older.
It's time to paw-ty! Happy birthday to my furry friend!
It's a doggone good day! Happy birthday, pup!
A party without cake? That's ruff! Happy birthday pup!
Here it is…the pawfect occasion! Happy Birthday!
Today marks the most paw-some day of the year – happy 1st birthday pup!It's time for some serious fetching! Happy 1st barkday pup
Happy Barkday to one of the goofiest pups around.
You may be getting older but you're still our puppy love.
Today marks the day that I became a dog mom! Happy birthday pup!
Congratulations on making it to your first barkday.
The best days are spent with my pup, especially on their special day!
Time for some of those famous doggy treats on this special day!
Celebrating one whole year of being puppy-licious.
Somebody's a year older and cuter than ever! Happy Birthday to this pup!
Related:  Heart-Touching and Cute Wishes for a Dog's Birthday
Fetch Some Cheesy Puns: Fun Dog Birthday Captions for Instagram!
It's time to throw your pup a bark-tacular birthday celebration! From tongue-in-cheek puns to witty one-liners, these funny dog birthday captions are sure to make your pup's big day extra special.
Paws-itively fabulous at one!
I can't believe I'm a year wiser!
A whole year older, and still as adorable as ever.
1 more candle on the cake = 1 bark more awake!
It's a woof-derful day – it's my pup's birthday!
Happy Birthday to my favorite fur baby! Here's to another year of slobbery kisses and puppy cuddles!
A big woof-out to my fur baby on his special day!
Time flies when you're having fun…and treats!
Today is all about doggo – happy birthday to me!
Time to pawty like it's my birthday (because it is)!
One pup-ariffic year down, many more wags to go!
It's raining gifts, love, and lots of treats – happy first birthday to me!
A year wiser, and still the cutest pup around!
I'm celebrating one complete revolution around the sun, woof!
Let's howl it out – happy birthday to me!
Birthday kisses for everyone!
Time is a puppy – always running away from you!
One more year of puptastic adventures ahead!
I hope these funny, witty and unique dog birthday captions for Instagram will help you capture your pup's special day! Be sure to add some puppy love and lots of treats. Happy Birthday, pup!
Jump On the Birthday Dogwagon: Short and Sweet Captions for Your Pup's Special Day!
These dog birthday captions are perfect for celebrating your pup's special day. Show them some love with one of these cute and funny dog birthday captions and make them Instagram Celebrities!
Today is a dog-gone good day!
Woof, woof! Time to party.
Another year of dog kisses and cuddles.
Happy birthday, pup cakes!
Time to pawty like it's your bday!
Let the dog days begin.
Wishing you lots of treats on your special day.
Hip, hip hooray for doggo's bday!
Happy howliday from us two-leggeds.
Ready for dog-terful adventures this year.
Wishing you lots of tail wags and fun.
A pawfect day to celebrate your special pup.
Happiest of birthdays to the best dog ever!
Here's barkin' at ya on your birthday!
Celebrating another awesome year with my favorite pup.
Let the birthday shenanigans begin!
Today is all about dog celebrations.
It's a dog-tastic day!
Go dog go!
Best day ever for the best dog ever!
If you like it, pin it!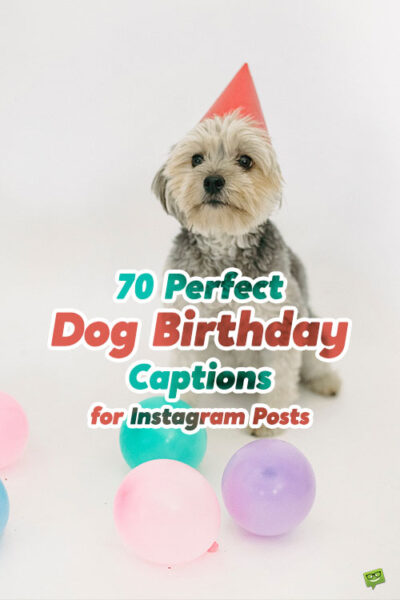 With the right combination of funny dog birthday captions, images and hashtags, you can make your pup's first birthday celebration special in an extra special way! Whether you're crafting the perfect caption that reflects the pup's personality or celebrating your pup's first milestone with a humorous comment, make sure to keep your pup's special day fun and memorable.
You May Also Like:
30 Heartwarming and Hilarious Birthday Wishes for Dog Lovers!
12+1 Loyal and Trustworthy Dogs Making their Point in Art
100 Great Names for Dogs and Why Pick Them
A Tribute to Our Fur Baby: 40 Goodbye Messages for a Dog Who Passed Away