Birthday celebrations are all the more special when you have someone close to share it with. If that person happens to be your brother, it's even better! No matter how old your brother is turning, celebrating another year around the sun deserves a message of good wishes and love.
To help make his day extra memorable, why not include something humorous? We've got 40 crazy funny birthday wishes for brothers here that will surely bring a smile to his face on this very special occasion.
So go ahead: tap into your wacky side and give him one of these heart-filled sayings!
Funny Birthday Messages for your Brother

He'll get your jokes even though you might be getting on his nerves occasionally. From teasing and sarcastic to really humorous, these birthday wishes will do the job!
Happy Birthday to someone who is as genetically dysfunctional as I am.
Another year closer to being an old, offensive and incontinent senior citizen!
Dear Brother. On your birthday, I would love to tell you how wonderful, charming, kind, and amazing you are. But then I would have to lie. Have a great birthday!
Bickering with you over the years has become a pastime. Enjoy your birthday!
Brother, you are so old that your birthday candles were brought up at the international global warming conference. Happy Birthday, you old fart!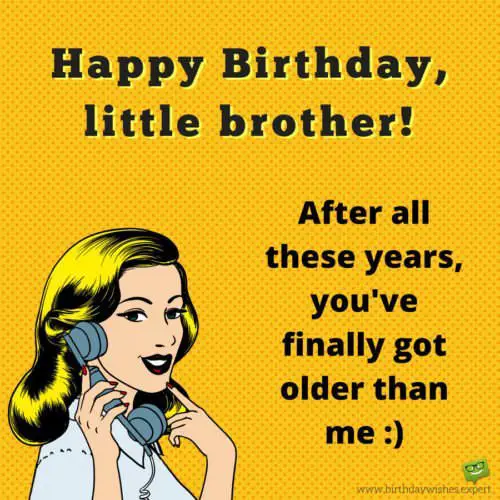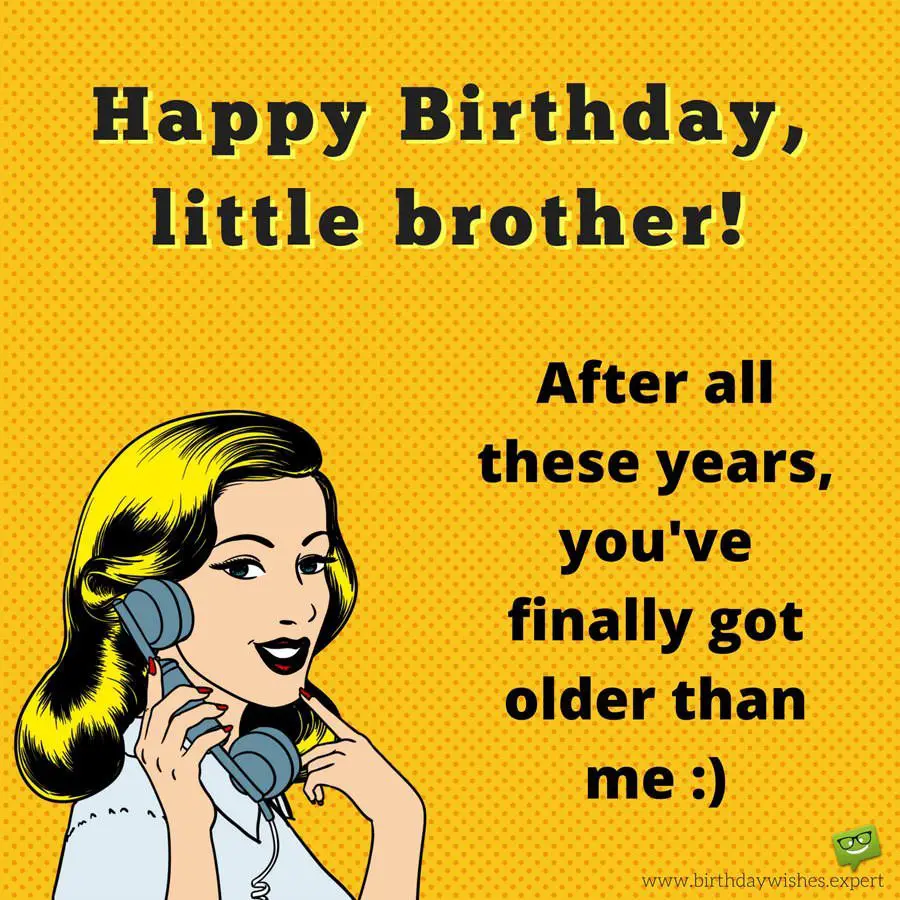 We fight more than we hug but I know it's just that brotherly tough love. Today is the one day a year I stop to say "I love you."
To my brother, thanks for being a brat at the worst moments and the greatest friend at moments I most need it. Happy Birthday.
Dear Brother,  being your sister meant enduring your fart bombs and living in with your messy habits. It wasn't always easy but there was never a dull moment. Happy Birthday.
Happy Birthday and thank you for all the years you ratted me out to Mom and Dad.
Too many candles on your cake is causing a fire hazard. Congratulations! That means you're getting too to count. Happy birthday.
Happy Birthday to you! Happy Birthday to you! You smell like a donkey and you look like one too! Just kidding. You're not an ass… all the time. Love, Your Favorite Sister.
Happy Birthday to someone who remembers what it was like to not receive Facebook birthday notifications. Just think: if you were a computer, I'd have to turn you in to get a more up-to-date model and you would go in the recycling bin.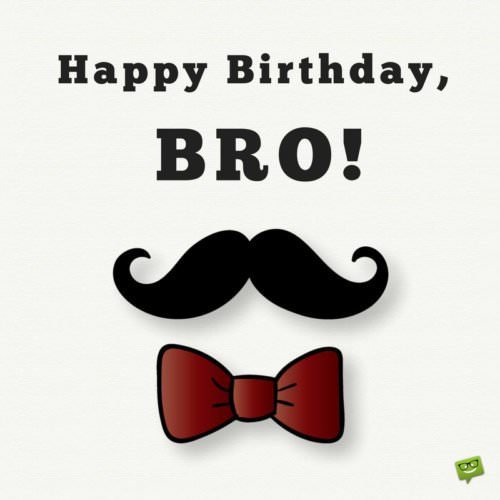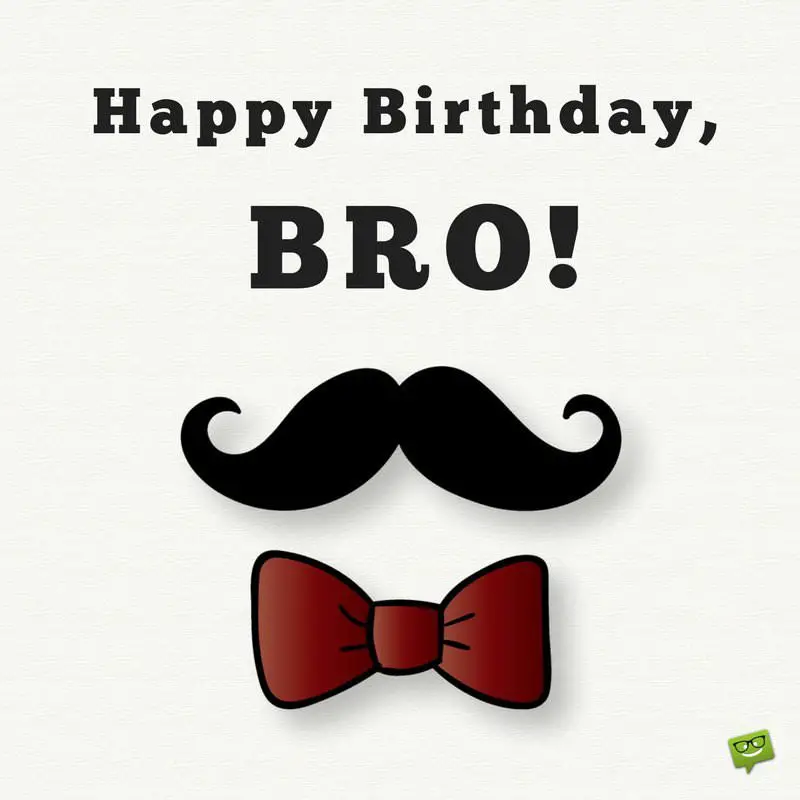 Wishing you the best, bro! Always know that if you fall… I will be the first one there to laugh at you!
"To the most amazing, dynamic, and beautiful sister around…" Oh wait! That would have been your message to me on my birthday!
I'm not saying I'm the real Batman, but you must admit you've never seen us in the same room together… but… "Let's put a smile on that face!" because it's your birthday.
Even if I had the chance I wouldn't trade you for an Xbox. Happy Birthday, bro!
Brother, I wanted to apologize for something. I am sorry that I am your brother…and there is not a darn thing you can do about it! Through thick and thin you will be my brother always and forever. Happy Birthday to you. I hope you have a well-deserved wonderful day.
Best wishes, brother. I tried to get your birthday present wrapped in time but… it just wasn't happening and Kate Upton had to get back to work on her Sports Illustrated swimsuit shoot in the Bahamas.
Happy Birthday, my lovely brother! This day is indeed a special one in your life for so many reasons, one of which is at least you are not as old as you will be on your next birthday.
I just want you to know that you mean more to me than Sheldon's spot means to him. Happy birthday to you my precious!
Also read: Huge List of 180 Funny Birthday Messages and Wishes for Extra Birthday Laughs
Happy Birthday Brother memes
Say it with a funny meme.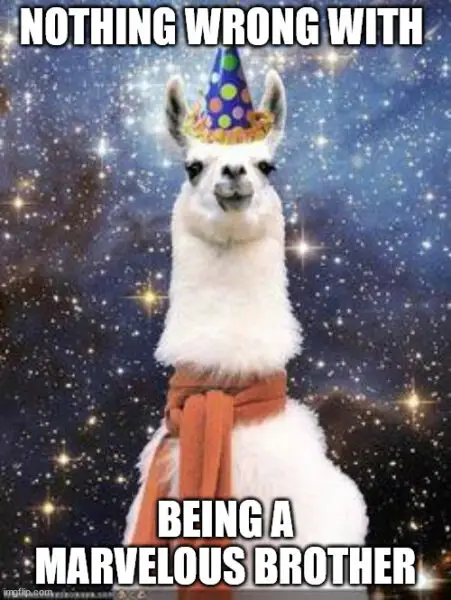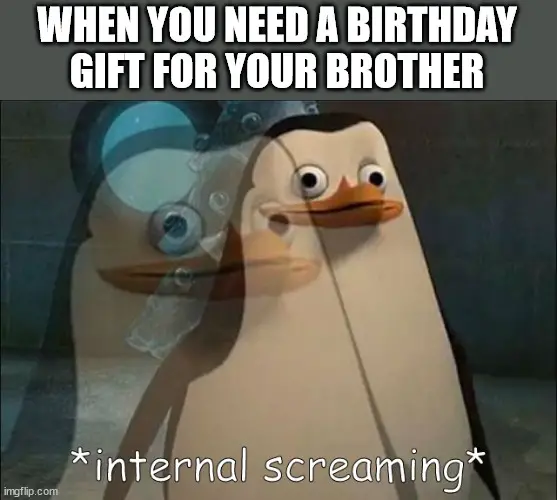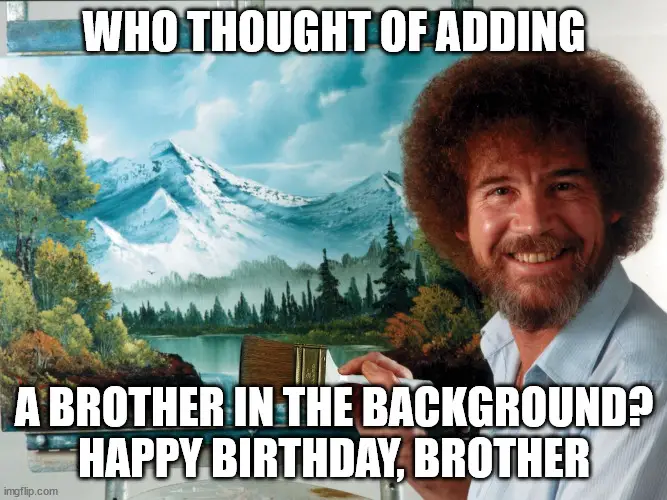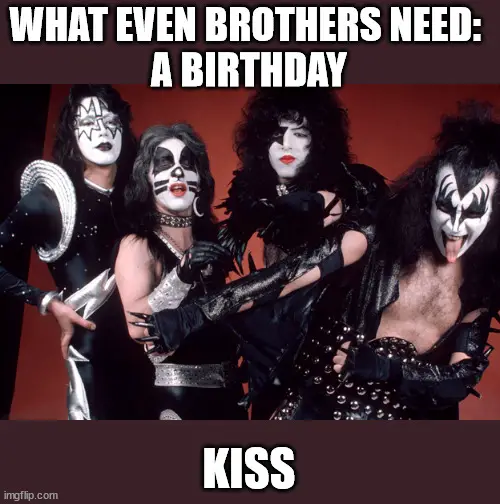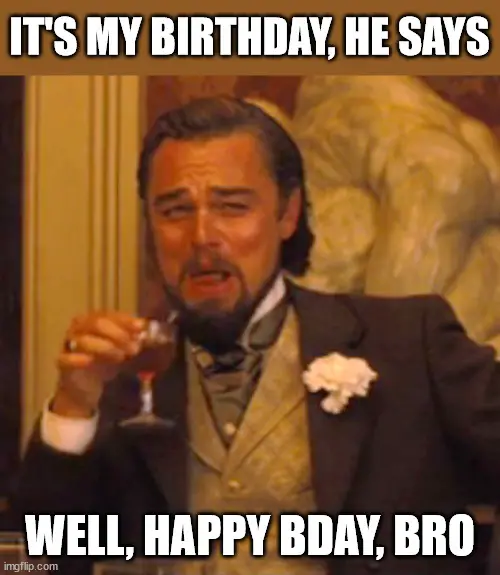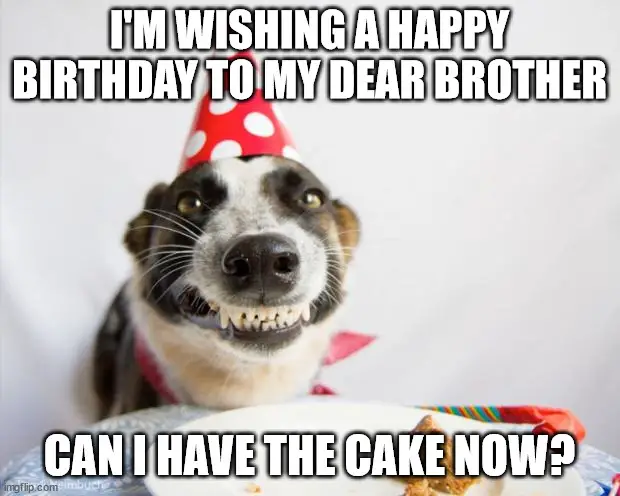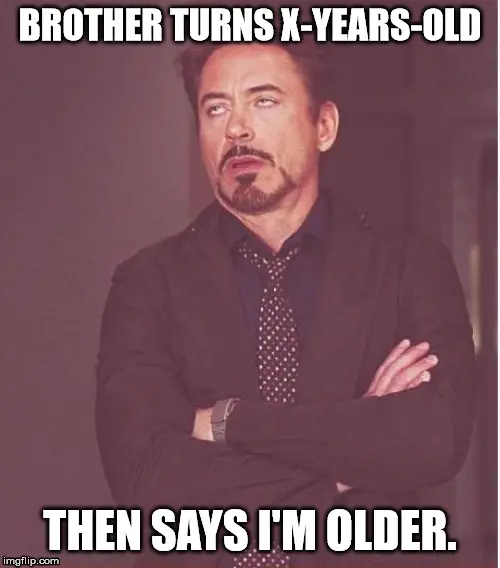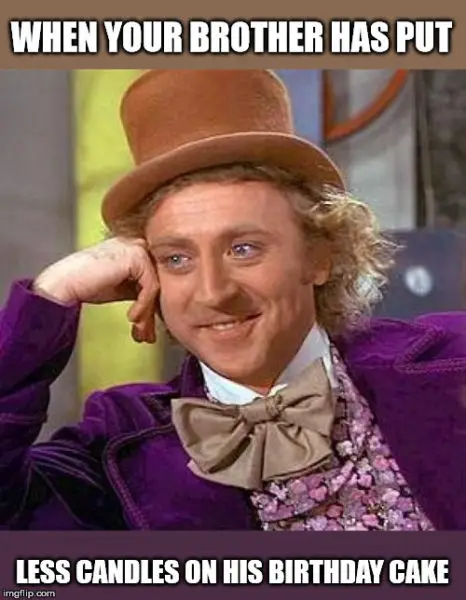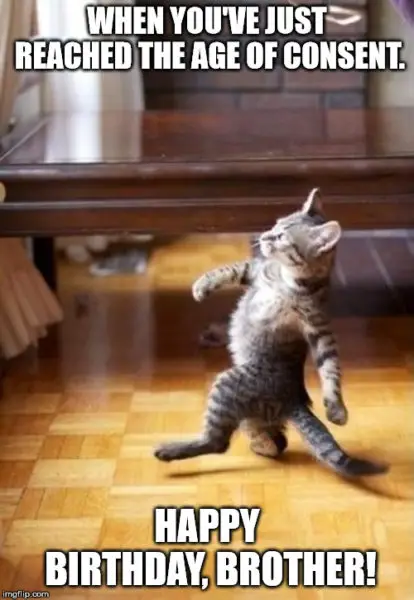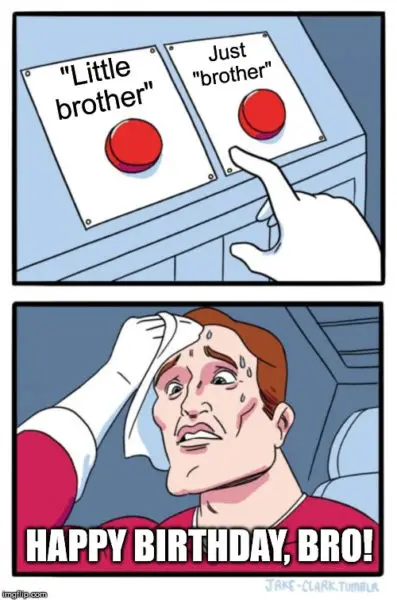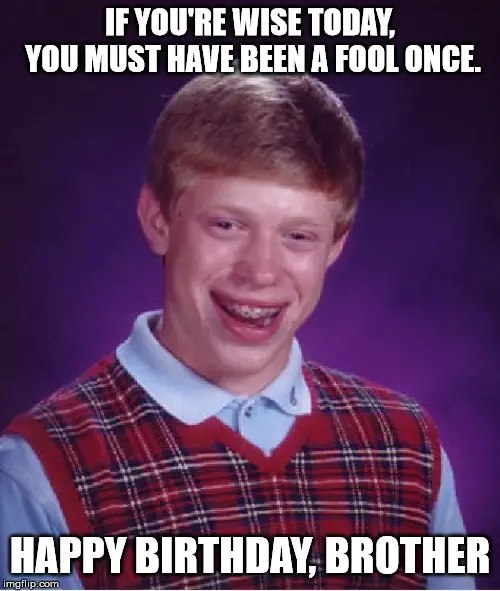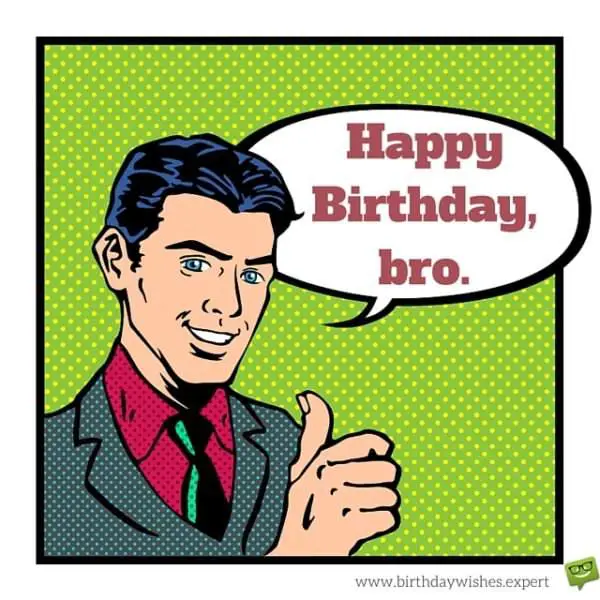 Funny Birthday Poem for a Brother
#1:
My brother, so dear to my heart
My 'bother', never stopped throwing a dart
My brother, always giving me order
My sweet brother, always there to rescue me from another
#2:
My brother, my ever reliable ally
Keeping me safe by his side daily
Although he makes me cry sometimes
His soothing arm pampers me at all-times
If you like it, pin it!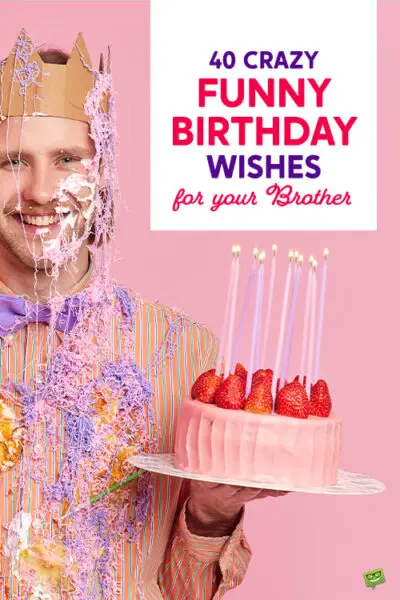 You may also like:
A Brother and a Friend | Happy Birthday, Brother-in-law!
Birthday Prayers for Brothers | A Blessed Celebration
Top 200+ Original and Funny Happy Birthday Memes
200 of the Best Birthday Messages to Make Someone's Day Special