As siblings, you share many special moments in our lives together. Today you want to celebrate a very special occasion with him – his birthday! Whether it's funny or heartfelt, here are 40 wishes to express how much you appreciate and love your big brother on this special day. From touching messages to hilarious jokes, hopefully these birthday wishes will bring a smile to their face and make this day even more special.
Love ya, Dear Brother! Heartfelt Birthday Wishes for your Big Brother
It's time to express how much you care and appreciate your big brother this birthday. Here are some sweet and uplifting wishes that will remind him just how much he means to you.
Today is your special day, and you should know how much you are loved. Celebrate you and celebrate your birthday!
You are not only my big brother but a true friend who has always been there for me no matter the situation. I truly love you for always having my back. And on this special day of your life, I hope all your dreams come true. Happy Birthday, big brother! Thank you for being the best big brother ever. You always put me first. I hope that today on your birthday you find time for you! You deserve it!
We might not look alike and we might have different opinions, but we are always there for each other. I am so grateful to have you as my big brother.
My dearest big brother, you have always been a role model to me. You lead by example and your instruction is always golden. Have a great day celebrating your birthday.
Whenever life forces me to a new low, I look to you and you fill me with hope and make everything alright. In you I have always found the courage to surmount all the challenges the game of life brings my way. I feel like I am the richest and luckiest person in the world simply because I have you as an older brother. You have always been wonderful to me and I can't thank you enough for that. And on this special day, I just want to say a big happy birthday to you. You are indeed the most wonderful big brother in the whole world!
When we were kids you heard my complaints about you all of the time. But now I just can't imagine my life without you.
Today we celebrate a man that does so much for so many. Your commitment to others is inspiring. Thank you for all that you do. You are loved by many.
Life without you would be so much harder. You are a rock for our family, and you are loved dearly. Best wishes for your best year yet.
You are such an amazing big brother, and you deserve only the best. May this year bring you everything you hope for and deserve.
Because you are my big brother, I have learned so much from you. Thank you for being such a great example to follow. Thank you for being you! Best Wishes!
Today is your birthday, and you should know that you are loved and celebrated. You are the best big brother ever, and you are loved more than you will ever know. Enjoy your day!
The world would be a lot less exciting without you in it. May this next year be your most exciting and rewarding year yet. Best wishes for your birthday!
Having you as my big brother made me feel like I had my own personal bodyguard. Although I didn't appreciate it at the time, you kept all the jerks away, and kept me from falling into the wrong crowd. You are one-in-a-million and I hope you have the best birthday ever!
Know that you are loved beyond measure, and know that you are my hero. Happy Birthday to an amazing brother and an amazing friend!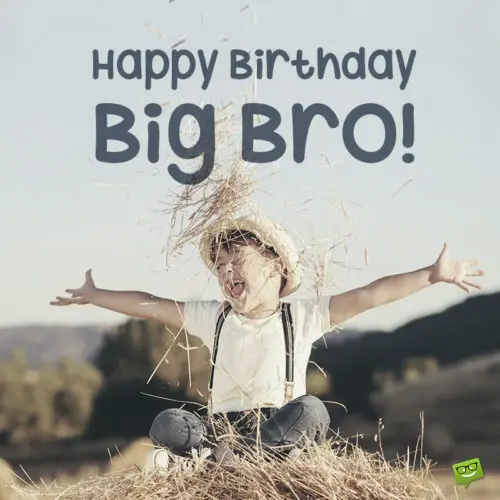 Happy Birthday, Big Bro! Thanks for always setting the bar so high… making all of my achievement pale in comparison.
Happy Birthday to someone who became my hero when he helped get the boogeyman out of my room. Became my navigator when he led me thru the treacherous waters of high school. In college you continue to set the bar high. You are my role model. I love you, older brother and I hope you have an incredible birthday surrounded by family and friends.
Happy Birthday, Big Bro! Thank you for always being there for me and teaching me all the things you know. I couldn't wish for a better brother!
You know how they say, the people who fight love each other the most. Maybe sometimes our fights get intense over small things but I would not change those moments for anything on the planet. Thank you for all you do for me. I will always look up to you my big bro.
You mean so much to me. And I just want you to know that as your big brother you can always count on me to be there for you.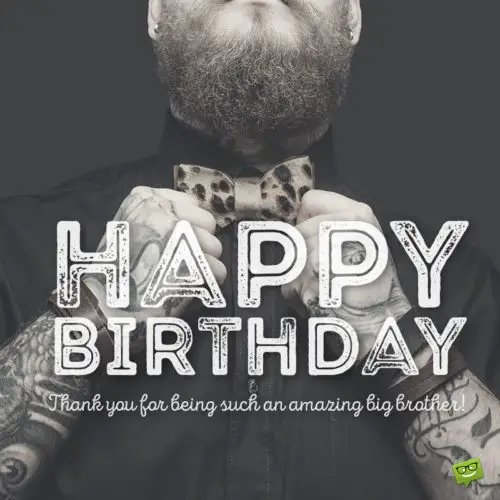 Funny Birthday Wishes for Big Brother
Will he take jokes? Well, you hope he does! After all these years, these funny birthday wishes will do!… Then again…
I don't know how to put this, but you're kind of a big deal. I bet your apartment smells of rich mahogany and is filled with many leather-bound books.
Did you know the Merriam-Webster dictionary has your picture under 'dinosaur'? Happy Birthday, my prehistoric brother!!!
You're gonna press on and you're gonna have the hap-hap-happiest birthday since Christina Aguilera was a genie in a bottle.
NASA just reported a giant ball of light was seen from space. A few too many candles this year, brother.
Warmest wishes, brother! I hope your day of merriment ends better than the wedding feast of King Joffrey and Queen Margaery!
I'm happy you're getting older, I wish to even expedite your age, so that I will have our room alone to myself when you leave home! Happy birthday to my lovely, big brother.
I can't wait for you to get even older and get married. And that is because I can't wait for you to have kids, so that I can return the annoying spankings that you gave me those days, to your kids. H.B.D big brother.
I am so glad mom & dad's contraception failed and you were born.
Happy birthday to the best big brother in the world! And please do not eat the cake without me. Remember mother taught us to share!
Today is a special day in your life. You are a year older. I hope you have not become too old to remember to keep some of the cake for me. Happy birthday, my ol' brother!
There were days when you had only a few candles on your cake. Now you have so many on it, it is difficult to see the cake. Happy Birthday, big brother!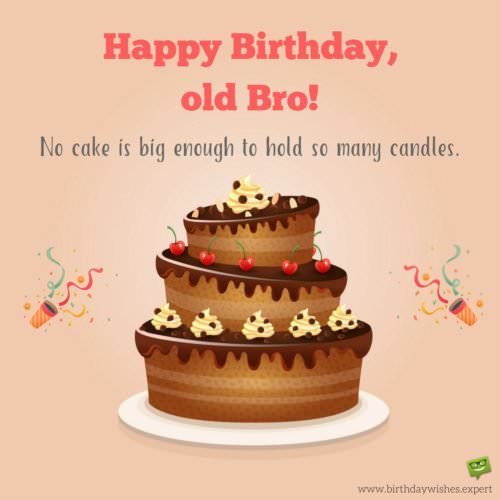 Brother, age is not just a number, don't be deceived. If it is just a number, how come your wrinkles are increasing? Face it, you're really becoming old. And, that's why I couldn't think of a better birthday gift for you than an anti-wrinkle cream! Happy birthday, dear big brother.
Both your ceaseless, infuriating scolding and your occasional pamper, they all make you a wonderful big brother! Happy birthday.
Happy birthday, big brother. Am I supposed to get you a birthday gift? But, I thought as the big bro, you should treat me instead!
Hi older brother, I hope you're not planning to place 25 candles on your cake, because it may end up becoming a candle-cake. Happy birthday to my one and only big brother.
Big brother, I wish you long life on this special day. Of course, you know that the best way for the wish to come true is for you to age faster! Happy birthday.
Big bro, don't be scared of your increasing years, it's the fastest route to becoming a senior citizen and enjoying the benefits that follow. Happy birthday.
You are a brother to hold and to cherish for life…well, on the condition that you won't stop running to my defense at all times J Happy birthday, big brother.
Big brother, the only gift that crossed my mind for you is a stylish lace wig, so that you can stylishly mask your bald head. Age seems to be obviously telling on it. Happy birthday to my older brother.
I feel like making hurray shouts to let the world hear about my big brother's birthday. But, when I remembered I needed to shout 35 hurrays, I became scared that my voice my cease even before I get to the 35th one! Happy 35th birthday to my loving older brother.
Also read: Huge List of 180 Funny Birthday Messages and Wishes for Extra Birthday Laughs
If you like it, pin it!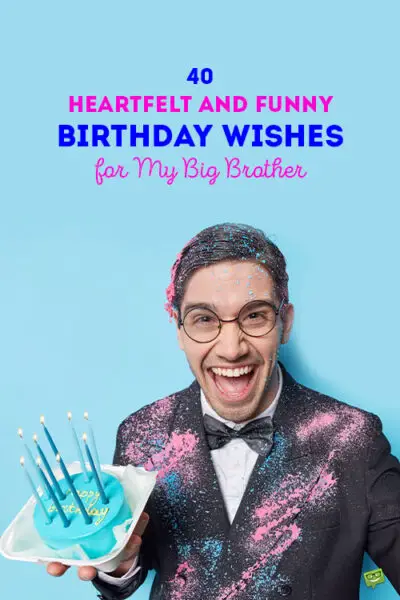 You may also like:
40 Crazy Funny Birthday Wishes for your Brother
25 Memorable Happy Birthday Images to Celebrate Your Brother's Birthday!
Happy Birthday, Bro! | Best 150 Birthday Wishes for your Brother