Hey Friendsgiving squad! Ready to trade your stuffy traditions for something a bit more offbeat? We're dishing out the sass and serving up some seriously spicy captions that'll make your Instagram as popping as the bubbly at your bash. Forget the fancy feast; it's all about the fun with your chosen fam. Whether you're slaying the Friendsgiving game with your killer spread or just here for the 'Gram and the glam, we've got the snazzy lines to match your mood. So grab a slice of pie, pick your filter, and let's get your feed looking as feast-ive as your table. Time to get your caption game on a roll – buttery, pun-filled, and ready to roast!
Table of Contents
Hilarious Friendsgiving Captions for Your Turkey Day Posts
Get ready to feast on laughs with our smorgasbord of Friendsgiving captions! Whether you're here for the food or the funnies, these pun-tastic one-liners are perfect for lighting up your Insta feed on the big day.
Pardon the mess, it's just us making memories.
Feast your eyes on this fine Friendsgiving fiasco!
It's all fun and games until someone drops the pie.
Stuffed with stuffing and feeling stuffy.
Gobble 'til you wobble, then Insta 'til you drop.
Thankful for Wi-Fi and stretchy pants.
Let's get basted, my friends!
Who needs a turkey when you've got a flock of wild friends?
Friends are the family we feast with.
Eat, drink, and be cranberry!
The only thing stuffed more than this turkey is our selfie.
Pie can't believe we ate it all!
Grateful for friends who know how to dish it out.
Pass the pie and the punchlines, please.
Our Friendsgiving is unbe-leaf-able!
This is what happens when the 'baste' friends get together.
Got my mind on my mashed potatoes and my mashed potatoes on my mind.
Pumpkin spice and chill with my besties.
Feeling grateful and a little bit gravy-tated.
Squash goals with the squad this Friendsgiving.
Just a bunch of hot potatoes.
Stuffing is the glue holding this Friendsgiving together.
Peas, love, and Friendsgiving.
Rollin' with my homies…and some buttery dinner rolls.
Wham, bam, thank you yam.
This Friendsgiving, we're serving up seconds of fun.
When life gives you lemons, make lemonade. But when life gives you turkey… Friendsgiving!
What's my favorite dish? A plate full of friends.
Cheers to Friendsgiving, where calories don't count and the laughter is endless.
Friendsgiving: Because Thanksgiving with blood relatives requires too much patience and not enough booze.
Here's to a happy Thanksgiving spent with my fr-amily—too much food and even more laughter.
This Friendsgiving, let's make a maybe toast… because maybe we'll remember it after all this wine.
The only thing better than Thanksgiving dinner is Friendsgiving leftovers.
Friends are the mashed potato to my gravy—mashed potato obsessed and fifty shades of gravy.
Thankful for elastic waistbands and friends who won't judge the third helping.
Eat, drink, and be merry—for tomorrow, we diet.
Friendsgiving: Where calories don't count and the friends count more than ever.
This Friendsgiving, we're serving up fifty shades of gravy and a whole lot of laughs.
Happy Thanksgiving! So grateful to spend this day in a wonderful place, surrounded by my chosen family.
Rolling into Friendsgiving like it's a Black Friday sale—ready to claim all the mashed potatoes.
Here's to the friends who turn into family and the Thanksgiving dinners that turn into midnight snacks.
Thanksgiving is about giving thanks, but Friendsgiving? That's about taking the last piece of pie.
May your Friendsgiving be full of merry moments and your plates full of seconds (and thirds).
Pass the stuffing and the sentiments—Friendsgiving is in full swing.
Just a bunch of friends who are mashed potato obsessed, celebrating the best holiday ever.
At our Friendsgiving, we feast like the Pilgrims and party like it's 1621.
Friendsgiving mantra: Eat like Joey, drink like Frank, and party like it's 'Friends'!
Here's to the friends who make every Thanksgiving a happy Thanksgiving.
Embrace Gratitude: Heartfelt Captions for Friendsgiving Memories
As we gather around the Friendsgiving table, it's the perfect moment to reflect and share the warmth of genuine friendship. Let these heartfelt captions be the voice of your gratitude as you celebrate the bonds that make every feast a treasure.
Thankful for the family I choose, my irreplaceable friend squad.
Grateful for good friends, good food, and good times.
Here's to the nights that turned into mornings, and the friends who turned into family.
Blessed with the best – couldn't be more thankful for these faces.
Friendship is the ingredient that binds us together. So grateful for each of you.
Feasting on love and thankful for the shared laughter.
Collect moments with friends, not things. Grateful for these priceless memories.
Here's to another year of grateful hearts and full plates.
Friends who slay the Friendsgiving game together, stay together.
Pie and thanksgiving, a duo almost as perfect as us.
Filling my heart as we fill our plates. Thankful doesn't even cut it.
A toast to the friends who became family.
Gratitude turns what we have into more than enough, and I have all of you.
The best wines are the ones we drink with friends – thankful for every sip and giggle.
Life is made of small moments like this, with friends like you.
For the company, the camaraderie, and the countless blessings, I am truly grateful.
My heart is as full as my plate. Happy Friendsgiving!
So much joy in one room – feeling incredibly thankful for these moments.
A hearty plate and a heartier company, grateful for both this Friendsgiving.
Savoring the sweetness of friendship and the joy of togetherness.
Friendship is the flavor that makes every meal a banquet. Immensely grateful for ours.
In this circle, we find warmth, love, and a place to belong. Thankful for friends like you.
Here's to the ones who've been there through thick and thin crust pizza.
Another Friendsgiving to remind us that love and laughs are the best dishes served.
Celebrating our friendship that's more satisfying than any pumpkin pie.
Friends like you make every Thanksgiving a Friendsgiving to remember.
May these captions not only adorn your Instagram posts but also remind you of the love and gratitude that surrounds you this festive season. Share them with a photo that captures the essence of your Friendsgiving, and let the warmth of your friendships shine through.
Related: Thanksgiving Memes for Grateful Laughs
Snap and Share: Perfect Group Photo Captions for Friendsgiving
Nothing beats the timeless tradition of snapping a group photo with your besties during Friendsgiving. Here's a cornucopia of captions tailored for those epic group selfies and pictures that capture the essence of friendship and feast!
Surrounded by the best turkeys in town.
Just a group of friends who are like family. #FriendsgivingCrew
We may not have it all together, but together we have it all.
Friendsgiving: Because the family you pick won't ask when you're getting married.
Thankful for this bunch of turkeys.
Friendship is the only ingredient we need.
Who needs a table when you've got laps? #SquadGoals
This Friendsgiving, we're rich in everything money can't buy.
My favorite harvest? Good friends.
In the company of my favorite nuts.
Friendsgiving: where everyone's in charge of bringing joy.
We put the 'us' in 'mushroom' at this table!
Together is a wonderful place to be. Especially with pumpkin pie.
Friends are the family we choose, and I choose this goofy bunch every time!
Creating a circle of love, one Friendsgiving at a time.
It's not what's on the table, but who's around it. So grateful for these faces!
Feasting with my besties, nothing beats these vibes.
Every Friendsgiving with you guys is a recipe for happiness.
From our Friendsgiving family to yours, spreading joy and full bellies!
Friendship is the secret sauce to any great Friendsgiving.
We're carbo-loading for the friendship marathon.
Friendship calories don't count, right?
The table is set and the gang's all here. Let's dig in!
Grateful for the people who make my soul smile.
A squad that eats together, stays together.
Making memories with this crazy, wonderful crew.
Our Friendsgiving is like a potluck – everyone brings something special to the table.
Cheers to the friends who have become our chosen fam!
Feasting with my favorite party fowls!
We told the turkey to duck, because this crew is taking the photo!
Gobble gobble, gang's all here to wobble!
Our Friendsgiving is about to get as basted as the turkey.
Stuffing our faces and our camera roll with memories.
When the pilgrims said 'share the harvest,' I think they meant friends… and pie.
Gravy on the side, besties by my side.
Let's give 'em something to squawk about. #FriendsgivingFlock
Less like friends and more like a permanent food coma support group.
Warning: Friendsgiving with this crew leads to excessive fun and food.
Not pictured: Our impending food babies.
Proof that I can find the 'stuffing' to these 'turkeys'!
Peas on earth and goodwill towards men… and seconds for everyone!
Just here for the pie and the peeps.
These are the butterballs I can't live without.
Taking a break from adulting to indulge in food and friendships.
'Yam' so happy to have these spuds in my life!
Rollin' deep with the hommies… literally, pass the rolls.
Our friendship has reached peak seasoning.
A touch of whimsy and a pinch of sass make these captions the perfect accompaniment to your Friendsgiving group photos. Go ahead and give your followers a giggle as they scroll through their feeds!
Related: Graduation Wishes and Messages for Your Son to Inspire Success
Iconic Movie & TV Show Quotes for Friendsgiving Fun
From laugh-out-loud sitcoms to blockbuster hits, pop culture is a goldmine for memorable lines that can double as the ultimate Friendsgiving captions. Here's a list of quotes from your favorite movies and TV shows to sprinkle some star-studded fun into your Friendsgiving posts.
You can't sit with us! Mean Girls (perfect for a playful jest among friends)
I'm thankful for friendship, it beautifies life so much. Anne of Green Gables
I'll be there for you, 'cause you're there for me too. Friends (for a pic with your closest pals)
Food is symbolic of love when words are inadequate. The Joy Luck Club
This is what a family looks like: friends, food, and love. Gilmore Girls
We're your family now… You're stuck with us! Fast & Furious
O Captain, My Captain! Dead Poets Society (for the leader of the Friendsgiving feast)
Eat like no one is watching… or dance, whatever. Cheers
As God is my witness, I'll never be hungry again. Gone with the Wind (after a hefty Friendsgiving meal)
Just keep swimming… through all this food. Finding Nemo
May the fork be with you. Star Wars parody (for the sci-fi fans at the table)
Life is like a box of chocolates; you never know what you're gonna get. Forrest Gump (especially true with potluck dishes)
We must feast on this night! Game of Thrones style
No one's alone on Friendsgiving. Not if I can help it. The Lord of the Rings adaptation
A Friendsgiving? How wonderfully delightful!" – Downton Abbey
Tonight, we dine in! Because nobody wanted to dress up and go out." – 300 parody
My precious… pumpkin pie. The Lord of the Rings
I'm in a glass case of emotion! Anchorman (when the food is just too good)
Keep the change, ya filthy animal… And pass the cranberry sauce. Home Alone
That's what I do. I drink and I know things. Game of Thrones (perfect for the trivia buff or wine lover)
Here's looking at you, kid. Casablanca (great for a photo with a long-time friend)
Is butter a carb? Mean Girls (humorously questioning the Friendsgiving menu)
The limit does not exist. Mean Girls (on how much food you can eat)
These mashed potatoes are making me thirsty! Seinfeld
Bazinga! The Big Bang Theory (after pulling a prank at Friendsgiving)
I volunteer as tribute… to take home the leftovers." – The Hunger Games
How you doin'? Friends (when you see the dessert table)
I'm not superstitious, but I am a little stitious. The Office (when you're first to grab the wishbone)
It's not a man purse, it's called a satchel. Indiana Jones wears one. The Hangover (for the friend who brings all the Friendsgiving games)
Yippie-ki-yay, Mother Turkey! Die Hard adaptation (for the action movie buff in the group)
One-Word Wonders: Friendsgiving Captions for the Minimalist
Sometimes, one word is all it takes to encapsulate the vibe of your Friendsgiving gathering. For those who believe in the power of brevity, here's a collection of single-word captions that are as trendy as they are effortless.
Feastmode.
Thankful.
Blessed.
Gather.
Famjam.
Grateful.
Friends.
Harvest.
Unity.
Cherished.
Laughter.
Plentiful.
Mirth.
Togetherness.
Bounty.
Joyful.
Savored.
Heartfelt.
Comrades.
Feasting.
Chill.
Vibes.
Snug.
Splendid.
Clink.
Relish.
Candid.
Merry.
Gusto.
Cheers.
Each of these one-word captions packs a punch and tells a story in just a handful of letters. Pair them with the right photo, and you've got a post that speaks volumes with very little said!
Hashtag Magic: Friendsgiving on Social
After you've chosen the perfect caption, don't forget to sprinkle some hashtag magic on your post to maximize its reach. Hashtags are the breadcrumbs that lead like-minded individuals to your content, so use them wisely. Here's a ready-to-use list of Friendsgiving hashtags to get your posts the attention they deserve:
Friendsgiving, #TurkeyDay, #FeastWithFriends, #FriendsgivingFeast, #FriendsgivingFun, #GiveThanks, #ThankfulForFriends, #FriendsLikeFamily, #FallFestivities, #AutumnEats, #FeastMode, #PotluckParty, #FriendsWhoFeast, #GratefulGang, #SquadGoals, #FriendsgivingGoals, #ThanksgivingWithFriends, #GobbleGobble, #FoodFriendsFun, #FriendsthatFeast, #CheersToFriends, #PassThePie, #ThankfulTogether, #FeastingFriends, #FriendsgivingVibes, #HappyFriendsgiving, #Friendsmas, #HolidaySquad, #SeasonalSoiree
Join the Friendsgiving Fun – Share Your Own!
Now that you're all set with the perfect quips to accompany your Friendsgiving memories, we're turning the table to you! Don't let the conversation stop here. We'd love to see how you use these captions on your own feeds. Share your favorite Friendsgiving moments with us by tagging Birthday Wishes Expert on Instagram. Who knows, your post might just get featured in our next roundup of festive fun!
Follow us for more tips, tricks, and chuckles that keep the good times rolling all year round. Here's to making memories and the captions that make them unforgettable. Happy Friendsgiving, everyone!
Pin this Image to Save this Post for Later!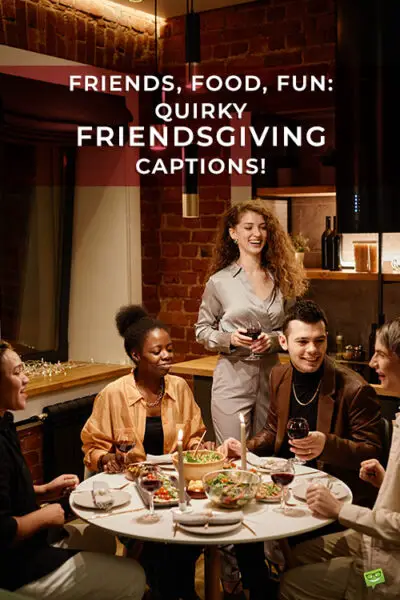 You May Also Like:
Thanksgiving Quotes for a Day of Real Gratitude
Thanksgiving Cards that Capture the Spirit of Gratitude
Happy Thanksgiving Wishes for Friends as Words of Gratitudefdsa