Celebrating your birthday in the summertime is an opportunity for a truly big fiesta. Adding up to the joy we feel when we celebrate this important personal anniversary, holding a smashing birthday party in summer is almost like a double feast.
As recent studies have proven, birth season affects our personality, so people who were born in summer months are characterized by frequent mood swings more often than those born in winter.
What is certain, though, is that organizing a massive summer party for your birthday can leave the best of memories, and a great summer birthday wish can light up that day even more!
Here you can read & share some great ideas for Summer Birthday Wishes:
A big warm hug for this warm summer birthday of yours! Happy Birthday!
Mercury's rising & we are partying tonight! Wishing you Happy Birthday!
May this year's birthday turn out to be as hot and equally remembered as this summer day! Happy Birthday!
The typical summer heat on your birthday always matches the warmth I have in my heart for a truly great friend like you. Happy Birthday!
Let's spend another summer day like a summer day is supposed to be! In a party mood!!! Happy Birthday to you!!!
I hear that you, people born in summertime, love this weather more than the rest. Well, it can't be! It's your birthday again and I am as happy as I can be. I wish you the greatest birthday of all!
I woke up today & a glass of cool water reminded me of your pool party from last year!… Or it might have been the calendar, not sure! Happy Birthday, my friend! 😛
Hey, if it's a pool party for your birthday AGAIN this year, I'm going to… gladly dive in! Happy Birthday, pal!
Some might say it's too hot, others might say they could use a vacation, but they will all come to one of those unforgettable parties of yours. And… it's today!!! Happy Birthday!
Happy Summer Birthday, dear. I love the fact that we celebrate the birthday of such an amazing friend in the summer heat: it's like the feelings we all have for you! Take care & have fun.
We all love such a "hot item" like you – especially when it comes in a handy "friends-pack"! Let's have some cocktails tonight to "cool you down" and wish you "Happy Birthday".
Do you remember last year's beach birthday party of yours? Well, neither do I, but everybody had a hell of a time! Happy Birthday, looking forward for this year's party.
Drinking beers on the beach at night is definitely not the illustration of a birthday party. Unless you were born in July & you have cool friends like us! Happy Birthday, we love you!
Happy Birthday! "Smack" for the celebration & "splash" for your pool party!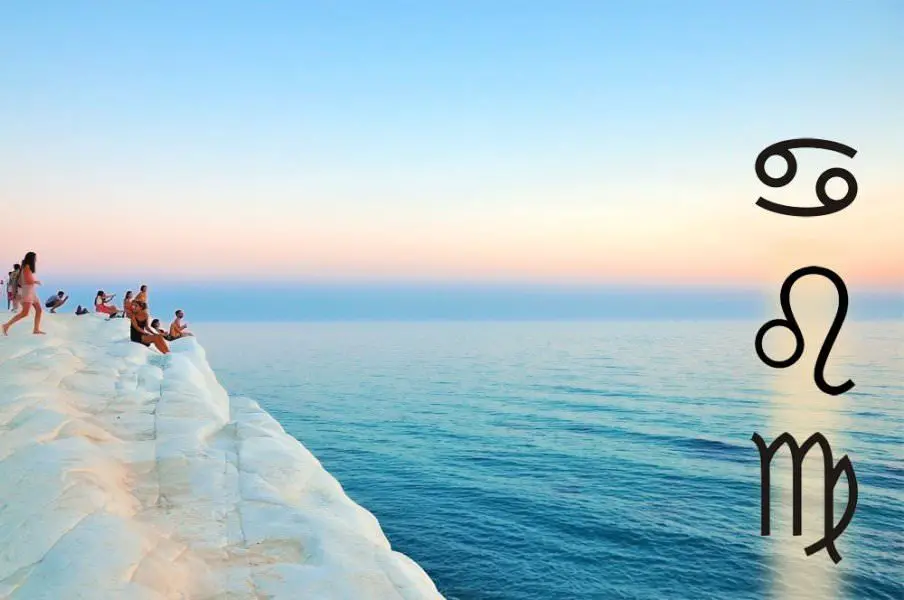 Wishes for the Summer Signs of the Zodiac

---
Birthday wishes for a Cancer [ 22 June –22 July ]

Happy Birthday to the most loyal & sensitive friend around. Tonight, let's feel this summer mood while celebrating this great day!
We've walked this path together and we've kept a friendship that has always been worth protecting. In the occasion of this great anniversary, happy birthday from a friend that loves and cares for you!
Even if we've had 364 rough days in a row, tonight we take a break to celebrate a wonderful person's birth anniversary. You know what I'm talking about: Happy Birthday, we all love you!
I'll spare you with the details, but do get prepared to be emotional:
This has been an exciting life ride so far. I'd love to keep you by my side for the rest. Happy Birthday, let's make a toast to the thrill of a lifetime!
Happy Birthday, my warm-hearted friend! We all take an example from you & we have learned life can be poetic. Have fun!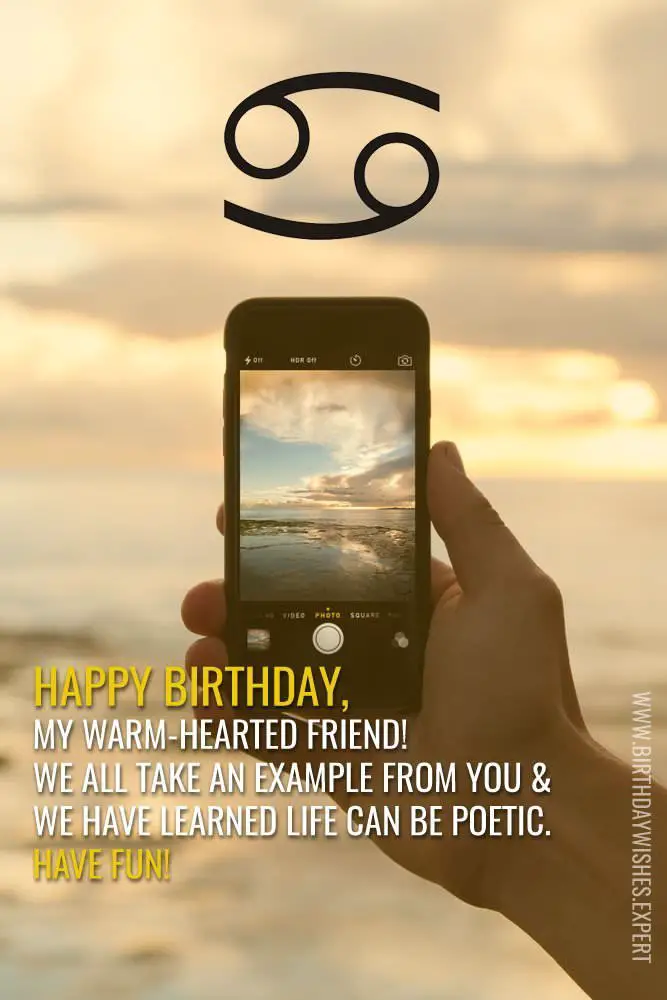 ---
Birthday wishes for a Leo [23 July –22 August]

There are no other words to be spared about this: Happy Birthday to the sunlight of this day and the one under tonight's spotlights. Have fun & stay cool!
Proud to be a friend of a proud person like you! Happy Birthday, keep shining!
Happy Birthday! I want you to know I support every plan you make for a thrilling present and a brighter future. I'll be there for you!
We are expecting nothing less than a blast, tonight! Happy Birthday to a fun pioneer!
It's going to be a full house at your party tonight! Happy Birthday & let's enjoy these perfect moments of fun we always have with you!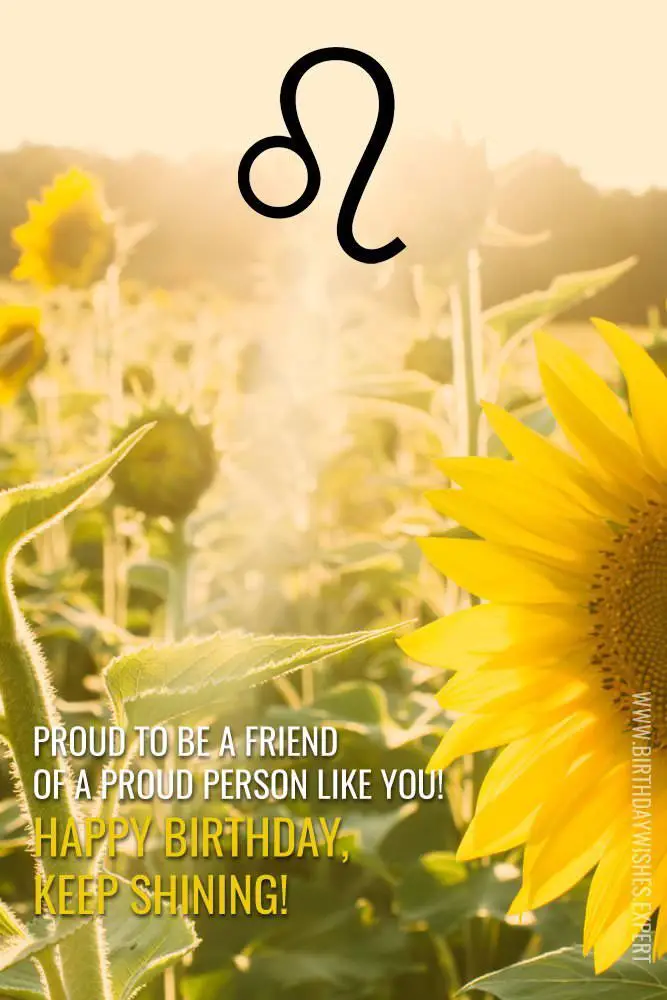 ---
Birthday wishes for a Virgo [23 August – 23 September]

Let's design a perfect party no-one will ever forget! Happy Birthday, mate!
Happy Birthday to a realist! We all know who's the person that tends to stick to realism when everybody's into the clouds!
When we need someone to rely on, we know who to call. And it's your birthday today! Happy Birthday from the bottom of our heart, we're lucky to have you!
Happy Birthday to the calm power of the bunch! We love you and support you, so you can always count on us!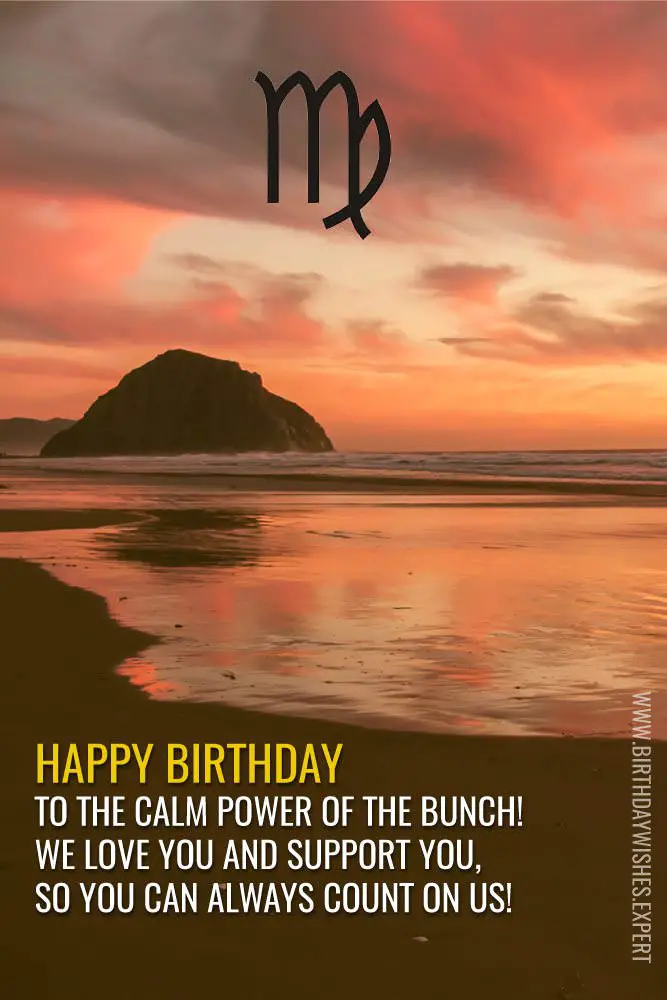 ---
Also read: 100 Happy Birthday Wishes that will help you find the right words, Autumn Birthday Wishes – Wishes for the Zodiac Signs of Autumn [Libra, Scorpio & Sagittarius], Our Happy Birthday Collection