It can be tricky to know what to write in a birthday card for your father-in-law. You want to say something that shows you care, but you don't want to overdo it or make things awkward. Here are some tips and ideas when you want to say Happy Birthday father-in-law. With these inspired messages, you can wish him a happy birthday in a way that will make him feel loved and appreciated.
Funny Birthday Wishes for my Father-in-law
Happy birthday, Dad! May God give you the ability to stack papers to the ceiling.
Happy birthday! Looking at you, I've come to the realization that nothing has the ability to f**k a man up as badly as old age.
If God were to ask me to choose between you and a billion dollars, I would choose you in a heartbeat. And this is coming from someone who loves chasing paper more than anything in this world. Happy birthday!
The wages of celebrating many birthdays is old age! Happy birthday!
Enjoy the party and forget about the countless candles on your cake! Happy birthday.
Happy birthday, Father-in-law. May you live to be so old that people mistake you for an alien.
You are so wonderful everything loves your company, including old age. Happy birthday!
Happy birthday, Father-in-law! No offense, but I think it's high time you checked yourself into rehab for addiction to aging.
Old age might have messed up your face with a sea of wrinkles, but hey, it's far better than being buried six feet beneath the earth. Look at the brighter side and enjoy the fact that you are alive. Happy birthday!
Wishing a super duper happy birthday to a man who abandoned the companion of youth and chose old age instead.
Blowing out all the multitudes of candles on your cake is something even Hercules would consider a herculean task. More power to you! Happy birthday!
A very happy birthday to a man who has always had a hankering to be an old man!
Sweet and Sentimental Birthday Wishes for my Father-in-law
Dearest Father-in-law, you have no idea how excellent your presence in my life is! There's no in-law in this world more wonderful than you. No, not one! Happy birthday!
You deserve praise for being such a phenomenal in-law to me. Thank you for making happiness my clothing. Happy birthday.
Wishing the happiest of birthdays to the sweetest of fathers-in-law in the universe. Happy is the man/woman who finds an amazing man like you as his/her father-in-law.
Wishing you a special day that is bright and joyous. You deserve this because you are the most loving father-in-law that I know. I love you.
I have written all the wonderful things you've done for me on the wall of my heart. Hence I will never forget them. Today, I pray that happiness will enter your house and never depart. Happy birthday!
Thank you for going all out to put a smile on my face. As great fathers-in-law go, you are certainly outstanding. Happy birthday.
According to me, you are infinitely better than all in-laws I have come across. On your Big Day, I hope every path you take in life will lead you to happiness. God bless you, my dear.
You are one of the reasons my world is colorful. I hope I can someday also make your world as blessed and happy as you make mine. Happy birthday.
Inspirational Birthday Wishes for my Father-in-law
Most assuredly, I say to you if you believe in yourself nothing can act as a barrier between you and the desires of your heart. Happy birthday.
Wishing a truly glorious birthday to you! Trust in God with all your heart, and He will make the impossibilities possible.
Hang in there! You have in you the wisdom and strength it takes to conquer this. I believe in you with all my being. Happy birthday!
It's amazing the remarkable things you can accomplish in life when you believe in yourself. Keep believing in yourself, dearest father-in-law. Happy birthday!
Failing is part of life and should never be seen as a bad thing. As a matter of fact, it makes victory sweeter. Don't ever be afraid of failing in any endeavor you embark on. Happy birthday!
God often plants challenges in our lives to test how loyal we are to Him. And once we pass that loyalty test, we enjoy paradise without end. Keep your faith in God no matter the tribulations that come your way and you shall surely smile. Happy birthday.
I use your birthday as an opportunity to encourage you to keep on fighting for the things that bring happiness into your life. Never let your failures bring you down, for every failure brings with it an opportunity for success.
Birthday Prayers for my Father-in-law
May this special day bless you with the strength to overcome the obstacles that life puts in your way. Happy birthday.
May God save you from the wicked. May He be merciful to you always. May He make your enemies stumble and fall whenever they try implementing their evil plans against you. I hope you celebrate this special day knowing you are protected forever by the mighty hands of God.
I pray that you dwell in prosperity and happiness all the days of your life. Happy birthday.
May the Lord, who resides in Zion, bless you abundantly so that all the days of your life may be as bright as the radiant beams of a thousand suns.
Since God never forsakes those who seek Him, I am confident that He will answer my prayer today and bless you with the joy and prosperity you deserve in life. Happy birthday!
May your enemies sink swiftly in the bottomless pit they have dug for you. Have a happy and mightily blessed birthday.
Today, I pray to the King of glory to send down His mighty angels to protect you every millisecond of your earthly journey. Happy birthday, dearest Father-in-law.
May you always see God's wondrous works in your life. May He lift you up before your foes and make you rejoice over them forever. Amen.
On your birthday, I pray that your heart will never be troubled. Instead of troubles, may your world only know peace and great joy. Amen.
May you always find refuge in the Lord's mighty arms, and may He always direct your steps to destinations that make your heart rejoice. Happy birthday.
I pray for endless blessings for you as you mark this wonderful day of your life. I pray that God will bless your flesh with health and your bones with strength every single day of your life.
May God deliver you from the evil hands of your enemies and make your house overflow with treasures of joy and peace. Happy birthday, my beloved father-in-law.
Happy Birthday Father-in-law on Images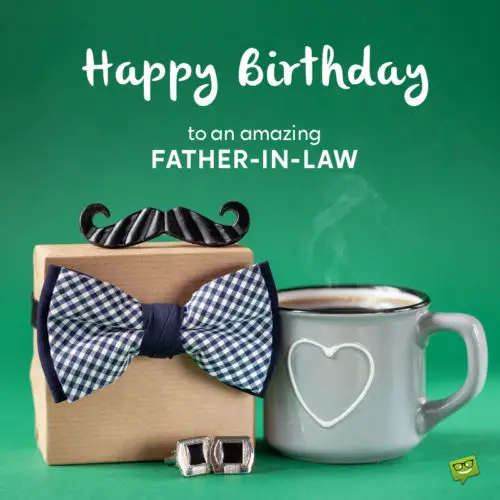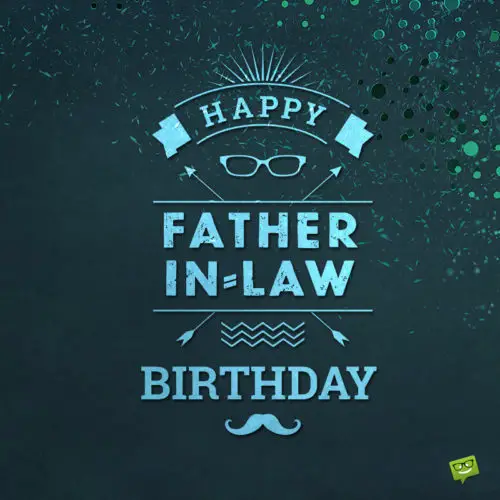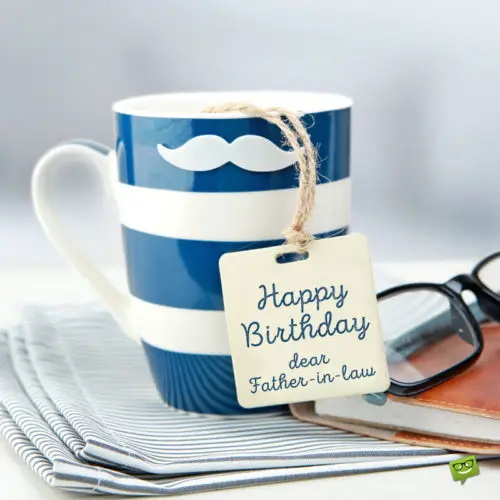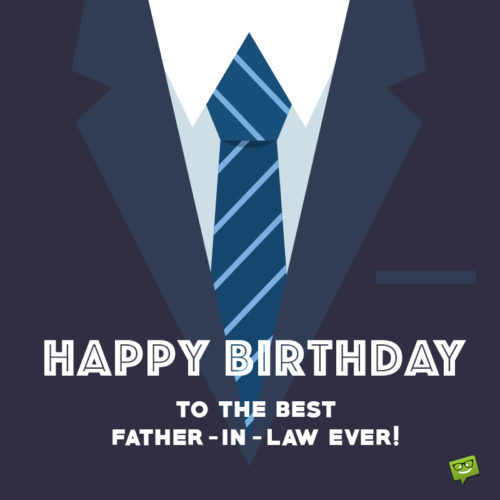 You may also like:
In-laws but also Friends : Birthday Wishes for your Brother-in-Law
Birthday Wishes for my Mother-in-law and my Father-in-law