'Tis the season of warmth, joy, and gratitude, and as a company, you surely believe in embracing the spirit of giving and appreciation. In that light, we are thrilled to present our latest collection of original and heartfelt Christmas Wishes for Customers.
This holiday season, you might want to take a moment to express your sincere thanks to your valued customers, who have journeyed with you throughout the year. Our Christmas wishes for customers go beyond mere words; they are a heartfelt reflection of the bond you share and the joy you find in serving your customers. So, let's delve into this heartwarming journey of spreading goodwill and celebrating the magic of the holiday season together.
Table of Contents
Why send Christmas wishes to my customers?
Sending Christmas wishes to your customers as a company is a way to demonstrate appreciation, strengthen customer relationships, and humanize your brand. It shows that you value your customers not only as business partners but also as individuals.
This gesture fosters goodwill, contributes to a positive holiday atmosphere, and can ultimately lead to increased customer loyalty and continued patronage.
Additionally, it aligns with cultural and seasonal traditions, helping your company connect with customers on a personal and emotional level.
10 Traditional Christmas Greetings for Customers
These wishes maintain a classic and formal tone, offering warm holiday sentiments without any specific reference to products or services. Share with your cherished customers to wish them a Happy Holiday.
Wishing you and your loved ones a serene and joyous Christmas.
May the spirit of Christmas fill your heart with warmth and peace.
Sending heartfelt wishes for a blessed and merry Christmas.
During this festive season, may your home be filled with love and laughter.
Happy Holidays! May your days be merry and bright.
Wishing you a Christmas season wrapped in love and happiness.
May the beauty of Christmas surround you with joy and contentment.
As the snow falls, may your heart be filled with goodwill and cheer.
Warmest wishes for a delightful and memorable Christmas celebration.
Enjoy the magic of Christmas with your loved ones, creating cherished memories.
10 Thankful and Grateful Christmas Wishes for Customers
Establishing a good collaboration can be the fruit of communication and labor. Use the following Christmas wishes for customers to express appreciation for their unwavering loyalty and support throughout the year.
We extend our heartfelt gratitude for your continued support. Merry Christmas!
Thank you for choosing us this year. Wishing you a wonderful holiday season.
Your loyalty has been our greatest gift. Merry Christmas and a prosperous New Year!
We are deeply thankful for your trust in us. Happy holidays to you and your family.
This Christmas, we want to express our sincere appreciation for your business.
Wishing you a holiday season filled with the joy of giving and receiving.
Your partnership has been invaluable to us. Merry Christmas and a successful year ahead!
As the year comes to a close, we want to convey our heartfelt thanks. Happy holidays!
May your holidays be as bright as the smiles you've brought to our faces. Merry Christmas!
We are grateful for the privilege of serving you. Warmest wishes this Christmas season.
10 Product or Service-Related Christmas Wishes for Customers
These wishes subtly incorporate your business or brand into the message while maintaining professionalism.
Celebrate this Christmas with our finest products. Happy holidays!
Our team is excited to be a part of your holiday celebrations. Merry Christmas!
May our services continue to bring you joy and satisfaction in the coming year.
Here's to a Christmas filled with the quality and excellence you deserve.
We hope our products add extra sparkle to your holiday season. Happy New Year!
As you unwrap your gifts, remember the gift of our partnership. Merry Christmas!
Our commitment to serving you remains unwavering. Happy holidays!
Wishing you a Christmas filled with the convenience and value we strive to provide.
May your holidays be brightened by the presence of our products. Merry Christmas!
Thank you for allowing us to be a part of your holiday traditions. Happy New Year!
10 Festive and Cheerful Christmas Wishes for Customers
Infuse a sense of celebration and joy into your messages without being overly formal.
Get ready to jingle all the way into a magical Christmas!
Wishing you a festive holiday season filled with laughter and love.
May your days be merry, your nights be bright, and your heart be light. Happy holidays!
Let's spread the holiday cheer and celebrate this Christmas with joy.
Sending you warmth, joy, and a sprinkle of holiday magic this Christmas.
May your holiday season be filled with music, merriment, and cherished moments.
Here's to a joyful Christmas that lights up your world with happiness.
Enjoy the wonder of the season, the company of loved ones, and the spirit of giving.
As you gather 'round the tree, may your hearts be aglow with festive delight.
Embrace the spirit of Christmas, and let the festivities begin!
10 Christmas Messages for Customers Wishing Hope, Growth, and Prosperity
Inspire hope and optimism for the coming year, both personally and professionally.
May this Christmas bring you hope and inspire new beginnings.
Wishing you growth, prosperity, and success in the upcoming year.
Here's to a bright future filled with exciting opportunities. Merry Christmas!
As the year ends, may it mark the start of a journey towards greater achievements.
May the spirit of Christmas pave the way for a prosperous and fulfilling year ahead.
Wishing you the courage to chase your dreams and the strength to achieve them.
May your path be illuminated with success and happiness in the New Year.
This Christmas, we celebrate your achievements and anticipate your future triumphs.
Here's to a year filled with progress, growth, and limitless potential. Merry Christmas!
As the holiday season unfolds, may it herald a year of boundless opportunities and prosperity.
Like it? Pin it to save it for later!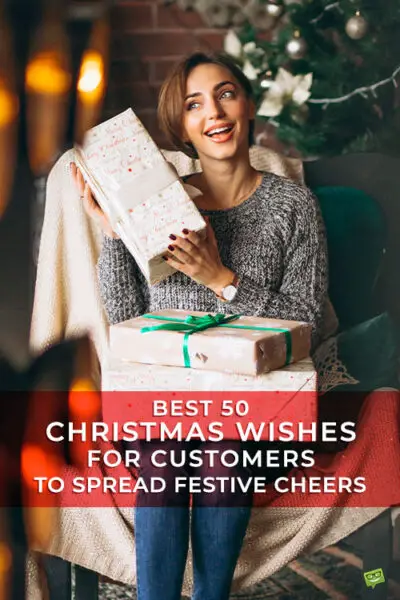 You may also like:
Have a Blissful Xmas! Christmas Wishes for my Boss
50+ Professional Christmas Wishes : What to Write in a Business Christmas Card