When you are about to celebrate Christmas or if it's Christmas Eve already and haven't had the time to share your season's greetings, you might want to use humor as your vehicle. Being late is a modern life construct (at least that's what you'll say), so sending the humorous words of someone famous will make up for the absence of any postcard, which is rather 1985 (again, that's what you'll say).
This carefully created collection of funny Christmas quotes will remind everyone 'tis the season to be jolly. Share and spread the spirit!
Table of Contents
Top Funny Christmas Quotes
Laughter is a universal language, and what better time to spread joy than during the festive season? In this collection, we've gathered the top funny Christmas quotes that are sure to tickle your funny bone and bring smiles to the faces of everyone around you.
At Christmas, tea is compulsory. Relatives are optional. Robert Godden
There are always Uncles at Christmas.
I once wanted to become an atheist, but I gave up – they have no holidays. Henny Youngman
Santa Claus has the right idea. Visit people only once a year. Victor Borge
Christmas is a baby shower that went totally overboard. Andy Borowitz
What I don't like about office Christmas parties is looking for a job the next day. Phyllis Diller
The office Christmas party is a great opportunity to catch up with people you haven't seen for 20 minutes. Julius Sharpe
Christmas to a child is the first terrible proof that to travel hopefully is better than to arrive. Stephen Fry
Christmas is a magical time of year… I just watched all my money magically disappear. Unknown
You can tell a lot about a person by the way they handle three things: a rainy day, lost luggage, and tangled Christmas tree lights. Maya Angelou
Three phrases that sum up Christmas are: Peace on Earth, Goodwill to Men, and Batteries not Included. Unknown
My mother-in-law has come round to our house at Christmas seven years running. This year we're having a change. We're going to let her in. Leslie 'Les' Dawson, Jr.
The main reason Santa is so jolly is because he knows where all the bad girls live. George Carlin
It's because I'm green isn't it? The Grinch
I stopped believing in Santa Claus when I was six. Mother took me to see him in a department store and he asked for my autograph. Shirley Temple
Santa Claus wears a Red Suit, He must be a communist. And a beard and long hair, Must be a pacifist. What's in that pipe that he's smoking? Arlo Guthrie
One thing I learned from drinking is that if you ever go Christmas caroling, you should go with a group of people. And also go in mid-December. Louis C.K.
Once again, we come to the Holiday Season, a deeply religious time that each of us observes, in his own way, by going to the mall of his choice. Dave Barry
Next to a circus there ain't nothing that packs up and tears out faster than the Christmas spirit. Kin Hubbard
One can never have enough socks. Another Christmas has come and gone and I didn't get a single pair. People will insist on giving me books. J.K. Rowling
Christmas: it's the only religious holiday that's also a federal holiday. That way, Christians can go to their services, and everyone else can sit at home and reflect on the true meaning of the separation of church and state. Samantha Bee
Sending Christmas cards is a good way to let your friends and family know that you think they're worth the price of a stamp. Melanie White
Short Funny Christmas Quotes You Can Use as Captions
Whether you're updating your holiday Instagram posts or adding a touch of humor to your Christmas cards, short and snappy funny Christmas quotes make perfect captions. Discover witty one-liners that will add a dash of merriment to your holiday messages and social media shares.
Christmas sweaters are only acceptable as a cry for help. Andy Borowitz
Merry Christmas, nearly everybody! Ogden Nash
You know you're getting old when Santa starts looking younger. Robert Paul
Christmas makes me happy no matter what time of year it comes around. Bryan White
Its easier to feel a little more spiritual with a couple of bucks in your pocket. Craig Ferguson
That's the true spirit of Christmas; people being helped by people other than me. Jerry Seinfeld
Nothing's as mean as giving a little child something useful for Christmas. Kin Hubbard
Be it ever so heinous, there's no place like home. The Grinch
There has been only one Christmas — the rest are anniversaries. W. J. Cameron
Christmas is mostly for children. But we adults can enjoy it too, until the credit card bills arrive. Unknown
I left Santa gluten-free cookies and organic soy milk and he put a solar panel in my stocking. Unknown
I love Christmas. I receive a lot of wonderful presents I can't wait to exchange. Henny Youngman
Aren't we forgetting the true meaning of Christmas. You know, the birth of Santa? Matt Groening
A Christmas miracle is when your family doesn't get into a single argument all day. Melanie White
The worst gift I was given is when I got out of rehab that Christmas; a bottle of wine. It was delicious. Craig Ferguson
My husband's idea of getting the Christmas spirit is to become Scrooge. Melanie White
Mentally I am ready for Christmas, financially I am not ready for Christmas.  Unknown
Christmas is a race to see which gives out first—your money or your feet. Unknown
The best way to spread Christmas cheer is singing loud for all to hear. Will Ferrell, Elf
I haven't taken my Christmas lights down. They look so nice on the pumpkin. Winston Spear
Mail your packages early so the post office can lose them in time for Christmas. Johnny Carson
Funny Quotes for Christmas Cards
Sending Christmas cards is a cherished tradition, and adding a touch of humor can make your greetings even more memorable. Explore this section for funny Christmas quotes that will make your cards stand out and spread laughter to your loved ones.
Ever wonder what people got Jesus for Christmas? It's like, 'Oh great, socks. You know I'm dying for your sins right? Yeah, but thanks for the socks! They'll go great with my sandals. What am I, German?' Jim Gaffigan
There are three stages of man: he believes in Santa Claus; he does not believe in Santa Claus; he is Santa Claus. Bob Phillips
Guys, I'm eating junk and watching rubbish! You better come out and stop me! Kevin, Home Alone
Love is what's in the room with you at Christmas if you stop opening presents and listen. Author unknown, attributed to a 7-year-old named Bobby
I hate the radio this time of year because they play "All I Want For Christmas Is You" like, every other song. And that's just not enough. Bridger Winegar
Never worry about the size of your Christmas tree. In the eyes of children, they are all 30 feet tall. Larry Wilde
I like to compare the holiday season with the way a child listens to a favorite story. The pleasure is in the familiar way the story begins, the anticipation of familiar turns it takes, the familiar moments of suspense, and the familiar climax and ending. Fred Rogers
The magi, as you know, were wise men — wonderfully wise men who brought gifts to the Babe in the manger. They invented the art of giving Christmas presents. O. Henry
Cute Christmas Quotes to Make Us Laugh
Sometimes, the cuteness factor is just what we need to bring out the giggles during the holiday season. These cute and funny Christmas quotes are designed to warm hearts and bring smiles to faces, reminding us that the magic of Christmas is in the joy it brings.
As for me, I like to take my Christmas a little at a time, all through the year. David Grayson
Christmas is a stocking stuffed with sugary goodness. Mo Rocca
It's beginning to cost a lot like christmas. Unknown
What I like about Christmas is that you can make people forget the past with the present. Don Marquis
The two most joyous times of the year are Christmas morning and the end of school. Alice Cooper
A lovely thing about Christmas is that it's compulsory, like a thunderstorm, and we all go through it together. Garrison Keillor
Our hearts grow tender with childhood memories and love of kindred, and we are better throughout the year for having, in spirit, become a child again at Christmas-time. Laura Ingalls Wilder
No matter how different a Who may appear, he will always be welcomed with holiday cheer. Cindy Lou Who, The Grinch
Do give books – religious or otherwise – for Christmas. They're never fattening, seldom sinful, and permanently personal. Lenore Hershey
I wish we could put up some of the Christmas spirit in jars and open a jar of it every month. Harlan Miller
I love the Christmas-tide, and yet,
I notice this, each year I live;
I always like the gifts I get,
But how I love the gifts I give!
Carolyn Wells
I heard the bells on Christmas Day
Their old, familiar carols play,
And wild and sweet
The words repeat
Of peace on earth, good-will to men!

It's beginning to look a lot like Christmas;
Soon the bells will start,
And the thing that will make them ring
Is the carol that you sing
Right within your heart.
Meredith Willson
Oh! lovely voices of the sky
Which hymned the Saviour's birth,
Are ye not singing still on high,
Ye that sang, "Peace on earth"?

Funny Christmas Quotes on Images
Visual expressions can amplify the humor of funny quotes, making them even more delightful to share. In this section, you'll find funny Christmas quotes creatively presented on images, perfect for sharing on social media, in messages, or for adding a dose of holiday hilarity to your festive decorations.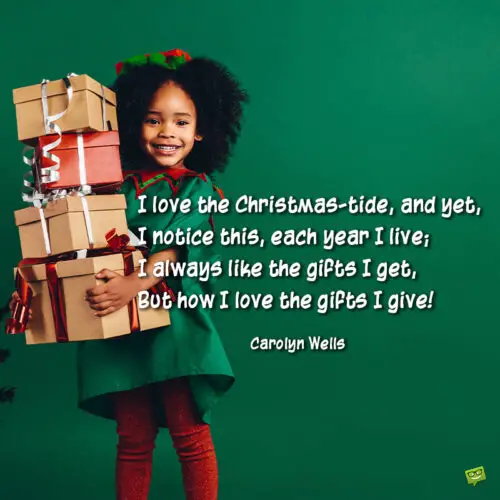 You may also like:
Jingle All the Way | 80+ Funny Merry Christmas Memes
Spread the Spirit! | Top 200+ Christmas Quotes of All Time
Words for (S)Elfies! | 140 Christmas Captions for Instagram