Birthdays are always a milestone of some sort. However, the day you turn 18 is a day that needs plenty of special recognition. Whether you have a small celebration with just family or a huge bash with all of your friends and co-workers, there will always be plenty of picture-taking involved. You'll then need to commemorate this special day by posting the celebration on Instagram and social media, right?
When you take pictures on this very important day, you'll need the write captions to go along with your post. We're here to provide what you need to make those photos stand out even more. Take pride in your celebration by captioning your pictures with the best sayings-find them below and have fun with your festivities!
18th Birthday Instagram Captions
You're on the stepping stone to greatness. Get the 'Gram (poppin') with these birthday captions.
Today is my birthday. I want to thank everyone who has supported me up to this point. I also want to thank the haters because their negative energy gave me the fuel I needed to work harder, and become the exceptional person I am today.
Buckle up peeps! Time to celebrate my birthday in 5, 4, 3, 2, 1.
Living. My. Life. Happy 18th to me.
I'm 18. So no more curfew, right?
I turn 18 today. Taking risks, living my best life, and partying until the sun rises.
Birthday goals: Live life to the fullest.
Today this caterpillar turns into an 18-year old butterfly.
Just because I'm 18 today, don't expect me to act like an adult. I'm clinging to my childish ways.
I am 18 today. Thank you. Next!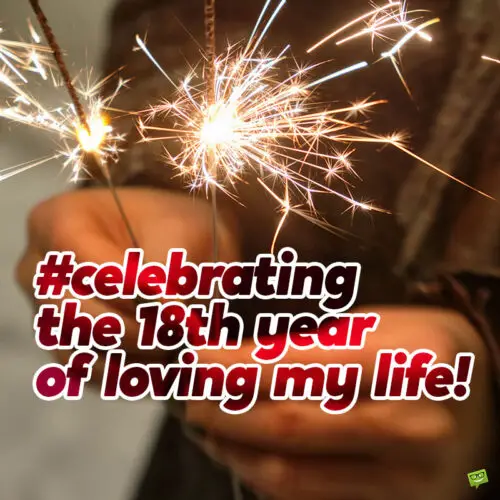 Yes. It's my birthday today and I expect to be treated like a Queen/King.
I'm grateful for another year of life. Many happy returns to me!
As I commemorate my big name day, I want to pause to thank God for the precious gift of life. Happy 18th to me.
I'll never get to turn 18 again. I don't want this day to end.
Guess what I'm doing today? I'm celebrating turning 18.
Life gives you lemons, then you transform into a beautiful 18-year-old.
Some people say adult-ing is hard. I say bring it on!
Funny Captions for your 18th Birthday
Make your followers laugh with the following captions that will go great with your many 18th birthday pics!
Who knew turning into an official adult would feel the same as any other day?
Look out world, the newest adult has arrived and is ready to thrive!
It's been 18 years and I'm still as amazing as they come!
Someone better be picking up my tab for me tonight!
It's beginning to look a lot like adulthood!
It's all downhill from here. Happy birthday to me, I guess?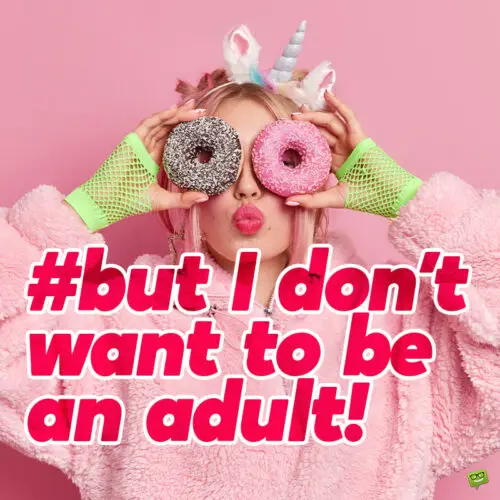 But I don't want to be an adult!
Party like you just turned into a legal adult!
Celebrating the 18th year of loving my life!
I may be a year older and legally an adult, but I still feel like I'm a kid in a candy store!
I really don't think I'm quite ready to be an actual adult yet!
I'm here to get birthday messages from all the people who ignore me on social media any other day!
It wouldn't be a party without a selfie or two, so use the following captions for your awesome selfie pics!
Hi, it's me, an official adult. Nice to meet you!
Do I look like a real adult to you?
18 and counting. I'm officially part of the real world!
Today I can have my cake and eat it, too!
Look out world, I am officially considered a legal adult!
Is this really the face of an 18-year-old, or did the years just fly by?
I'm not getting older, I'm leveling up!
I'm shining brighter than the 18 candles on my birthday cake!
It's a beautiful day to turn 18!
I've been making the world a wonderful place for 18 years, and now I'm ready to do even more good as an official adult!
Sexy, sassy, and ready to my party started!
Captions for your Best Friend's 18th Birthday
Let the world know how much you care about your best friend with these amazing 18th birthday captions!
Today you get the biggest piece of the cake- happy 18th to my best friend!
I'm proud to announce that my bestie has officially become an adult!
Three cheers to the most amazing friend anyone could ever ask for. Have a spectacular day celebrating your 18th!
Best friends stay close forever. Today is your day, and I love that I am a part of it! Happy birthday!
18 trips around the sun for this wonderful friend of mine!
Please join me in a round of applause. We never thought you would make it to adulthood!
Look out world, someone just turned into an official adult.
How on earth did you make it to 18?
Happy 18th to the best friend anyone could ever ask for.
Today is the day a queen was born. Let's celebrate!
Like it? Pin it!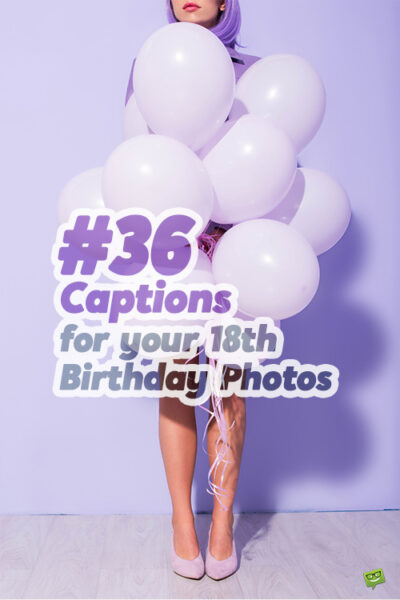 You may also like:

#MySpecialDay | 199 Birthday Instagram Captions
16+16 Captions for your 16th Birthday
Happy Birthday To Me! | 102 Birthday Wishes for Myself