Ah, mentors! They're our guiding stars through the vast galaxy of life's challenges, the Gandalfs to our Frodos on the journey of self-discovery. With a mentor by our side, every stumbling block morphs into a stepping stone, every confusion clears up like morning mist under the sun of their wisdom. They're the patient gardeners who nurture our minds, prune our fears, and cheer as we blossom. Even though they deserve a medal of honor for their unwavering support, a handful of heartfelt birthday wishes would surely make their day special!
As the birthday of our cherished mentor approaches, it's time to whip up words that resonate with the reverence and gratitude bubbling within us. Their birthdays are not just personal milestones but golden opportunities for us to articulate the profound impact they've had on our existence. Through every shared insight and caring nudge, they've crafted a legacy of enlightenment. Now as they blow out one more candle on their birthday cake, let's seize the chance to brighten their day with wishes that mirror the warmth and wisdom they've bestowed upon us. Here are 70+ earnest wishes to honor the beacon of guidance and support that is our mentor!
Table of Contents
Formal Birthday Wishes for a Mentor
Mentorship often carries a refined resonance of professionalism, enriching our minds while guiding us towards our envisioned objectives. These formal birthday wishes embody that revered aura, extending courteous and respectful sentiments on the distinguished day of our mentors. Perfect for a mentor who appreciates a classic touch, these wishes are a nod to the profound and impactful bond shared between mentor and mentee, articulated with a decorous and respectful flair. Choose from the wishes below to convey your sincere appreciation and honor the august occasion of your mentor's birthday.
Here's to the mentor who made learning an adventure and growing a joy. Happy Birthday!
Your guidance is the beacon that lights our paths. Wishing you a birthday filled with the brightness you bring into our lives.
On this special day, we honor the exemplary mentorship you've provided. Happy Birthday.
Wishing a joyous birthday to the mentor who navigates us through the stormy seas of ignorance towards the shores of knowledge.
Celebrating the birthday of our cherished guide.
Happy Birthday to the mentor who made every step meaningful.
May the coming year unfold new horizons of understanding for you, as you have for us. Happy Birthday.
Your guidance is a prized possession. Wishing you a birthday filled with the reverence you so deserve.
Today, we celebrate the birth of the wisdom-bearer who enriches minds and hearts alike. Happy Birthday.
Happy Birthday to the mentor whose optimism is as contagious as their knowledge is boundless.
Happy Birthday to the mentor who turns hurdles into hopes.
Your wisdom is our daily wealth. Happy Birthday.
Cheers to the mentor who turns dreams into destinations. Wishing you a wonderful birthday!
May your birthday echo the joy you bring to our lives. Best birthday wishes to a wonderful boss and an exceptional mentor!
Happy Birthday to the mentor whose wisdom shapes futures.
Wishing a fulfilling birthday to the mentor who has been my sounding board, my guide, and my inspiration.
To the mentor who has been my compass in the wilderness of learning – Happy Birthday!
To the mentor who has the magic of making the tough look easy, and the unknown appear familiar—Happy Birthday!
May your birthday be as inspiring as the vision you have imparted to us. Happy Birthday, dear mentor.

Expressive Personalized Birthday Wishes to Celebrate Your Mentor's Special Day
Every mentor-mentee relationship is unique, blossoming with personal interactions, shared experiences, and mutual growth. Personalized birthday wishes are a magnificent way to reflect this special bond, imbuing the celebration with a sense of intimacy and warmth. Tailoring your birthday wishes to encapsulate the essence of your relationship with your mentor not only conveys your heartfelt appreciation but also makes the occasion more memorable. Below are personalized birthday wishes that allow for a touch of customization to echo the distinctive rapport you share with your mentor.
Happy Birthday to the mentor who saw potential in me even when I doubted myself. Your belief has been my guiding light
Wishing the happiest of birthdays to the mentor who knows exactly how to lift my spirits when the going gets tough.
Your lessons extend beyond the classroom and into my life. Happy Birthday to a mentor who is also a life coach.
Happy Birthday to the mentor who celebrated my small wins, nurtured my strengths, and believed in my journey.
Cheers to the mentor who has a knack for making the complex feel simple. Wishing you a wonderful birthday and a year full of good memories and much happiness.
Happy Birthday to the mentor with a heart of gold and a reservoir of patience. You've shaped me in more ways than I can count.
To a true mentor and great friend who laughs with us, dreams with us, and inspires us endlessly – Happy Birthday!
Your mentorship is a canvas of encouragement, critique, and unyielding support. Happy Birthday to the artist of my intellectual growth.
Happy Birthday to the mentor who replaced the clouds of doubt with the rainbows of clarity and confidence.
May your birthday be as rewarding as the learning journey you've carved for me. Cheers to my mentor and guide!
You turned my whispers of doubt into shouts of confidence. Happy Birthday to a great mentor and fantastic human!
Your soft-spoken words have built my loudest dreams. Happy Birthday, Mentor.
Whimsical Birthday Wishes for a Mentor Who Loves a Good Chuckle
Ah, the joy of having a mentor with a knack for humor! As their birthday rolls around, it's the perfect time to spice up the celebrations with a dash of wit. These whimsical birthday wishes are tailored to bring out hearty laughs and are just perfect for cards or snazzy Instagram captions. Ready to pick a playful jest to make your mentor's birthday as lively and fun as their guidance has been for you? Dive in, and let the humor light up their special day!
Cheers to the mentor whose age remains a better-kept secret than Area 51!
Happy Birthday to the mentor who makes learning less yawn and more yay!
Wishing a bomb-dot-com birthday to the mentor who's absolutely fab!
Happy Birthday to the mentor who's cooler than a polar bear in Ray-Bans!
Wishing a riot of laughter for the mentor who throws humor bombs in class. Happy Birthday!
You're not old, you're just…well, let's say experienced. Wishing you a Very Happy Birthday!
To the mentor with a Ph.D. in awesomeness, Happy Wild Birthday!
Happy Birthday to the mentor who makes wisdom look cooler than a pair of shades!
Birthdays are nature's way of celebrating you. However, we suspect nature may need extra candles this year. Happy Birthday!
Your age is a well-kept secret, much like the answers to our last test. Happy Cozy Mystery Birthday!
You've got the magic touch that turns confusion into clarity and dreams into plans. Happy Magical Birthday, Mentor!
Happy Birthday to the mentor who always has a plan B: Be awesome!
Heartfelt Birthday Wishes Full of Gratitude for Mentors
This section is brimming with heartfelt birthday wishes that attempt to encapsulate the enormous thankfulness, painting our mentor's special day with the hues of appreciation and love.
Happy Birthday to the mentor who turned my fears into fuel, my doubts into determination. Your impact is everlasting!
Happy Birthday to my mentor, the one who saw beyond my imperfections and believed in my potential!
May your day radiate with the same joy you spark in my world through your wisdom. Have a blessed birthday, dear mentor.
Each word of guidance from you has been a stepping stone in my path. May all your wishes come true, happy birthday!
Your gentle push has always been my greatest strength. Thank you for all the support and guidance. Happy birthday dearest mentor.
May your birthday radiate the same warmth and wisdom you generously share with others.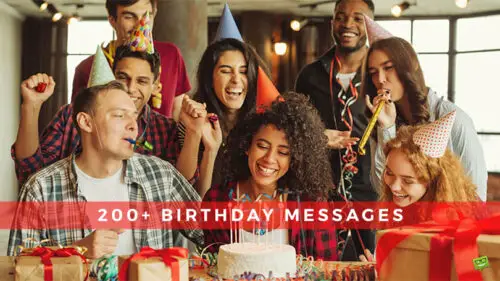 Related: 200 of the Best Birthday Messages to Make Someone's Day Special
Brief yet Heartfelt Birthday Wishes for a Mentor
These short wishes are perfect for a quick text, a small note, or a social media shout-out, embodying warmth and appreciation in a nutshell. Browse through these succinct yet meaningful wishes and find the one that echoes your feelings the best.
Happy Birthday, your mentorship has been a beacon of hope in my endeavors.
Your wisdom is my daily 'aha!' moment. Happy Birthday, mentor!
May your birthday ripple with joy, much like your lessons ripple through my life.
Your advice is my reality check. Happy Birthday, mentor!
Happy Birthday to the mentor who turns can'ts into cans and dreams into plans!
To the wizard of wisdom, Happy Birthday!
Wishing the Sherlock of solutions a brilliant birthday!
Happy Birthday to the architect of my understanding.
Happy Birthday! Your wisdom is the premium subscription to my success.
Your words build bridges to better days. Happy Birthday, [insert name]!
May your day be filled with the richness of joy that you bring to others.
Wishing a day brimming with joy to the mentor who's a lighthouse in stormy weathers.
Wishing you a day filled with life's finest tunes. Happy Birthday boss.
Wishing a day of boundless joy to the person who is a guiding star!
Quotes for Mentor Birthday Wishes
Here are some quotes that mirror the essence of mentorship and could add a touch of wisdom to your birthday wishes.
Mentoring is a brain to pick, an ear to listen, and a push in the right direction. John C. Crosby
The mind is not a vessel to be filled, but a fire to be kindled. Plutarch
We make a living by what we get, we make a life by what we give. Winston Churchill
A mentor empowers a person to see a possible future, and believe it can be obtained. Shawn Hitchcock
The greatest good you can do for another is not just share your riches, but reveal to him his own. Benjamin Disraeli
A mentor is someone who allows you to see the hope inside yourself. Oprah Winfrey
One good mentor can be more informative than a college education and more valuable than a decade's income. Sean Stephenson
The delicate balance of mentoring someone is not creating them in your own image, but giving them the opportunity to create themselves. Steven Spielberg
The best teacher is the best learner. The best mentor continues to inspire by a willingness to learn from the mentee. Unknown
The best way to find yourself is to lose yourself in the service of others. Mahatma Gandhi
These quotes embody the core of mentorship and could be a profound addition to your heartfelt wishes. They remind us of the timeless impact a mentor has on our lives, a legacy of wisdom that continues to guide us through the maze of life.
Make Your Birthday Wish Special
A mentor's birthday isn't just a day to celebrate their existence, but a chance to acknowledge the significant imprint they have left on our lives. Making your birthday wish special is a testament to the appreciation and reverence you hold for your mentor. A personalized message, recalling specific instances where their guidance was a beacon of light, could make your birthday wish all the more heartfelt.
Our online store offers a splendid collection of cards that are just perfect for expressing your warm wishes. Each card is designed to encapsulate the profound relationship between a mentor and a mentee, making your message even more memorable.
Adding a touch of humor or a profound quote could also elevate your birthday wish, making it as unique and inspiring as your mentor. So, browse through our collection, pick a card that resonates with your sentiment, and pen down your feelings. Remember, a well-thought-out message on a beautiful card not only commemorates your mentor's birthday but is a tribute to the invaluable relationship you share. Your mentor's guidance is a gift; reciprocate with a gesture that's memorable and heartfelt.
Wrap it up
After drafting that perfect birthday message, sign off with warmth and respect. You could simply end with a "Happy Birthday," or you could add a touch of personal warmth by signing off with phrases like, "With utmost respect and gratitude," or "With heartfelt thanks and joy." Your sign-off is the final note in your melody of appreciation and the bow on the gift of your heartfelt sentiments.
Pin this Post to Save it for Later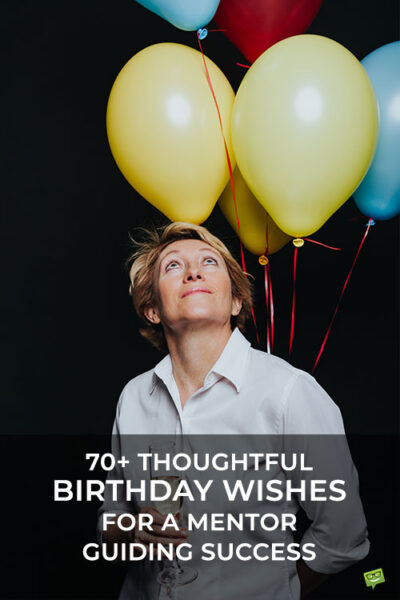 Related: 80 Classy Professional Birthday Wishes: Stand Out!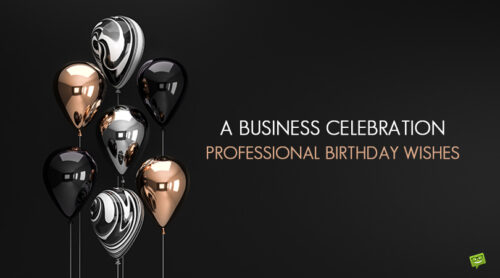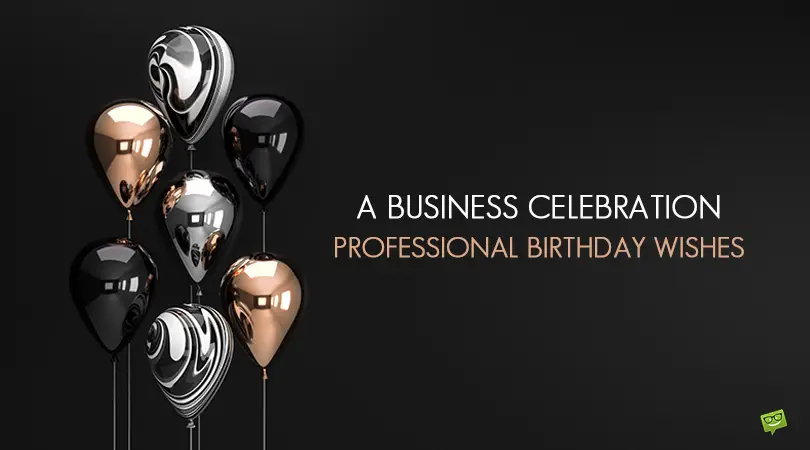 You May Also Like
Encouraging Good Luck Messages for Job Interviews
Farewell Messages for a Teacher and Mentor