Mother and child are the staple of a close relationship and a bond that's nearly unbreakable.
Show your mom just how much you care and make her smile wider than ever with these clever, funny, and heartfelt birthday wishes. She will surely appreciate them!
Will Your Mom Take up Jokes on her Birthday?
If your mom happens to be a person that tends to "forget" her birthdays, she might not really enjoy your teasing and funny birthday wishes, no matter how well-intended they may be. However, if your mom has a great sense of humor and is open to joke, then you surely should bring out the funny birthday wishes. Especially if you want to atone for your naughty behavior as a child!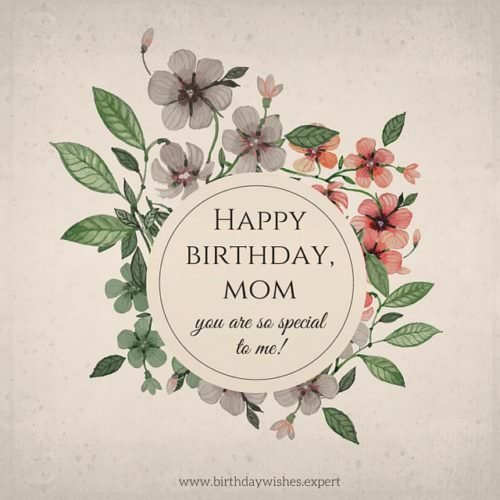 Funny Birthday Wishes for Mom
On your mom's special day, some laughs or even a smile will always come in handy, no matter what kind of birthday celebration you have planned. Here are some funny birthday wishes to make your mother's birthday a bit more special:
Happy birthday to my mom! Here is a coupon for you to hand to dad: "Mom's day off! Dad gets to do all of the chores." Enjoy your freedom.
Dear Mom, here's wishing you the happiest of birthdays today! From, your favorite child (who is also the smartest, most handsome, and funniest)
You know you're getting old when you have more candles on your cake than wrinkles on your face. Just kidding.
Do you know what to not ask for on your birthday? Absolutely nothing! It's your day to choose whatever you want. Happy birthday to the best mother around!
Here's a smile from me to you. Let this day bring you something new.
Here's a big hug from your favorite child. I wish you a year full of surprises, presents, joys, and laughter.
Don't feel overwhelmed by the number of candles on your cake. It won't trigger the fire alarm yet. Next year, maybe! Happy birthday, sweet Mom!
Happy 17th annual 29th birthday to my favorite mom! Enjoy your day!
Best wishes, Mom. You'll always be my favorite parent. After all, we all know I'm your favorite child.
Dear Mom, thank goodness that I'm finally old enough to show you how I really party. Happy Birthday to you!
Mom, I used to hate the way you were always right. Now I've learned to always take head to your advice. Happy Birthday, dear mom!
I'm going to make this birthday special for you, Mom, just to make you regret all those empty threats to give me up for adoption.
We want you to have a wonderful birthday, Mom. So as your gift, we are sending Dad away on extended vacation.
Mom, It's your birthday! I want you to know that your best days are still ahead of you. Happy Birthday!
I'm so lucky to have a Mom who still parties like she's in her twenties. Happy Birthday and enjoy your special day.
Dear Mom, you are responsible for the person I am today. So when I mess up, remember that I am just a product of my upbringing. Have a fabulous birthday!
I'm happy to have a mom as beautiful as you are. I'm even happier that in 20 years I'll look as good as you.
Have a great birthday, Mom. I hope the years to come brings you much prosperity and a giving heart to share all that wealth.
Happy birthday to our mom, the one lady we know who had a pet dinosaur in her childhood. Just kidding! We love you.
We bought a woodpecker and trained her to tap out the number of holes that match your age. Too bad she passed out before she could finish.
It's about time you reached this age, now that you've grown out of flowers and chocolates, we can get you a real present that actually has some punch. You said you did some horse riding before, right? Happy Birthday!
For such a young mom you've always had such a wise head on your beautiful young shoulders. It's a shame that also means you know how to keep such close tabs on me using Facebook. Happy Birthday!
This time next year you'll be a Grandma! If that worries you in any way, just look at the bright side: in about 15 years time it will mean twice as many presents every year! Happy Birthday! #Longgame
Time to tell you the truth, mom, you don't make the best cookies in the world. But you do give the best: hugs, kisses, head scratches, back rubs, care when I'm ill, support when I'm down and home to come back to. Your Sunday roast isn't bad either. Happy Birthday!
You're the most beautiful, graceful and wonderful woman in the world. Dad was blessed to have met you, and your children all know we owe you everything. A day does not go by that I don't appreciate everything you have done for us. Still working on that will, right? Happy Birthday!
Just like you are not supposed not have a favorite child, we are not supposed to have a favorite parent. But just between you and me, let's just say dad gets a lower birthday budget every year. Happy Birthday, Mom! From your secret favorite of the litter.
I didn't just remember, I made sure this day was free just so I could spend it with you. Happy Birthday!
Back in school, all my friends were jealous of my packed lunches, it's because of you I grew up loving food!
I believe I have the greatest mother in the world. Those that don't agree just don't know any better.
Sending this early to make up for the late one last year.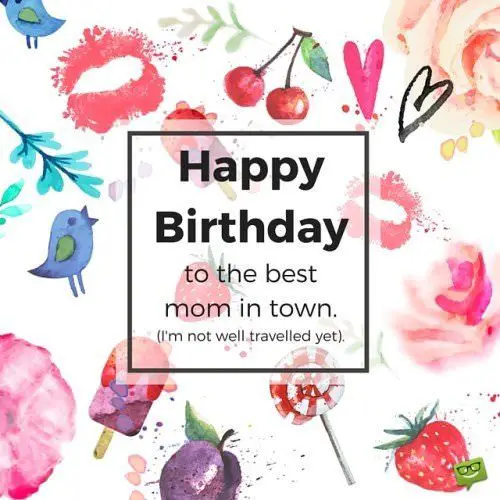 Cute Happy Birthday Wishes for your Mother
If your mom is an intelligent and sensitive woman, you should express your feelings with a more gentle approach. Here are some cute birthday wishes for Mom that will be sure to make her feel special:
Mom, thank you for being the most caring and compassionate mother anyone could ever have. Happy Birthday!
You are the one that made me who I am today. Thank you for all of your love and support over the years. Wishing you a very happy birthday!
Happy birthday to the most amazing mom ever! Your loving and kind heart is something I can never forget, thank you for being there for me always.
Mom, no matter how old I get, I will always be your little boy/girl. Wishing you a wonderful birthday filled with love and joy.
Happy Birthday to my beautiful Mom! Your wisdom and guidance have enabled me to accomplish many great things.
No one understands my heart better than you, Mom. Wishing you the best birthday ever!
Happy Birthday, Mom! I may not be able to give you the world but I will always give you my love and support.
Your kind words of encouragement have pushed me closer to achieving my dreams. Thank you for your support and love, have a happy birthday!
Mom, I hope this special day brings you much joy and happiness. You are truly the best mother anyone could ask for!
Also read:  101 Exciting and Heartfelt Happy Birthday Mom Quotes
Funny Happy Birthday Mom from Daughter
As a daughter, you probably have spotted all the values, skills and habits your mother has passed on to you over the years. Chances are, you might actually like some of them! Acknowledge that special bond and thank your mom for all she has done with these cute and funny birthday wishes:
Dear Mom, I often catch myself saying the same corny phrases you used to say to me as a child. I guess you're rubbing off on me. Happy Birthday, mom!
Funny how fast time flies by, but your genes stand strong. You're getting older, but we can still pass for sisters! You look better than ever. Happy Birthday, mom!
We're celebrating your birthday today. I can say that I am very grateful you were born on this day. Because without you, there would be no me. Happy Birthday!
I really appreciate a mom that I can laugh and be silly with as if we were sisters! I hope you have an amazing birthday, mama!
Remember the time when I used to wish that you get swapped by my best friend 's mom? Well, not saying that his mom is any less, but I have grown rather fond of you, so stay where you are. Happy birthday, mom. I wish you all the happiness in the world.
Time flies by so quickly, but that doesn't mean I don't appreciate you even more. Happy Birthday, Mom!
Thanks for being such a great mom, isn't it good that I chose you? Happy Birthday, you're still a best friend, mom!
Dear mom, don't be sad. You're still so good looking that guys mistake us for sisters. You still got it! Many happy returns to a foxy mom.
Love you! I'm so glad to have a mom like you. No other will do in the world, for sure. Happy Birthday, Mom!
Today is your special day and I just want to say, how much I love you and that you're the best cook… ermmm, I mean MOM IN THE WORLD!
Funny Happy Birthday Mom from Son
Sons are often mom's favorites – but don't take any advantage of that on your mother's birthday if it's true! As you wish her the best, you can share these funny birthday wishes for her – and get away with it!
Does this message count as a gift? If not, I'm going to need a list. Happy Birthday from your outstandingly lazy son! You only have yourself to blame!
I just came over because I smelled birthday cake…and, of course, because I have the greatest mother in the world! Happy Birthday to you, Mom.
Mom, I know you are older and wiser. But you can still act young and carefree on your birthday! Enjoy your day!
Dear mother, I know I was never perfect as a kid, and I'm still working on it, but thanks for not dropping me off at the shopping center and leaving me for grabs. I know it crossed your mind. But you're just too good of a mom.
To a mom who wiped my butt, fed me, clothed me and all the rest, you truly are the best. Of course, they tell me all that stuff was your job and came with the package but I still want to thank you for all of it! Happy Birthday, Mom.
Being your son is one of the best things that ever happened to me. I am also proud to be your personal best in child-making according to unverified sources. Happy Birthday, Mom!
Cheers to the absolute best mother a guy can ever have! Happy Birthday, Mom! You could have taught me so much more, but we both know it would have been harder for the both of us, so I'm not blaming you at all. Your proud and grateful son.
Happy Birthday, Mom. No need to worry about getting old because I will always think of you as the same special, young-at-heart mom that I have always known since I remember myself.
They say age is nothing but a number, but no one tells you that, from one point on, it's like temperatures: the higher they are, the less comfortable one feels. Happy Birthday, my wonderful mom!
Happy Birthday! From your son who is never too busy to drop everything for his No.1 lady.
While all the other kids were allowed out to play, you made sure I was home safe, fed and studying. It's your fault that I'm now the smartest of all my friends. Happy Birthday, mother! From your arrogant and grateful son!
Let's celebrate a baby boomer's birthday now that smartphones remind us everything we should never ever forget. Of course, I never ever forget yours, mommy!
It's an honor to have you as my mom, I'm grateful for all of your support over the years, and I feel entitled for a bonus for this gratitude of mine. Have a blessed and financially successful Birthday!
Conclusion
A daughter or son's choice to share funny birthday wishes with their mom on her special day is a great way to show how much they care and appreciate her. It is a way to celebrate the amazing and unique bond that mothers and their children share, as well as to remind mom of how special she is to them.
Sharing funny birthday wishes also adds a lighthearted touch to the day, and can help keep the celebrations going even longer! So go ahead, and let your mom know just how much she means to you with a funny birthday wish!
Pin it to Save it for Later!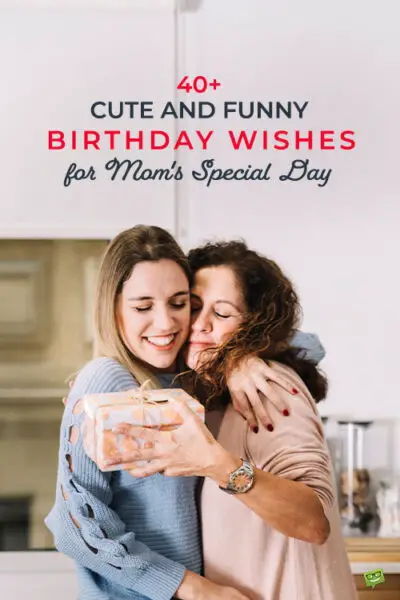 You may also like:
Best Mom in the World – Birthday Wishes for your Mother
30+ Birthday Toasts For Mom's Life Milestones
200 of the Best Birthday Messages to Make Someone's Day Special
Cracking a Birthday Joke – Huge List of Funny Birthday Messages and Wishes