We know how special our mothers are and yet, it's often hard to find the perfect words to express our love for them. Birthday posts dedicated to mom on Instagram or any other platform need some extra love that can only be found in a thoughtful caption.
That's why we've put together this collection of heartfelt and funny captions for mom's big day that you may use to caption the best photo posts on your mother's birthday. From simple sayings like "Happy Birthday, Mom!" to short & sweet quotes, you are sure to find the perfect caption that will express your love in just a few words.
So, let's get started! Here's a list of funny birthday captions and short captions for mom birthday that will bring out her smile on her special day.
Make Mom Laugh On Her Birthday With These Funny Captions!
We've put together some of the funniest and most heartwarming captions that will make mom's special day even more memorable. From short one-liners to longer jokes, here are our top picks of funny birthday captions for mom.
Mom, you're the real MVP of birthdays!
Mom, I wouldn't be half the person I am without you! Happy Birthday!
It takes a really special Mom to put up with me… but luckily I have one of those!
Happy Birthday, Mom! Turning the same age as your favorite wine.
Happy birthday to the queen of our castle!
Mom, I know it's your Birthday today but could we go shopping instead? Just kidding! Happy Birthday!
Happy Birthday to the one person who always keeps me in line – even if I don't want to be!
When I think of moms, I think of you! Happy Birthday!
Mom, the only person who loves you more than food.
Best wishes on your birthday, Mom. You're the only mother I could have ever wanted and the only mother who could have ever put up with me.
My birthday wishes to you, Mom, are the best, even though you always managed to embarrass me in front of my friends when I was growing up.
On your birthday, Mom, I'd like to thank you for never missing a spot when you buttered my toast and for not making me eat my vegetables. Best wishes to my favorite mother.
Happy Birthday, Mom. I hope all the candles I put on your ice cream cake don't melt it and make it a puddle.
Mom, your birthday is truly something to celebrate because you lived through raising me. Congratulations and Happy Birthday.
I celebrate your birthday, Mom, because without you, there wouldn't be me. Hooray for both of us!
Birthday wishes to you, Mom. You're the best, but your cooking needs some help.
If you're as proud to have me as your child as I am to have you as my mom, we're good. Best Wishes on your birthday.
Thanks for forgiving me for giving you so many hard times as a child, Mom. Have a wonderful birthday, and be happy I'm an adult, I think.
If you enjoy this post, take a look at our collection of  Love Quotes for my Sweet Mother.
Sweet Birthday Captions For Your Wonderful Mom
Are you struggling to find the perfect words to express your love and gratitude for your amazing mom? Check these out!
Happy Birthday to the woman who made me – and keeps on making me – better every day.
Happy Birthday to the smartest, strongest and kindest mom I know!
Birthday hugs and kisses for the most wonderful mom in the world!
Birthday shoutout to the world's best mom—I love you!
A special day for an extra special person – Happy Birthday to the world's greatest mom!
Life is much sweeter with you around – happy Birthday Mommy!
Birthday vibes for the world's most amazing mommy!
Mom, you have a heart of gold and a million hugs to give. Happy Birthday!
Mom, you're my guiding star, my rock, and the best role model I could ever ask for. Happy Birthday!
I'm sending you birthday wishes on your birthday, Mom. You fill my heart with infinite joy, and I thank you for all the love you've given me.
You have all the qualities of a perfect mother, and I'm wishing that you have the best birthday a mom could ever have. You're smart, you're caring and you never stopped loving me, so thank you for being mine.
Every gray hair on your head is there because you took care of me through the years. You did a marvelous job, Mom, and I thank you, love you and wish you all good things on your birthday and always.
A mother is a woman who loves her child and encourages him to be the best person he can be. Her birthday is as special as she is, and I want your day, Mom, to make you as happy as you've made me.
For all the times you wiped my face and picked me up when I fell, I thank you, Mom. Since today is your birthday, I want to send you my love and best wishes.
Mom, because of your love and commitment to being a good mother, I lead a good life. Happy Birthday, and thanks for all you've done for me.
Pin this post to save it for later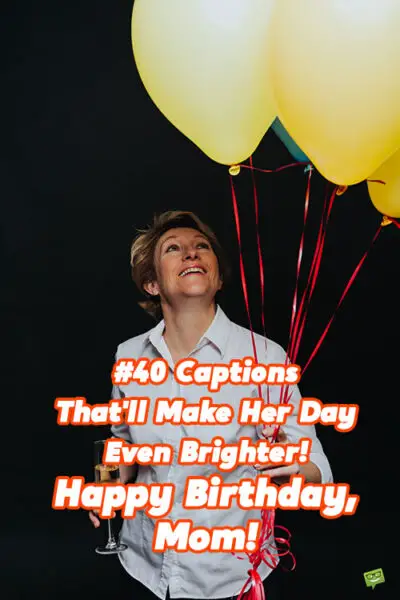 You May Also Like:
Best Mom in the World – Birthday Wishes for your Mother
Happy Mother's Day! | Wishes For All Those Great Women in Our Life
60 Creative Ideas for Wishing Your Mom-in-Law a Happy Birthday