The role of fathers is so important and influential in all of our lives. So influential that the presence or lack thereof is sure to make a major impact on one's life. It's no secret that Mother's day is widely celebrated more energetically than Father's day. But it's important that no father goes underappreciated. Dads are awesome. They share valuable life lessons and inspire us in many ways. One of the best opportunities to express your love and appreciation for your dad is on his birthday. Although they may not admit it, every father wants to feel appreciated on his birthday and here that much-needed Happy Birthday Dad! from their kids.
No matter the gesture, big or small, expensive or not, your father is sure to be gracious for the way you choose to celebrate his special day. Wish your father a very happy, blessed birthday with any of these wonderful birthday wishes for dad.
Heartfelt Birthday Messages for Dad
For his special day, here are some meaningful words to let your father know how important he is in your life.
I feel like the luckiest person in the world because I was blessed with you as my father. Hope you have a wonderful birthday!
You've always been there for me and I want you to know that I will always be there for you. Wishing you the happiest of all birthdays.
Life just wouldn't be the same if it weren't for your presence, guidance, and dedication to fatherhood. My best wishes!
Just when I think you have run out of life lessons, you surprise me. Thanks for everything!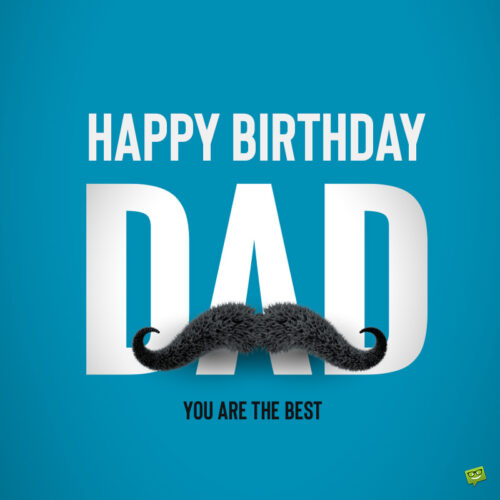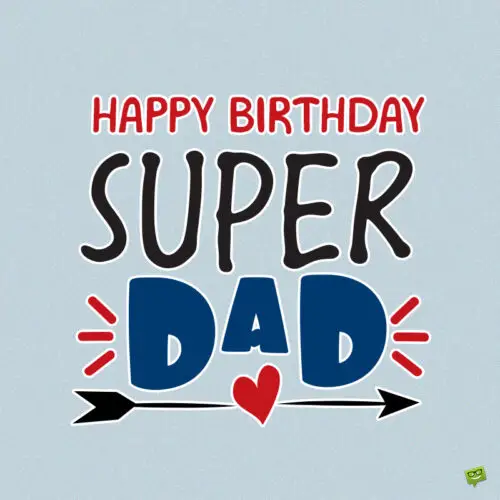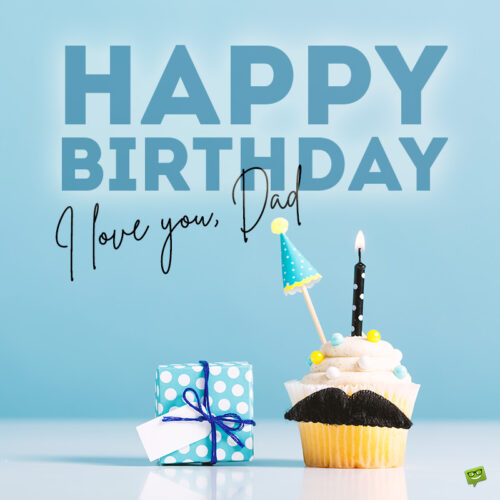 You'll never know how much the little things you do impact me in the biggest ways. I love you, Dad. Hope you have a great birthday!
If there was an award for the best dad in world, there probably would be something like a billion candidates, but you would get my vote. Happy Birthday, #1 Dad!
In a world that heaps so much praise on mothers, I want to take the time to tell my Dad how important he is to me. Hope you have the best birthday ever!
With your example to follow, how could I ever have gone wrong? I love you, Dad. Have a great birthday.
Dad, we may not always agree on everything but we do agree on one thing. We have the best family in the world. Love you and I hope you have a great birthday.
Most everyone has a father but they don't have one as great as you are. Thank you for all that you've done for me! Have fun celebrating your birthday!
You know my favorite color, my favorite movie, my favorite pop star and my favorite chocolate. What you might not know well is my favorite person in the whole wide world is you. Happy Birthday, Dad!
You've been a teletubby, a dinosaur, a lion and a pirate . You've played Elmo, the Easter bunny, a ghost and of course Santa. But today you are playing the best dad of all time, and for that you don't need a costume. Happy Birthday, Dad.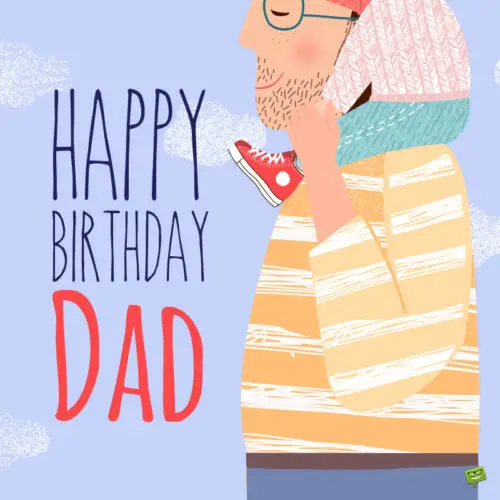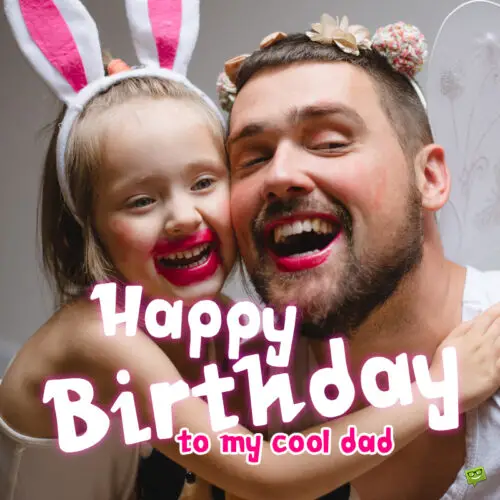 Happy Birthday Dad! Short Birthday Wishes for your Dad
To the man responsible for so many of the most precious moments of my life. Happy Birthday, Dad.
Happy birthday to you from the luckiest daughter in the world.
You're never too old to have fun on your birthday. Enjoy!
It's your birthday! Dance like nobody's watching.
You are my superdad. Happy Birthday!
Chase your dreams! Have a blessed birthday.
Sending you lots of love on your birthday, Dad.
Relax and enjoy your birthday!
It's your birthday, Dad. Do what you want to do.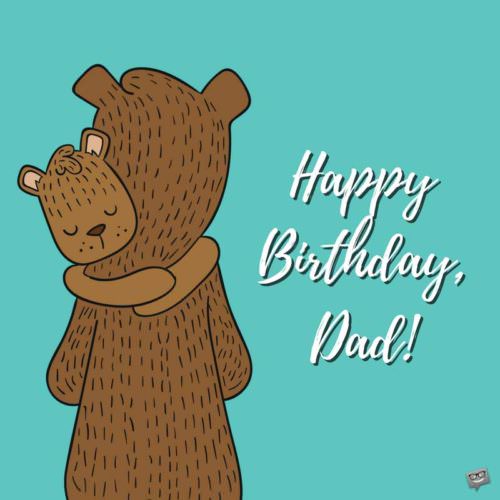 The formula to a happy childhood: a cute dog, nice neighborhood, fun friends and my dad's bedtime stories. Happy Birthday, Dad.
To a farther worthy of a knighthood, from his princess soon to be a queen, Happy Birthday, Daddy!
Every yeah I get you something you hardly ever use, well this year all I'm giving you is this message. Try returning that! Happy Birthday Dad!
The Stork dropped you lemons and you made lemonade! Thank you so much and Happy Birthday, Dad!
If all fathers were like you, the world would be rid of daddy issues, fortunately for all psychiatrists you are a rare breed. Happy Birthday, Dad.
It's never too late to make amends, today is the perfect time to start. Happy Birthday, Dad.
Happy Birthday, Dad! From the proudest apple that could ever fall from such an amazing Tree.
Happy birthday to a man who still remembers what it's like to light his candles by rubbing two sticks together!
Happiest of birthdays to the only step-father I have ever wanted or needed.
May the sun shine down brightly on you and lead your path on this your birthday.
Wishing you a day full of presents and fulfilled wishes on your birthday.
Happy birthday to the one I not only call "dad," but also "friend" and "mentor!"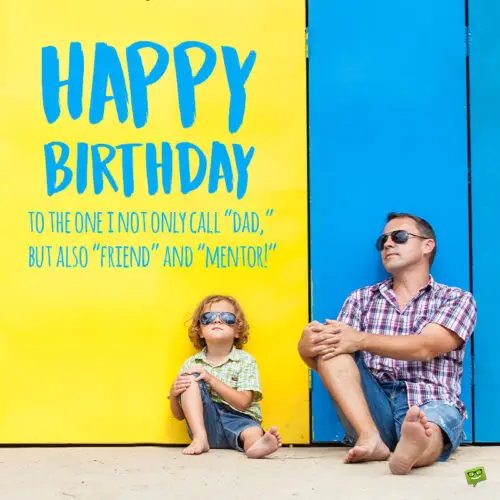 Another year older, another year more admired!
Happy birthday to my father, the most reliable, honest, and loving man I have ever known!
Forgive me for not telling you this more often, but know that I love you on this your birthday and always.
Wishing you a new year of chances and opportunities for love and fun!
Happy birthday to my dad, the coolest guy in town!
Once upon a time, God blessed me with an amazing man to call "Dad," to whom I wish the happiest of birthdays today.
Thanks for all you do, Dad, and happy birthday!
Three cheers to the man who gave me life and purpose!
Happiest of birthdays today and always, dear Dad!
We wish you one amazing, rocking day, Dad!
Happy birthday to the funniest, craziest dad for which a girl could ask!
Once a year I get the chance to shout, "Happy birthday to my very special dad!"
Thanks be to God for you and let us wish you, "happy birthday!"
Happy birthday, dear Dad, for whom I give thanks to God each day!
Happy Birthday Dad Wishes from your Son
Giving advice is nice but it's how a father lives his life that really teaches a son how to be a good man.
You let me make my own mistakes without judgment but were always there to pick me back up. I love you, Dad. Happy birthday!
Through all of my life, you've always been there on the sidelines cheering me on. Now I'm right behind you, cheering you on! Hope you have a wonderful birthday.
My friends have asked me what was the best thing my dad ever gave me. I always told them it was his time. I love you, Dad. Have a great birthday.
Back in the day, I never knew you were Santa, the Easter Bunny and the Tooth Fairy all rolled into one. It makes me so proud that you cared so much! Happy birthday!
When I bought you that "Number One Dad" mug back when I was a kid, I really meant it! It's still true, by the way! Have a fantastic birthday!
I haven't told you enough how much I appreciate everything you've always done for me, I only hope today i can make a start. Happy Birthday, Dad, from a loving son.
All of my friends used to call you the cool dad. They were right! Hope you have a great birthday!
Happy 50th Birthday Wishes for Dad
An Absolute Classic.
Today you might turn 50, but to me you're the same person who stood by me all these years. Thank you for the endless support and love.
Happy Birthday, dad! I can love you twice as much in the next 50.
Time flies if you spend it with someone you love. Daddy you're the best present one can have in their life. Hope I am the best present you ever received  too. Happy Birthday!
Fifty years of love and devotion to the one thing man creates. Dad you are the architect of my world. Thank you for everything you ever did for me. Happy Birthday and have the best day with us!
Today you turn 50 yet it seems to me like you never aged a year, at least for me you will always stay the same. Happy Birthday, Dad!
If I ever felt lonely you were there with me, if I ever needed someone to talk to you were my best friend, if I ever wanted something you were my sponsor, if I ever did something wrong you were there to clean my face. You did everything for me and now it is my time to return some love. Happy Birthday and thank you for always being there for me! You are the best father ever!
Let's make this day the best you ever had. Today is your 50th Birthday. Happy Birthday and aim for 100! Love you, dad!
Today the person who created me turned 50. I wish you all the best and hope one day I will become the father you are to me. Happy Birthday Dad!
Five decades is nothing for you. Let's go another five and enjoy our life. You mean the world to me! Happy Birthday!
Happy birthday, Dad! Grandma always says that these past 50 years have been the best years of her life. I feel the same for my years. You are loved!
Happy 50th birthday to the man who has taught me age truly is just a number! I love you, Dad.
As we celebrate another birth year for you, Dad, I find myself lifting my hands to the heavens in thanks for you being a great (and grateful) man. You teach us all valuable lessons each day in how you deal with life's daily concerns and even large set-backs. You are an inspiration to us all. Happy birthday!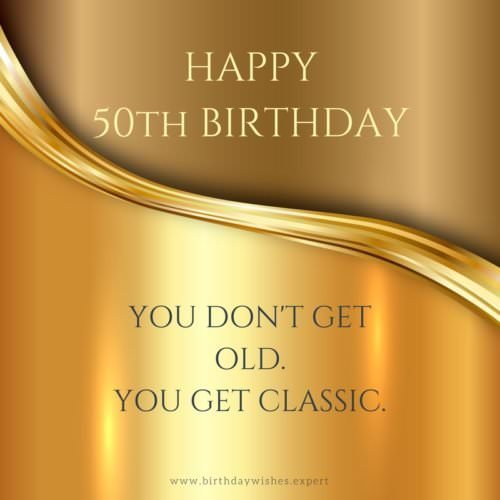 50 years of memories, 50 years of fun! Happy birthday to the best dad around!
On this special day, I want to remind you that you will always be my Daddy. You are still the one I look to for advice and the one I run to when I need anything. On that note, can I have $30? Ha! Happy 50th birthday, Dad!
Happy birthday to the man who taught me that memories aren't moments that simply happen, but rather they must be created. You and I definitely have created some fun memories. Love you, Dad!
Happy 50th birthday, Dad! You're not just another year older today, you are also another year… no, wait. That is it. You're just a year older.
Dad, you are not only my father but also my friend. You have coached me in making wise decisions and shared in both the struggles and fun moments of my life. You have become instrumental in my success and happiness. I love you with all of my heart. Happy 50th birthday!
Happy 50th birthday, Dad! Try to stay awake for your party, old man!
Not every kid is blessed with an amazing dad, but we sure were. Happy birthday to the man who helps us dream large dreams and make huge plans. It's your day!
Once I left home for college, I quickly realized how good I had it at home. Thanks for being such an awesome Dad. Happy birthday, and I love you!
60th Birthday Wishes for Dad
When your father has reached a true milestone of bliss.
Sending warmest wishes to you on your 60th birthday. May you never lack in life. Happy birthday, Dad.
I wish you happiness and many smiles as you commemorate your 60th birthday. May your life keep inspiring everyone around you. Happy birthday to the most wonderful father in the universe. I love you.
On this special day, I wish God's blessings in your life. May peace and happiness accompany you wherever you go. Happy 60th birthday, Dad.
If I can become even half of what you are, Dad, I will be so proud of myself. Have an amazing and healthy 60th birthday, Dad. My love for you will never die.
Dad, all your life, you have striven and prayed for my happiness. Today, I pray for your happiness and good health. Have a very blissful 60th birthday.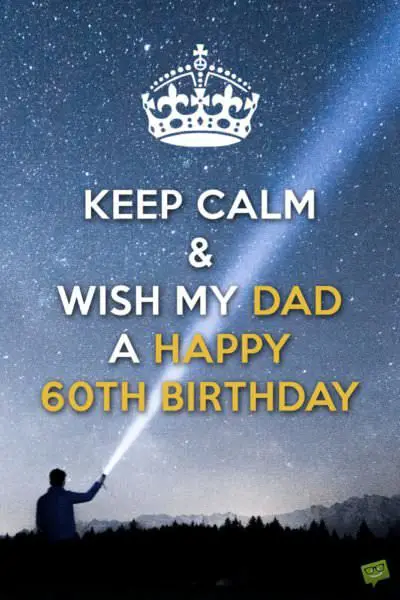 Dad, there are no words on earth strong enough to tell you how much I revere and cherish you. Thank you for the incessant sacrifices you make just to decorate my life with color and sunshine.
May the good Lord bless your new age. May He forever look on you with favor and keep you safe, happy and healthy all the days of your life.
On your 60th birthday, I just want you to know that you are such a priceless blessing to me. I will never stop being grateful to my lucky stars for giving me a breathtakingly wonderful father like you.
Wow…Dad, I find it really hard to believe that you are 60 already yet you keep going so strong. I will forever take pride in the fact that you are my father and I'm your son/daughter. I love you so much, Daddy. Happy birthday.
Happy 60th birthday to you, my beloved Dad. May the light of God forever shine on your life. I hope you have a birthday celebration of a lifetime. My love for you will never end, Dad.
Wishing you peace, happiness and the blessings as you celebrate your 60th birthday. Words can never have the power to fully describe how much your presence in my life means to me. I love you, Dad.
Dad, your 60th birthday is a perfect opportunity for me to express my hearty gratitude and thankfulness to you for all the precious things you have done for me throughout my life. In my eyes, you are God, Dad.
Thank you for being the best father in the world to me. May this special birthday of yours be as wonderful as your presence in my life is to me. I love you.
Happy 60th birthday to the most priceless man in my life. I shall forever love and treasure you, my sweet Father.
Long Birthday Wishes for your Dad
There is no gift that I can buy that could measure up to the love that I want to express. There are no words that could sum up what I really want to say. Have an amazing birthday, Dad. You mean so much to me.
On this most blessed of days, we praise God for the gift of you, dear Dad. In our youth, you taught us the importance of honesty, trustworthiness, and kindness. And in adulthood, you taught us the importance of seeing and passing on these traits to others. It is because of you this world is a better place. Happy birthday, big guy!
Dear Dad, today I wish you the best of birthdays. You are a great father, solid neighborhood leader, and deeply faithful man. Everyone who knows you feels blessed to have you in their lives and as my role model, you have inspired me to grow up wanting to be nothing else than the great man you became.
I may not always take the opportunities to tell you this. I love you with all of my heart. You have led me in such a positive direction in life and there is no one I would rather have as my role model than you. I am truly blessed to call you Dad.
Father, I greatly respect you. Not only because I'm your son, but also because you are a man of honesty, integrity, and great charity. You are everything that I aspire to be. If I am half the man you are, I would be grateful. I am wishing you a very happy birthday.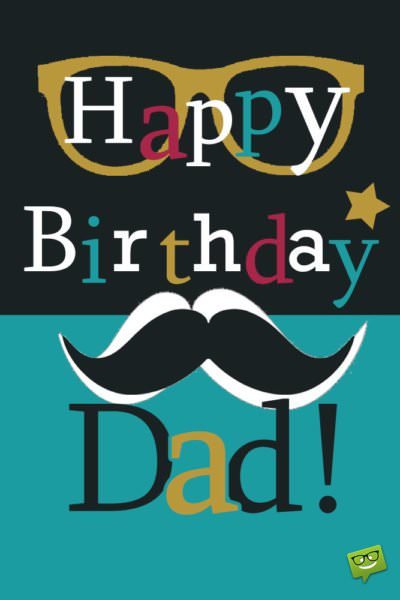 Dear Dad, thank you for all that you do and all that you have done. No matter the mistakes I've made, you always been there to catch me when I fall and build me back up again. Love you forever and always, happy birthday.
Thanks for being a great example of a family man. Now I can follow in your foot steps as I start my own family. You words of wisdom did not fall on deaf ears. My footsteps will forever be guided by your words. Happy Birthday to you.
I will never stop praying for your well-being. I will never stop hoping for your happiness. You deserve all the love and happiness in the world. Have a wonderful birthday, Dad.
Happy Birthday Dad Images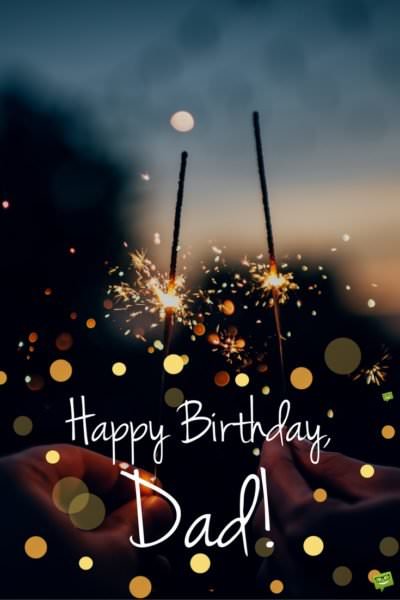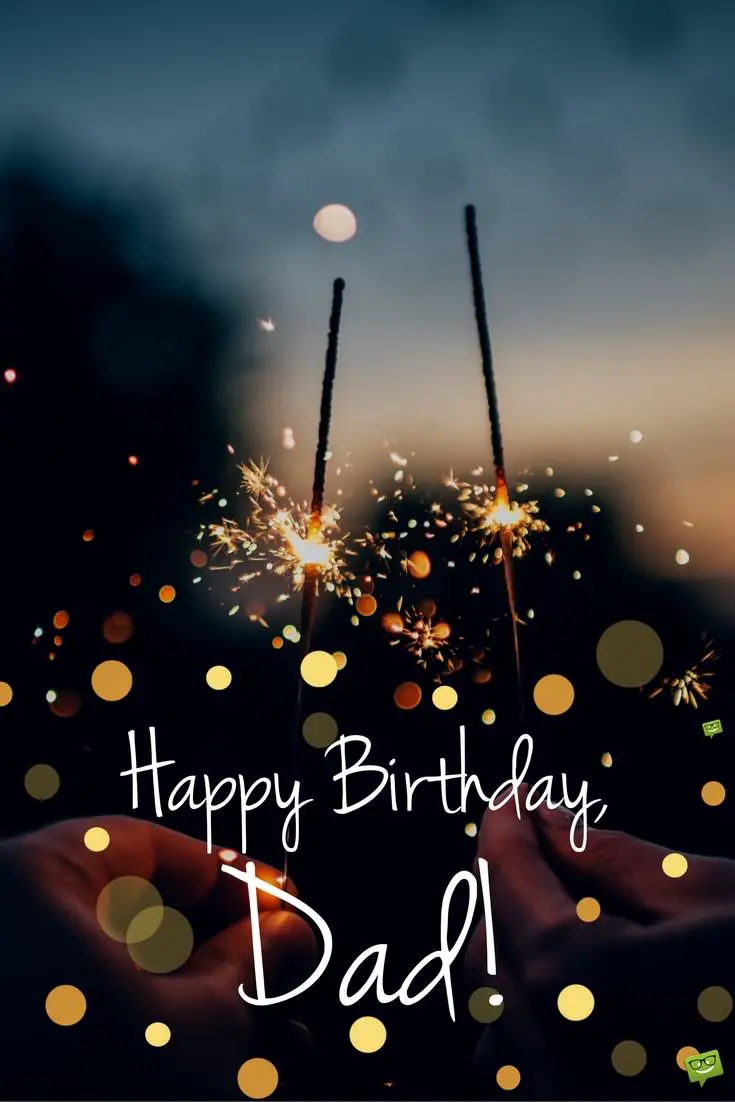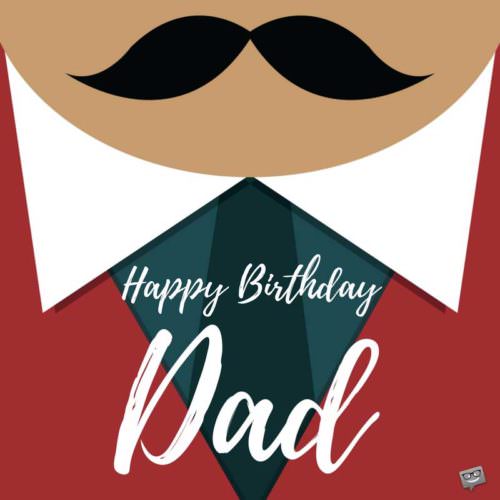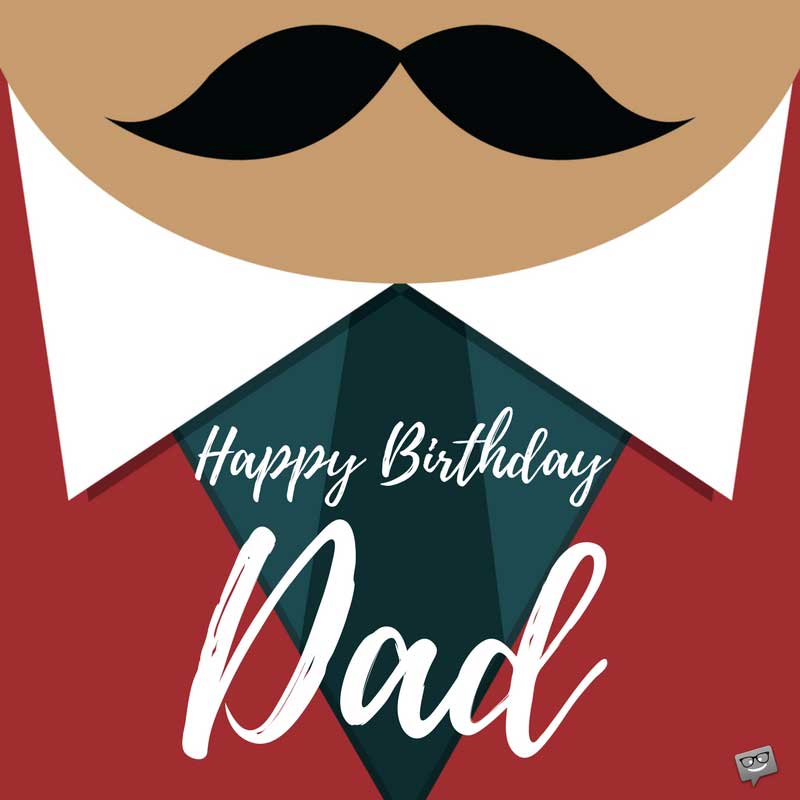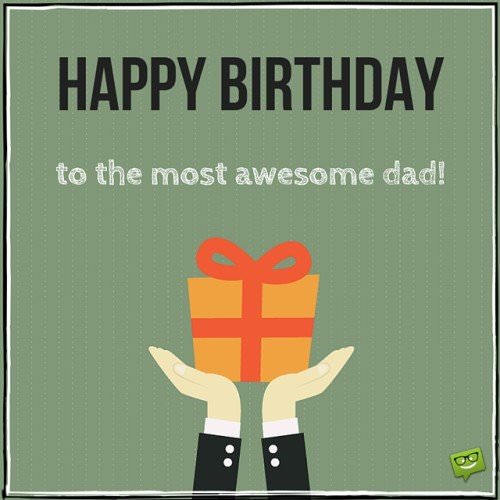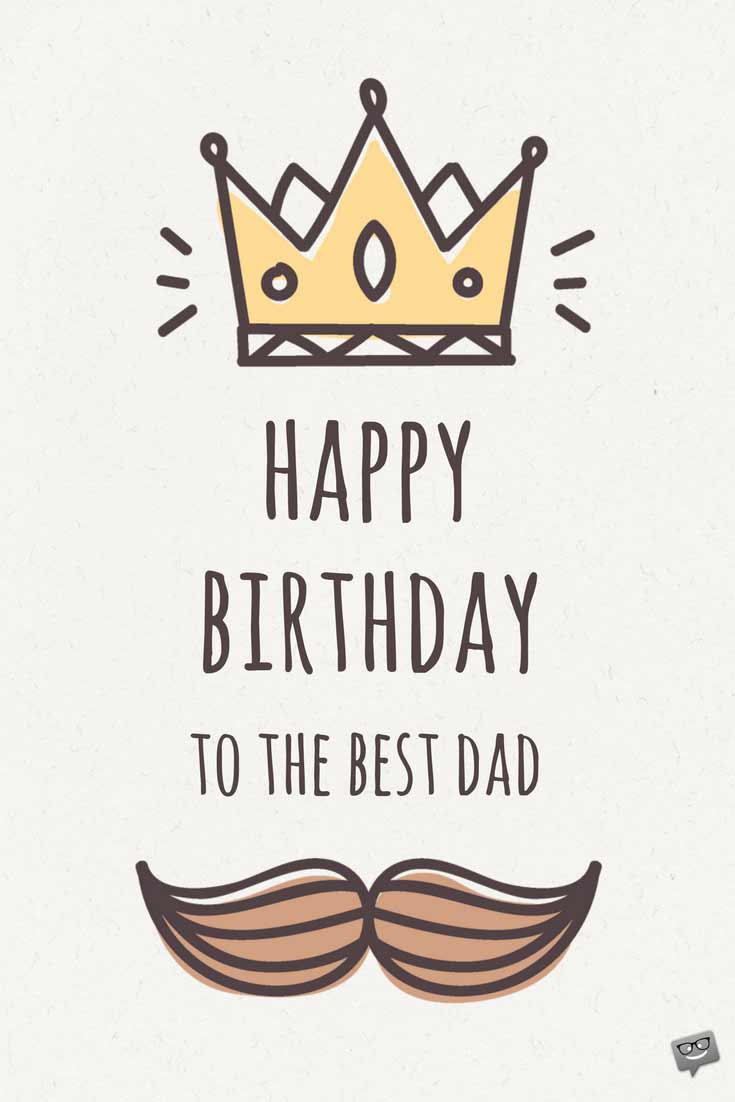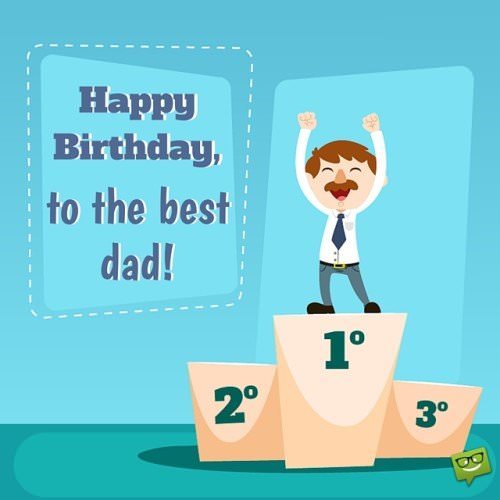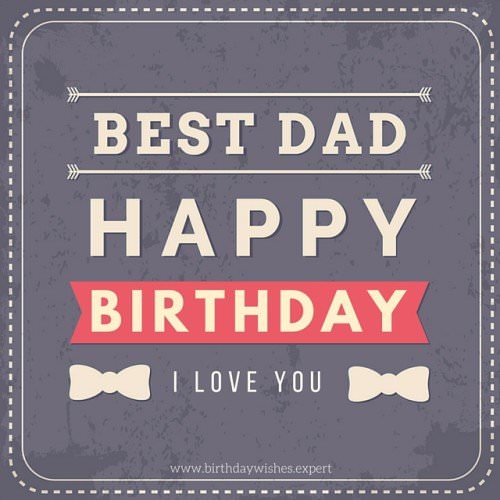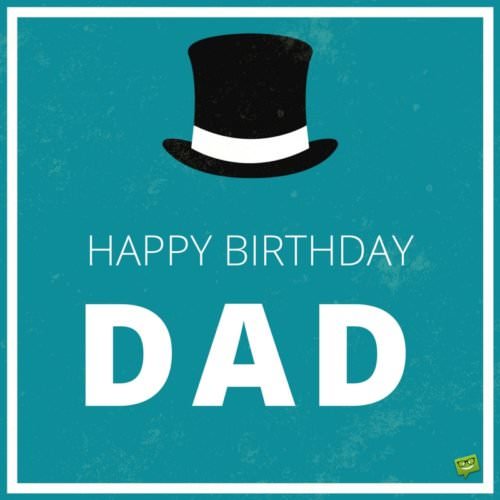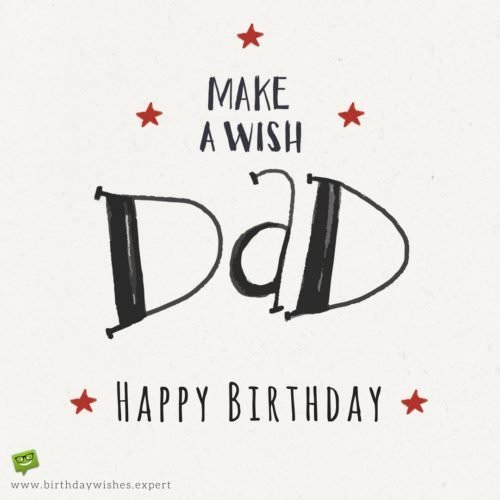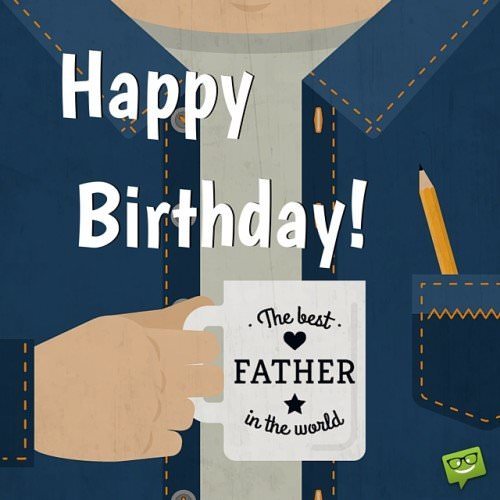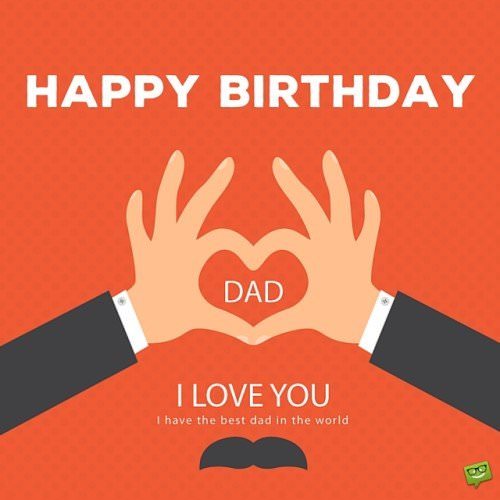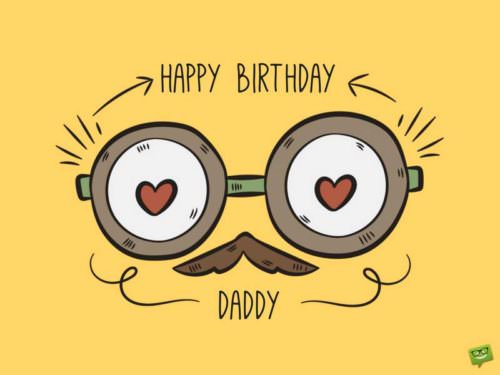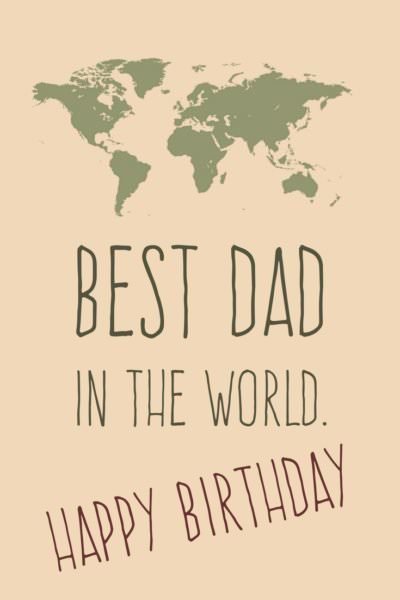 You may also like:
I'm Sorry I Forgot Your Special Day | Belated Birthday Wishes for Your Dad
Funny Birthday Wishes for your Family and Friends
200 of the Best Birthday Messages to Make Someone's Day Special