Love is an amazing thing. Not only does it light up our hearts, but brings out the best in us and make life just a little bit sweeter! If you're looking for that perfect way to express your love – whether it's cupid season or any other day of the year – these cute quotes are bound to get those loving feelings across each time.
From funny sayings about relationships to sweet words full of romance, these romantic love quotes will keep your connection strong and remind both of you why falling in love was so easy in the first place.
A Million Tiny Fires: Heartwarming Cute Love Quotes
Romance isn't all about grand gestures and epic love stories. Sometimes, it's the little moments that make all the difference in a relationship. That's why we've collected these heartwarming cute love quotes – to bring out those small sparks of joy and romance that are so often overlooked. From sweet sayings to witty one-liners, these adorable quotes will fill you both with warmth and happiness whenever you need it!
If I know what love is, it is because of you.Herman Hesse
My six word love story: I can't imagine life without you. Unknown
Love is when you look into someone's eyes and see everything you need. Unknown
I never want to stop making memories with you. Pierre Jeanty
You have bewitched me, body and soul. Jane Austen
Love is like a friendship caught on fire: In the beginning a flame, very pretty, often hot and fierce, but still only light and flickering. As love grows older, our hearts mature and our love becomes as coals, deep-burning and unquenchable. Bruce Lee
We are most alive when we're in love. John Updike
You come to love not by finding the perfect person, but by seeing an imperfect person perfectly. Sam Keen
When someone loves you, the way they talk about you is different. You feel safe and comfortable. Jess C Scott
You are the last thought in my mind before I drift off to sleep and the first thought when I wake up each morning. Unknown
Love recognizes no barriers. It jumps hurdles, leaps fences, penetrates walls to arrive at its destination full of hope. Maya Angelou
Love is not something you go out and look for. Love finds you, and when it does, ready or not, it'll be the best thing to ever happen to you.Unknown
In all the world, there is no heart for me like yours. In all the world, there is no love for you like mine. Maya Angelou
Love is composed of a single soul inhabiting two bodies. Aristotle
The best and most beautiful things in this world cannot be seen or even heard, but must be felt with the heart. Helen Keller
The best thing to hold onto in life is each other. Audrey Hepburn
I love you not only for what you are, but for what I am when I am with you.  Roy Croft
Love does not consist of gazing at each other, but in looking together in the same direction. Antoine de Saint-Exupery
The greatest thing you'll ever learn is just to love and be loved in return. Moulin Rouge
To love is nothing. To be loved is something. But to love and be loved, that's everything. Themis Tolis
If I had a flower for every time I thought of you, I could walk in my garden forever. Lord Alfred Tennyson
I love you without knowing how, or when, or from where. I love you simply, without problems or pride: I love you in this way because I do not know any other way of loving but this, in which there is no I or you, so intimate that your hand upon my chest is my hand, so intimate that when I fall asleep it is your eyes that close. Pablo Neruda
The heart wants what it wants. There's no logic to these things. You meet someone and you fall in love and that's that. Woody Allen
You don't love someone for their looks, or their clothes, or for their fancy car, but because they sing a song only you can hear. Oscar Wilde
Nobody has ever measured — not even poets — how much the heart can hold. Zelda Fitzgerald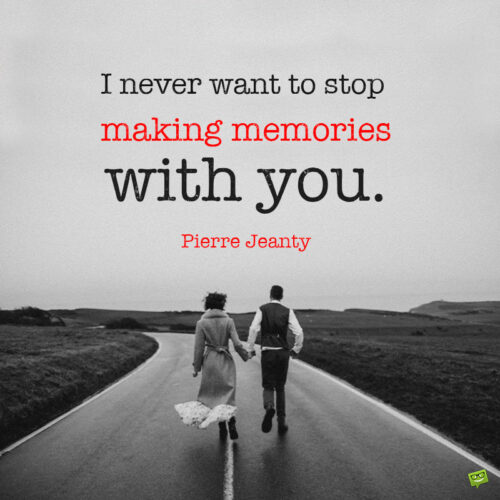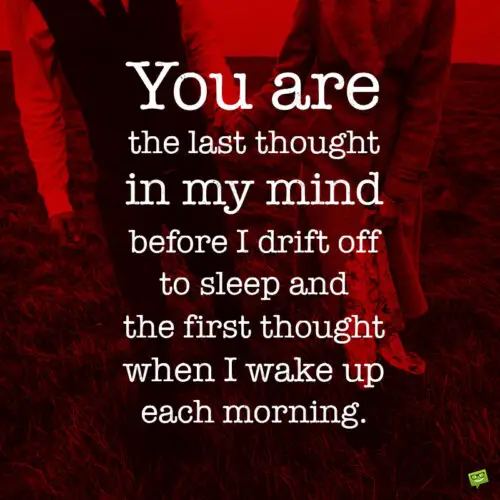 Cuddle Up With These Cute Quotes About Love
Sharing cute love quotes is a great way to add fun and romance to your relationship. It can be a simple and meaningful gesture to express your feelings for that special someone, or just bring out the playful side of you both! So why not take some inspiration from these cute love quotes and share them with your loved one? There's no better time than now to show how much they mean to you.
Love is a friendship set to music. Joseph Campbell
We loved with a love that was more than love. Edgar Allan Poe
Where there is love there is life.  Mahatma Gandhi
Where there is great love, there are always miracles. Willa Cather
Love is a better teacher than duty. Albert Einstein
Love is a promise; love is a souvenir, once given never forgotten, never let it disappear. John Lennon
Love is an untamed force. When we try to control it, it destroys us. When we try to imprison it, it enslaves us. But when we try to understand it, it leads us further than imagination can wander. Paulo Coelho
You may not be her first, her last, or her only. She loved before she may love again. But if she loves you now, what else matters? Bob Marley
The greatest happiness of life is the conviction that we are loved; loved for ourselves, or rather, loved in spite of ourselves. Victor Hugo
Love consists in this: that two solitudes protect and touch and greet each other. Rainer Maria Rilke
I knew the second I met you that there was something about you I needed. Turns out it wasn't something about you at all. It was just you. Jamie Mcguire
Love yourself first and everything else falls into line. You really have to love yourself to get anything done in this world. Lucille Ball
Your task is not to seek for love, but merely to seek and find all the barriers within yourself that you have built against it. Rumi
Your beauty blinded me so much that I stumbled in your direction. Unknown
To live will be an awfully big adventure. Peter Pan
I love you not because of who you are, but because of who I am when I am with you. Roy Croft
I saw that you were perfect, and so I loved you. Then I saw that you were not perfect and I loved you even more. Angelita Lim
We come to love not by finding a perfect person, but by learning to see an imperfect person perfectly. Sam Keen
I never knew how to worship until I knew how to love. Henry Ward Beecher
Your love is like a fortress, safe and strong. Unknown
Love is being stupid together. Paul Valery
I'll never ask you to change for me, because you are perfect just the way you are. Unknown
Feel the Love: Swoon-Worthy Cute Quotes About Love
No matter what stage of love you're currently in, these swoon-worthy cute quotes about love are sure to make your heart flutter as they capture the essence of love in just a few words. So grab a box of tissues or maybe even an ice cream cone, because with these cute love quotes you're about to go on a journey of romance!
One word frees us of all the weight and pain of life: That word is love. Sophocles
Love is when you meet someone who tells you something new about yourself. Andre Breton
We are shaped and fashioned by what we love. Johann Wolfgang von Goethe
Love isn't something you find. Love is something that finds you. Loretta Young
The most precious gift we can offer anyone is our attention. Thich Nhat Hanh
When we are in love we seem to ourselves quite different from what we were before. Blaise Pascal
There is always some madness in love. But there is also always some reason in madness.  Friedrich Nietzsche
Being deeply loved by someone gives you strength while loving someone deeply gives you courage. Lao Tzu
I thought I needed something else to make me happy and complete. But I realized that something wasn't a thing or a person—it was just love. Sophie Kinsella
You know it's love when all you want is that person to be happy, even if you're not part of their happiness. Julia Roberts
Love does not dominate; it cultivates. Johann Wolfgang von Goethe
Love is the beauty of the soul. Saint Augustine
Love takes off masks that we fear we cannot live without and know we cannot live within. James Baldwin
Love is life's greatest miracle. Unknown
When you trip over love, it is easy to get up. But when you fall in love, it is impossible to stand again. Albert Einstein
Love looks not with the eyes, but with the mind. William Shakespeare
3 Cute little tips that will help your relationship:
Take time to appreciate the little things in your relationship. Show gratitude for your partner's kindness and never take their act of love for granted.
Be intentional about spending quality time together and find creative ways to do so, from daily check-ins to special date nights.
Take turns expressing how much you care for each other. Praise your partner on their efforts and show them how much you value their presence in your life.
If you like it, pin it!
You may also like:
Birthday Love Messages for Twitter, SMS, Whatsapp & e-mail
Love Quotes to Express your Heart's Feelings