Stellar lectures and presentations are the upshot of not just their authors' hard work, but also the support of their audience and collaborators. This is why it's important to appreciate the collaborators' and audience's tremendous work.
Here are a few notes of gratitude to get you started with penning amazing thank you notes for your lectures and presentations.
Thank You For Your Attention
It's audiences like you that make presentations awesome. Thank you very much for your unwavering attention throughout this presentation. Cheers.
I remain most grateful for the rapt attention with which you sat through this lecture. I'm confident that you've learned something from it. Thank you very much.
Attention spans of such length are rare in our field. Indeed, we can't thank you enough for giving this lecture such massive attention. Cheers.
It's one thing to sit through a riveting lecture, and quite another to follow a formal presentation for hours on end. Thank you for paying such remarkable attention.
I appreciate your keen interest in this lecture, which has taken my team and I hours to prepare for. You, folks, are simply the best. Thank you for listening to my presentation.
We are impressed with your ability to follow this lecture, which isn't necessarily entertaining for many in your field. Your time and effort is much appreciated.
Your willingness to follow, with undivided attention, the complicated procedures outlined in this lecture is evidence of your commitment to our success. We thank you from the bottom of our hearts.
When this lecture began, I anticipated a rather dull and unresponsive audience, but you proved me wrong with your unwavering attention throughout all of it. Thank you for listening to my presentation.
You have proven beyond doubt that you are a cohort with an unparalleled attention span. For this, I'm most grateful and proud. Thank you.
The last place one would expect to get the most attention is a room full of extremely preoccupied business executives. Yet, you gave me your full attention, which played an instrumental role in this presentation successful. Thank you.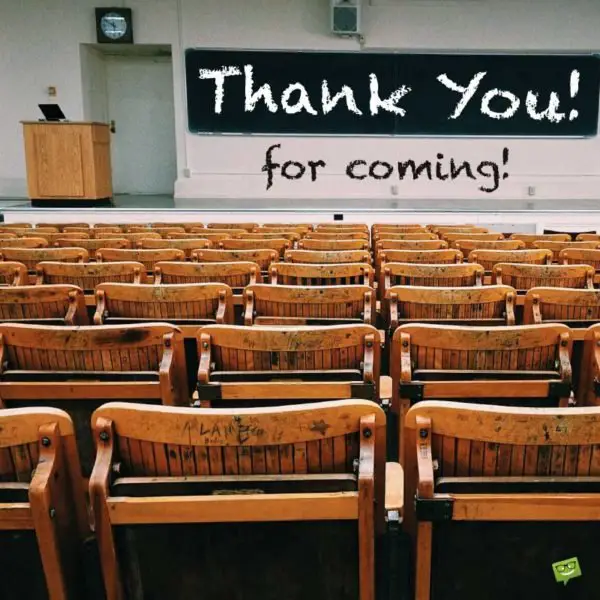 Thank You For Your Patience
If there's a memory I have of this lecture, it's the profound patience of its participants. Thank you very much for your patience throughout the entire lecture.
In an exacting presentation like this one, it's easy to give in when things get tough, but you patiently stayed throughout the entire process. Simply thanking you for your patience isn't enough!
Such remarkable patience can only be the product of diligence, tenacity, and an unwavering sense of purpose. Well done, team. And thank you for your patience.
Your outstanding patience couldn't have come at a better time than when we needed each and every participant on board, for long hours. Guys, you are nothing short of incredible. Thank you.
You have demonstrated through your patience that you are a really mature and talented bunch. Thank you for making this presentation a success.
By far, you are the most patient batch I've had throughout my many years of teaching. Thank you for staying with me and engaging in this lively lecture.
Thank You For Your Time
That you found time out of your busy schedule to sit through this lecture demonstrates your unwavering commitment to our cause. We are most grateful.
I've always known that I can count on you to show up and support this lecture. Thank you so much for proving me right!
Thank you for making time to sit through this presentation/lecture. It was lively, engaging, educative, and fulfilling because of your presence.
This lecture certainly benefited from your breadth of knowledge and depth of expertise. Giving it your time really helped to make it a success. Thank you.
You are one of those few persons that this lecture/presentation could not do without. Thank you so much for coming through for us. We are extremely grateful.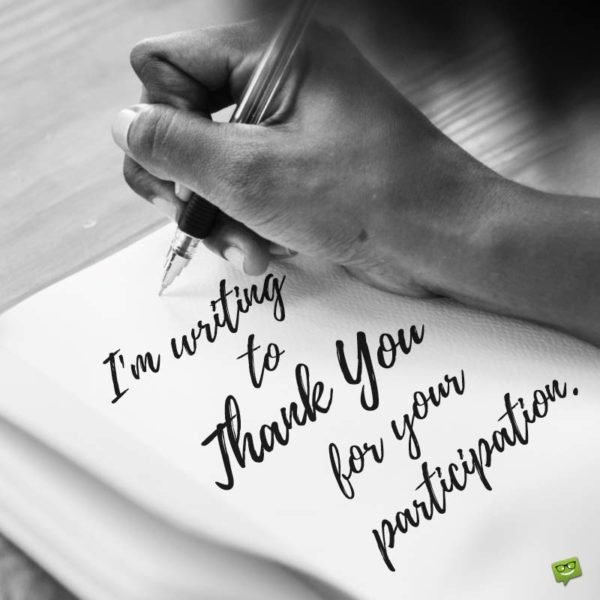 We look forward to having you again in our next series. Your presence here definitely enriched this lecture. And for this, we remain grateful.
My team and I are so lucky to have a resource person like you participating in the lecture. Your presence and experience gave more meaning to it. Thank you.
From the very beginning, you knew exactly what we had to do to make this presentation successful. Many thanks for collaborating with us and helping us to come this far.
There was something about your contributions that made our presentation standout. My teammates call it the x-factor. Thank you for taking time to be there. We are most grateful.
My team and I cannot requite the generous amount of hours you invested into making this lecture a success. You are the real MVP of the team. Thank you.
Thank You For Your Collaboration
I'm truly humbled by your numerous, insightful contributions to this lecture. Contributions of such caliber can only come from a true genius like you. Thank you so much for teaming up with us.
Your stellar contributions swept the audience off their feet. They just couldn't believe that such breadth of thought could be found in any one man. Thank you very much for working with us on this presentation.
I was full of smiles when the audience nodded in agreement as you used revealing analogies to explicate the various concepts in the presentation. You are truly talented. Thank you so much for banding together with us on this.
Your ability to interact with the audience and sustain their interest throughout the lecture/presentation was mind-blowing. The team is most grateful to you for your collaborative efforts.
The elocution and skill with which you led the audience through this lecture was simply amazing and impressive to watch. I certainly can't thank you enough for collaborating with us.
The audience was thrilled to see you share your many experiences as an expert. They would have loved to hear more had it not been for the lack of time. Indeed, we can't thank you enough for joining forces with to make this presentation a great one!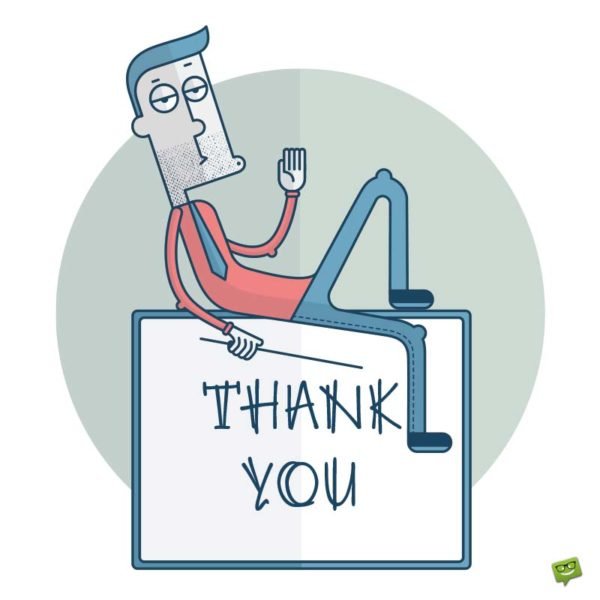 Thank you for Your Presentation
Believe it or not, I'm still struggling to find the right words to properly describe how fantastic your presentation was. Thank you so much for delivering to us such a remarkably outstanding presentation!
The presentation you gave was one that I will never ever forget. I can't thank you enough for that.
I want to use this brief note to thank you and congratulate you on the excellent presentation. Keep on shining!
Your presentation epitomized everything good in an oral presentation. It was beyond excellent!
Thank you for taking your time to prepare for us such an extraordinarily wonderful presentation. That was flawless!
I am grateful to you for the amazing presentation you gave yesterday! By all accounts, it was one of the greatest presentations I have ever witnessed. You did a remarkable job!
If not "phenomenal", I don't know what else to call the presentation you just gave! Thank you very much for making the meeting with our clients a really successful one.
I greatly appreciate the presentation you gave. It was nothing short of incredibly informative and interesting.
You did a great job connecting with your audience during your keynote address. You are really a great public speaker. Thanks for a job done flawlessly.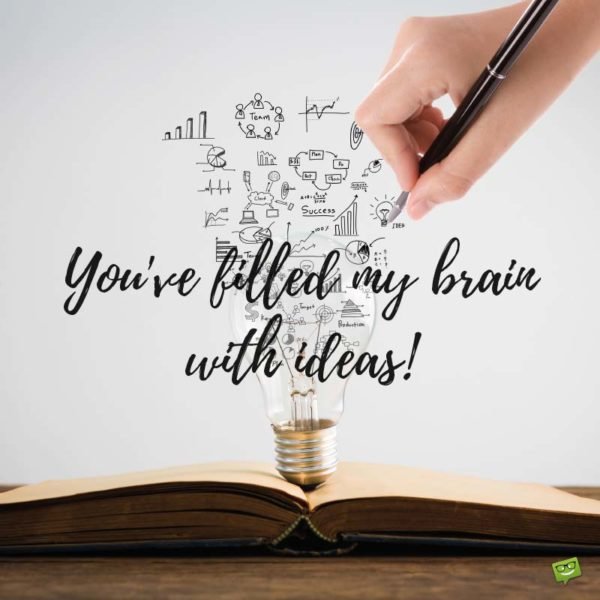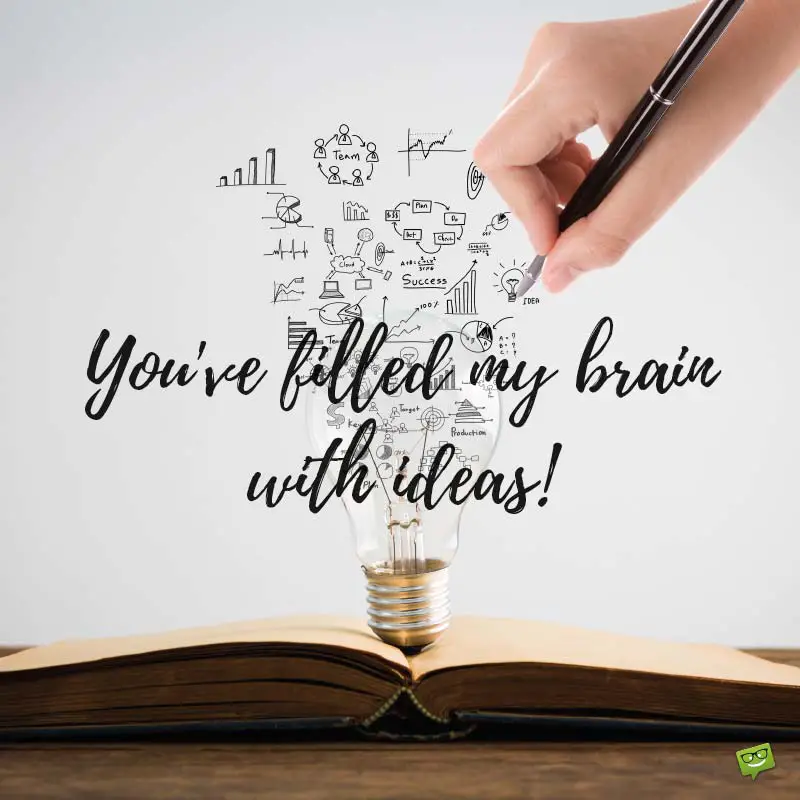 What a killer presentation you gave! Please accept my sincere thanks and congratulations for nailing it to the cross!
Your oral presentation was nothing short of excellent. It not only informed me but it also inspired and motivated me like nobody's business. Thanks!
What a great job you did during your presentation! You kept virtually every member of the audience hanging on your every word. That was absolutely awe-inspiring. I wholeheartedly appreciate all your efforts.
I want to use this note to thank you for that extraordinary presentation that you gave. It was simple yet extraordinarily profound and effective. I especially loved how you made the audience laugh again and again while ensuring that you never went off track.
Your presentation was so incredible that I'm finding it difficult getting the right words to express my gratitude to you. Thank you very much.
I deeply appreciate the wonderful presentation you made at the meeting. You did a yeoman's job convincing our clients. I really appreciate all the hard work and sacrifices you make for this company/organization.
How you were able to keep the audience engaged throughout your presentation was great. Thank you so much.
Your presentation and communication skills are indeed impeccable. It was absolutely incredible how you tailored your message for the audience and captivated them from the beginning of your presentation to the end. The presentation really transformed the meeting into a highly productive one. Many thanks to you for that.
The clear and very effective way in which you presented your presentation helped in no small way getting the company's message across. Your presentation skills are next to none! We can't thank you enough for the great job you did.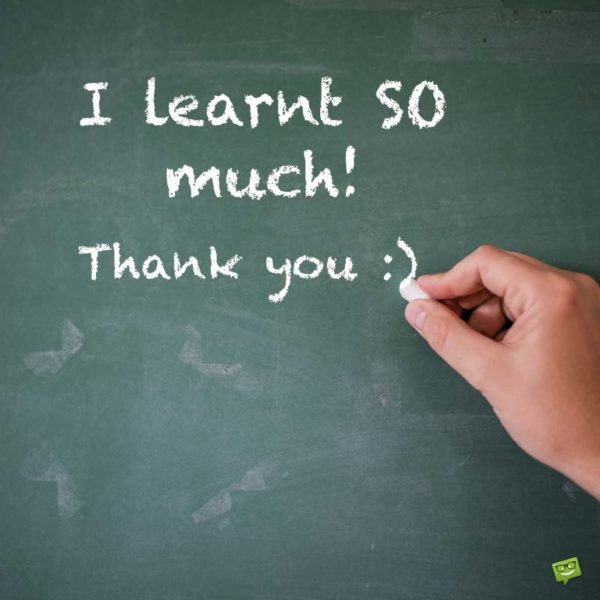 Please accept our heartiest congratulations and sincerest thanks for the great presentation you effortlessly delivered at the conference. We greatly appreciate it.
Despite the technicality of the issue, you did an awesome job detailing it to our clients and convinced them to buy from us and not our competitors. Great job!
Your presentation was not only interesting but also very effective. Because of you the company has won more clients. Words aren't powerful enough to tell you how grateful we are to you.
Truth be told, you are one of the most effective speakers I know. Thank you for delivering such an astonishing presentation that left everyone in the conference room thrilled. More power to you!
The conference was a massive success partly because of your outstanding presentation. We can't thank you enough for your monumental contribution to the overall success of the program. Thank you.
Thank you for Your Lecture
I am lost for the right adjectives to describe how much I enjoyed your lecture today. Thank you for the enlightenment you have bestowed upon me, Sir.
Ma'am/Sir, a million sincere thanks to you for the sea of wisdom and knowledge you showered us with during your amazing lecture. You're too excellent!
Thank you for the outstanding lecture you gave on Monday! I deem it a great honor to be one of your students.
Sir, I want to use this note to let you know that your talk on modern French literature was a real eye opener. Thank you so much!
Many thanks for the great lecture you delivered. You are an absolutely brilliant lecturer who never disappoints his students.
Your outstanding lecture last week is just a testament to the fact that you're the best! Each and every single one of us is grateful for the great effort you put into that great lecture.
Sending a mighty thank-you your way for the amazing lecture you gave. It's no wonder many students love attending your lectures.
What a fantastic lecture you gave! You really are an expert in giving great lectures! Thanks!
Thank you for putting your heart and soul into your lecture. I really learnt a lot!
There are two types of lectures: the ordinary ones and the extraordinary ones. Yours was the latter. Thank you so much for the fabulously great lecture you gave.
Your lecture had a significant impact on every student in the lecture hall. We truly appreciate great lecturers like you. Thank you so much for inspiring us to extraordinary heights in life.
I can't thank you enough for your interesting and very informative lecture. I really loved every single second of it.
To say that I enjoyed your lecture has to be the biggest understatement of the year! I absolutely loved every bit of it! Thank you, Sir/Ma'am.
Thank you for the highly inspiring time with us. Your remarkable depth of understanding of the subject made the lecture an exceptionally stimulating and informative one. Thanks again, Sir.
Thanks a million for an incredibly thought-provoking and inspiring lecture. We are deeply grateful for the great effort you put into the lecture.
Your lecture was undoubtedly one of the most interesting lectures I've ever attended. Thank you for devoting your time and energy to make certain that the lives of your students are greatly enriched.
Famous Quotes to End Your Presentation With
"It's much easier for me to make major life, multimillion-dollar decisions than it is to decide on a carpet for my front porch. That's the truth." – Oprah Winfrey
"I don't want yes-men around me. I want everyone to tell the truth, even if it costs them their jobs." – Samuel Goldwyn
"The best way to appreciate your job is to imagine yourself without one." – Oscar Wilde
"The key to being a good manager is keeping the people who hate you away from those who are still undecided." Casey Stengel
"The most ineffective workers are systematically moved to the place where they can do the least damage: management." Scott Adams (Dilbert)
"If I had asked people what they wanted, they would have said faster horses." Reportedly said by Henry Ford
"It always seems impossible until it's done." – Nelson Mandela
"Whatever you're thinking, think bigger." – Tony Hsieh
"It takes 20 years to build a reputation and five minutes to ruin it. If you think about that, you'll do things differently." – Warren Buffett
"Keep on going, and the chances are that you will stumble on something, perhaps when you are least expecting it. I never heard of anyone ever stumbling on something sitting down." – Charles F. Kettering
"Do the one thing you think you cannot do. Fail at it. Try again. Do better the second time. The only people who never tumble are those who never mount the high wire. This is your moment. Own it." – Oprah Winfrey
"Everyone is a genius. But if you judge a fish by its ability to climb a tree, it will spend its whole life believing it is stupid." – Albert Einstein
"When you run a part of the relay and pass on the baton, there is no sense of unfinished business in your mind. There is just the sense of having done your part to the best of your ability. That is it. The hope is to pass on the baton to somebody who will run faster and run a better marathon." – N. R. Narayana Murthy
"Words may inspire but action creates change." – Simon Sinek
"You have to go wholeheartedly into anything in order to achieve anything worth having." – Frank Lloyd Wright
You may also like:
Thank You Messages on Cards that Express Gratitude
40 Thank You Memes To Share and Show Your Gratitude
Spotting the Good that Has Been Done to You | Thank You Quotes