If you are considering giving a loved one flowers for his or her birthday, then you may be pleased to know that each month has ones they call their own.
Below is a list of flowers associated with each month and their individual meanings to help best choose the particular type to best suit the intended recipient.
January Birthday Flower
There are two flowers associated with the month of January. The most-popular is the carnation, but the snowdrop is also connected to the beginning of the year.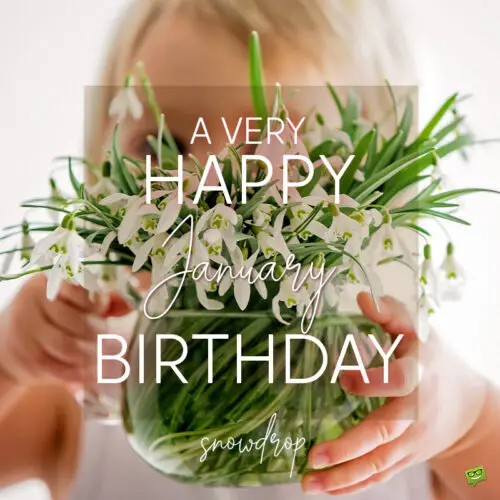 The meaning of a carnation is dependent on its color. For instance, pink symbolizes affection, white pure love and red a literal translation of 'I love you.' Snowdrops are used to convey the sweet feelings of beauty and optimism.
February Birthday Flower
February is also the proud owner of two special flowers, the violet and the primrose. A violet is given to a February-born as a sign of faithfulness. In other words, the receiver of this beautiful flower knows that he has a lifelong friend in the giver.
The primrose is vastly different in appearance from a violet, but giving this flower to someone has a somewhat similar meaning in that you are letting the recipient know that you cannot imagine life without him or her.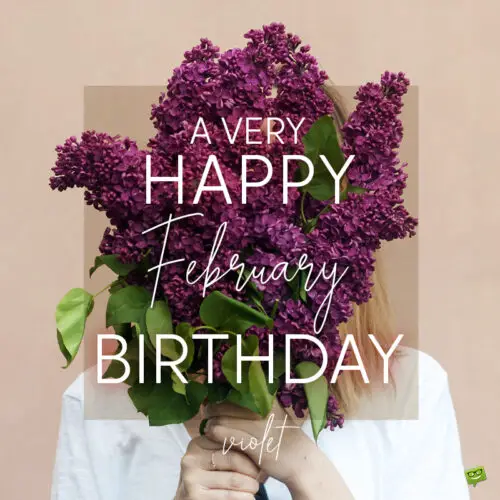 March Birthday Flower
March holds the distinction of having the lovely daffodil as its birth flower. Although the daffodil is poisonous and can act as a sedative if consumed, giving one to someone born during this month holds no such meaning.
Conversely, this flower symbolizes the matchless love the giver holds for the recipient. It also symbolizes the cycle of death and rebirth as the blossoming of daffodils, being one of Spring's first flowers, signals the advent of this beloved season.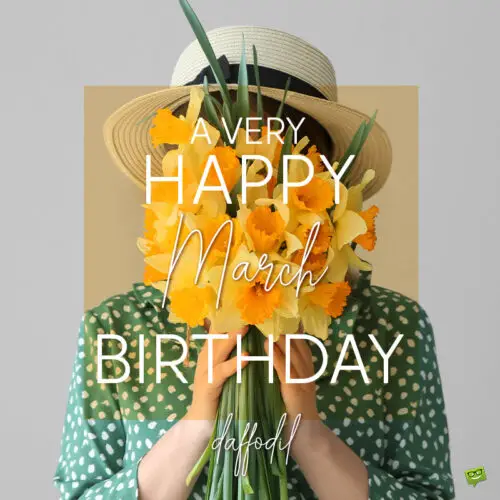 April Birthday Flower
Amongst the two flowers April holds lay to claim to is the ever-popular daisy. The daisy has nothing but the most-beautiful attributes associated with it – purity and unquestionable love.
April's other flower, the sweet pea, is known for its fragrance and perhaps more accordingly is associated with more a sensuous characteristic – gratifying pleasure. However, sweet peas can also be given to someone as a loving way to say 'good-bye'.
May Birthday Flower
The lily of the valley, one of May's birth flowers, can not only be given to a May-born as a sign of general sweetness or the meekness of the person imparting this beautiful gift but also to symbolize the re-arrival of joy.
May's other flower, the hawthorn, can be used to signify a number of savory aspirations/feelings, such as fertility, hope and ultimate joy.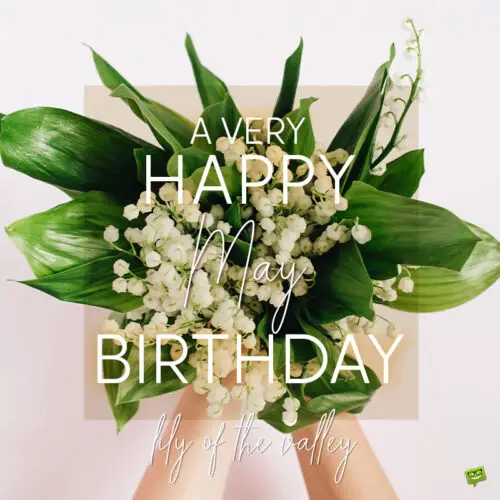 June Birthday Flower
June holds the privilege of being the month associated with the rose, which we think is safe to label as the most-renowned flower in the world. Roses come in a variety of colors and can signify feelings that capture the whole range of human emotions, but of course giving one to a June-born is usually meant to symbolize the fondest of these feelings – love.
June's other flower, the honeysuckle is also associated with love, specifically the strong bonds of eternal affection.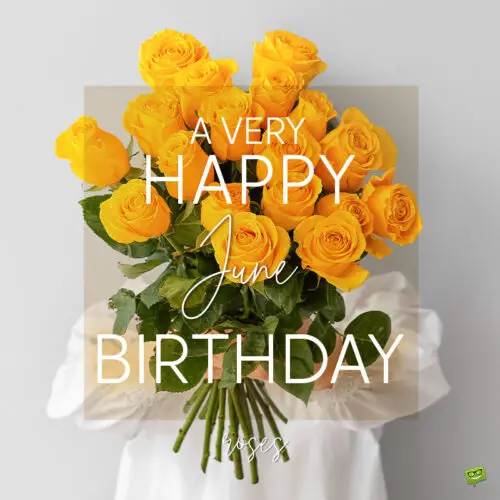 July Birthday Flower
July's first birth flower, the larkspur, is yet another that can convey different meanings based on its color. For instance, a pink larkspur can mean unreliability, but whites and purples have more positive connotations as they respectively represent happiness and first love.
Moreover similar to the months of May and August, July also holds the distinction of having a lily of its own. This one though is the water lily, which signifies purity and regality.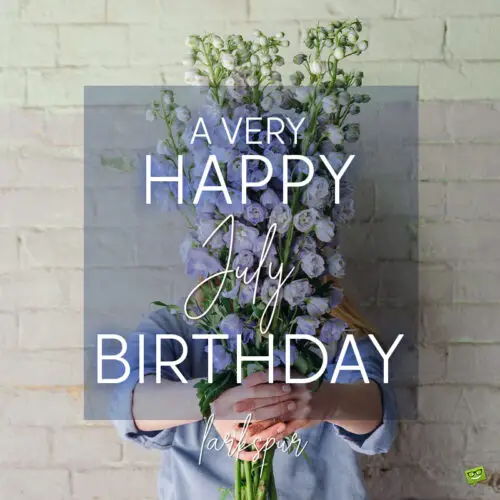 August Birthday Flower
You can grace the day of those born in August by gifting them either a gladiolus or a poppy flower. A gladiolus is another form of a lily, with this one being viewed to represent a number of sentiments, including commemoration, calmness, uprightness and being smitten with love.
The poppy too has multiple meanings depending on its color, with red being associated with pleasure, white with relief and yellow with great material success.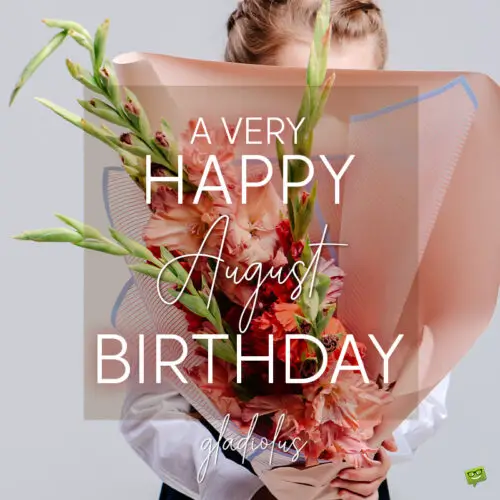 September Birthday Flower
Asters highlight the birth flowers of September. These beautiful flowers are a well-known symbol of love but one so powerful that it is considered mythic in proportion.
September's other flower is the morning glory. Morning glories are basically associated with affection.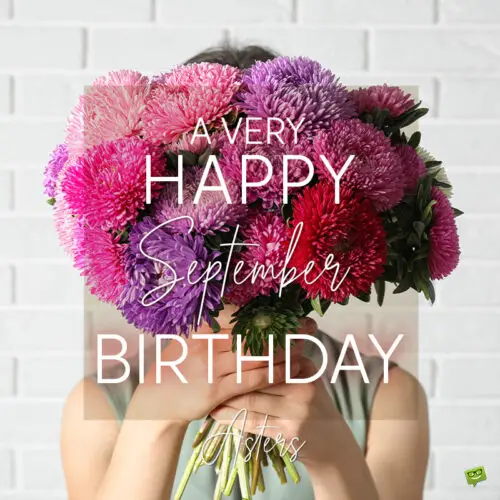 October Birthday Flower
October-borns enjoy the benefit of having marigolds as their birth flower. Although they are often associated with more-solemn aspects of life (within the context of being a birth flower), they are perceived more in-line with their beautiful colors and as such have come to symbolize joy and success.
October's other flower, the cosmos, has one of the deeper general meanings of all birth flowers as it has been associated with the balance that graces the order of nature. In terms of applying it to a specific person though, the cosmos basically represents a modest disposition.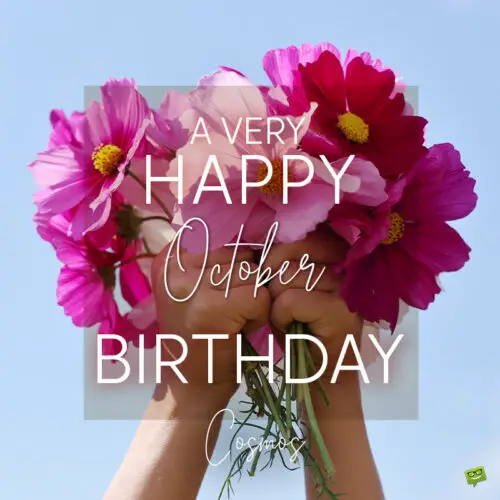 November Birthday Flower
November's birth flower is the chrysanthemum, which has a history as interesting as its name. Chrysanthemums have been associated with youth for centuries and as a birth flower represent general joyfulness.
More specifically and based on a flower's specific color, a chrysanthemum can symbolize love in various incarnations as well as friendship and purity.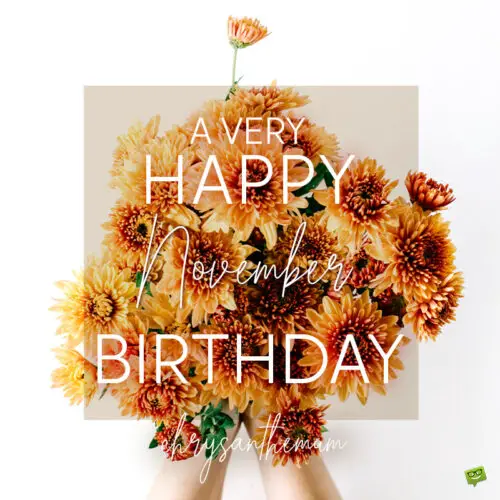 December Birthday Flower
In general, the holly, one of December's birth flowers, symbolizes happiness. More specifically giving a December-born a holly expresses the desire of the giver for the receiver to experience cheerfulness within his or her home.
And as its name implies, December's other flower, the narcissus, represents egotism. However, this self-centeredness is along a more-constructive line, as in encouraging the recipient that he or she is not only enjoyable as they are but should actively aspire to remain that way.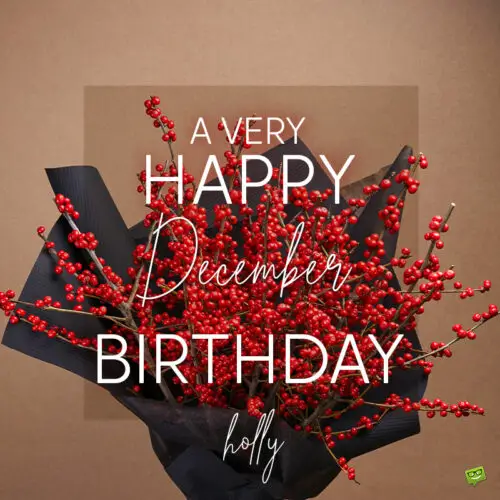 You may also like:
60 Good Morning Images With Beautiful Flowers
Happy Birthday, Beautiful! | Wishes for those Good-Looking People
It's My Party And I'll Cry if I Want to | Best Birthday Songs Ever