All birthdays may be special to us, but there is something about turning 17 that requires an even bigger than normal celebration. There is nothing better than enjoying the last of your childhood years while being on the edge of adulthood! Of course, we take plenty of pictures to commemorate the big day when it rolls around. And with pictures, come captions, right?
We're here to give you the help you need when you have the best 17th birthday pictures to share with your followers. We hope you enjoy them as much as you enjoy the spectacular and monumental day!
Short 17th Birthday Captions
There's no shame in posting your special day selfie on Insta. Check out this witty captions to go along with your post.
I slay all day on my 17th B-Day!
Shower me with gifts. I turn 17 today.
Today's perfect. Cake, balloons. confetti, and gifts.
RIP 16.
Listen up Fam, It's my 17th!
My 17th birthday is going to be LIT!
I'm high-key obsessed about turning 17.
My 17th = 10/10.
Making a wish for my 17th.
It's the day a queen was born!
Birthday wishes and lots of kisses.
17 already? Time flies when you're having fun!
Past the edge of 17 and finally here!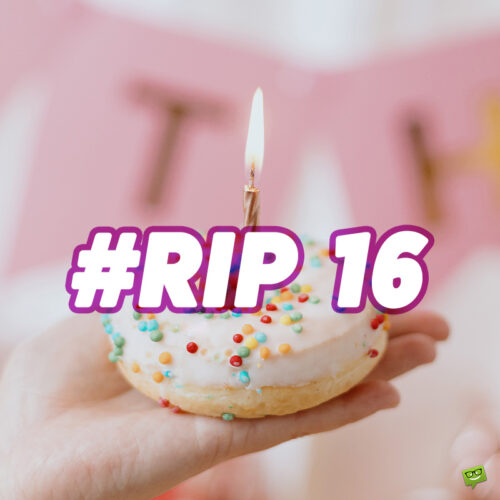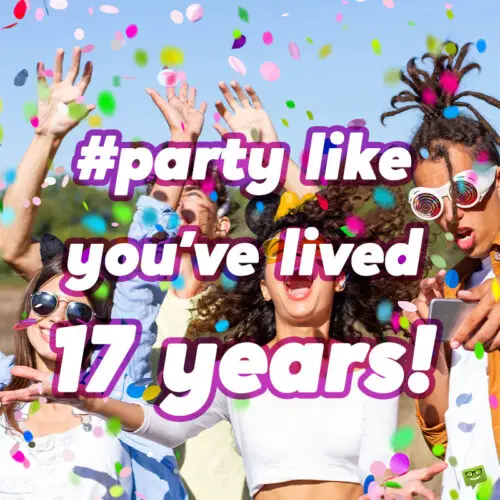 Being 17 is the best- not yet an adult, but close!
Party like you've lived 17 years!
The spotlight is on you for your 17th birthday!
Another birthday, another milestone!
The 17th birthday is one of the best!
I love someone that was born on this very day.
May your cake be as sweet as you are on this day!
Have a happy and a healthy 17th!
Social media has a big announcement today-guess what it is?
Cake and ice cream and gifts, oh my!
Sweet sixteen has nothing on the 17th!
I may be sweet, but I'm no longer 16!
17th Birthday Captions for Yourself
If you're looking for some inspiration regarding your bday pics, check out what we have for you below!
Shining like a diamond, sparkling like glitter. Chilling like a cucumber and full of vigor. It's my 17th!
Today's my B-Day and it's going to be epic.
Putting the extra in front of the word special 'cause it's my birthday.
I'm 17! Time to make a wish and shoot for the stars.
It's time to party like I'm almost, but not quite, a legal adult!
Someone you know and love is celebrating a very special day today. It's me, I'm turning 17!
Born amazing, still amazing 17 years later!
Miracles do come true- I've made it to 17!
I may not be rich (yet), but I am blessed with God's most precious gift: Life. Happy 17th to me.
I don't know what I'm going to do today. But it has to be something really fun and cool. Any suggestions on how I should celebrate my 17th?
I believe in myself and the miracles that come when you make a wish on your birthday. Happy 17th to me!
Get ready to wish the most amazing person happy birthday… yes, it is I!
Turning 17 is just as much a milestone as the other days. Not yet an adult, barely a child!
Happy birthday to me, I turn 17!
I'm one more year away from being able to get a tattoo. I hope the year goes fast!
Living my best life and celebrating the best day of the year!
Sweet 16 may have been a good year, but fabulous 17 will be one for the books!
I'd like to thank my parents for blessing the earth with me today.
If you need any last-minute gift ideas for me, I happily accept cash!
Sorry to inform you, but today is all about me 100%. Being 17 is a lot of hard work!
Thanking God for another year to live my best life.
17 and amazing, I'm the best gift ever!
Funny 17th Birthday Captions
Make your friends and family chuckle with one of the following captions!
Someone call Seventeen magazine 'cause I need to be on the cover.
At least the candles won't set off too many fire alarms!
Today, I give you the gift of an amazing friend. That friend is me, but happy 17th to my bestie anyway.
Please don't ever act your age, that isn't what birthdays are about!
Today is the day you can eat as much cake as you want with no judgment!
You may be another year older, but I hardly think you are wiser!
I hope you stay 17 forever. The world isn't ready for another legal adult on the scene!
You're now officially old enough to require a skincare routine for the rest of your life!
Turning 17 has a lot of amazing perks. I don't know what they are, but I'm sure someone can tell you.
Congratulations-you're still at the age you can get away with an unfiltered picture!
You may be another year older, but you will always be the same goofball to me!
You may be awesome at 17, but next year you have to act like a responsible adult.
Enjoy your 17th birthday every single day. A year from now you'll be old enough to get married and pay taxes!
Enjoy those unfiltered pictures while they last. But happy birthday!
If you liked it, Pin it!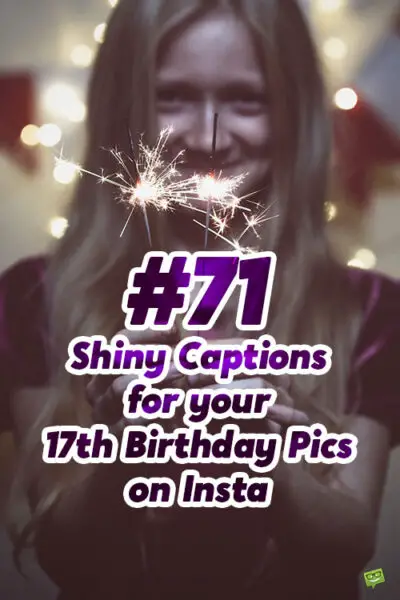 You may also like:
Wish "Happy 17th Birthday" To Those Great Teenagers!
Top 200+ Original and Funny Happy Birthday Memes