It's time to celebrate! Birthdays are an exciting occasion and a great way to show your friends and family how much you appreciate them. Whether you're looking for something funny, unique, heartfelt, or just plain fun, these 25 birthday cheers are sure to make your loved one feel extra special on their special day. Here's to a bright future filled with joy and success – cheers to the birthday person!
Cheers to you on your Birthday!
Are you ready to make your birthday celebration even more special? Here's a selection of heartfelt wishes and messages that will show your loved one how much you care.

Wishing you an incredible year filled with love, joy, and success! Cheers to you on your birthday!
May your special day be as wonderful and beautiful as you are. Cheers to you!
Sending lots of best wishes for a fantastic birthday celebration. Cheers to you!
Here's a toast to your special day and the new adventures it may bring. Cheers to you!
Celebrating the amazing person that you are today. Cheers to you!
May everything good come your way this year and all the years ahead. Cheers to you on your birthday!
Wishing you all the very best in life and that all your dreams come true. Cheers to you!
Here's hoping you have an extra special birthday full of happy memories that last forever. Cheers to You!
On this special day, sending my warmest thoughts, wishes, and hugs your way! Cheers to You!
I hope this birthday brings forth many more opportunities in both personal as well as professional life, just like one looks forward to every sunrise with a smile on their face! Cheers to You!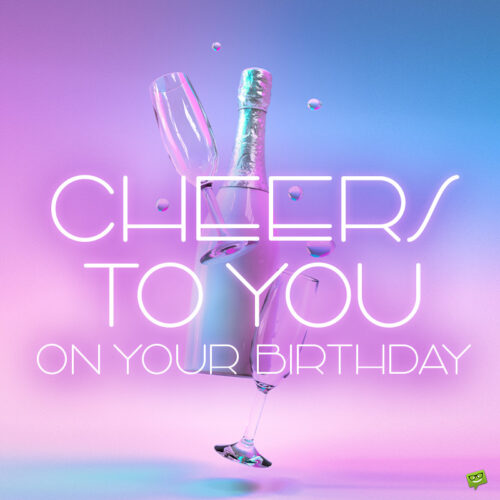 Cheers to the Birthday Girl
Messages for the person full of sugar and spice in your life.
In case no one has told you yet today, you are one of the most beautiful girls in the world. The birthday glow hasn't worn off since last year.
It's your birthday, and you can cry if you want to. However, hopefully you drink and eat cake instead.
It's nothing short of a great privilege to be given the opportunity to toast a truly outstanding girl like you on your birthday. May years and years of good health, prosperity, peace and joy be yours.
Happy birthday! Don't be rude to all of the guys who try to buy you a drink tonight. Hopefully, you can get them to buy me one, too!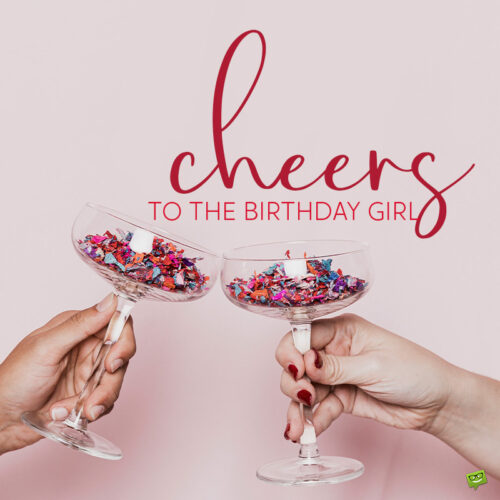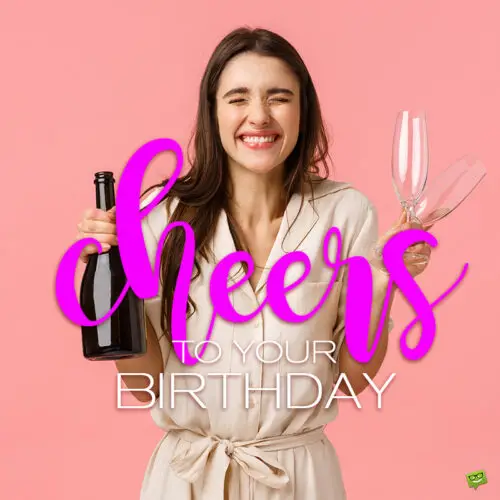 Cheers to the Birthday Boy
Messages for the guy you know and care about.
I was going to bring girls and fast cars, but I'm friends with you. Cheers to you and the examples you set!
Here's a toast to an amazing person who's the perfect example of a true friend – a person who constantly has my back and inspires me to believe in myself. Buddy, may God make your life as freaking fantastic as you make mine. Have a great one!
Cheers to a guy with an adventurous spirit, a strong heart, and a seriously twisted mind. May time bring you wisdom or anything opposite to it.
On this special day of yours, I raise a toast to you and your truly phenomenal life. May you be blessed with years upon years of tremendous joy, good health and fortune. Happy birthday.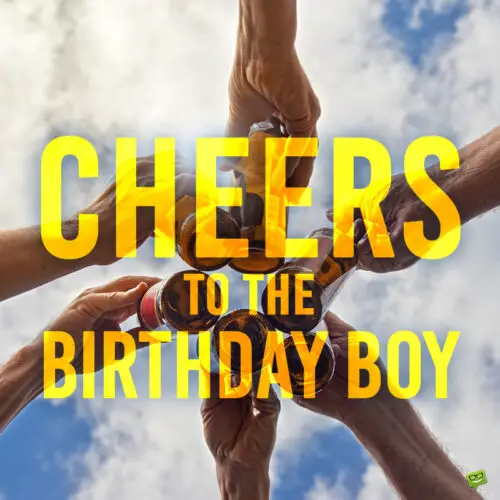 You may also like:
Ain't no Cake Big Enough! | Funny Birthday Wishes for Older and Younger Brothers
Best Mom in the World | Birthday Wishes for your Mother
It's Friends That Count! | Friendship Day Wishes
200 of the Best Birthday Messages to Make Someone's Day Special