Friendships are some of the most important ships in your life. Some sail away never to be seen again, but they leave wakes felt for decades. Meanwhile, some ships always encircle your dock to protect it from outside forces.
Either way, paying homage to the anniversaries of these relationships shows the impact they have had on your life. Of course, that can be difficult to sum up in just a few words for a short electronic message or social media post. Here are some wordings to help you say what's on your mind.
Funny "Happy Friendversary" Messages To Celebrate A Year Of Being Friends
Use a laugh to show your compadres you appreciate your relationships.
It's so hard to find a cute, honest, and intelligent friend. Thank goodness you found me this day so long ago.
A good friend will move a mountain for a friend in need, but great friends like you help move the corpses under the mountain to never been spoken of again. Happy too many years of being great friends to speak of.
What type of shoes do frogs wear? Open-toad. Much appreciation for being friend enough to laugh at this and all my other bad jokes.
On our friendship's anniversary, I find myself replaying all our shenanigans. I'm still trying to remember which one of us was supposed to be the good influence.
How do you know who your real friends are… When you read their 'angry at someone' social media status and you already know exactly who they're talking about.
Where strangers think I'm shy and good friends think I'm reserved, you know that I'm actually just saving all the crazy for the exact right moment. Happy friendanniversary!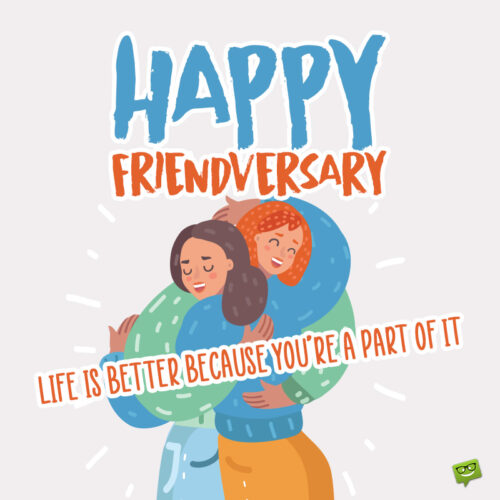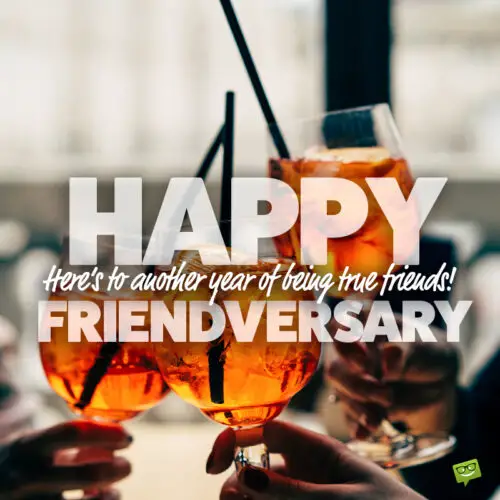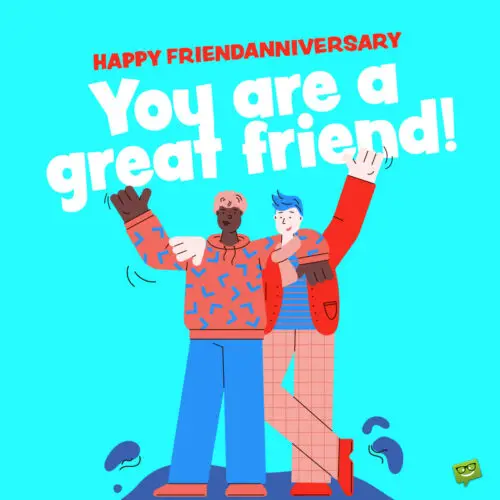 I knew we'd get along perfectly when you cared more if my fridge was full and my cabinets had wine glasses than if my house was all neat, organized, and alphabetized. Here's to many more years of snacks and wine amidst the chaos.
We've shared secrets, clothes, food, and a lot of good times, but you're the only one I'll give a very teeny tiny sip of my Starbucks triple shot with extra vanilla sweet cream, caramel drizzle, and whipped cream. Yes, you mean that much to me.
Thank goodness we found each other later in life because high school wouldn't have stood a chance against the two of us together. Much love on our friendshipversary!
We will be bestest friends forever and ever because you know too much for me ever to let you out of earshot.
You've seen all my crazy, and, yet, you will still be seen in public with me. Now, that's a friendship worth celebrating.
Meeting a pal like you was such a relief. Despite intense training, all the others before you ran away screaming for some reason.
To celebrate our very special friendship, I'd like you to know I'd take a bullet for you anytime… as long as it's from a nerf gun in the hands of a three-year-old, 50 feet away, and I'm wearing coveralls, but, still, just know I'd gladly take that bullet just for you.
Thank you for all the pain since our friendship began. I wouldn't want to laugh myself into a bellyache, headache, and sore throat with anyone else.
Touching "Happy Friendversary" Messages For Your Anniversaries With Dear Friends
Use a sentimental friendversary message to convey your warm and thoughtful feelings.
On this day long ago, I met the perfect tune to my lyrics, and we've been writing one hit after another ever since. That's platinum with a gold ribbon.
It's easy to make thousands of friends, but it's almost impossible to find that ONE friend who will stand beside you when thousands are against you. So thankful for the day I found my ONE.
Ms. Rosevelt said that true friends leave footprints in your heart. If that's the case my heart's path is worn and weathered thanks to you.
With you as a dear sweet friend, everywhere is beautiful and anywhere can be everywhere. So, let's go somewhere to celebrate.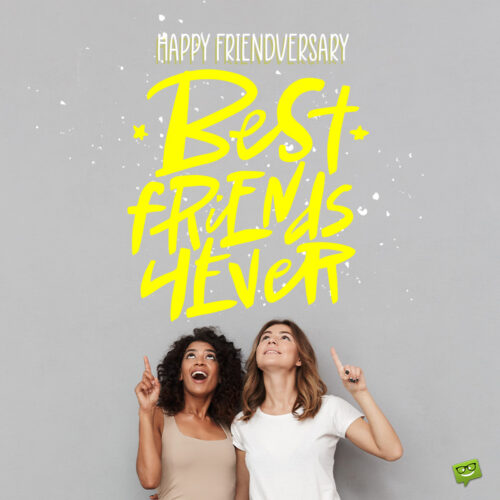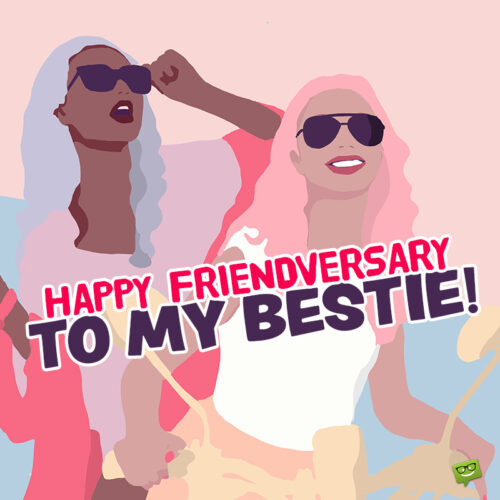 Today is special because it's the anniversary of the day I met someone who makes it easier to see the good and tolerate all the bad in the world.
Thank you, lovely friend, for never following or leading. It's a pleasure to walk beside you in this life.
Life is better because you're a part of it. Here's to another year of being true friends.
You're the type of person who understands a friend's tears as much as enjoys their smiles. I can't thank you enough for each moment of your support and care.
Most types of friends are like cookies growing stale over time and crumbling under pressure. Not you, though, my dear spirit. You just get better and stronger with age.
Thanks for ignoring all my rotting wood and misplaced stones to see the flowers blooming in my garden. I'm thankful for the day our seed of friendship was planted.
Once in a blue moon, we meet a person capable of showing you that it's the who , not what, that makes life brighter. Glasses raised to the day you taught me friendship's definition.
You've been beside me in my craziest, happiest, saddest, and maddest moments, and you're still calling me your friend today. That says it all.
Blessed are they who've known true friendship, and I was certainly blessed beyond measure the day you walked into my life.
You proved that silence can be comfortable, being silly isn't stupid, and being sad is just a pause from happiness. Overjoyed to celebrate our yearly friendship anniversary.
Happy Friendversary to a Facebook friend
Give Your social media pals a shoutout to let them know you remembered, or at least Facebook remembered, when you added each other.
Has Facebook really been around this long? Happy FB-friend anniversary.
It's been a lot of posts, status updates, and random selfies later, but we've managed not to block each other a single time! Here's to our Facebook-befriending anniversary.
Why do these friendship collages always pick the most embarrassing pictures possible to showcase another year of friendom?
We make the kingdom of friendom look easy peasy.
Thanks for putting up with my frequent random postings, selfies, and game requests another year. Here's one to start the friendship calendar year off right.
We weren't *really* friends until it became Facebook official.
Social media makes the seven seas and 197 official countries look so tiny and my friend list so massive, but it's anniversaries with fabulous friends like you that remind me just how big the world really is and how few people there are in it that I actually like.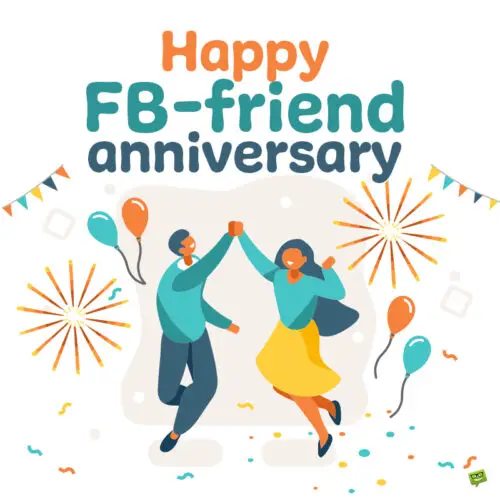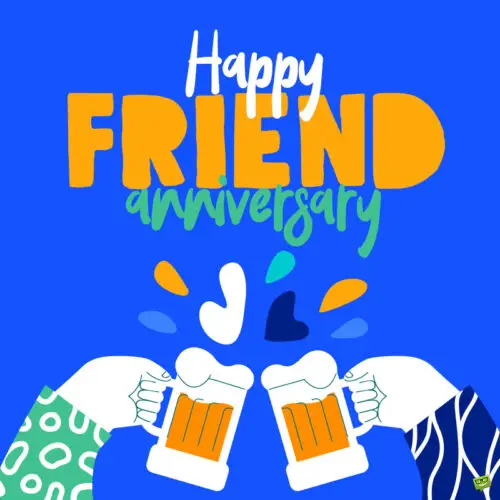 Three cheers for being one of the FB friend requests that I'm actually glad I accepted on this day in the past.
We may be miles apart, old friend, but you're never far from heart.
These friendly memories are so dear even though you aren't near. It's a privilege for our relationship to age another year.
4,344 posts, 3,999 likes, 2,456 likes, and 4 shares later… hurray for us remaining Facebook-friendly another year!
What would we distant pals do without Facebook's yearly reminder that we've known each other this long?
Can't think of a more lovely person to share this friendsversary with than you.
This whole celebration of being friends thing is telling off on our age, and I spent a great deal of time making my profile reflect otherwise. So, yeah, thanks for being my much, much older mentor.
Thanks for liking at least 33.3 percent of my posts and waving hello in the grocery store! You've got Facebook-friendship etiquette down!
I'd crawl through a 1,000 posts for you, and we both know that's a lot more dramatic than walking through fire. Much love to you on our FFA.
I appreciate you more than pictures and posts could ever do justice.
Love is blind, hate is nearsighted, and drama is farsighted. Friendship sees all clearly, but tries its best to ignore it. Thanks for ignoring me through the years.
You may also like:
67 BFF Captions for Your Best Friend's Birthday
Words of Gratitude | Thank you Notes for a Friend