There is so much sorrow in losing a loved one, especially one as close as a father. It might be painful remembering him on his birthday, but you will find peace knowing your dad is happy in heaven watching over you.
Send your late father some of these messages to celebrate his birthday.
I would love to wish the greatest dad who ever lived an astounding birthday. I know the angels are singing a beautiful birthday song for you in heaven.
I feel a part of me has been missing since you left. I know one day I shall see you in heaven when the time is right. May this big day be a memorable one.
I sometimes wish you were here to give me directions and advice as you always did. I have lost a great gift but I know it shall be well. Enjoy every second of the day.
I miss you so much, daddy. Whenever it is your birthday, I remember all the good times we had and I wish they never came to an end. I will forever cherish those memories.
Dad, today is your birthday but I cannot get any gifts to you over there. The best I can do is to wish you well as you celebrate today with angels in heaven. You will forever be remembered. Happy heavenly birthday.
It is often hard for me to have a bright day when the sunlight in my life has been taken away by death. You have been a great father to me and for that reason I celebrate you on this special day.
The only shred of happiness I get from losing you is knowing you are very happy wherever you are. Have an amazing birthday, father.
I know the angels are singing sweet songs for you as you celebrate this great day. I wish we could also hear the joyous melodies they are singing.
As you celebrate your birthday today, I can't help but sing out loud your favorite song for you. I hope you can hear my voice from up above.
You were my strength when you were here and I know you are up there still giving me enough strength and guidance to carry on in life. As we mark this wonderful day, I pray you find all the peace you deserve. Happy heavenly birthday, dad.
Today being your birthday, I pour my heart out to you because I know you are somewhere listening. It's my prayer that the angels in heaven celebrate this day with you by organizing a grand party on your behalf.
Since you left us, I have always had the feeling that a part of me is missing. I know someday I will feel whole again when I meet you in heaven. Till then, celebrate this day with joy.
As I grow older, I am beginning to understand most of the lessons you thought me about life, and they are playing a great role in shaping me into a better person. Thank you, dad. Have a melody- filled birthday.
Dad, your absence hurts a lot and my life has never been the same since you left but I know you must be up there somewhere smiling down at me as I celebrate your birthday today.
The reason why I can stand up for myself today is because you encouraged me to. That is something I will never ever forget. I will like to say thank you and wish you an awesome birthday.
Have a bright birthday, dad. I would have lost my way without you. You helped me rise to where I am today, and for that I can never thank you enough.
You were a very good man here, on earth. For that reason, I believe you are up there in heaven partying with other great people who made it. I hope to make it there someday. Have a blast on this special day.
I couldn't have wished for a better father. You were all that a son needed in a father. Thank you for being there for me. Enjoy every moment as you celebrate your birthday.
How you made all of us laugh when we ate dinner together is something I would forever miss. You made being around you unforgettable moments. Have a memorable day.
Yes, I've lost the most amazing man in my life but the good thing is, I will forever have those beautiful memories of him with me. A super birthday to you wherever you are!
Dad, I am having great fun here as I celebrate your birthday today. I know you are having great fun up there also. You may not be here now, but I know nothing can truly separate us.
"A great husband and father" is what is written on your grave stone. I know you were more than that. You were the greatest father ever. I believe you are having great fun.
I hardly get angry at people because you taught me a lot about forgiveness and all other great virtues I proudly have today. You really made me a better person. Have a thrill-filled birthday.
Heaven is the only place good people like you find themselves. As you celebrate today, I believe every soul in heaven is wishing you a great day.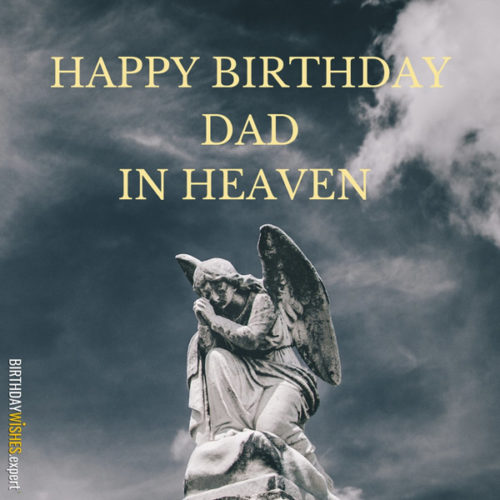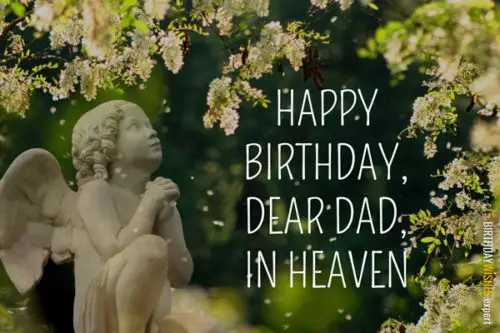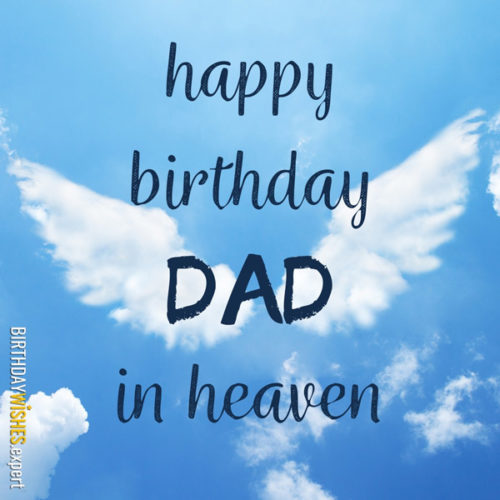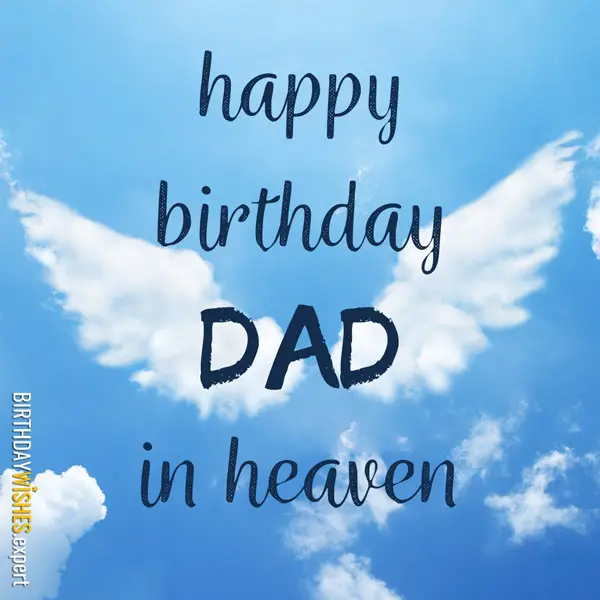 I know you left us because you had to do greater things somewhere else. I wish you all the best with your new assignments but don't forget to take a break and celebrate this big day just as we are doing here.
I will never forget how great a father you were, not only to us but to the society as a whole. Celebrating this big day in your honor is the least we can do to appreciate who you've been to us.
You are my motivation. You are the reason I strive every day to make it to heaven someday so I could see you again. I know you are surely up there enjoying every bit of this special day.
Our hearts still sit in pain and our eyes always shed secret tears. We simply can't understand how you left us. From the bottom of our hearts, we wish you endless happiness and peace in your new abode in heaven.
Dear dad, today is your birthday. I wish you were here on earth making merry with me in honor of your Big Day. I miss you more than any mortal words can ever express. Enjoy your special day in heaven.
No amount of words I employ can bring you back to me. But I hope the little I say will make you happy in heaven. I love you and hope to meet you again soon. Happy birthday!
Dad, you were the greatest gift God ever gave me. On the occasion of your birthday, I say "Thanks for all the sacrifices you made to be an extraordinarily loving and caring father". Happy birthday in heaven, sweet Daddy.
Beloved Dad, though you are no more, your lessons and works still live on. I promise to be that woman/man that you always wanted me to be. Have a wonderful birthday in heaven!
You may also like:
Happy Birthday, Mom, in Heaven
Happy Birthday in Heaven | Birthday Wishes for Someone Who Has Passed Away
Sympathy Messages for the Loss of one's Father
15+ Happy Birthday Quotes and Wishes for my Brother in Heaven