Cats are beloved for their cuteness and their "meows", but choosing the right words to celebrate their birthdays is often a difficult task.
To make this easier for you, we have compiled a few wishes you can use to commemorate the big day of your cat or someone else's.
Happy Birthday Kittie! It's my Cat's Birthday
Very purry birthday wishes for your cute cat to let everyone know you adore him/her.

Nothing beats the joy you bring to my life every single day. I've got fish for you. Your favorite! Have a wonderful birthday.
I think I'm going to end up fattening you up today. I have got all your favorite treats here for you on this special day.
Wish you the best on your birth anniversary. I have bought a scratch post just for you. So you can scratch it to your heart's content.
Everyone who comes to the house seems to know I have a cat even without seeing you first. Your scratch marks are everywhere but how can I get angry at something so cute. Have a blessed birthday.
You are the best gift to have walked into my life. I thank God for giving me the greatest cat. Have a super birthday.
Isn't it weird that I think about you, my cat, so much? I am always thinking about your well-being, whenever I am away from you. I will make this birthday special for you.
It is your birthday and I am going to make you feel like what you truly are, the coolest cat in the world. May you be blessed with a truly gleeful birthday celebration.
It used to be so lonely without you around. Your presence in my life has made so much of a difference. You are a cat that brings so much happiness and you deserve the best on your birthday. Enjoy!
You are close to my heart and you always will. A toast to the craziest and the most amazing cat. Have a euphoric birthday, buddy!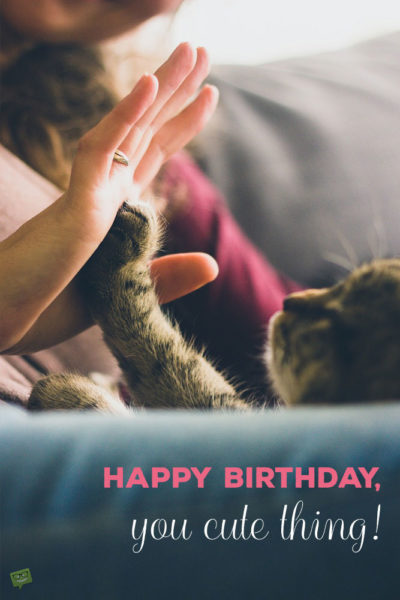 You are so fluffy and I love it when you are in my arms. Petting you is one of the best things to do during the day. Have tremendous fun on your birthday!
A cool birthday to my cat! I had always seen myself as a lazy person until you came into my life. I did not know I could love and care for something as much as I care for you. Thank you for revealing this part of myself to me. Stay happy.
Today is your birthday, so you can have all the meat you want and more. You are precious to me and I would do anything to see you happy on your birthday. Have a blast.
You are my hero, kitty cat. I do not see any more mice around the house, thanks to you. The least I can do is show you love on your birthday and get you anything you want.
What can I call you, but a friend that is there for me all the time? Your company always brightens up my day. Have a sweet birthday.
ello, my feline master. Your human servant wants to wish you a very happy birthday, and hope he could remain at your servitude now and forever. May god bless your majesty.
Hello, my cute little friend! It is your birthday today, even though you might not realize it. Don't worry, sit tight and enjoy while I shower you with treats. Wish you a very happy birthday, darling.
Today is your birthday- the day you are allowed to scratch people, break vases and do whatever you like (which you do anyway). A very happy and thrilling birthday, pal.
You have been a constant companion to me; someone to brighten up my days and bring a smile on face.  Wish this bond continues forever. Wishing you a happy birthday, lovely friend.
I used to be someone who wasn't mature enough to even take care of himself. Then you came and taught me how to take care of someone else. For this and everything else, thank you. Happy birthday, pal.
The best friendships are born with mutual understanding and being crazy together. By that definition, ours have been one of the best friendships to ever exist. Happy birthday, dear friend. May your fur remain shiny forever.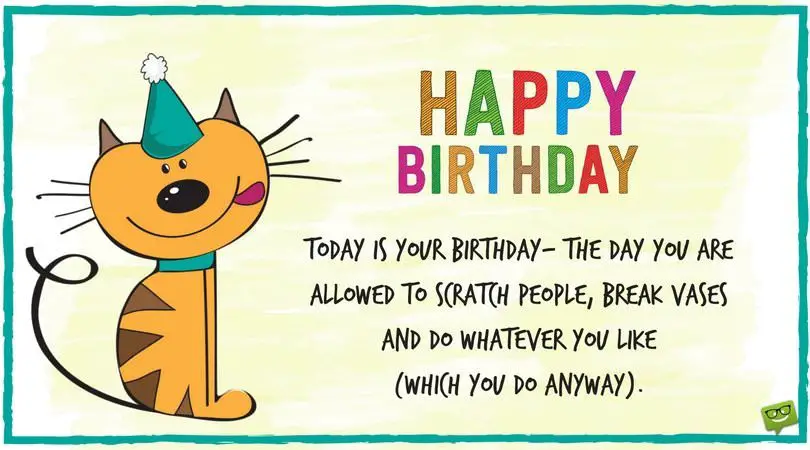 Nothing melts my heart the way having you in my life does. Thank you for making my life heavenly. Happy birthday.
Your meow is the only sound that gives me hope every morning. Happy birthday.
Of all the billions of people in the world, I was the luckiest to be blessed with you. You bring so much happiness into my life, and that is a feeling I can never trade for all the wealth in the world. Happy birthday.
Spending time with you brings so much happiness and sunshine into my life. Have a birthday that is as fabulous as your priceless "meows".
I will forever be thankful that God gave you to me. I hope I can fill your days with as much happiness as you fill mine with.
People say I'm too obsessed with my cat, but that is because they don't know how much happiness you bring to my heart. If I could speak meow, I would sing you a happy birthday song in meow.
On this beautiful day of yours, I promise to make you the happiest cat in the world because you bring so much joy into my life. Happy birthday.
My life has been full of sunny days ever since you came into my life. Happy birthday.
Though we don't speak the same language, I know you're telling me you love me whenever you meow. Happy birthday.
You are a very important part of my life. I will get for you all the birds in the world just to make you happy. Happy birthday.
You're my greatest mood booster. Have a fabulous birthday!
Cute Cat Birthday Wishes
Wishes and Updates for a Friend's Cat's Birthday
We are all fond of your cat and wish we had had one ourselves. I hope it enjoys its birthday. Tell it to stay cute as always.
Today is a special day for your cat, our special friend. I couldn't let the day pass by without saying a big happy birthday to it. I wish it many more years here on earth with us.
A long life to the most adorable cat in the world on its special birthday. Do not be too hard on your master. He/she strives to be awesome like you.
A fantastic birthday to a sizzling cat! We all wish we could be as cute as you but unfortunately the bar you have set is too high for us.
Your cat is in a way similar to a "gold digger". It only draws closer to me when I have something it can eat. I love that cat either way. A joyous birthday to it.
[Name of Cat] is the most intelligent cat I have ever met. If I didn't know better, I would say it is smarter than its owner. I'm hoping it gets filled with bliss on its birthday.
I hope this birthday gets your kitty cat on cloud nine. I am actually jealous of it because it eats and sleeps better than I do.
I'm going to make all your cat's dreams come true on its birthday today. Meaning I am going to bring it all the meat and milk it can eat and drink.
Honestly, I have learnt a lot from your cat since I got to know it. It seems to act more mature and older than we are. This makes me believe what is said about cats having nine lives. I hope it enjoys its birthday.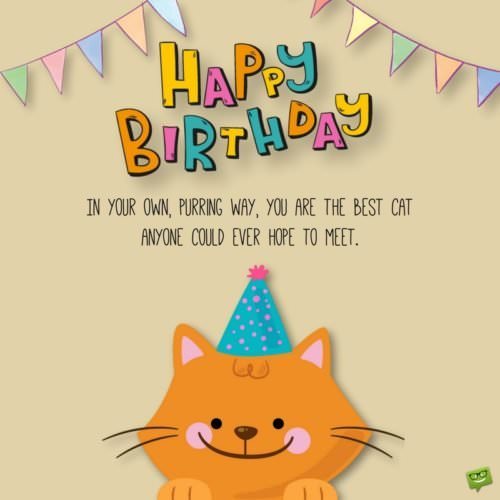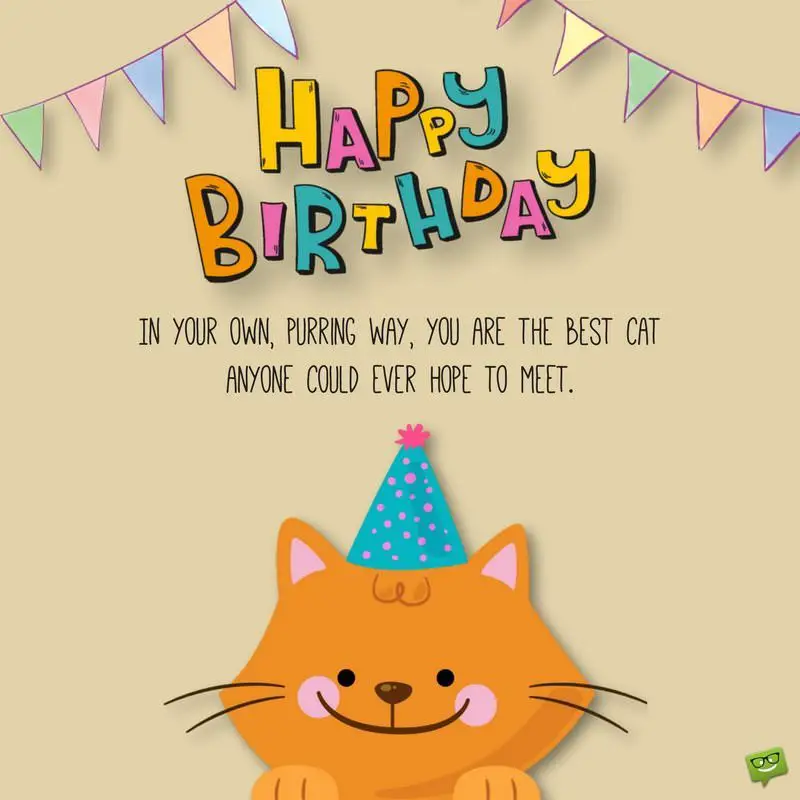 I consider your beloved cat to be part of our group. We basically do everything together. I want to wish my good friend and a fellow group member an exciting birthday.
I want to honor [Name of Cat] on its birthday by wishing it all the best. It is majestic and beautiful in every way possible.
I pray our dear cat gets the happiness in life it deserves. This is only fair because it has brought us happiness. A treat-filled birthday to it.
Wishing the most astonishing cat a blissful birthday. [Name of Cat] is part of the family and we do nothing but celebrate family on their special days. I wish her a fun-packed day.
On this special birthday, we honor a cat that has more demands than any creature I have ever met. We love it greatly.
I have never been a fan of pets but you are special and something else. I am glad your owner decided to have you. Have a terrific birthday.
I am hoping your cat has a phenomenal birthday. It is one of the most remarkable creatures I have ever encountered. I hope it is filled with joy on this spectacular day.
Of all the cats in the world, I like your "meow" the best. It is my favorite sound to hear. Have a glorious birthday.
Despite the time when you have scratched me bloody, I could never resist spending time with you. In your own, purring way, you are the best cat anyone could ever hope to meet. Happy birthday, sweet pea.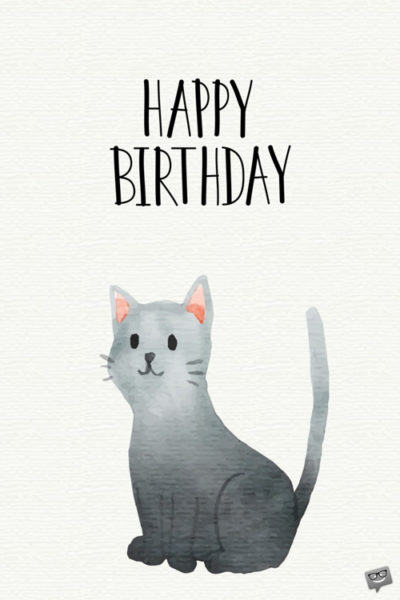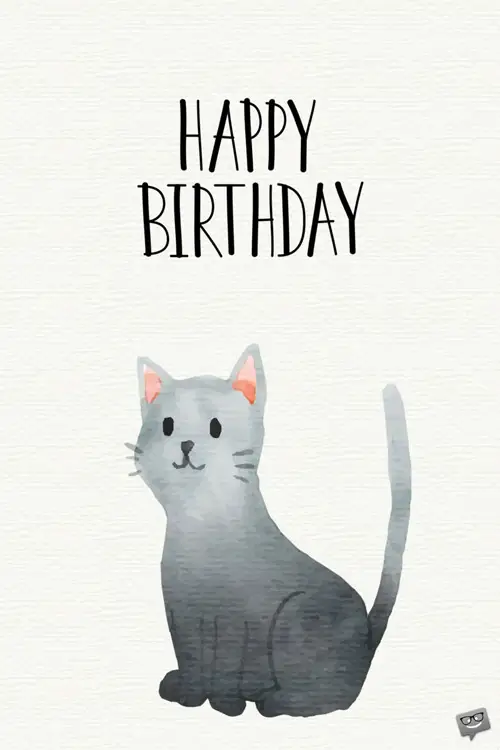 I was never a great animal-lover, until the first time you meowed at me. Thanks for coming into my life and teaching me that animals are perhaps better companions than humans. Happy birthday.
Hello, feline master. This is the friend of your human slave, or as you like to call me, your other slave. I want to offer my best wishes for your birthday, and hope you could grace us forever. All hail the Lord.
I have seen my friend become a much better human being, ever since you came into his life. Then I met you and realized why. Happy birthday to the most amazing cat ever.
You were the cutest kitten when I first met you, and now you are the most awesome cat. Here is a wonderful birthday and much more to come, where you might hopefully evolve into a tiger or something.
I fell in love with you the first time I saw you. You are the cutest cat in the world. Have a fabulous birthday.
Happy birthday to my best furry friend in the world. I love you for making the hard days of my life bearable.
I can't imagine what would have happened to my friend if you were not part of his/her life. I can't thank you enough for bringing light that is beyond that of a million suns into his/her life. Happy birthday.
Thank you for your priceless companionship. May your birthday bring you as much happiness as you bring my beloved friend.
You might not wag your tail or jump on me to show your affection whenever you see me, but when you nestle in my lap you cause my heart to overflow with happiness. Happy birthday.
If I had one wish, I'd wish to become a cat like you just to tell you in your language exactly how much I love and cherish you. I am so privileged to know you. Have the best meow birthday.
Today is the day you graced this earth and our lives with your presence. May you continue to have beautiful fur that shines brighter than all the stars in the universe. Happy birthday.
You captured my heart from the moment I set my eyes on you. Thank you for being the world's most adorable cat. Happy birthday.
Each time you cuddle up on my laps, you send me to paradise. It is my wish that you receive the best of treats and foods on your big day. Happy birthday.
Happy Birthday Cat images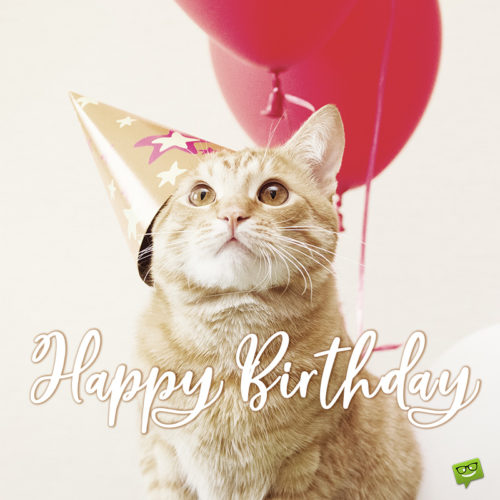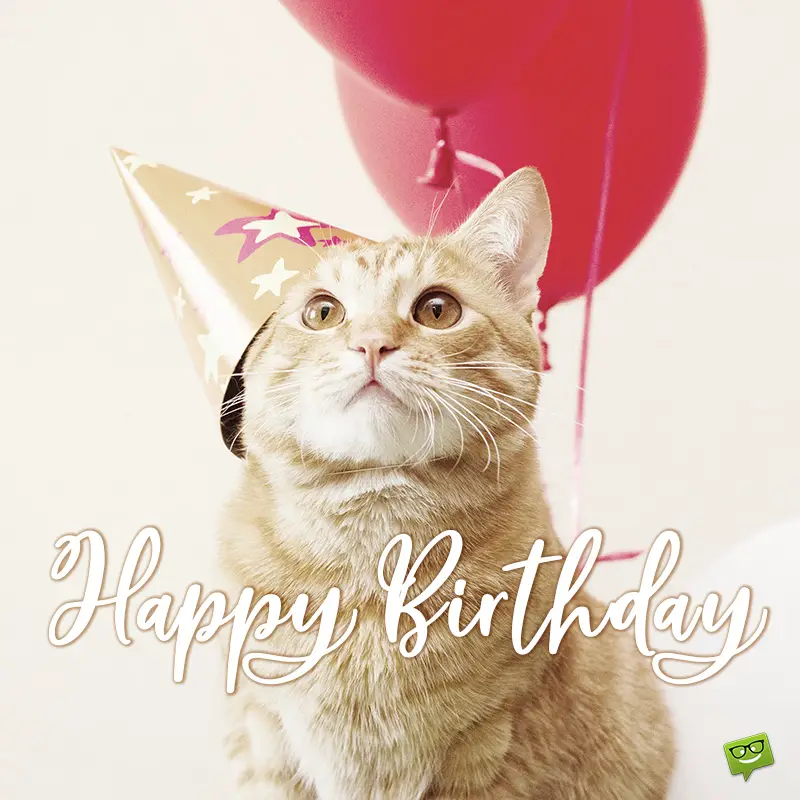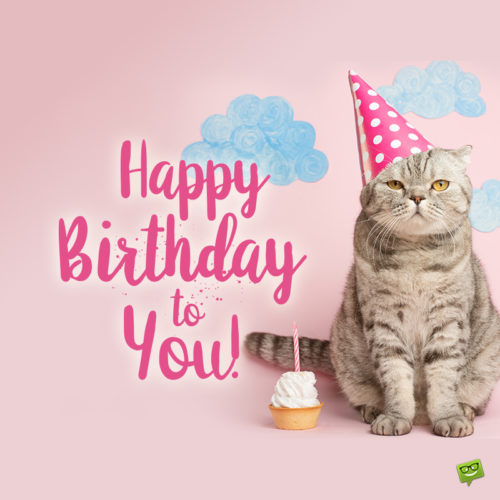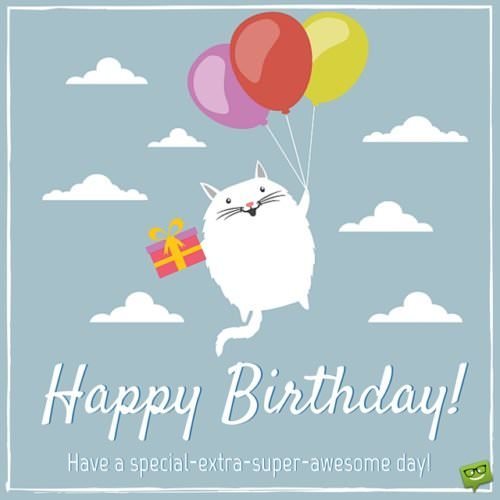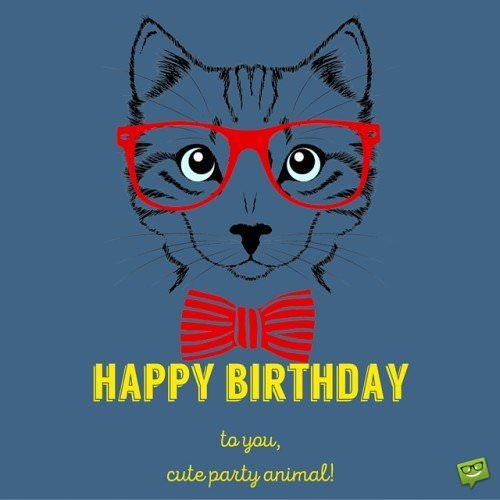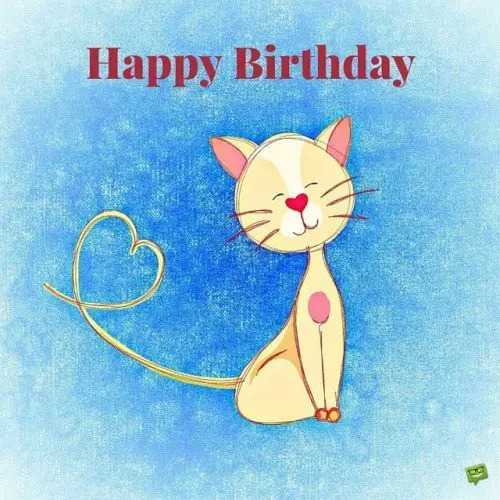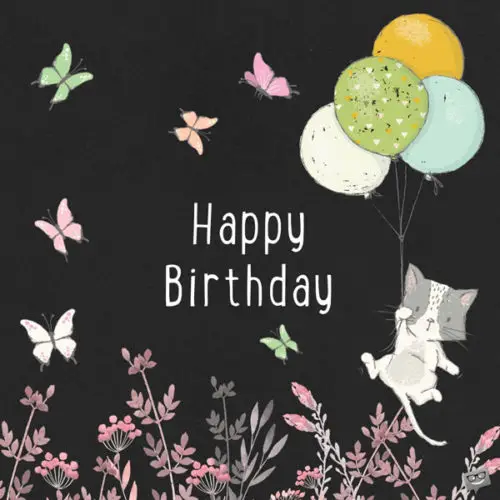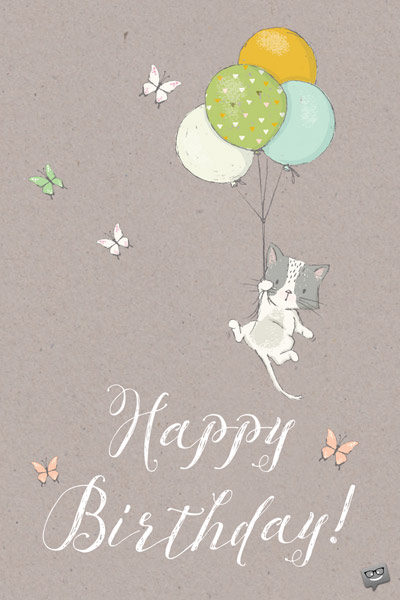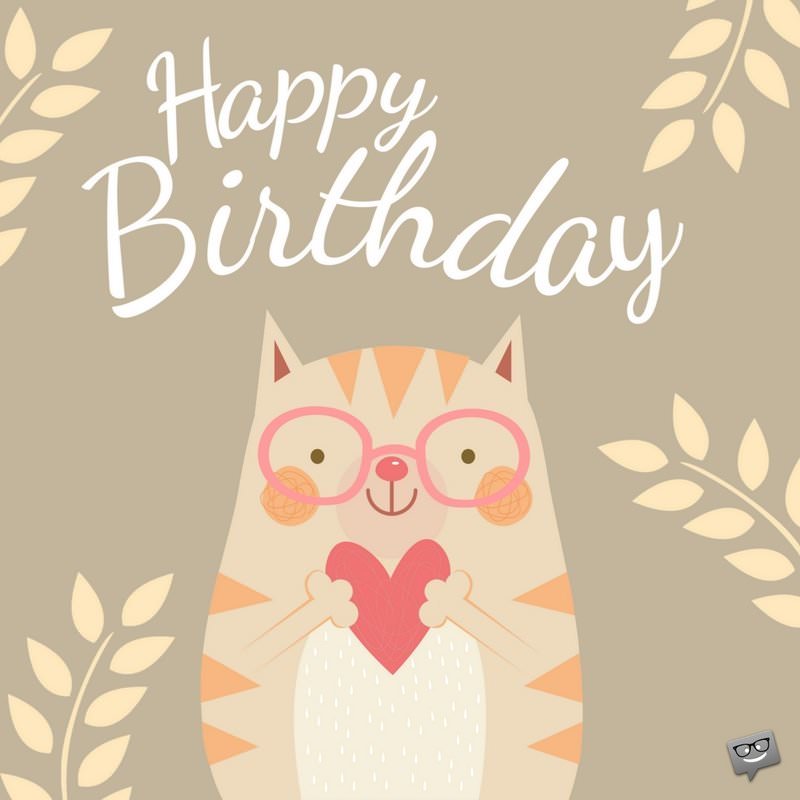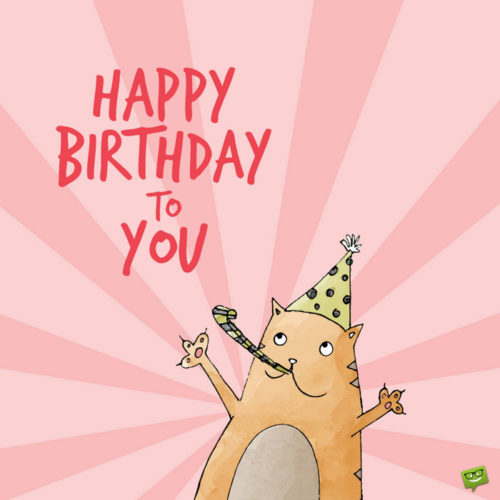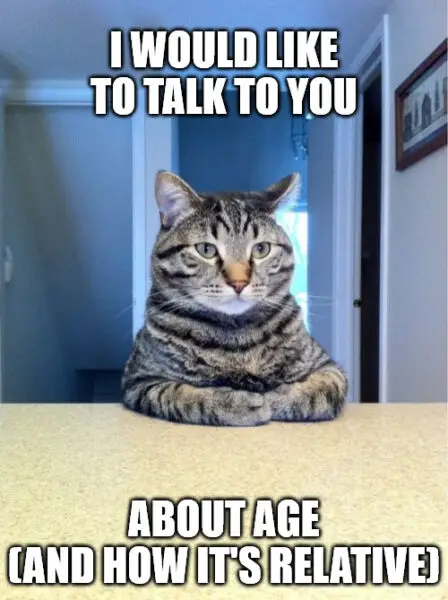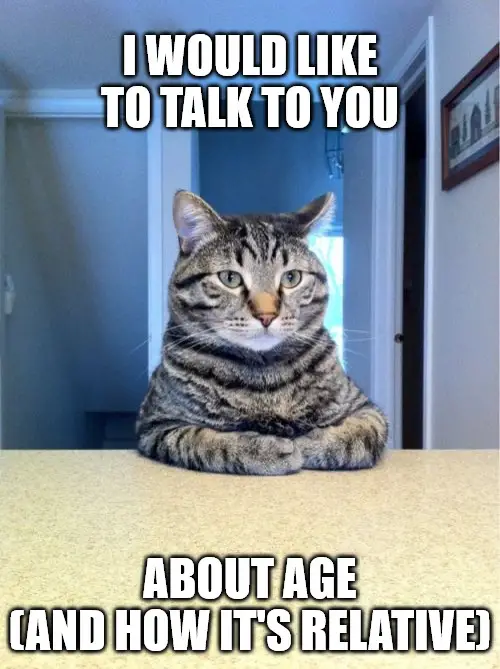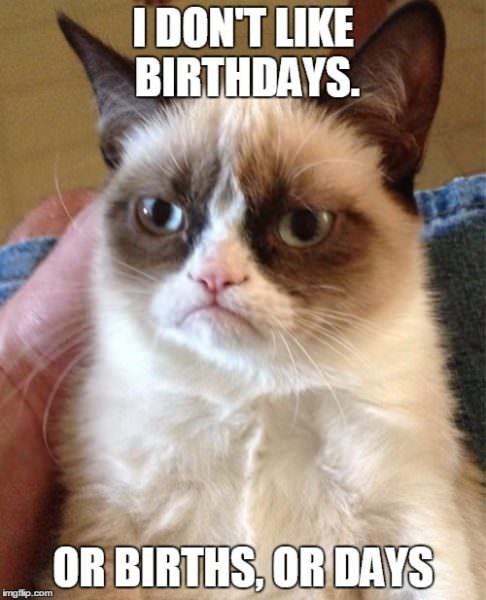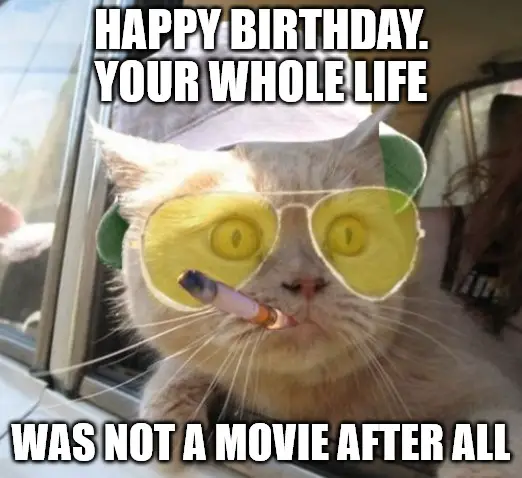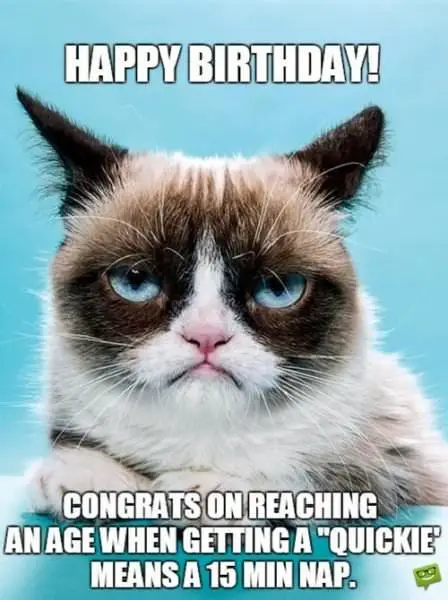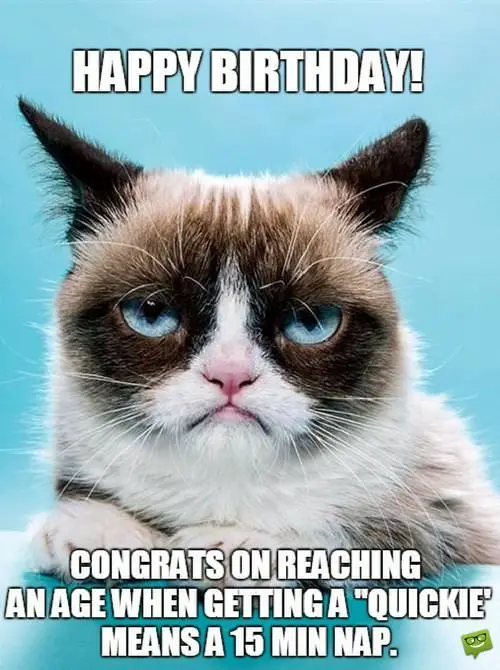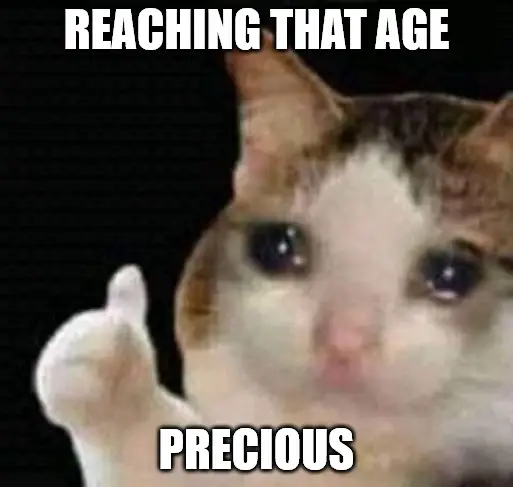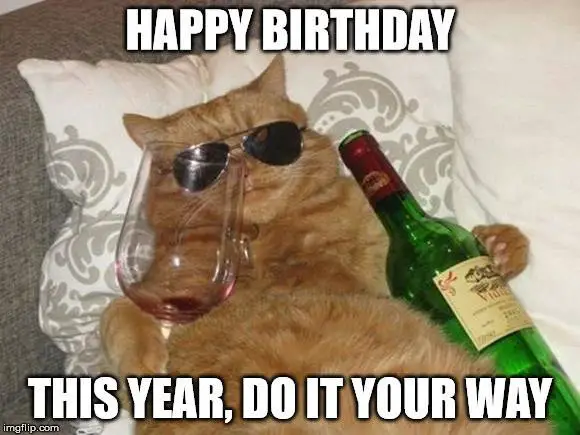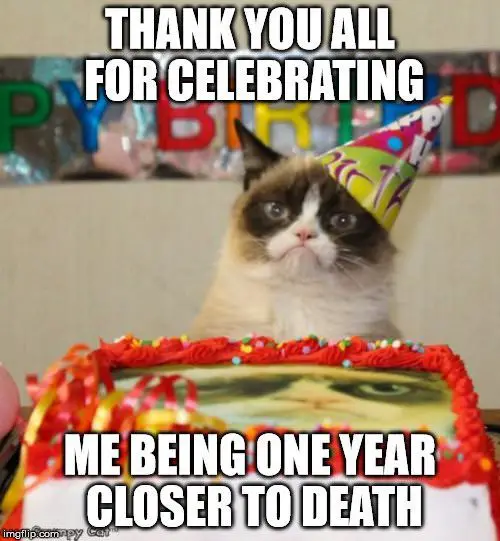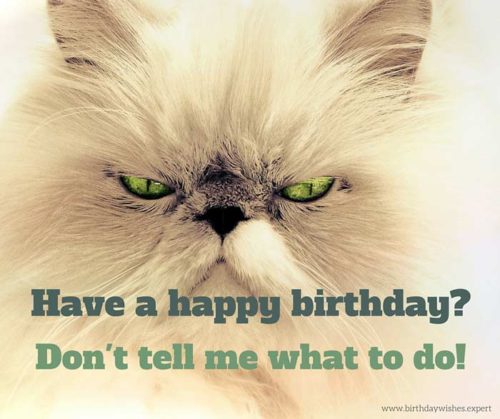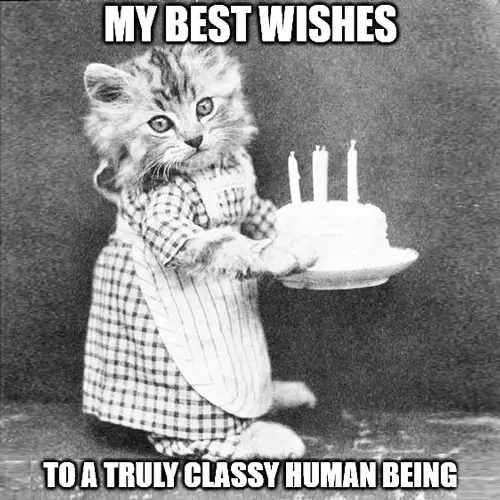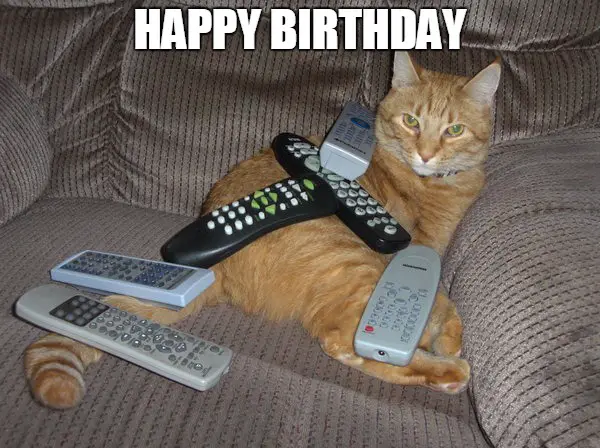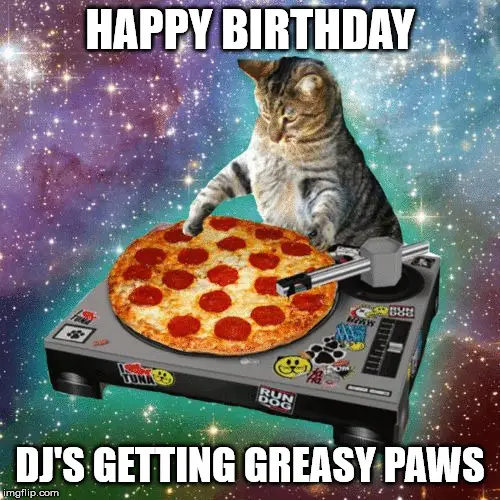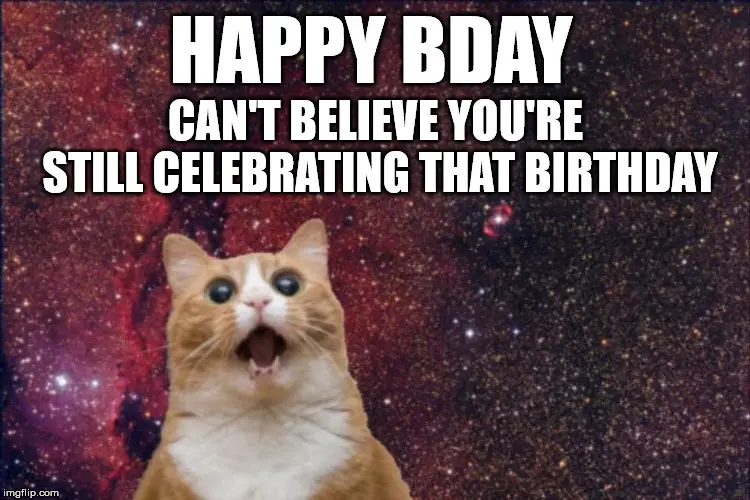 You may also like:
30 Birthday Wishes for a Baby's 1st Year in Life
How Should We Call Our Furry Ball? | 100 Great Names for Cats