Nothing is sweeter than the laughter of a niece on her birthday. If you're looking for funny birthday wishes to make your funny-loving niece giggle, we've got you covered! Here, we offer up our best collection of funny birthday messages for nieces that you can use to bring a smile to their face and show your love. From witty one-liners to humorous puns, these funny birthday wishes will get the party started—and help her celebrate this special day in style. So go ahead, spread some joy and raise a glass (or two) to your favorite funny girl! Happy Birthday, Niece!
Niece's Birthday? Let the Laughter Begin!
On the occasion of your niece's birthday, funny birthday messages are a great way to show her how much she means to you. Whether it's something goofy or witty, funny messages help show that you care while also making her laugh and feel special. Looking for some funny ideas? Here are our top funny birthday jokes and puns your niece will love!
Happy birthday to the best niece a person could ask for… or settle for.
I hope your birthday is as sweet as you are… and as loud as you can be when you don't get your way.
Here's to another year of you being the boss of the family, even though you're the youngest.
Wishing you a birthday that's as fabulous and sassy as you are. And if anyone tries to steal your thunder, just remember: I'm the aunt, and I have the embarrassing baby pictures to prove it."
Happy birthday to my favorite little troublemaker. Keep being your amazing, unpredictable self. (Just don't break anything this year, okay?).
Because you are my niece, you can thank me for your brains and beauty. You're welcome and happy birthday!
Best wishes on your birthday, my favorite niece. Considering you're my only niece, don't get too excited.
Cheers to another birthday, niece. You're getting to the age where you have to limit the number of candles you put on your cake because you don't want to burn down the house.
Please tell me if I'm not your favorite aunt so I don't feel so bad about not buying you a gift. I want to buy you a present, but my credit card is maxed out, and this birthday greeting will have to suffice.
Lucky, lucky, lucky me. I have a niece who's as attractive and intelligent as I am, and her birthday is today.
Close all the windows before you blow out the candles on your birthday cake, then cut your uncle a big piece. It's allergy season, and I don't want my niece sneezing on the frosting.
Your birthday is here, and I wish you the best on this special day, niece, but as you grow older, please don't grow up because if you do, I'll have no one to watch cartoons with.
Wishes, kisses and hugs to my wonderful niece on her birthday. It's all I have to give, but it's the thought that counts, right?
You can have your cake and eat it, too, because you're my niece and a cake is all I could afford. Love, your unemployed aunt.
Funny Birthday Wishes for your Niece
She's the girl who made you a proud aunt or uncle. As she grows up and becomes more independent, humor is a way to win her back! 😉
I couldn't afford to buy you a car, but I did manage to fit Benjamin Franklin into your card. Have a wonderful birthday!
Nieces are born to make their aunts feel proud to have them. Best wishes on your birthday today, and may there be many more.
A niece like you should be treated like a queen on her birthday. I hope all your wishes come true this year.
Sparkle, sass, and smarts are what make you so special. I hope you dance the night away at your party tonight!
A smart, talented girl like you should be celebrated every day. I hope you enjoy your birthday today – but please don't insist on drinking my beer!
May your birthday bring the biggest presents, the brightest candles, and the loudest laughs. Just don't ask me for the biggest checks this year, I'm still between jobs!
Your birthday only comes once a year, but I am proud to call you my niece every single day – especially when you've already been to the hair salon with your mom.
You're as witty as your mother and strong like your father. Thank God you're also as pretty as your aunt! I hope you have the best birthday ever!
I love you more with each passing year. Remember to love yourself too, even when you're my age.
It's been so fun watching you grow up into the beautiful, young woman you are today. Although there was no stress, our family genes were a guarantee.
I can't believe it's your birthday! Eat lots of cake and celebrate! Eat your uncle's piece too!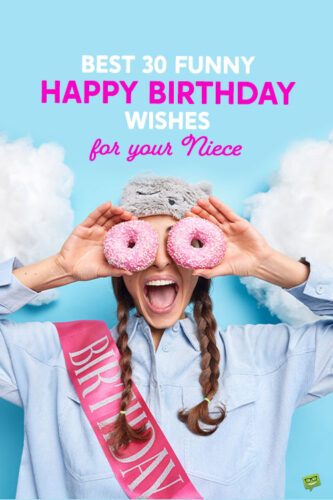 You may also like:
Wish "Happy 17th Birthday" To Those Great Teenagers!
Funny Birthday Wishes for your Family and Friends
Top 74 Birthday Wishes for Teenagers
A Classy Happy Birthday Collection + The Happy Birthday Song