Oh, the magic of a bond that defies the strict rules of biology! Our hearts have chosen sisters even when genes didn't get the memo. When it comes to celebrating the birthday of a sister from another mother, mere words seem to fall short. But hey, that won't stop us from trying! Here begins a hearty attempt to knit words and wishes, stirred with love and sprinkled with giggles, for a birthday celebration our heart-chosen sister truly deserves. Ready to dive into a whimsical whirlpool of warm wishes and playful giggles? Hold tight, because this joy ride of love and appreciation for a kindred spirit is about to set sail!

Table of Contents
Who is a Sister from Another Mother?
Is it like a step sister? Are they family? Well, almost, if you consider that friends are the family you choose.
"Sister from another mother" is a colloquial, informal phrase used to describe a close female friend or acquaintance whom you have known almost your whole life, who is not biologically related but is so close and supportive that they are considered like a sister.
It's a way to express a strong bond and connection with someone who feels like family, even though there is no blood relationship. This phrase is often used humorously or affectionately to emphasize the depth of the friendship.
Similarly, the phrase "brother from another mother" is used to describe a close male friend in a similar way.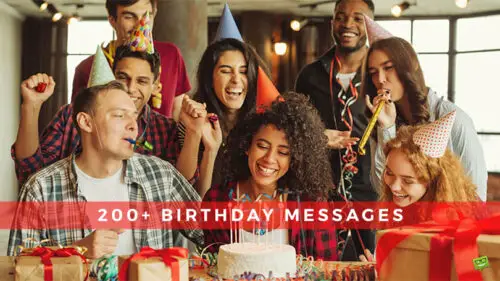 Related: 200 of the Best Birthday Messages to Make Someone's Day Special
Funny Birthday Wishes for Sister from Another Mother
She's the sprinkle to your laughter and the cherry atop your crazy cake of life, so she deserves a wish that's as quirky and delightful as she is. Our list of punchy birthday wishes is crafted to evoke giggles and make her day a shade brighter. Browse through and pick a wish that tickles both your funny bones, making her birthday as unforgettable as the day you two mismatched misfits found sisterhood!
Today, you're the queen, the cake is the castle. Invade! Happy Birthday!
The more candles on your cake, the hotter you are. Happy Birthday, hot stuff!
You're not older, just more… distinguished. Yeah, let's go with that.
Birthdays are just nature's way of promoting you to a higher level of awesomeness. Happy Birthday, you awesome human!
I'm not saying you're old… I'm just saying the cake isn't large enough to fit all the candles!
You're the only sibling I didn't have to share a room with, and for that, you deserve the happiest of birthdays!
You age like wine… fruity and leaving stains!
You make aging look good. Teach me your ways!
Happy Birthday! You're the sister my mother forgot to have!
Born not from the same branch, but we sure vibe in the same groove. Happy Birthday, my favorite fruit from another tree!
Happy Birthday! Here's to a day of minimal adulting and maximum fun. Yes, you're allowed!
Happy Birthday! On this day, you're not older, but rare, limited edition, and vintage. Basically, you're kind of a big deal!
Stay classy, sassy, and a bit bad assy! Happy Birthday, friend!
Age is merely the number of years the world has been enjoying you. Happy Birthday sis.
Today, we toast to the day your face decided to grace this planet with its presence! Happy Birthday!
On your birthday, we celebrate the only day you were a crying baby and everyone was still excited. Happy Birthday!
Aging like a fine wine… I'll take a glass of that! Happy Birthday!
Happy Birthday! May your day bring you the joy of a thousand puppy videos.
Birthday fact: You're not a snack, you're the whole cake and more! Enjoy your day!
Birthdays: Nature's way of congratulating us for surviving each other! Happy Birthday, gorgeous sister!
You're the sprinkles to my ice cream, the sweet to my sour! Happy Birthday, sugar!
You're not a snack because age made you a full spread! Happy Birthday!
Happiest of birthdays to my chosen sis! Let's keep aging disgracefully!
Your birthday: another excuse for us to cause chaos! Happy Birthday, dear sis!
Your birthday's a reminder: besties first, gray hairs later!
Life's a stage, take center! Age with rage!
Cake more, worry less. Happy Birthday, lovely sister!
Birthday Messages for Sister from Another Mother
Right here, we have a garden of birthday messages, each one blooming with wishes brighter than her special day candles.
Keep shining, the world needs your light! Happy Birthday, gorgeous sister!
Blood or not, you're my fam jam! Happy Birthday to the precious member of my chosen tribe!
Real sisters are like unicorns, and oh boy, I got one in you! Here's to a birthday as magical and real as our sisterhood!
Every candle on your cake is a reminder of the light you bring into the world. Keep shining, Birthday girl!
We may not share genes, but we surely share dreams. Happy, happy birthday, daydreamer!
On this day, a star was born. And by star, I mean you. And by born, I mean… well, you get it. Happy Birthday dear sister!
Cake calories don't count today, it's a law! Happy Birthday!
You're the confetti to my life's party! Happy Birthday best friend and dearest sister!
Sister from another mister, I hope your day is as unique and amazing as our friendship. Happy Birthday!
Like a rare gem, you're one of a kind! Happy Birthday, my precious sis from another miss!
Your birth was the universe's cool gift, and you're the jazz to our everyday blues. Have an epic special day, sweet sister!
Happy Birthday to the friend who became a sister. Your presence is a bouquet of joy. Here's to special relationships that warm the heart!
Best Sister From Another Mother Cute Quotes!
Just pick your fave from the list, throw it in a text, a card, or shout it out loud at her birthday bash. You could even fancy it up on a balloon, or slide it into her DMs with a blast of confetti emojis. Whether you sneak it into a heartwarming birthday toast or just casually drop it while you both are munching on birthday cake, these nuggets of cuteness are about to make you the coolest sib from another crib! Now, go ahead, unleash the cuteness and watch her birthday vibes soar sky-high!
Sis, you're like a candy bar: sweet, delightful, and always there when I need a sugar rush. Happy Birthday to the sweetest slice of my life!
We're not sisters by birth, but we knew from the start… fate brought us together to be sisters by heart. Happy Birthday!
Roll out the red carpet, 'cause it's my dear friend and sister-from-another-mister's b-day! May it be loaded with love, joy, and all things sparkly!
Sis, you're the kind of person who makes the world brighter just by being in it. Shine on, Birthday Star!
Our sisterhood is like a good brew… gets better with age! Happy Birthday!
It's your 'hotter by one degree' day! Happy Birthday!
Among life's cool emojis, you're my fave! You being my sister is a heart-eyed smiley. Best wishes and have a fantastic day!
May your day brim with love, laughter, and the cozy chaos of family. Rock on, and have the best birthday bash, sis!
You're my entire world wrapped in a peck of sass and a ton of love. Here's to a birthday full of sparkles and snazzy surprises!
The whole world could binge-watch the series of your kindness. You're the good vibes everyone needs! Happy Birthday, sunshine!
Cheers to my special sister, the one who makes every day feel like a weekend spree! Your birthday deserves all the fireworks!
May God bless your special day with all the hip and happy vibes you shower us with. Party on, dear sister!
Let the confetti of blessings shower you as you step into another vibrant year. Blessings, sister, on this fab birthday of yours!
Hey there, best friends by choice, sisters by chance, and partners in crime by necessity! Here's to celebrating today with endless laughter!
Short Birthday Quotes for Sister from Another Mother
Our bouquet of short, sassy, and sweet birthday messages is ready to be plucked and sent flying her way. How, you ask? It's easier than finding a reason to eat cake. (And, who needs a reason anyway?) Just scoop up the message that twinkles just like your sis, wrap it up in a text, or let it fly across the social media skies with a sassy gif. Oh, and don't forget to jazz it up with a sprinkle of your own whimsy.
Cake, candles, chaos—let's do this! Happy Birthday!
Balloons, cake, laughter: ready, set, celebrate! Happy Birthday, sweet sister and true friend!
Birthdays: Nature's way of rewarding you for not choking me. Cheers!
You bring the 'b' in birthday bash! Go wild!
Stay cool but avoid the deep freeze! God bless and may all your dreams come true!
You're the glitter to my glue, the sparkle to my shine. Happy Glittery Birthday, Sis!
Wishing you a day filled with love, laughter, and lots of selfies to prove it!
Happy Birthday! May your day sparkle much brighter than a disco ball!
Inspirational Birthday Wishes for Your Sister from Another Mother
She is more than just family; she's your cheerleader, your confidant, and the one who stands by you through thick and thin. Her birthday is the perfect occasion to reflect back the inspiration she brings into your life. Our curated list of inspirational birthday wishes is designed to empower, uplift, and remind her of the incredible person she is. So, as she navigates through the chapters of her life, let your wishes be the uplifting whispers that remind her of her strength, resilience, and the amazing journey that awaits. Go ahead, choose a wish that resonates, and elevate her spirits on her special day!
To my true sister from another mother, may this year bring you closer to all your dreams. God bless you on your journey!
Every day with you is a blessing, sister. On your special day, may life shower you with joy, love, and dreams come true!
Like a fragile flower with rockstar vibes, you add color to life's gig. Keep blooming. Happy Birthday, darling sister!
In the garden of life, special relationships are the blooming flowers. You, my sister from another lineage, are the brightest bloom. Happy Birthday!
You redefine sisterhood with every laugh and tear we share. Today, let's celebrate the rainbow of love we've built. Happy Birthday!
Sending you a birthday prayer wrapped in love and sealed with a kiss. May your day be as fabulous as our marathon gossip sessions!
Birthday greetings coming your way with a basket full of love and a sprinkle of mischief. You're not just a friend, you're family!
Our special bond is a blend of love, trust, and endless giggles. May your birthday be a reflection of all the joy you bring!
Happy Birthday, Sis! May your heart's desires take flight today and lead you to a future filled with cheer!
Pin this Article to Save it for Later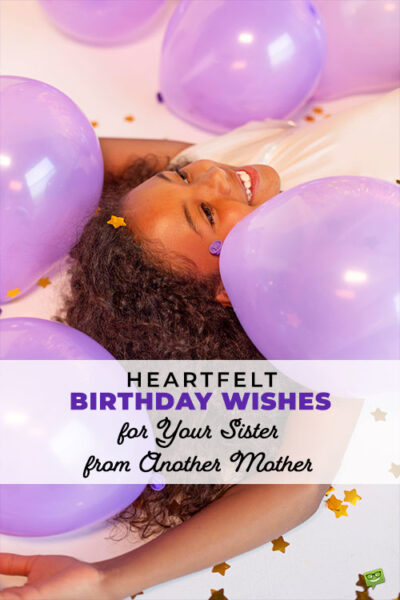 You May Also Like:
Birthday Wishes for Sisters Who Are Forever
50+ Heartfelt Birthday Wishes Our Female Friends Would Love to Hear
Unique 'Happy Birthday Best Friend' Messages for Your BFF's Special Day