To lose a brother with whom you used to have a strong brotherly bond can be really hard. What can turn out to be more painful is to continue on living your life without him by your side, and some days it will hurt more than others. Birthdays are particularly difficult to get through without mourning.
Next time your brother's birthday comes around, try to celebrate his life and his memory with joy. He wouldn't want you to suffer, especially not on the day he was born. To make the painful process easier, we have created a list of birthday wishes. Send one or more up into the sky or out into the universe for your brother to know how much you love and miss him. With these special words, you can celebrate his life, his soul, and memory, and his legacy, which lives on in you. Life is too short and too precious to be burdened by grief. He wouldn't want that for you, so we offer this collection of birthday wishes in his honor!
Sending Love and Blessings to My Brother in Heaven on His Birthday
He will always be your brother and this will always be his special day.
I always looked up to you and I still do now that you're in heaven. Happy B-day brother.
As I take the time to send you birthday wishes in heaven, brother, I wipe the tears from my face because I miss you so very much.
May the next rainbow in the sky be the ribbon that ties the love I'm sending you on your birthday in heaven, dear brother.
I celebrate the day you were born today, brother, and hold you close in my heart always.
The day you were born was the happiest day of my life, and your death was the saddest. Blessings on your birthday in heaven, brother.
As your birthday fills my heart with fond memories of you, brother, I cry a little harder on this day because I miss you. Birthday greetings to my dear sibling.
As you look down at me from above, know that I'm sending you my best wishes on your birthday, brother, and look forward to seeing you again someday.
I was lucky when you were born, but so unhappy when you had to go, brother. As you celebrate your birthday in heaven, know that I'm praying for your peace and happiness.
Remembering my wonderful brother and friend, also thinking of all my family on this difficult day, love and special memories. xxx
Dearest brother, you might no longer be physically present in this world, but you are still my strength, support and backbone of all my accomplishments. I will forever consider myself the luckiest person in the world to have had such a great time with wonderful brother like you.
Though I can't see or hear you, I feel you and sincerely believe you are always with me guiding and protecting me like you have always done. Happy birthday, brother! Miss you so much!
We had wonderful experiences during your precious life on earth. Those memories with you will never fade away because they are my most treasured possession. Have a beautiful birthday celebration in heaven, sweet brother!
As you rest peacefully and happily in the bosom of your Maker, do know that you live on in my heart. Happy birthday, brother.
Remembering a Brother in Heaven on His Birthday: Heartfelt Quotes for Him
There is nothing like the love of a good and loyal brother; even if you have lost him, you can send your love to him each year on his birthday.
I can't stop thinking about you, brother. It is so hard to exist without you, but I know you would want me to persevere. Happy birthday to you; I hope you hear my prayers.
You were always my rock, and now I feel so lonely. But I never feel alone on your birthday; it is like you are standing right next to me, holding my hand and comforting me. I celebrate you with joy, happiness, and love today.
It is hard to imagine a world without your face, brother. We will build our lives with your spirit and your goodness in mind and visit you often in our memories. Happy birthday to the best brother!
Happy birthday, brother. I take comfort in the fact that God called you home for bigger and better things than this life can offer. I drink a glass of champagne in your honor.
The balloons and the streamers are hung from the rafters for you. Happy, happy birthday, brother. You may be gone, but you're never forgotten. You were and are a gift to humanity.
I want you to feel special on your birthday, even now that you are gone. Cheers to your special day, you special boy. Cheers to your memory. We dedicate everything we are to you.
Happy Birthday Wishes to my Baby Brother in Heaven
To have lost a younger brother is to have lost a piece of your innocence and your heart, but you can still send your love to him, wherever he may be, every year on their birthday.
Dear brother, there will never be another human like you on this earth. Today, on your birthday, I celebrate your life and your love for others. Wherever you rest your head, in the clouds, maybe, just know that I miss you.
I lost so much when I lost you; I even lost a piece of myself. But, my baby brother, heaven gained the sweetest angel when you came home to God. Happy birthday and warm hugs to you today and every single day.
Sweetheart, your soul is my guiding light from this day to the next. Brother, hear me when I say happy birthday. My arms are open to you always and forever.
Words will never be enough to express my love. You, brother, are a light in the darkness. The candles on your birthday cake flicker, but your fire never will. Be well on your birthday.
One day in the future, you and I will be back together again. I miss you terribly, brother, but I remember you fondly today, on this, the day you were born. Have the happiest of birthdays. We will celebrate your life from afar.
The world lost you too soon. You had your entire life ahead of you; but now, you are our family's guardian angel, baby brother. Watch over us and hear us when we sing "Happy birthday" to you this year.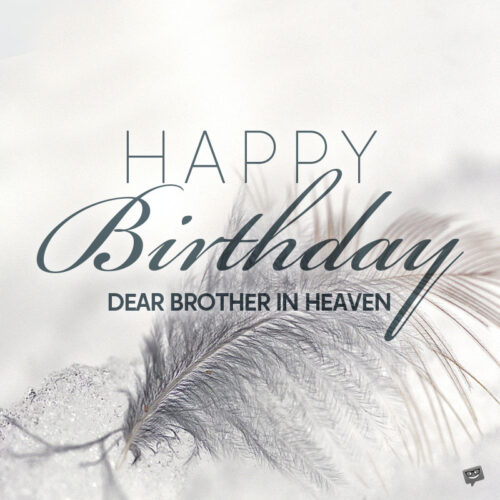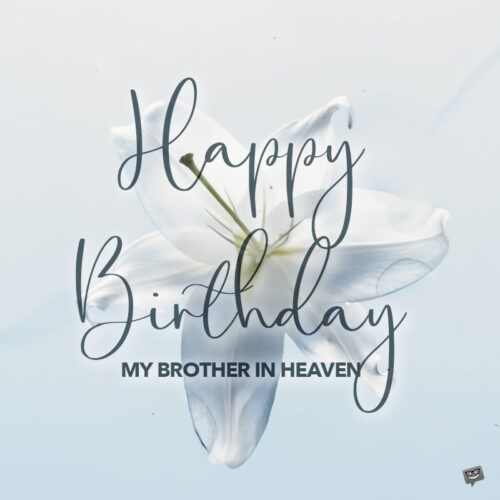 Happy Birthday Wishes to my Big Brother in Heaven
Send your love and affection to your older brother today on his birthday. His influence and love will exist forever, and he protects you like an angel in the clouds.
You were the best thing that ever happened to me and I learned so much from you. You were and are an older brother who stood a cut above the rest. We weep that we lost you, but we're glad that we had you at all. Many blessings on your birthday!
You are my friend and protector forever. You may be gone from the world, but you will never be gone from our hearts. Your birthday is a holiday in this household. I hope it is so warm and bright wherever you are. I love you, big brother.
Today, I will listen to your favorite songs. I will eat your favorite foods. I will drink your favorite drinks. Bless me with your presence on your birthday, older brother. Have a lovely birthday and be with me.
Your sweet soul will live on for infinity. Be blessed! Celebrations will erupt all over the world for you. Have a wonderful birthday, brother of mine. I feel your presence with me always.
Pin this post to save it for later!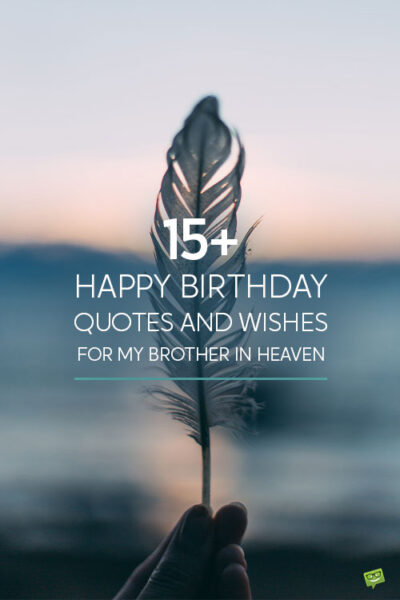 You may also like:

Happy Birthday in Heaven | 50 Birthday Wishes for Someone Who Has Passed Away
Happy Birthday, Dad, in Heaven
Happy Birthday, Mom, in Heaven
40 Happy Birthday in Heaven Wishes To Remember Grandma On Her Special Day