One of the best things about turning 23 is taking pictures of the memorable event and sharing them on social media. Snapping the pictures is only part of the fun. To add to the enjoyment, you can create captions for your photos. Birthday captions for a 23rd birthday can be short. They can be funny, and they can be about you.
Whatever captions you create, make sure they go well with the pictures you're posting. Use the captions below if you discover you have writer's block. After you post your photos and the captions you've chosen to use, sit back and enjoy them as much as the interested viewers you attract will.
Short 23rd Birthday Captions
If you feel your picture doesn't need many words to express the message it conveys, post one of these 23rd birthday captions below it:
Twenty-three years ago, you were born. Time to celebrate!
Time to celebrate your 23rd birthday!
Twenty-four hours to celebrate your twenty-third birthday!
Today we'll celebrate your 23rd birthday!
Cheers and good luck to you on your 23rd birthday!
Twenty-three and beautiful is what you are today. Best birthday wishes!
You've mastered the art of aging well!
You're 23 today and still my baby!
Best wishes on your 23rd birthday!
Hooray, you're 23 today, and I'm so happy it's your birthday!
Celebrate your 23rd birthday with a song in your heart!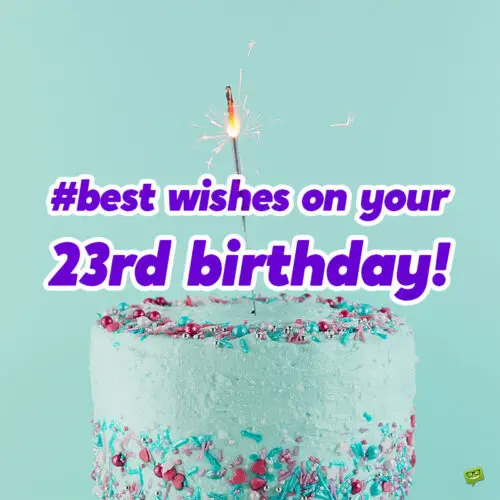 You're 23 years young, so celebrate the day!
My BFF is having a 23rd birthday today. Best Wishes!
Hugs and kisses on your 23rd birthday!
All my love to you on your 23rd birthday!
Lots of good blessings on your 23rd birthday!
May your 23rd birthday be exceptionally wonderful!
Happy 23rd birthday to my sweet sister!
Warm wishes for your 23rd birthday, brother!
Good health and happiness on your 23rd birthday!
Birthday wishes for your 23rd birthday, with love.
Love is coming your way on your 23rd birthday!
Enjoy your 23rd birthday!
Only 23, so have fun and celebrate your birthday.
23rd Birthday Captions for Yourself
When you decide to post birthday pictures on social media, don't forget to post photos of yourself on your special day, and use these captions if you like them:
Time to share a picture of me on my 23rd birthday. Hope you like it!
I'm 23, and here's a picture of me I want to share.
Twenty-three, and this picture is oh, so me.
Celebrating my 23rd birthday and enjoying every minute!
Wishing me all good wishes on my 23rd birthday!
Happy birthday to me. I just turned 23.
Sending birthday wishes to me for my 23rd birthday.
Sharing my birthday cake with friends and family on my 23rd birthday.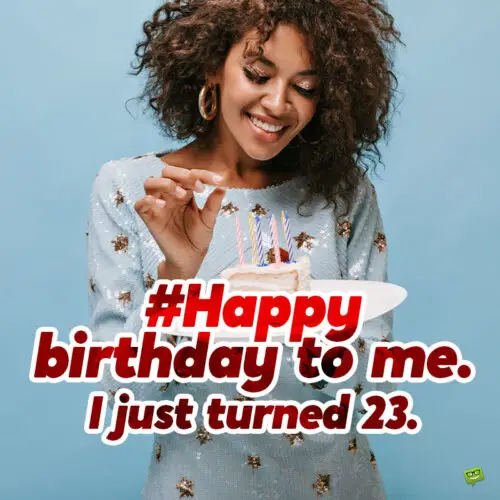 On my 23rd birthday, I wish to celebrate it with my dear friends.
Happiness is celebrating my 23rd birthday with friends and family!
It's my 23rd birthday, so I'm wishing myself a happy one.
I'm not getting older. I'm getter better!
As I turn 23 today, I realize how young I am and respond with a smile.
I celebrate 23 years of life with people I love dearly!
A birthday cake with 23 candles on it needs to be surrounded by friends and family to make it sweeter.
My 23rd birthday is going to be the best one yet!
Funny 23rd Birthday Captions
Make the person who is turning 23 laugh by adding one of these funny birthday captions to the picture you post on social media.
Why act like you're 23 when acting like you're 5 is much more fun?
One trick to hiding your age when you turn 23 is hiding the candles.
So happy you're turning 23 today because I won't be 23 for another 5 years, and that means I'm younger than you are.
Who's got more candles on their cake? Since you have 23, you win!
After 23 birthdays, I realize my inner child will never want to grow up, and I don't blame him.
When I see 23 candles on my birthday cake, I realize the candles cost more than the cake.
Turning 23 is a good thing because you have to buy a cake big enough to hold all those candles, and you have to eat all of that cake.
Might as well eat as much cake as you can on your 23rd birthday because you'll need the extra calories to plump up the wrinkles that come with age. Birthday cake is yummy, so enjoy it!
It could be worse. You could be turning 32 instead of 23.
If you lie about your age and let your inner child run wild, no one will ever know you're 23 years old. People may think you're a little weird, however.
Liked it? Pin it!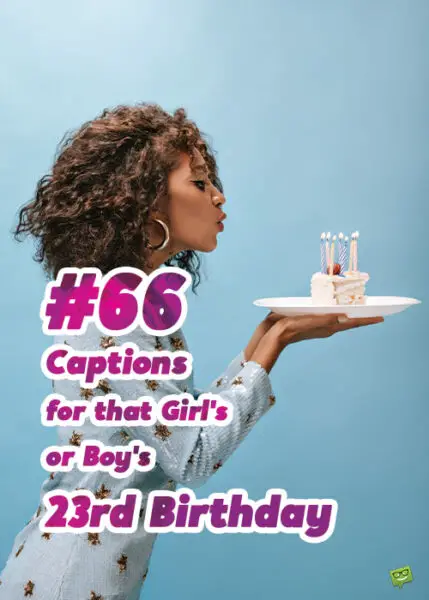 You may also like:

#MySpecialDay | 99 Birthday Instagram Captions
250 of the Best Birthday Messages to Make Someone's Day Special