In the age of instant messages and speedy Wi-Fi, miles seem just a number. But when it comes to birthdays, especially of someone as dear as your husband, even the smallest distance can feel like a universe away. But don't fret! While we can't teleport him home for a surprise party (we're still waiting on that technology), we can surely bridge the gap with the perfect words. Whether you're looking for a giggle-worthy quip or a heartwarming wish, you've come to the right place. And if you're in the mood to add a touch of flair, do explore our curated range of birthday cards in our online store, perfectly crafted for those love-from-afar moments.
Table of Contents
Heartfelt Birthday Wishes That Cross the Miles to a Husband Far Away
Wishing a sky full of balloons and a heart full of joy to the man who turns every day into a celebration. Happy Birthday, love!
Counting stars, counting miles, but most of all, counting blessings – and you top the list. Shine bright, amazing husband!
You may be miles away, but you're the first thought in my day. Shine on, birthday boy!
The miles between us can't dull the sparkle of your awesomeness! Have a magical birthday filled with joy and surprises!
Happy B-Day! May not be there to celebrate IRL, but I'm throwing a party in my heart for you.
In a world of FaceTimes & DMs, our love story is my favorite notification. Shine on, birthday boy!
Can't wrap you in a birthday hug, but sending all my vibes your way.
Happy B-Day, sweet husband. We might be in different time zones, but our hearts? Always in sync.
Tossing confetti your way from across the map! May today be as Insta-worthy as our love story. Have an amazing birthday!
Counting the days till we reunite, but today, I count the blessings of having you. Have a great birthday!
Miles can't mess with us. Wishing you a day filled with love, LOLs, and memories.
Wishing the happiest of birthdays to the guy who's miles away in location but just a heartbeat away in my thoughts.
Happy Birthday, my handsome man! No miles can dim the sparkle of the memories we've made and the ones yet to come.
Promise me this: next birthday, we'll surely celebrate side by side. Until then, have a day as wonderful as you are!
Hoping your special day is filled with all the happiness you've given me. Happy Birthday to my handsome husband!
Happy Birthday to the other half of my heart. Sending all my love and best vibes your way.
Every year, every memory, every laugh – feeling damn lucky to have you. Here's to a fulfilling birthday, love!
Feeling grateful for every moment with you. Happy Birthday to the dearest husband who makes every day a celebration.
Every day, I'm reminded of how lucky I am to call you mine. Here's to a birthday filled with all the joy you bring into our lives.
Whimsical Wishes: Light-Hearted Birthday Cheers for Your Husband Far Away
Happy Birthday to the guy whose smiles make my day, every day! Sending hugs, kisses, and a troop of imaginary confetti poppers to celebrate you from afar!
Your birthday just called and asked for a giant scoop of fun from miles away! Wishing you a day filled with laughter, love, and lots of cake!
They say age is just a number, but you make every number look good! Happy Birthday, handsome!
Sending you a big bear hug filled with all the love in the universe, packaged with a bow of smiles! Have a great birthday, lovely husband.
Is it just me, or did you just become a bit more handsome with the new age? Sending over endless love and a virtual crown for the birthday king!
The best things in life are worth waiting for, and celebrating your birthday together is on the top of my list! Wishing you happy birthday, dear husband.
Wishing the happiest birthday to my long-distance superhero. Your superpower? Making me fall in love all over again, every single day!
Sending over a jumbo box of happiness, love, and a dash of mischief for your birthday! Enjoy to the fullest!
The distance between us might have stolen the warmth of your hugs but not the sparkle of your laughter. Shine on, my husband! Happy Birthday!
Far but Funny: Wishes to Make Him Chuckle from Miles Away
Navigating a long-distance birthday for your dear husband can be a tad tricky, but nothing breaks the miles apart quite like shared laughter. Dive into these "Far but Funny" wishes, tailored to tickle his funny bone, no matter the distance.
Happy B-Day! Distance means I get double cake, right?
Age check: Still young, distance check: Still miss ya!
Too far to see you age, too close to spam you with memes. Have a perfect birthday!
I was going to send you a cake, but I was afraid it'd eat up my data.
Miss your face, but hey, more cake for me! HBD dear hubby.
Can't pinch your cheeks from here, but trust, I'm trying! Happy birthday to an incredible husband and a wonderful dad.
Birthday miles away = no witnesses. Party on!
You're not getting older, you're just increasing your distance from youth. See, everything is about distance nowadays!
Wishing a spectacular birthday to my dear husband who still makes my heart skip a beat from thousands of miles away!
Distance means I can't see you grow older, but it also means you can't see me eat the entire cake.
Happy Birthday, my love! Here's to the man who makes me feel close even when he's far… especially when he leaves the remote control to me.
You + Birthday + Miles Away = Me in PJs all day.
Another year older, but luckily you're too far away for me to see those new gray hairs! Happy Birthday!
Heartfelt and Dreamy: Romantic Birthday Wishes for Husband Far Away
Navigating through the miles that separate you and your spouse can bring a touch of melancholy. However, long distance birthday messages are like little bridges that connect your hearts on such important occasions. Ready to fill your husband's wonderful birthday with love and warmth? This section is teeming with tender wishes that are bound to sprinkle romance on his special day, regardless of the miles in between.
On your birthday, I ordered a sunshine delivery for you, but I guess it got lost among the stars that you carry in your eyes. Happy Birthday, my charming husband!
Happy Birthday to my fabulous husband! Though miles apart, our true love is just like romantic movies, full of adventures and endless love. May God bless you with good health and all the happiness!
Your love is like a melody that my heart can't stop singing. Though we're far, our hearts are always together. Here's to a wonderful birthday and a future filled with love!
The story of us is my favorite, even better than those romantic movies we used to binge-watch. This long distance between us can never lessen my love for you. Wishing you a very happy birthday, darling!
Even from miles away, your love warms my heart like the first rays of the sun. May this birthday bring you all your wishes and fill your life with beautiful memories.
You may be out of sight but never out of my mind, my darling husband! Unwrapping your love in my heart until I can unwrap you in a big birthday hug!
On your special day, I just want to remind you that you mean the whole world to me. And though I can't be with you today, my love, thoughts, and wishes are right there with you. Have a beautiful birthday, my loving husband!
Your birthday is a special day not just for you, but for both of us. It's a celebration of the day when my soulmate came into this world. Here's to a blissful birthday filled with love!
May this birthday bring you as much joy as you've given me over the years. Wishing you a very happy birthday filled with love and the warmth of beautiful memories!
Happy B-Day! Praying this wonderful day brings all the joy we've shared and more.
Sending you an ocean of love on your special day, my wonderful husband! May your birthday remind you of all the lives you've touched and the love you've spread over the years. God bless!
On your birthday, I want to remind you that to me, you're the only star in the sky, and the only wish I'm making today is for you to have a life filled with love, joy, and good health. Happy Birthday!
The beauty of our love is that it only grows stronger with every passing day, even in this long-distance journey. Wishing my true love a very happy birthday filled with love and joy!
Fun & Creative Ways to Send Your Birthday Wishes from Afar!
Distance got nothing on you, especially when it comes to celebrating the big day of your main man. Here's how you can sprinkle some extra special vibes on your husband's birthday:
Exclusive Card Magic: First up, nothing beats the classic charm of a card. Explore our snazzy online store's collection, loaded with cards that are just perfect for this occasion. Scribble down your wishes, and let our designs do the talking!
Virtual Party Time: Who said parties need a physical venue? Grab your favorite PJs, gather your mutual friends, and throw a surprise virtual birthday bash! With cake, games, and your heartfelt wishes, it's a digital fiesta he won't forget.
Shoutout to Social Media: Get your #BestHusband hashtag ready! Post that adorable pic of you two with your birthday message. Let your followers join in the celebration and shower him with love!
Digital Touch: Give your wishes a voice… or a face! Send over a quirky voice note or, better yet, a video message. It's personal, it's cute, and it's bound to make him play it on loop.
There you go! Four super cool ways to ensure your love crosses the miles with style and cheer. Happy wishing!
Related: The Greatest Birthday Messages for Your Husband
Conclusion
Staying connected has never been easier than today, yet making an emotional impact has become even more essential. Long distance birthday wishes, especially when crafted with heart and care, bridge the miles and make the world feel a little smaller. Whether you lean toward the humorous side or opt for a romantic birthday message, each word resonates in a world where long distance relationships test our bonds. Remember, it's not just about marking a special day; it's about making that day unforgettable. So, take a moment, pen down your feelings, and let your dear husband know just how much he means to you. Here's to every message that turns a simple day into a treasured memory!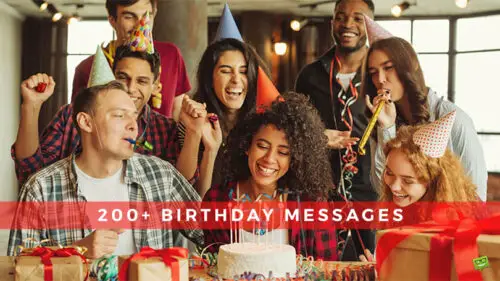 Related: 200 of the Best Birthday Messages to Make Someone's Day Special
You May Also Like:
Best 35 Funny Birthday Wishes for your Husband
Funny Birthday Wishes for your Husband