Is it your husband's special day? You tell him you love him quite so often, but aren't birthdays a great time to tell him again? These wishes will help you say Happy Birthday, Husband, funny-style!
Share or send him one of these funny messages and bring a smile upon your life companion's face. Rest assured he will appreciate and remember it.
Husband, I love you like I love my wine. Sweet smelling, older… and aged in oak barrels.
Happy birthday to my special man! Nobody else would take you, so I guess I'd better plan for a lifetime together!
Here's to the most beautiful, sexy, and overall most outstanding woman, me! Wait. It's YOUR birthday? Well, shoot. Then here's to you, my wonderful husband.
Happy birthday to you! Happy birthday to you! Happy birthday, dear husband! Here's to another fun year with you!
Knock knock. Who's there? Sexy. Sexy, who? Sexy was brought back with you! Happy birthday to my one true love!
For your birthday, I prayed that you will get every blessing that you deserve. Don't expect much.
The next time you think about complaining about your old age, don't forget that I am older than you! Enjoy your birthday, hubby.
Knock. Knock. Who's there? Well, I'll be! "Well, I'll be" who? Well, I'll be waiting for you with cake at the end of the day!
Happy birthday to the man who makes me laugh so hard I cry tears of joy. May we forever be as happy as we are today. I love you!
I'm so happy I found someone who is as amazing, beautiful, charming, stylish, and humble as me. Happy birthday, dear husband!
Ιt is your birthday! Time to celebrate! Or nap. You are old now. You should really just take a nap.
Wishing my husband Happy Birthday! Usually, I would let someone know that getting older is not such a big deal! In your case, it IS a big deal! Seriously, you should be worried, right now… #thatsthespirit
Happy Birthday! I love you more than as much as I love chocolate and wine!
Happy birthday, sweet husband! Thanks for doing your part to make me look younger every year.
Happy Birthday, Husband. You may be getting older but look on the bright side… You have a beautiful and wonderful wife to keep you company on the ride to old age.
No worries, dear. With every new wrinkle, my love extends beyond your fleeting good looks.
Congratulations! For your birthday, you're getting extra house chores. Love you honey!
Happy Birthday to you, Hubby. You are the smartest man alive and I am the craziest woman alive. You were smart enough to ask for my hand in marriage and I was crazy enough to say, "Yes".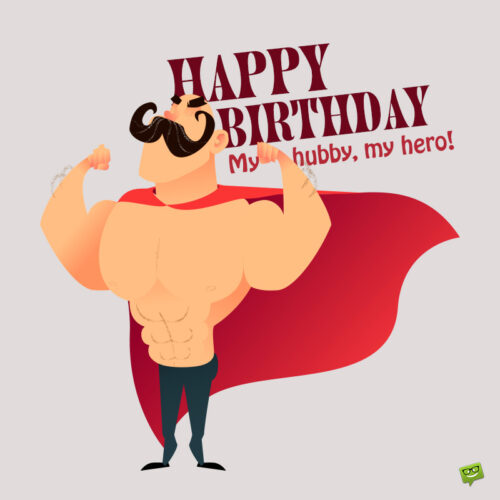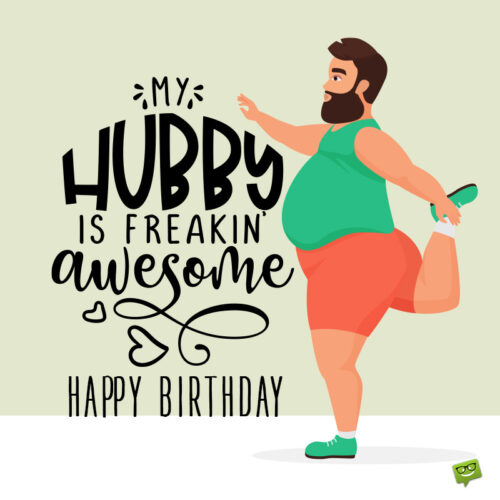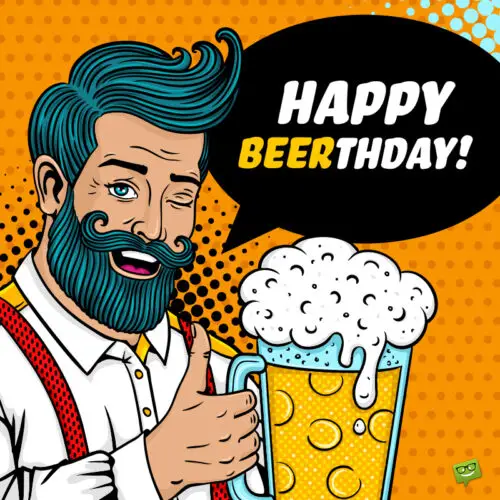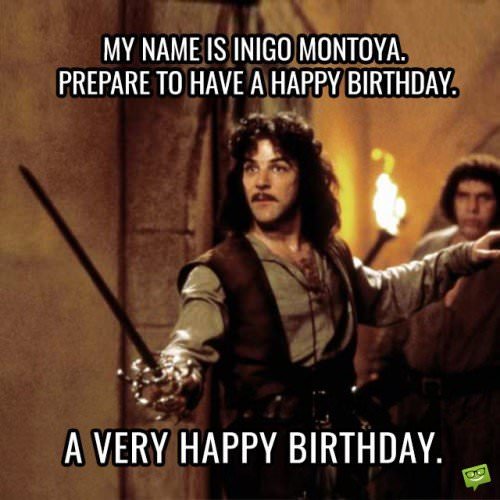 My name is Inigo Montoya. Prepare to have a happy a birthday. A Very Happy Birthday.
Sometimes you make loving you the hardest task of all… but I wouldn't trade it for anything else in the world. Love you, Honey! Have a nice birthday!
Thank goodness our children inherited my brains. I worry about you sometimes.
Happy birthday! You certainly don't look like you did when we first met in our younger years. But since it's your birthday, I won't make fun of your pot belly. Your welcome!
Happy Birthday and congratulation on having a head start in our race to the grave. Love always, your awesome wife.
Dear Husband. You are getting a bit too old to party hard like we used to on your birthday. But I'm not so I'll have twice as much fun in remembrance of you.
My sweet husband, I want to kick you out on most days. Then I remember that I simply can't live without you.
Happy Birthday to my handsome man. I'm so glad to have married a man almost as beautiful as me!
I was going to give you a hundred free birthday wishes. But I used 99 of them on myself.
No one is perfect…not even you. I have of list of things you can work on but, today, let's just enjoy your birthday.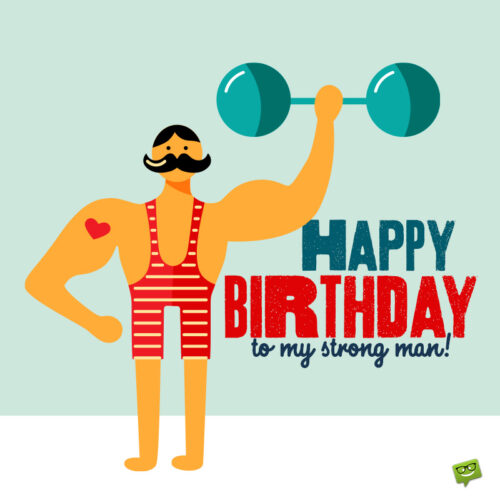 I didn't get you a fancy gift this year, instead I thought it best to go with something sentimental. Remember that time you told me how happy it makes you when I wear red? Well, I've bought a whole new outfit and accessories in lush red colors. Just for you! Happy Birthday!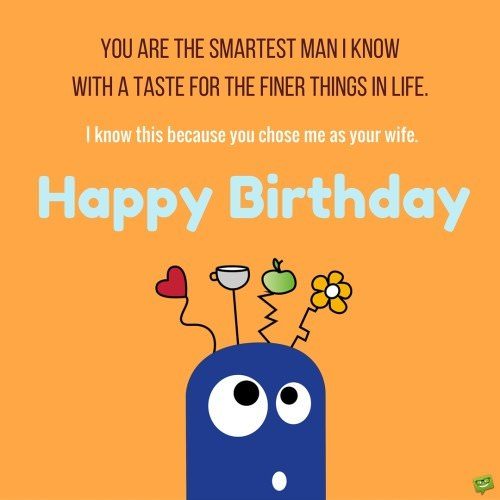 George Clooney might have the looks, but you certainly have the brains. Don't ask me which is more important, as you might not like the answer.
There is no shame in admitting you want to skip everything and go straight to the bedroom presents.
I might not be Angelina Jolie, and you are not exactly Brad Pitt. But if we were both killers in our secret lives like in Mr and Mrs Smith, I would lose the fight on purpose. Just so that you were left to clean up all the mess.
If I had to one of the characters from "Friends" that you are most like, I would have to say it was Joe. Not so much because he is sexy and lovable, but more importantly because he eats everything he can get his hands on!
If you get to be William Wallace from Braveheart, I'm allowed to be Elsa from Frozen. It was your idea for us to dress up, so deal with it!
You are just as handsome as Leonardo DiCaprio, as charismatic as Anthony Hopkins, and as smooth as Matthew McConaughey. Too bad you are also as silly as Sacha Baron Cohen's characters. And you definitely don't suit that mankini. Happy Birthday!
You may also like:
Happy Bday, Handsome! | The Greatest Birthday Message for Your Husband
Cracking a Birthday Joke | Huge List of Funny Birthday Messages and Wishes