The year you or someone you love turns 19 is a special one. And like every other amazing event in our lives, we all love to take as many pictures as possible to document the day. Maybe your best friend is turning the magic number, or maybe you're celebrating your own special day of making it to 19. Whatever the case, we always need captions for the pictures that we post on social media, right?
That's our job! We're here to give you a selection of captions that will go with your pictures when you're a bit stumped on what to write. Make sure all of your followers are keeping up with your life, especially the major moments in it.
Short 19th Birthday Captions
Commemorate your 19th B-DAY with one of these  brief Insta captions.
Announcement: I can confirm today is my 19th birthday.
My plans for today: party, party, party for on my special day.
Feeling an overwhelming sense of happiness. Happy 19th to me!
It's my big day and I want to be spoiled rotten.
It's here y'all! Accepting positive vibes and gifts for my 19th.
Bring on the cake. It's my 19th B-Day.
Editing my Birthday playlist.
I own this day.
Enjoying my 19th trip around the sun!
Relishing my last year as a teen.
You can't tell me nothing. I'm rocking this B-day outfit!
It's my big day and I just want to have fun.
At age 19, I'm stepping up my game and into the frame.
Aw snap! It's my birthday.
I'm always on fire. But today, I take the cake.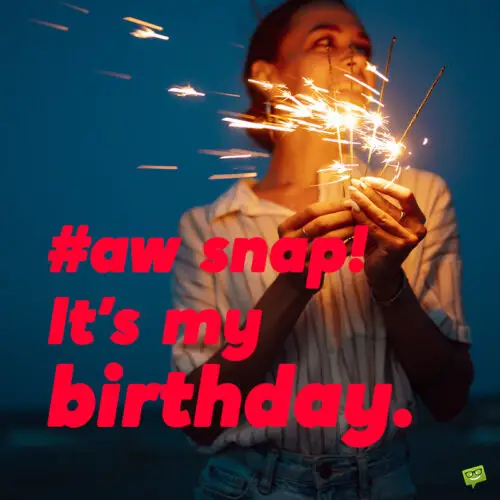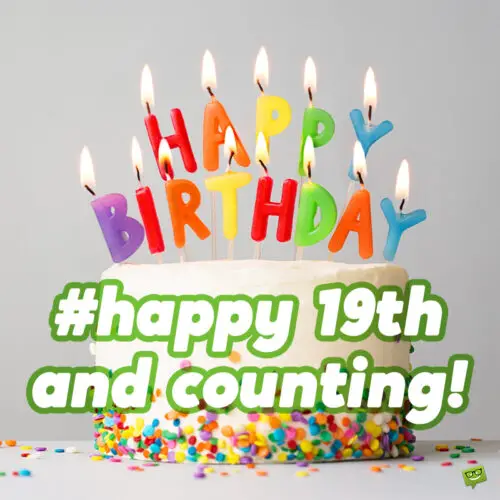 19th birthday captions for yourself
It's your special day, so don't be afraid to celebrate it with the best pictures and the best captions!
Rise and shine. Time to come up with lines to tell me how awesome I am on my 19th B-Day.
Woke up this morning, looked in the mirror, smiled and sang Happy Birthday to me.
I've been awesome for 19 years and counting!
Thank you to everyone who has put up with me for the past 19 years. More to follow!
Happy birthday to me, today I'm 19!
I truly can't believe I made it to the ripe old age of 19. Who would have thought?
Today is the day for everyone to turn their attention and focus on ME. At 19, I deserve all the love!
It's my big day. Time to glow up, grow up, and blow out the candles.
Throw the confetti and blow up the balloons. It's time to celebrate my special day.
Here's to another year of long hugs, roaring laughter, and big smiles. Happy Birthday to me.
Reflecting on this past year, and my heart can't stop smiling. Looking forward to celebrating my big day with family and friends.
The candles won't be the only thing getting lit today!
I'm making a big wish because being 19 only comes once in a lifetime.
It's beginning to look a lot like my birthday!
Today I blessed my family with the gift of me, 19 long years ago.
Being 19 is amazing. I'm not a child, still technically a teen, yet also an adult! Who makes this stuff up?
I thought I wanted to be an adult until I had to work. My wish for my special day is to be a millionaire!
Funny 19th birthday captions
Why not make your followers giggle with a couple of funny captions on this special day?
Who would have thought my bestie would have made it all the way to 19 without a major disaster? Come celebrate with us on this momentous day!
I bet you are spinning from the 19 spins you've taken around the sun!
Life's too short not to celebrate your birthday with me. You may be 19, but I helped get you there!
This special day is brought to you by lots of cake, ice cream, and laughter!
Too old to blame it on being a teenager and too young to blame it on alcohol. Oh, well, hope your 19th b-day is still spectacular!
Make a wish, and make sure you manage to get all 19 candles out in one breath!
Keep calm and birthday on. Being 19 rocks!
You are the gift that just keeps on giving, 19 years in a row. Have the very best day possible!
You are blessing the world with your amazing presence for another year, I see. 19 it is!
Watch out, soon you will be picking out the gray hairs. Celebrate while you still have a hairline!
19th birthday captions for friends
Show your friends how much you care about them by using one of the following captions for your social media posts!
I can't put in words how happy I am to celebrate this day with my best friend in the whole world. I'm beyond blessed to witness your 19th!
Here's to having one of the very best birthdays ever! You're only 19 once!
I may be here more for the cake, but I still want to tell you happy 19th!
Being 19 is a big deal when you are my friend. I expect you to party hard today!
Happy 19th and counting!
My bestie is having their 19th birthday, and it's time to turn up and rock the house!
Keep calm and keep the partying to a maximum- you only turn 19 once in a lifetime!
Every day is special when I have you as a friend. I'm honored to spend it with you on this most important of days!
Today is the 19th birthday of someone I love dearly. My friend, your special day can't compare to the beauty you give the world!
You're 19 and beautiful. I love you, and I want you to have a wonderful b-day!
I need to tell the world about someone who is turning 19. May we have decades of fun ahead of us to look forward to!
If You Liked it, Pin it!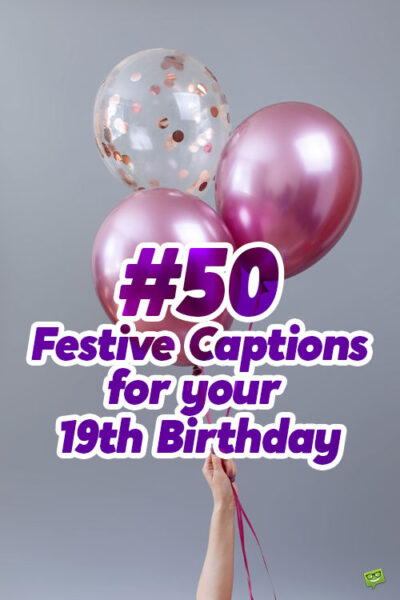 You may also like:

#MySpecialDay | 99 Birthday Instagram Captions
111 Amazing Selfie Captions for Pics of Yourself