Congratulations, proud parents! Can you believe it? Your little bundle of joy, who seemingly just yesterday was learning to walk and talk, is now all grown up, donning a graduation cap, and poised to stride into the vast expanse of the future. Time flies when you're changing diapers and paying tuition, doesn't it?
As you wipe that proud tear from your eye, you might be wondering what words of wisdom you can pass along to him. No need to dust off the ancient scrolls or binge-watch motivational speakers! We've got you covered. This blog post is bursting at the seams with 60 hilariously heartfelt graduation messages for your son. They're like a high-five for his brain, wrapped in love and a dash of humor. So buckle up, because we're about to turn those graduation clichés on their head! Ready to become the Shakespeare of parental pep talks? Let's dive in!
Table of Contents
Diploma in Hand, World at Feet: Motivating College Graduation Wishes for Son
Diploma in hand, the world at his feet – your son's graduation is a testament to his journey of perseverance and success. As we revel in this very proud moment on graduation day, we're excited to help you find the perfect words to express your joy and pride to your son on his momentous accomplishment.
Graduation day marks just the beginning, dearest son. The sleepless nights have finally paid off, launching you towards a bright future. Best wishes as you chase all your dreams!
Beloved son, your well-deserved success fills us with immense joy. Your graduation is not the end but just the beginning of a wonderful career. We're so proud of you!
Happy graduation, son! The diploma in your hand is a testament to your hard work and dedication. May all my hopes for you continue to take shape in your adult life.
Congrats, son! Your graduation day is a landmark that will usher you towards achieving greatness. Remember, all those nights of hard work have sculpted you for the brilliance to come.
To our baby boy, now an accomplished graduate – may God bless your path ahead. Your journey has just begun, and we are confident that a bright future awaits you.
As your proud parents, we're filled with joy seeing our dearest son reap the well-deserved success. Happy graduation, son! Here's to a future where all your dreams come true.
Congrats on your graduation, son! It's inspiring to see our baby boy now ready for adult life. Best wishes for your journey ahead, and remember, this is just the beginning.
To our beloved son, happy graduation day! As your parents, we couldn't be prouder. May all your dreams flourish in the garden of your career, nourished by your hard work and resilience.
Your graduation marks a significant milestone, dearest son. Your dreams are now wings that will lead you towards a future we are excited to witness. God bless your journey ahead!
Here's to our son who's made us the proudest parents! Your graduation day symbolizes the fruition of all those nights spent studying. Best wishes as you leap towards a bright future.
Click here to explore the best heartfelt Graduation wishes and messages 
Chasing Dreams: Uplifting and Motivational Graduation Wishes for Your Son
As the graduation ceremony unfolds, a flurry of emotions fills the air. Explore our handpicked selection of uplifting college graduation messages, sure to inspire your son as he steps into his next grand chapter.
As you step into your future endeavors, remember, the key to success is believing in yourself. Go conquer the world!
Just the other day, you were a little boy. Today, your successful career begins. We're extremely proud!
Your graduation marks a lovely moment in time. We see a mature adult, ready for a successful career.
From our little boy to a mature adult, your tough journey shows true dedication. Achieve greatness, son!
Welcome to the exciting journey of practical life, where your determination shapes your path. Keep forging ahead!
The dedication you've shown on this tough journey makes us extremely proud. God's blessings for a successful career!
Embrace your brand new life with open arms. Remember, the best stories are those yet to be written.
Watching your transformation into a mature adult fills us with pride. You've truly earned this moment. Go forth and embrace the success you deserve!
Your dedication has paid off in a big way. Enjoy every moment of today – you truly deserve success!
A heartfelt blessing for the road ahead – may it be filled with opportunities, laughter, and success!
As you embark on this new chapter, remember, each page written is by your own hand. Make it memorable!
Related: Graduation Wishes for your Girlfriend 
Onward and Upward: Inspiring High School Graduation Wishes for Your Son
Unfolding the scroll of graduation wishes for a son, we find tales of triumph and chapters of cheer. Here are our heartfelt verses, celebrating our beacon of brilliance on his momentous day.
Dearest child, congratulations on the successful completion of your high school journey. We're the proudest parents today, filled with so much joy at our hardworking son's achievement.
With every page you turned in high school, you wrote a new chapter of success in the book of your life. Congratulations on your graduation, our smartest son. The entire family is super proud of you!
As parents, seeing our son achieving such great success is a joy beyond words. Your graduation is a testament to your hard work and dedication. We couldn't be prouder!
Our hearts are filled with so much joy today. Congratulations, our hardworking son, on the successful completion of your high school journey. You've made your parents proud!
To our dearest child, as you close this chapter and begin a new one, remember that you are capable of achieving great success. We're super proud of you and believe you truly deserve all the success that comes your way.
Congratulations to our smartest son! Your high school graduation is a significant milestone, not only for you but for our entire family. We're super proud and overjoyed at your achievement.
Remember to personalize these messages to reflect your feelings accurately, and feel free to mix and match parts from different messages to create the perfect one for your son.
If you like this article you may also like our collection with 64 Heart-touching Birthday Quotes for Sons
Laugh Lines and Degree Signs: Hilarious College Graduation Wishes for Your Son
Cracking a smile during such a momentous occasion is a must. Dive into our collection of hilarious graduation messages, perfect for saying 'happy graduation' with a dash of humor!
Cap's on, kid. The real world's ready…I hope.
Graduation: The moment your alarm clock gets real!
Brace yourself, son. Coffee is now a food group.
Congrats, grad! Welcome to 'I miss college' club.
From student discounts to tax returns – cheers!
The tassel was worth every ramen noodle dinner.
Caps off to you! Next stop: Paychecks & taxes.
Congrats! You've graduated…now what?
Graduated: Check. Adulting: Loading…
Goodbye, textbooks. Hello, cookbooks!
Congrats! Degree hotter, wallet…not so much.
From late-night studying to early-morning adulting.
Diploma earned, reality-check pending!
Your degree's in hand, now brace for the bills!
Goodbye, school. Hello, student loans!
Congratulations! Your Google search: 'How to adult?'
Welcome to adulthood – pack coffee and resilience.
Study nightmares are over, work dreams begin!
Mastered the textbooks, now tackle the cookbooks!
Homework done. Life's test up next!
Related: Graduation Wishes for your Boyfriend
Crafting the Perfect Graduation Message for Your Son To Text or Include in a Card
Finding the right words to express your joy for your new graduate son can be challenging. That's why we've compiled a collection of heartfelt congratulation quotes and graduation messages designed to help you articulate your pride and joy. So, dear son, get ready for a whirlwind of love and pride coming your way!
Dear son, we beam with pride as we celebrate your accomplishment. Your hard work has finally paid off, and it's a joy to witness!
Congratulations on your graduation, son! The future is bright, and we can't wait to see where your journey takes you next.
Congratulations, son! Your graduation ceremony is a testament to your tireless dedication and unwavering perseverance.
Happy graduation, dear son! It's a moment to rejoice and look forward to the opportunities that await you.
The sleepless nights and endless studying have finally paid off. Congrats son, we're incredibly proud of you!
Best wishes for your future endeavors, son. Your graduation is just the beginning of a successful journey.
Graduation wishes for our son, filled with pride and joy! Your determination has led to this moment of success.
To our graduate son, congratulations on your achievement! We are thrilled to celebrate this special day with you.
Son, graduate with the knowledge that you've made us incredibly proud. This is your day to shine!
Son, congratulations on your graduation! Your accomplishment fills our hearts with immeasurable joy.
A successful graduation marks the beginning of an exciting journey. Congratulations, dear son, on this milestone!
Congratulations, dear son! This great achievement is only the first of many in your life.
Your graduation is such an invaluable gift to us, son. We couldn't be more proud of you!
Great achievement, dear son! Your graduation signifies the fruition of your hard work and dedication.
Seeing you achieve success is a reward in itself. Congratulations on your graduation, son!
And there you have it – a bouquet of carefully selected wishes and messages to celebrate your son's outstanding achievement. Each congratulations message is a testament to his hard work and perseverance, an accolade honoring his journey so far. As he steps into this exciting new chapter, carving his own path, we hope these words will inspire, motivate, and bring joy. Remember, each phrase can be personalized to truly reflect your pride and joy. From us to you, our best wishes as you navigate this momentous occasion. Happy writing and once again, congratulations to your graduate!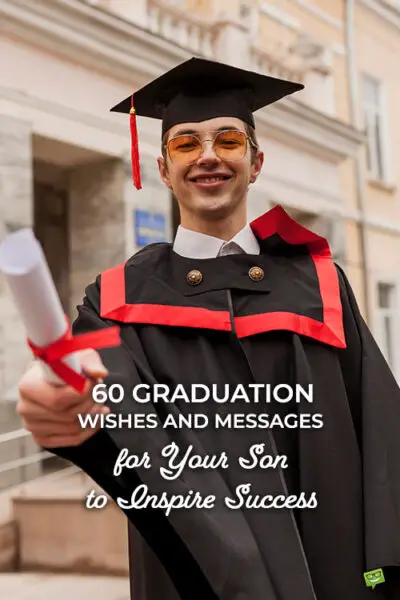 You May Also Like:
25 Graduation Thank You Notes and Messages
100 Retirement Wishes for Coworker: Quotes and Messages to Inspire
60 Touching 'Get Well' Messages for Friends with Sick Pets
50 Belated Birthday Wishes for Boss to Make Up for Forgetting