In any marriage ceremony, the best man is the guy who refreshes our memory of how awesome the bride and, particularly, the groom are.
For this reason, the best man's speech should be nothing short of terrific. Here's a compilation of sample speeches to set you on the path to crafting a short yet riveting speech for your groom. All the best!
Best Man Speech 1
Good morning, ladies and gentlemen! Let's show some deep love to the newlyweds by toasting and making some noise.
I should express my profound gratitude to the groom for being one of the most awesome individuals in my life for the past years/decades. Also, I'd like to recognize the bride for her sweet disposition and stunning outfit, and for agreeing to marry the groom!
To the bride and groom, I wish you an abundance of connubial bliss. May your union never lack in love, joy, health, peace, and understanding. And may you gracefully sail through the ups and downs of marriage life; and grow from grace to grace. Congratulations, once again. God bless.
Best Man Speech 2
Hi everyone, I'm happy and grateful to be present at no other event but the marriage ceremony of two of my favorite people on earth. I've known the groom since we were little kids, and we both have an arsenal of secrets about each other with which we can do tremendous amounts of damage!
However, seeing as the purpose of tonight is not to cause damage, I'd like to point out a beautiful trend in the notes from friends who couldn't join us tonight. An overwhelming majority of them think that the groom and bride are incurable romantics.
Guess what, they are right! I pray that these two lovebirds would enjoy their union in peace and bliss because they deserve each other. Long may they live in good health and happiness to see their children, grand children, and great grand children.
Lastly, my heartfelt thanks to you for showing up in your numbers to support this extraordinarily wonderful occasion. We are most grateful.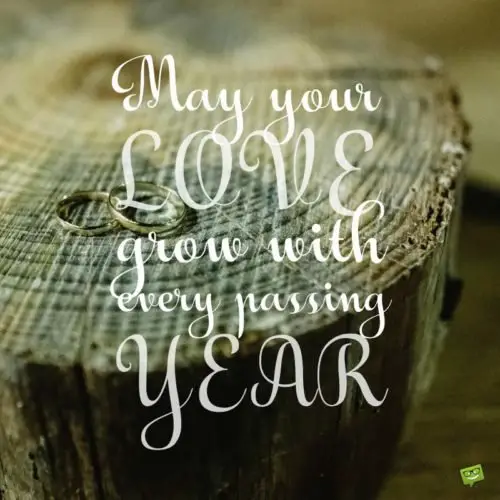 Best Man Speech 3
Good evening ladies and gentlemen, and thank you for coming to what has proven to be a spectacular celebration of the union of two beautiful souls. Of course, I would be remiss to proceed without acknowledging the hard work of the men and women who put this event together. We are very grateful.
I've known the groom for several years/decades, within which he's landed me into one trouble after the other — this speech included! As for his adorable bride, I've yet to see a more gracious woman of immense depth.
You two are an amazing fit, and I'm very happy to see you make things official. My only advice to the couple is to never forget their morning coffee, for it quickens the mind and livens the body.
Here's to countless years of joy, strength, sacrifice, and growth together. Congratulations, and thank you all for coming.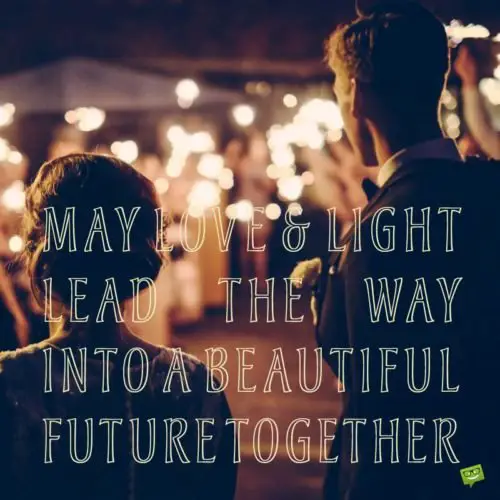 Best Man Speech 4
Hello to everyone, and thank you so much for coming to show your love and appreciation to our handsome groom and his beautiful bride. A big thank you to the organizers for making this event a truly memorable one – you, folks, rock!
The first time the groom met the bride, it was at a fancy college ball but being too shy to approach, he let her go. Thankfully, fate having its own way of doing things, the duo met again some months later and decided to take things to the next level.
To the couple, all I want to say is that if you make respect the bedrock of this union, all else will fall in place, as it should be. Ladies and gentlemen, please raise your glasses as we toast to long life, sound health, peace, and prosperity for the newlyweds!
Thank you!
Best Man Speech 5
It is with a warm and a heart overflowing with gratitude that I greet and address you, lovely people, on this absolutely glorious and joyous occasion.
The union we witness before us today is one of two individuals who have committed themselves to true love at its core. Ladies and gentlemen, may I also take this opportunity to acknowledge the relentless efforts of the men and women who organized this ceremony.
The groom and I have known each other since high school/college, and I can tell you for a fact that he's a virtuous, humble, and fine gentleman of our time. He's also a very lucky man to have this intelligent, beautiful, and caring woman for a bride.
I, for one, have no doubt that they will grow and nurture a beautiful family in the not so distant future. Furthermore, I wish them all the best that life has to offer a newly wedded couple. Friends, please join me in raising a toast to the success and longevity of the bride and the groom. Thank you.
Best Man Speech 6
Hello everyone, it's that beautiful time of the year when we gather to celebrate the union of a lovely, newly wedded couple. First of all, I want to thank you for coming, and to express my joy and gratitude for being here with you.
When I look in the beautiful bride's eyes, I see a woman who is extremely grateful for a kind, caring, handsome, and courteous groom. And in the groom's eyes, I see a thankful young man who's having one of the best moments in his life. Indeed, ladies and gentlemen, this is a truly blessed union, and I'm happy that they've found love in each other.
My advice to the couple is that they should take the time to nature this relationship, as it's only by doing so that they can flourish and shine for the world to see. I wish them success and goodwill in all their endeavors, and pray that they will grow to love each other even through life's many storms.
Long live the bride and the groom in good health and utter happiness. Congratulations, once again.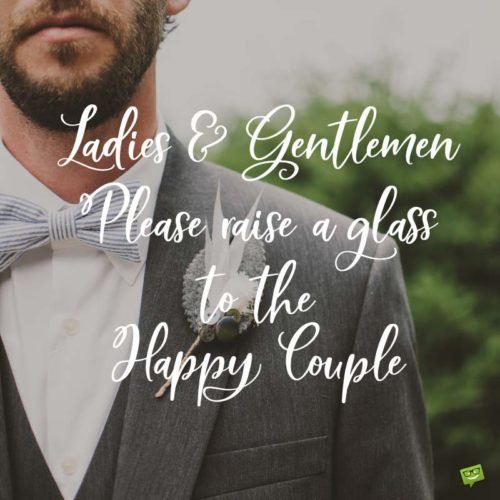 You may also like:
Enjoy your Honeymoon : 100 Romantic Honeymoon Wishes & Quotes
Marriage Greetings & Special Wedding Wishes
Words of Love for a Couple's Special Day | Wedding Wishes