Birthdays are special. They mark the continuity of the greatest of treasures – life. On your special day, you mark another year of your victories over the vices of the unpredictable life. We celebrate this special day with friends, families and in recent times, social media families, and it's celebrated in different ways. Do you want to make sure they remember today is your special day? Post these birthday statuses and share these It's My Birthday memes and quotes so that others act accordingly!
The way one might choose to celebrate a birthday might differ from the other person. Now, since happiness and celebration are things that come first from within, you could begin by wishing yourself a happy birthday in your own unique way.  This differs from person to person as well.
In our digital times, your birthday doesn't go unnoticed. Friends and family updates will always come and notifications to alert of their wishes will be displayed in our account. However, you can often steal some of the glory. It's simple: all you need to do is to update your status with what you wish yourself or how you feel on your birthday so your friends and family can see it. Here will explore the numerous birthday statuses that one can possibly use on their timelines. These statuses depict a person's mood on adding another different digit to the number of their years. Use responsibly!
Today is my Birthday! My Birthday Status

Everyone is entitled to 15 minutes of fame and one day of self-centered Status Updates. Happy Bday!

To quote the fabulous Dr. Seuss: "I am what I am. That's a great thing to be. If I say to myself, "Happy Birthday to me!" it means a great deal to me!
Happy Birthday to someone awesome, talented, beautiful, and funny! Yes, that's right, today is my birthday!
Today is my birthday, and I swear I will take up arms to defend myself against anyone who tells me I have become old.
Cheers to myself for surviving another year! May I have many more wonderful, crazy years ahead of me! Happy Birthday, Me!
Dear friends and family, it's my birthday! You can drop off all presents at my doorstep or just take me out to lunch. Thanks in advance for all the gifts!
Yay for me! I finally have an excuse to wear as much glitter as I want. It's my birthday!
Happy Birthday to someone that's one-in-a-million and the creme of the crop! You are the icing on the cake! That's right, I sure am!
Love to all for remembering me on my special day! It was a beautiful surprise to be able to have quality time to spend with great friends!
It's that time of year again. You know—the cake and ice cream. It's my outrageous birthday! Time to start the party!
Happiest of birthdays to me. Happiest of birthdays to me. Oh yes, happiest of birthdays to me. What's that—you want to wish me a happy birthday?
Today is my birthday. Congratulate my parents first, they taught me the awesomeness.
Thank you so much for the wonderful birthday wishes! My cup overfloweth with tremendous gratitude and love for each and every one of you! May we have another year of incredible adventures and unimaginable opportunities!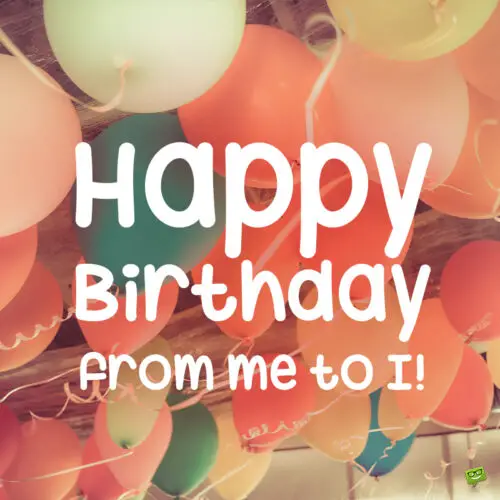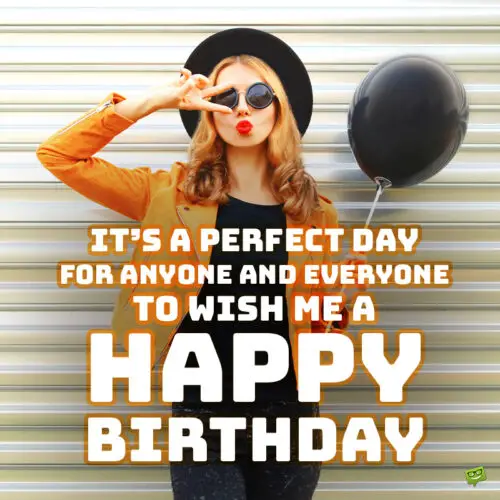 Happy Birthday from me to I! It's time to party because I'm superfly! Cheers to a brand new year full of laughter, love and new friendships!
I remind myself every year on this special day how blessed I am to have been given another year to experience the wonders of this beautiful world! God is good! My birthday is a day I cherish and love.
To everyone who ever wanted to spank me, now is your chance! It's my birthday! P.S. Mom, that does not include you.
Every single day, I pinch myself to make sure I'm not dreaming up such incredible, giving friends and family! I'm so grateful to have people like you in my life!
It's my favorite kind of day! I can't wait for lots of laughs, lots of cake, and lots of love! Happy Birthday to my dearest self!
Happy thoughts. Happy memories. Happy dreams. Happy Birthday! H-a-p-p-y B-i-r-t-h-d-a-y!
It's a perfect day for anyone and everyone to wish me a happy birthday. So happy birthday, love, me.
It was a fantastic day for a birthday! Plenty of laughter and fun had by all. You truly know how to make a girl feel so special! I can hardly wait to see what adventures this year will bring!
Also read: Huge List of 180 Funny Birthday Messages and Wishes for Extra Birthday Laughs
It's my Birthday memes and funny images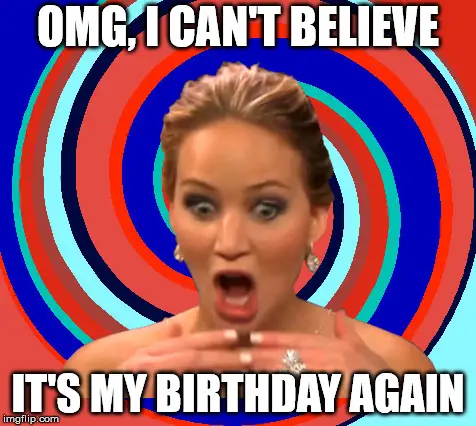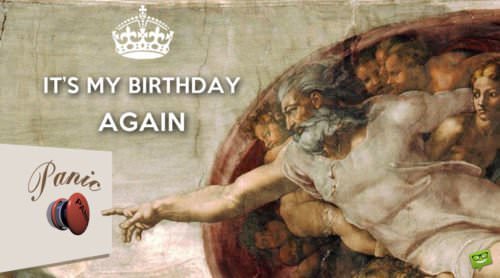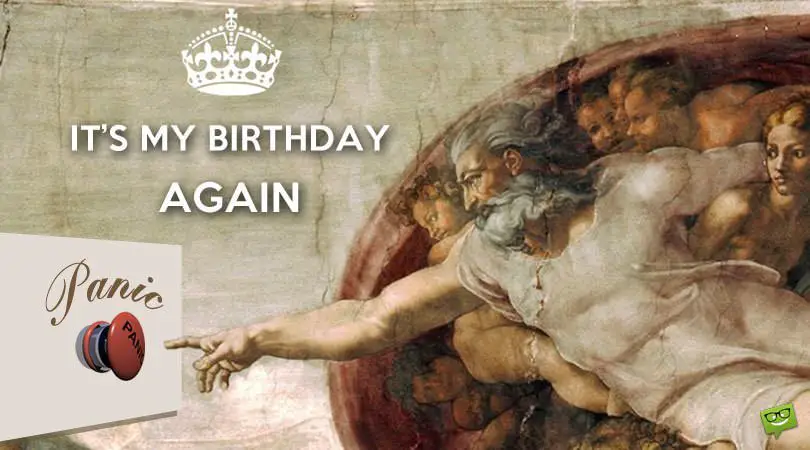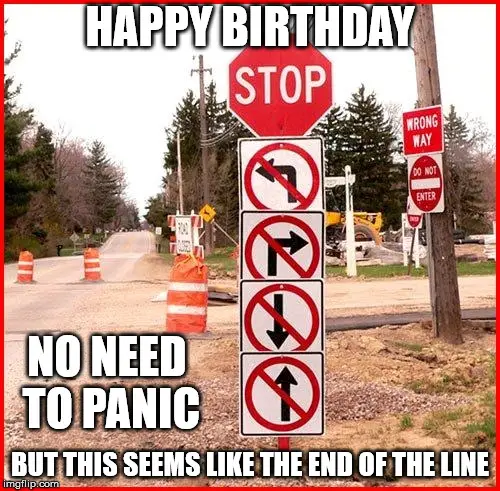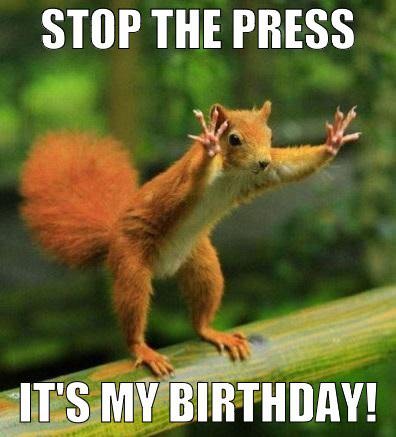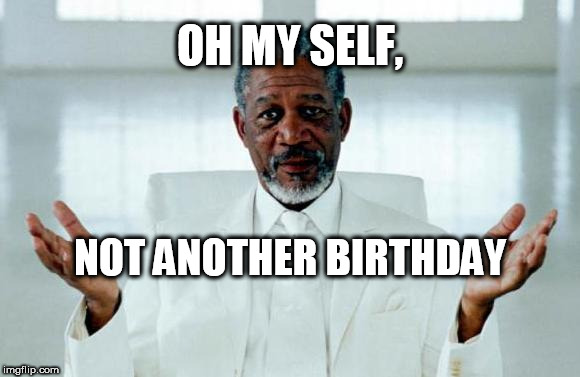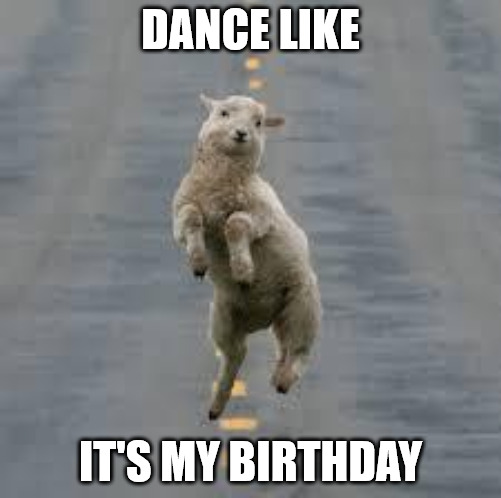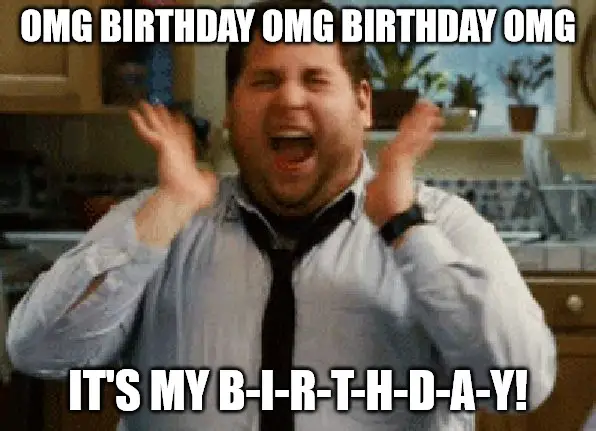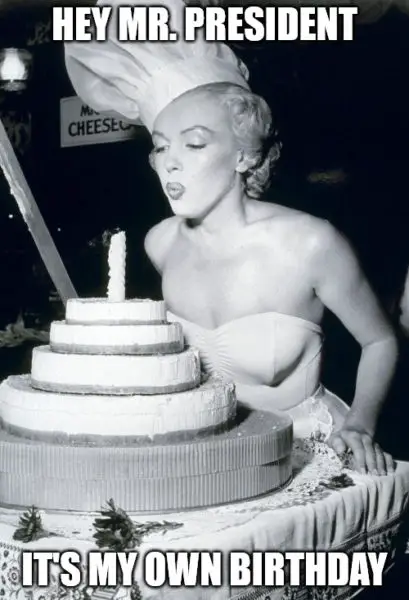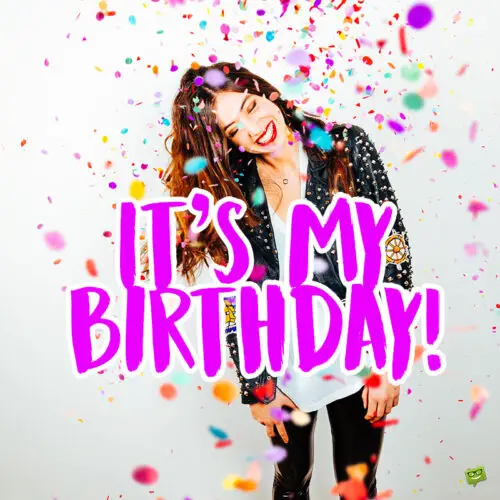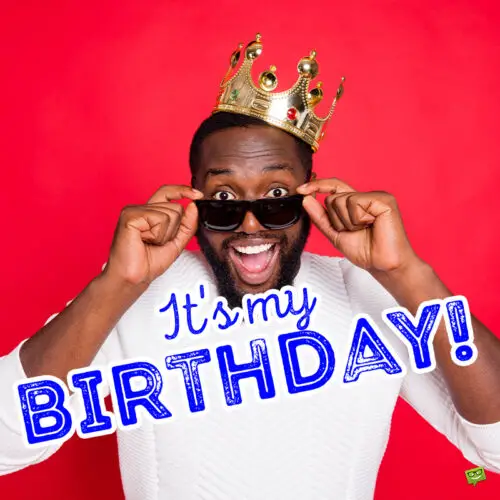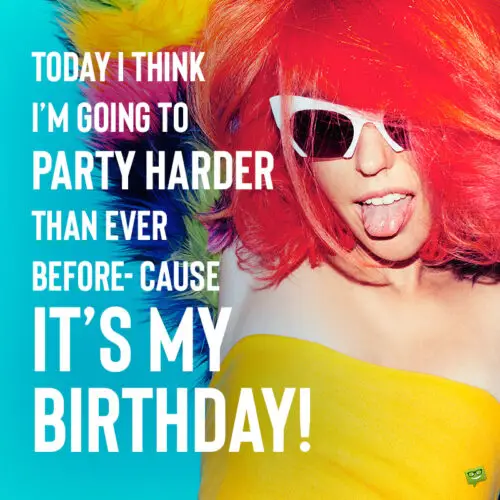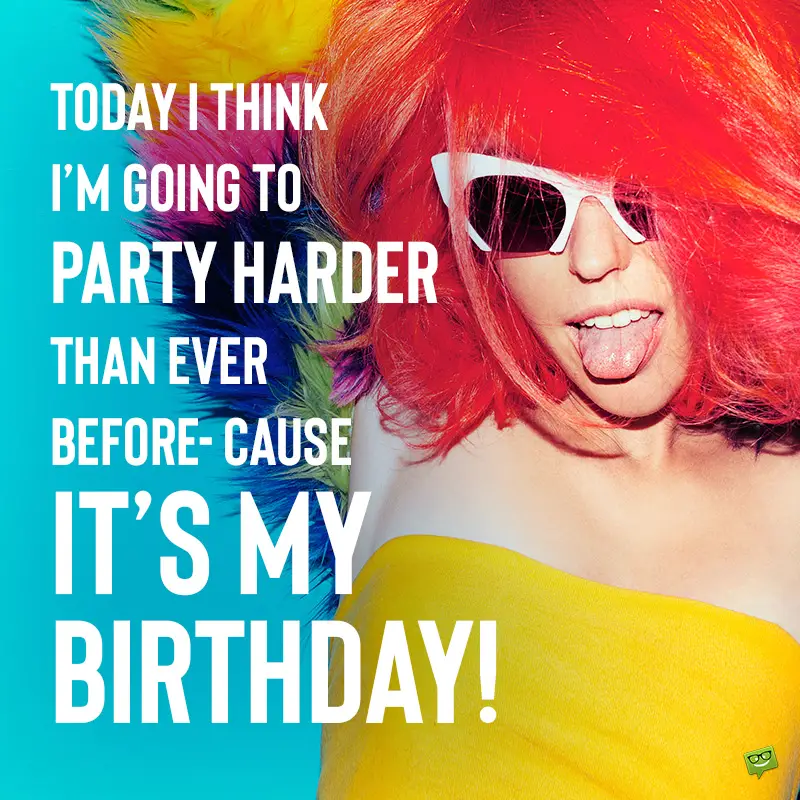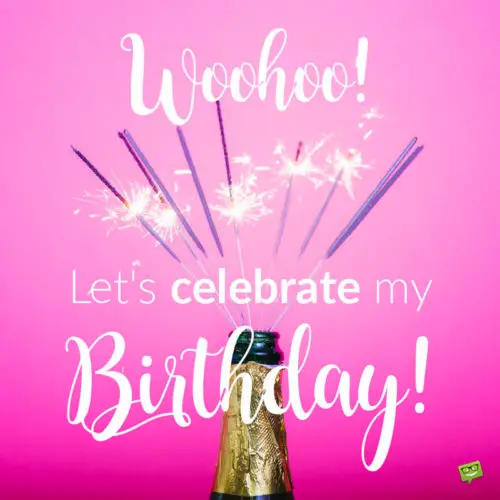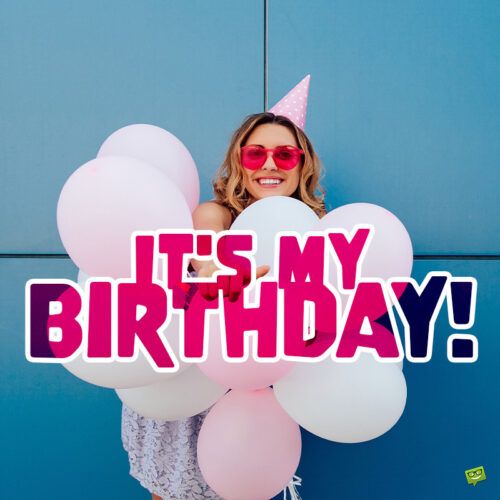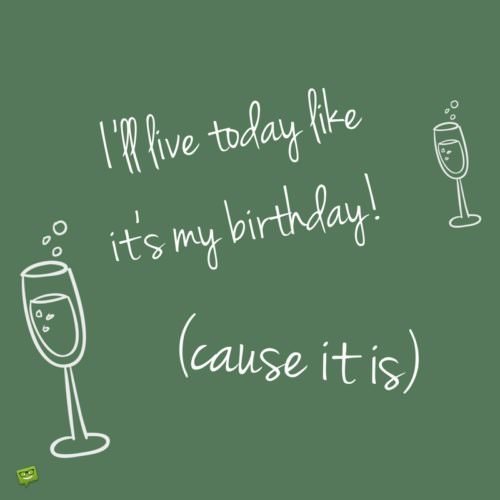 It's My Birthday Quotes
One of the best days to thoroughly laugh at yourself is on your birthday! Go ahead and use these status updates on your preferred social media platforms to announce your special day in the most humorous way possible.
Today, being my Big Day, God, please bless me with a sh*t load of money. Happy birthday to me!
Hi everyone, please join me in laying my youthful years to rest.
To the person I cut off in the line at Starbucks today, I'm not sorry. It's my birthday, b*tch! I deserve coffee.
My birthday cake is so bright I need to wear sunglasses before I can safely stare at it. I bet you haven't seen any cake cooler than mine!
Happy birthday to me! I am not old! So if anyone makes the grave mistake of calling me old, I wouldn't hesitate hitting them with my walking stick.
Only truly brave people enter into the land of old age! Happy birthday to one of the bravest persons on earth – me!
It is true that I might be aging, but at least I'm still alive! And what's more, I'm drawing closer to my pension! Happy birthday to me.
On my birthday, I have just realized that gravity is my greatest enemy. All the same, happy birthday to me!
God, if you want to make me infinitely happy on my birthday today, please make my economy incredibly good this year.
I can't believe it's my birthday again! I really need to slow it down before I start looking like Keith Richards' twin.
It's my birthday, and I shall count my blessings instead of the damn wrinkles on my face, so help me God!
I lit up all the candles on my cake to kick start my birthday celebration only for one of my scared neighbors to call the fire department because he thought my whole apartment was on fire!
Wishing the one and only me a super duper happy birthday! I guess this is the right time for me to increase my font size to the almighty "Billboard".
I'm not saying I'm aging, but now I understand what they mean when they say after 30, one's body develops a mind of its own.
Happy birthday to the sweetest man/woman in the world – me! I'm so sweet that if you touch, me you'll certainly get diabetes!
Wishing a fabulous birthday to one of the world's youngest and most gorgeous individuals – me! I bet all my retirement savings that I'm the coolest person in the world!
My apartment is really hot! I don't know whether it's because of the candles on my birthday cake or just global warming. All the same, I hope I have a great day.
Happy birthday to me. If the good die young, I certainly ain't one of the world's good guys.
Dear God, on my birthday, please make me live long without making me old. That's all I ask of you.
If aging were money, I am hundred percent sure by now I would be richer than Bill Gates.
Finally I have reached that age where it is increasingly becoming a good idea to start lying about my age.
Hurrah! Today I induct myself into the Aging Hall of Fame!
To everyone out there having a bad day, stay calm. It's my birthday.
God, since today is my special day, I ask just one special favor from you. Please, make my life as cool as I pretend it is on Facebook and Instagram!
I salute myself on this occasion of joining the prestigious club of the aged.
Happy birthday to me! I wish I could resist the temptation to count the candles illuminating my cake and focus on counting my blessings.
Happy birthday to me! They say my young and wild days are gone, but I seriously beg to differ. Those days have just begun! Watch and see!
On my Big Day, I commend myself for being the recipient of the "Most Wonderful Person in the World" award! I certainly will keep this up.
Since getting old is not for sissies, I must be the world's most courageous person.
Today I think I'm going to party harder than ever before- cause it's my birthday!
Dear self, celebrate this birthday knowing that at this point in your life, you do yourself a great favor lying about your real age. Happy birthday!
Oh God of mercy, so finally I make my entry into the kingdom of the old farts of the world. Damn!
Yes, I've finally gotten to that age where scrolling down to choose my year of birth on a website takes forever.
With the loads of candles on my birthday cake, I have no doubts in my mind that this month's heating bill is going to ridiculously low. I couldn't have asked for a better birthday present.
Another birthday! God please slow it down.
Today I am definitely having my cake… and eating it too! It's my birthday! Calories are non-existent on birthdays!
Today I'm going to party hard like I have all the right excuses- because I do! It's my birthday. Happy birthday to me. Look out world, this party animal has been let off the leash.
I might be aging and developing saggy skin, but I take solace in the fact that most people my age are dead.
As I mark this great day of my life, I can't help but ask myself time and again the question: "Where is my youth?"
I have finally reached the point of my life where my spectacles is probably more important to me than sex. Happy birthday to me!
Happy birthday to me! Hmm. There used to be a time when this age seemed so old it would never come!
They say in everything we should give thanks to God, for He alone knows what is best for us. So dear God, I thank you for making me age on my birthday today.
Happy birthday to me! You know you're getting old when your knees buckle instead of your belt.
If aging were an arms race, I would definitely have more stockpiles of nuclear weapons than Russia and America put together!
I will not let myself feel sad just because I'm growing old, for there are tons of pluses to old age. For example, in a hostage situation, I certainly would be one of the first to be freed (:
My birthday wish for myself is that God will make me grow so old that my peers will think I never made it to heaven.
Dear Lord, for making me age the way you have done, the least you can do for me is bless me with a fat bank account.
My Birthday Status for Social Media
Social media have revolutionized how we wish ourselves and each other happy birthday. Besides the written wishes, there are several pictures, applications, emoticons and videos that can be uploaded on every platform to announce birthdays. Here are some birthday status updates:
I have enjoyed all the past years with my family but today I'm going to enjoy my birthday with my friends and family on Facebook. Happy birthday to me.
May this day bring happiness and a life filled with happiness peace and serenity to me.
Birthdays are really good for me. The more birthdays I have, the longer I live and of course, the wiser I get.
Hope my birthday will blossom into a lot of dreams come true! Happy birthday to me.
I'd say "Happy new year" to me, as today marks the beginning of yet another great year for ME, packed with blessings and favor. I wish ME a happy birthday.
Hey Everyone! It's another merry day to eat, drink and rejoice, because it is my birthday. Happy Merry birthday to me.
Words alone can possibly not express how happy I am to celebrate another year of my life with you my friends! Happy Birthday to me.
Birthdays tell us to eat more and cake. Please eat some to celebrate with me my birthday…as they say birthday cakes have no calories.
Some birthday wish updates may bear a lot of wisdom and discernment yet with a funny twist to lighten the day as below.
Nature uses birthdays to make us eat more cake J. I am another year older, and wiser too. A birthday is just a finger post on the road of getting older and wiser. I'm just awesome. I`m more than just one a year older, I'm also one year better… and prettier. Don't envy me, y'all. IT'S MY BIRTHDAY, let's celebrate.
My friend got me a fossil and it reminded of someone's birthday which is today. Take a guess… that's me. Happy birthday to me.
No wise man ever wished to be younger and now that I am getting older, I feel old enough to know better, yet young enough to do it. Happy birthday to me.
May I live as long as I want to, and may I want to live as long as I celebrate this beautiful beginning of another year. To a beautiful life! Happy birthday to me.
When I die (on my 100th birthday) I wish to be on a beach house in some exotic place and my friends so upset they have to drop the ongoing fun. Happy birthday to me as I add one more year to my portfolio.
Life's usefulness lies not in its length but in how you apply it. I count the many years I have lived yet be able to look back and say that was worth it. I wish myself many more such years as I enter another great year in my life. Happy birthday to me.
One more year of existence gone, I vow to make this new year of my life count. Happy birthday to me on this beautiful day as I make myself more useful, resourceful and happier.
Birthdays are special moments for each one but as we expect birthday wishes from family and friends, we can also appreciate ourselves by putting up adorable, encouraging and appreciative messages updates on our Facebook wall to mark the day.
You may also like:
Happy Birthday to… Me! | 102 Birthday Wishes for Myself
Top 200+ Original and Funny Happy Birthday Memes
25 Memes to Help You Celebrate Good Times