Ho, ho, ho-liday snaps are around the corner, and we're here to sprinkle a little jingle-bell joy on your photo game! Gone are the days of bland captions—get ready to deck your posts with the merriest of words. Whether you're sipping cocoa by the fireplace, sledding down snowy hills, or just caught Santa munching on cookies, we've got the perfect caption to make your pics shine brighter than Rudolph's nose. Dive into our sack of Santa captions and let's make this season's memories Instagrammably iconic!
Table of Contents
Snap, Crackle, Claus: Captions for Your Santa Selfies!
Whether you're sitting on Santa's lap or donning the big red hat yourself, nothing shouts 'holiday spirit' louder than a Santa selfie! Ready your cameras and your merry mood, because these captions will make your festive face the star of the season.
Santa saw my Insta and said I've been good!
Just chillin' with the Chief Elf himself!
Santa said I could drive the sleigh next.
From the North Pole with love.
Santa whispered the North Pole gossip in my ear.
Red hats, rosy cheeks, and reindeer games!
Trading my wishlist for a quick pic!
When you and Santa are basically BFFs. #SquadGoals
Feeling Claus-tastic in this get-up!
Ho-ho-how do we look?
On the naughty list, but make it fashion.
Bringing the North Pole glam to my feed!
Twinkle in our eyes and magic in our smiles.
Sleighing the selfie game with Mr. Claus.
Decking the halls one selfie at a time.
Red, white, and full of holiday delight.
Beard game strong. Thanks for the inspo, Santa!
Claus and applause for the best selfie of the season.
I told Santa a joke, and now I'm on the 'nice' list.
Just two Santas spreading double the joy!
Santa Selfie Hashtags
#SantaSelfieSeason, #ClausCloseUp, #NorthPolePoses, #ElfieWithSanta, #RedHatRendezvous, #CheekToCheekWithClaus, #MerryAndBrightFaces, #SleighTheSelfie, #SantaSnapshots, #HoHoHolidays, #InstaWithSanta, #ClausCameraReady, #FestiveFaces, #JingleBellPics, #SantaSmiles, #DeckTheSelfie, #SelfieSleigher, #WithSantaWeSnap, #MeMyselfAndClaus, #JollyGoodSelfies.
Candid Claus: Behind-the-Scenes with Santa!
When the jingle bells fall silent and the reindeer are at rest, what's Santa up to? Dive into the magical behind-the-curtain moments of the North Pole, and let's bring those candid snapshots to life with these festive captions!
Caught in the act: Santa's secret to perfectly wrapped gifts!
Reindeer training in session. Rudolph's leading the pack!
Taste-testing Santa's cookies. Someone's got to do it!
When the sleigh's in the shop, it's all about Santa's backup plan.
Elf huddle! Planning the next toy masterpiece.
A sneak peek into Santa's workshop hustle!
"Mapping out the best route for Christmas Eve.
Gearing up the sleigh with some North Pole magic!
Every toy tells a tale from Santa's workshop.
The calm before the festive storm. Santa's zen moment.
Ho-ho-ho and a bottle of… milk!
"Claus couture: Choosing the jolliest outfit for the big night!
"Midnight munchies with Mr. Claus.
A jolly old soul, even in off-duty moments.
Behind every toy, there's a story and an elf's hard work.
The unsung heroes: Santa's elves in action!
Snow much to do, so little time!
Last-minute letters to Santa in progress!
Reindeer roll-call! Making sure everyone's ready to fly.
Santa's secret? It's all in the list-checking.
Behind-the-Scenes Santa Hashtags
#CandidClaus, #SantaSneakPeek, #WorkshopWonders, #NorthPoleNittyGritty, #ElvesAtWork, #ReindeerReady, #SantaSleighPrep, #HollyJollyHappenings, #ClausCaughtOnCam, #SantaSetUp, #UnwrappedWithSanta, #FestiveFlyOnTheWall, #SantaShifts, #PreChristmasPrep, #GiftsBeforeGlitz, #JingleAllThePrep, #SleighSetUp, #BehindTheBells, #MagicInTheMaking, #SantaSchematics.
Related: Perfect Christmas Cards with the Best Season's Greetings
Quick Frosty Flashes: Short & Sweet Santa Captions
Santa's on his way!
Cookies gone. Santa was here!
Dear Santa, it was the cat.
Checked twice, still nice.
Sleighin' all day.
Santa vibes only.
North Pole approved.
All about that jingle.
Waiting for the big guy.
Elves' day off!"
Up on the housetop.
Ho-ho-hopeful.
Snow much joy!
Decked out for Claus.
Claus for celebration.
Red hat, merry heart.
Reindeer ready!
Gifts galore.
Under the mistletoe magic.
Short & Santa Hashtags
#SantaSwagger, #ClausAndEffect, #ReindeerRevels, #HoHoHoliday, #SleighAllDay, #CandyCaneCraze, #SantaScene, #MistletoeMagic, #RedHatRampage, #NorthPoleParty, #JingleBellBash, #FestiveFrolics, #SnowflakeShenanigans, #MerrySantaMoods, #ChillinWithClaus, #DeckedOutDecember, #SantaSquadGoals, #WinterWonderlandWows, #ElfEsteem, #GiftsAndGiggles.
Related: Best Christmas Cards for Coworkers
Pun-tastic Claus Captions: Santa's Got Jokes!
Who said Santa's only gift was bringing toys? He's also packed his sack with a flurry of festive puns to light up your feed! Prepare for a blizzard of belly-laughs with these Claus-tastic captions.
Sleigh my name, sleigh my name.
Feeling Claus-trophobic with all these gifts!
I'm Claus for celebration!
Yule be sorry if you miss this Santa selfie.
Just elf-ing around in Santa's workshop.
Fir sure, Santa's on his way!
Up to snow good with Mr. Claus.
Sleighed it with my Santa hat today!
Santa's squad is on poinsettia-point!
Resting Grinch face until I open my presents.
Dear Santa, I can explain…
It's the most wonderful time to wear Santa's hat!
Wrap-ture moment with all these gifts.
Tree-mendously excited for Santa's visit!
Jingle all the way, and all the way we jingle!
Believe in your elf and Santa will too!
Ho-ho-hoping for more cookies!
Sleighin' the festive fashion game.
Hanging with Santa is my Claus for celebration!
Chillin' with my snowmies and waiting for Santa!
Punny Santa Hashtags
#SantaPuns, #ClausAndApplause, #SleighingCaptions, #HoHoHolidays, #ElfinAround, #SnowySillies, #ClausForLaughs, #JollyJingles, #SantaSilliness, #FestiveFun, #MerryPuns, #NorthPolePuns, #DeckThePuns, #YuleLaughOutLoud, #PunnyClaus, #SantaSnaps, #ElfieSelfie, #CheerfulChuckles, #WinterWitticisms, #FaLaLaFunny
Santa Squad: Captions for Family & Friends Moments!
In the festive frenzy of the season, it's the shared moments with our tribe that truly light up our world. Whether it's the whole fam bam or the gang getting together in Santa hats, these captions will encapsulate the magic of togetherness.
Santa's favorite crew coming through!
When the whole squad's on the 'nice' list. (Mostly.)
Matching pajamas, Santa hats, and a whole lot of festive fun!
Together, we make the merriest bunch this side of the North Pole!
Family, friends, and a sprinkle of Santa magic.
Sleighing the group photo game!
From our Santa squad to yours, happy holidays!
The more, the merrier… especially with Santa hats!
Huddled up for some Claus and effect!
Claus for a family reunion!
Santa's workshop: Home edition!
Twinkling lights and the tightest hugs.
Rockin' around the Christmas tree with my favorite elves!
Big hats, big hearts, and the biggest smiles!
All I want for Christmas is to freeze this moment forever.
Candy canes, Christmas carols, and the coolest crew!
Jingling all the way… together!
Under the mistletoe and over the moon with this gang.
When Santa met his match: The [Family Name] crew!
Our family's version of the North Pole party!
Santa Squad Hashtags
#SantaSquadGoals, #FamilyFestivities, #MistletoeMoments, #HollyJollyHomies, #FestiveFamJam, #ClausCrew, #SleighingWithTheSquad, #GroupGoals, #NorthPolePartyPeople, #SantaHatShenanigans, #MerryAndMatched, #TinselTribe, #JingleWithTheFam, #SantaSnapsAndGroupClaps, #TogetherAtThePole, #FamilyFrostyFun, #TogetherIsTheBestPlace, #SantaSharedSmiles, #FamilyFrameFestive, #GroupGlowAndSantaHoHo.
Related: Best 80+ Merry Christmas Quotes to Share this Season
Melodic Moments: Santa-Inspired Lyrics & Song Captions
Every jingle and jangle of the holiday season has its own melody, and what better way to caption your festive pics than with timeless tunes? Here's a medley of Santa-inspired lyrics that are pitch-perfect for your posts.
Santa Claus is coming to town!
Rockin' around the Christmas tree.
Last Christmas, I gave you my heart.
Jingle bell, jingle bell, jingle bell rock!
All I want for Christmas is you.
Here comes Santa Claus, right down Santa Claus Lane.
It's the most wonderful time of the year!
Rudolph with your nose so bright, won't you guide my sleigh tonight?
Have yourself a merry little Christmas.
I saw Mommy kissing Santa Claus!
Feliz Navidad, prospero año y felicidad.
Baby, it's cold outside!
Santa, baby, slip a sable under the tree for me.
You better watch out, you better not cry!
I'm dreaming of a white Christmas.
Oh, what fun it is to ride in a one-horse open sleigh!
Frosty the snowman was a jolly happy soul.
Let it snow, let it snow, let it snow!
Silver bells, silver bells, it's Christmas time in the city.
Deck the halls with boughs of holly, fa la la la la la la la la.
Santa Song Hashtags
#SantaOnRepeat, #YuletideTunes, #CarolCaptions, #FestiveLyrics, #JingleJam, #MelodicMerry, #ClausChoruses, #SantaSerenades, #HolidayHits, #RhythmicReindeer, #FestiveFeels, #NorthPolePlaylist, #TinselTunes, #CarolChronicles, #SantaSongbook, #WinterWhistle, #JollyJingles, #DeckTheLyrics, #ClausCarols, #SleighSongSnippets.
Santa's Timeless Tidings: Classic Quotes We Adore
Before we were double-tapping on the 'Gram, these quotes were making our hearts feel warm and festive. Let's take a sleigh ride down memory lane with Santa's most treasured sayings.
He who has not Christmas in his heart will never find it under a tree. Roy L. Smith
Christmas isn't a season. It's a feeling. Edna Ferber
Santa Claus has the right idea – visit people only once a year. Victor Borge
I stopped believing in Santa Claus when I was six. Mother took me to see him in a department store, and he asked for my autograph. Shirley Temple
Yes, Virginia, there is a Santa Claus. Francis Pharcellus Church
The main reason Santa is so jolly is because he knows where all the bad girls live. George Carlin
Santa Claus wears a Red Suit, he must be a communist. And a beard and long hair, must be a pacifist. What's in that pipe that he's smoking? Arlo Guthrie
Christmas waves a magic wand over this world, and behold, everything is softer and more beautiful. Norman Vincent Peale
My idea of Christmas, whether old-fashioned or modern, is very simple: loving others. Bob Hope
Santa Claus is anyone who loves another and seeks to make them happy. Edwin Osgood Grover
Dear Santa, I've been good all year. Most of the time. Sometimes. Okay, don't worry about it, I'll buy my own stuff. Anonymous
When you stop believing in Santa Claus is when you start getting clothes for Christmas! Unknown
Santa knows Physics: Of all colors, Red Light penetrates fog best. That's why Benny the Blue-nosed reindeer never got the gig. Neil deGrasse Tyson
A good many things go around in the dark besides Santa Claus. Herbert Hoover
Let's be naughty and save Santa the trip. Gary Allan
I once bought my kids a set of batteries for Christmas with a note on it saying, toys not included. Bernard Manning
Seeing is believing, but sometimes the most real things in the world are the things we can't see. The Polar Express
What I don't like about office Christmas parties is looking for a job the next day. Phyllis Diller
Dear Santa, define good. Unknown
Santa's coming! I know him! I know him! Elf (the movie)
Classic Claus Hashtags
#SantaSays, #ClassicChristmasQuotes, #HoHoHoQuotes, #TimelessTidings, #QuotesFromTheNorthPole, #BelieveInSantaMagic, #OldSchoolSanta, #SantaClausChronicles, #ClausClassics, #NorthPoleNostalgia, #FestiveFlashbacks, #YuleTideTales, #JollyOldQuotes, #SantaSpeaks, #ClausConversations, #MerryMemories, #SantaSagas, #FrostyFables, #SeasonsSayings, #CheerfulClausQuotes.
Pin this Image so you can save this Post for Later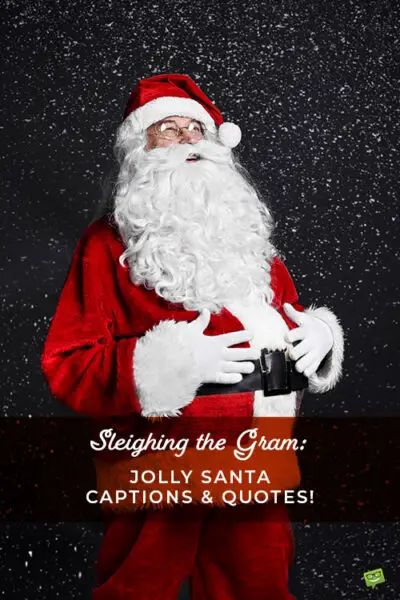 You May Also Like:
30 Clever Christmas Captions for Your Holiday Photos
Best 25 Christmas Baking Quotes and Captions for December 25