Christmas holidays is a time for rejoicing and no one is excepted from the blissful spirit of the season, not to mention family members you have chosen to spend your life with.
Show your beloved wife just how much you appreciate her presence in your life this holiday season with the Yuletide wishes we have provided below that are intended to relay such beautiful sentiments and make Christmas a memorable occasion for her.
---
True love may not cost a thing, but now that I have it, I'm going to embellish and enrich it on this Christmas Day.
This beautiful Christmas gift is material and will eventually fade away, but the love I have for you will last forever.
My entire side of the family has insisted that I extend their wishes for you, indeed us both, to have a wonderful holiday season.
Just as a raging blizzard cannot prevent Santa from delivering his holiday joy, know that my Christmas is also dedicated to making you happy.
This holiday season, I have taken a challenge upon myself to make this your merriest Christmas ever!
This past year has brought us many challenges, disappointments and tears, but the love we're going to share this very Christmas will make it all be forgotten!
The Christmas I have planned for you is so magical that next year, Mariah Carey is going to write a song about it!
I already have all I want for Christmas this year in you. Now it is my holiday goal to show you how much you are appreciated!
Christmas is the time of the year when I really remember how blessed I am to have you.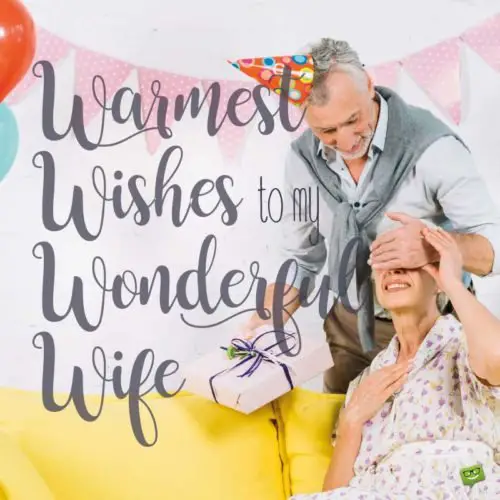 You, me and Santa Claus are like the holiday dream team, and this year, we're bringing home the gold!
Dear darling, you are more than the average wife. You are my inspiration and model of excellence, and there's no place I'd rather be than with you this Christmas.
I've never been a big fan of Christmas, but knowing it means something to you also makes it an important day to me.
Merry Christmas, my dear. I look forward to many more beautiful holiday seasons in the presence of your loving embrace.
Finally… the magical season that is solely dedicated to spending time with the woman I love the most in the world has arrived! I'm beyond happy! Christmas truly is a reason to celebrate!
I take nothing for granted and treat every Christmas like it could be our last, and as such, this holiday is completely devoted to expressing my love for you.
Christmas for me is no longer about playing with toys. Now it's about playing with YOU, my love!
Thank you for giving me a reason to actually feel blessed THIS Christmas and indeed every holiday that I spend with you.
Christmas is the season where I remember that I have been blessed with the best wife and my children with the greatest mother.
My sympathy goes out to all men who don't have the privilege of spending the holidays with a partner like you.
The way I'm going to love you this holiday season would be as if our Christmas tree were made out of mistletoe.
This joyful Christmas, you and I are taking our second honeymoon at the North Pole!
The immense joy you bring to the faces of our children and me is the only Christmas gift I need from you, my beautiful wife.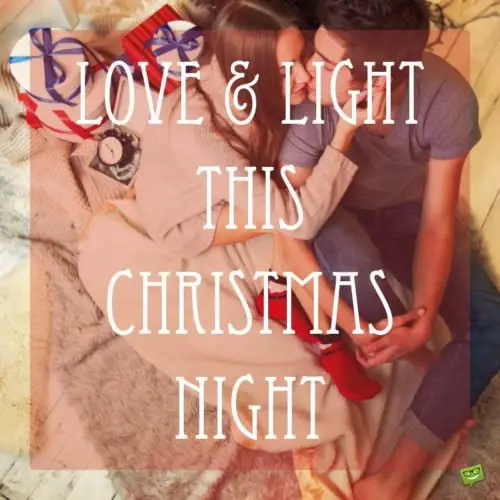 I don't care if you've been naughty or nice – there's no one I'd rather spend Christmas with than you, my beloved queen.
This Christmas, I'm going to tear into you as if you were the holiday turkey.
Between Christmas and you, I honestly don't know who is more beautiful. I love you so much.
I don't deserve a wife as special as you, and I thank God this Christmas for giving me such a lasting gift as your hand in marriage.
When you were a child you had Santa… but now you have me. Merry Christmas, my love. I'm going to make this one of the best ever!
Words can't express how blessed I feel to spend the holidays with you, and I hope that you feel the same way about me.
This special Christmas I have been gifted with beauty, magnificence and grace, which are all personified in the lovely woman I call my wife.
There's nothing I wouldn't give to spend Christmas in the warmth of your embrace.
I worked hard to be able to buy expensive gifts this Christmas, and there is no one I'm looking forward to spending money on more than you!
As long as there is a Christmas, I will always be your Santa. Happy holidays, my sweetest, dearest wife.
You have made this house into a home, so I am also going to transform your Christmas into an unforgettable celebration!
This Christmas, we're going to fill the family photo album with joyful memories that will be spoken of for generations to come.
You look so lovely this holiday season that I'm afraid when Santa stops by he might scoop you up and carry you to the North Pole.
This magical season is not about our jobs or our schools or our parents. Instead it's all about us.
Twenty years from now, you will look back on this Christmas and say, 'That's when I really and truly realized I married Santa Claus.'
I look forward to spending the entire 12 days of Christmas holding you and enjoying the paradise of your warm embrace.
Whether sunlight or snow, meat or herbs, gifts or poverty, I would never miss the opportunity of spending my Christmas with you.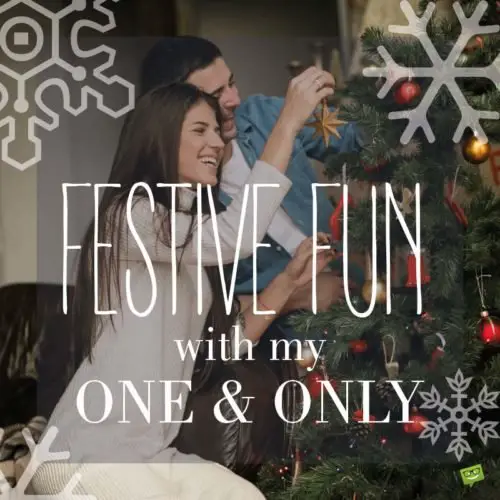 Even if Christmas has been overcome by materialism, I am overjoyed to have a wife like you to splurge on!
Not even Lebron James and the Lakers have the power to keep me away from you this Christmas Day.
I knew one day that the onus would be on me to make Christmas for a family of my own, but I never imagined I would have such a lovely partner in doing so!
All of the Christmas lights in the world do not compare to the light you bring into my world.
---
You may also like:
Spread the Spirit! | Top 200+ Christmas Quotes of All Time
The 250 Warmest Merry Christmas Wishes and Cute Cards with Season's Greetings
Merry Christmas Wishes for your Son