There are often moments in life when pure love can fill you with so much gratitude that simple words just won't work. Just like music does, that's when poetry comes to fill in that gap and tell the truth in rimes.
Our collection of original birthday poems for your boyfriend will help you satisfy the need for expression of the true luck to call someone yours.
When my cloudy skies turn grey,
you turn the color back to blue
by simply being perfectly you.
Happy birthday, boyfriend.  I love you forever.
Guys like you only come around once in a lifetime,
so I've decided to keep you in the potential-husband line.
But for now I'm just so happy that you're mine, all mine!
Happy birthday to the best boyfriend I could ask for.
If our lives went round and round like a carousel,
all I would bother tell is that we've loved so very well.
Happy birthday, boyfriend.
Before you came into my life it was dreary and blue,
and although oceans may separate us at times,
I always smile each day when I think of you.
Happy birthday, boyfriend. Thanks for just being you.
Though seasons of our lives may change,
my love for you will always be the same.
Congrats on another year of being the most awesome boyfriend.
Happy birthday.
As each year passes and some people get older
they also grow colder- but not you.
You keep getting HOTTER!
Happy birthday, babe. You're one hot boyfriend.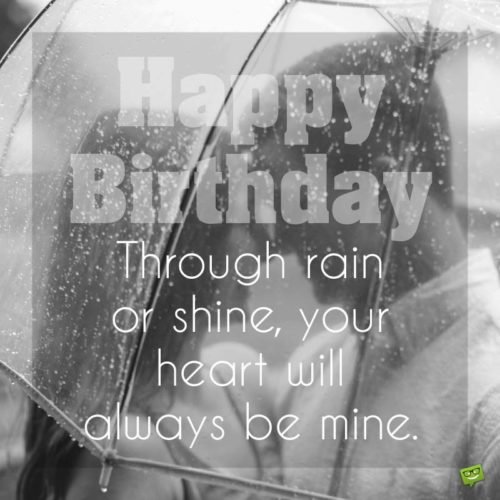 You are the greatest, the hottest, the best.
You know how to do some serious romance.
I'm so grateful to have you by my side
as we journey through life in this dance.
Happy birthday, boyfriend!
I like you to the moon and back.
If I'm Jill then you are my Jack.
Let my love for you run like a stream,
because you are my one and only dream.
Happy birthday, babe. You're the best boyfriend ever.
Ever wonder just how I feel about you?
I want to be your Mrs.,
I want to smother you with kisses.
Happy birthday to my boyfriend.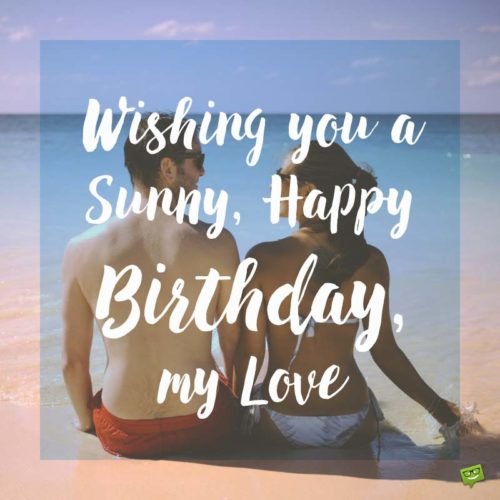 Dear boyfriend, you are truly the greatest guy.
I fear that without you I might die.
I used to be quiet and shy,
but now I have no reasons why.
Thanks for bringing me out of my shell. Happy birthday!
You are my boyfriend, my charming prince
and someone special in my heart.
I knew that I would love you right from the start.
Happy birthday, sweetheart.
Incredible. Wonderful. Awesome. Amazing.
If I had not met you my life would be something crazy.
I love you, boyfriend. Happy birthday!
I used to think my life would never change.
My dreams seemed far away and strange.
Then I met you, and I left behind all the doubt.
The best of me is the only thing you bring about.
I love you always. Happy birthday boyfriend.
They say you and me equals forever.
That's true, but today we equal love and cake.
Some serious dessert is what we're going to make.
Happy birthday.
Dear boyfriend, you are many things to me
but you are more than my boy toy.
You are my life, my love,
and my secret joy.
I love you with all my heart. Happy birthday, babe.
You are the light to my day, my rainbow in the sky.
You give me all the feels.
Ever since the day I met you I've been head over heels.
Happy birthday, boyfriend.
When my day is the worst and I'm down for the count, you always pick me up with your smile.
Since we've been dating I love you more each day because you always walk the extra mile.
Thanks for being the best you and making me the best me. Happy birthday.
Babe, on your birthday I make many wishes for you.
But more than anything I wish that all your dreams will come true.
As long as one of those wishes is about me and you.
Happy birthday to my favorite man.
I've been searching all my life for reasons.
Reasons to live, to breath, to have a purpose and become someone new.
It wasn't until we met that I realized that something was you.
Happy birthday, babe. I love you.
Through our life together seasons will come and people will go.
But you and I are forever and I can't wait until we share those moments when we're gray and old.
Happy birthday, boyfriend. To many more years to come.
Houses, cars, places and things.
These are all the items I'm willing to lose.
But at the end of my life the one thing I still want to have is you.
Happy birthday, boyfriend. You have made all my dreams come true.
HAPPY HAPPY Birthday to the most amazing boyfriend.
Because I have you I am truly blessed.
Now it's time to celebrate and start the party
… it's time to get undressed.
I'm so glad you entered the world on this day.
God gave me you at just the right time.
More than anything I'm so grateful you are mine.
Happy birthday, boyfriend. You are the true love of my life.
Before we became a couple, my heart and love was fragile.
I was afraid to kiss you, touch you, call you mine.
But now that you and I are an 'us' my heart is only afraid to miss you.
This is why I will never let you go. Happy birthday, boyfriend.
Long walks on the beach, movie nights, and cozy bubble baths.
These are all the things I love doing with you that make me believe our love will last.
Happy birthday, boyfriend. I love you.
I have loved you since way before you were born.
But now that we are both here I see more in your future than just a birthday cake.
Children, romance, a great life of adventure and wonder are the memories we will make.
Happy birthday, boyfriend. I can't wait to tell our story.
If life was only about celebrating the big moments it would be a real bore,
so sharing each and every small moment with you has been amazing- it's been nothing like a chore.
Words cannot describe how blessed I am to have you as my man.
I'm forever grateful you really see who I am. Happy birthday, boyfriend.
---
You may also like:
140 Heartfelt Birthday Wishes for Boyfriend: Celebrating Another Year of Love
15 Sweet Birthday Paragraphs for Your Boyfriend
50+ Funny Birthday Wishes That Will Make Your Boyfriend Laugh on his Special Day