Struggling to craft a sweet and touching happy birthday speech to a loved one or acquaintance? If that is what you are battling with, you have come to a place that will help you easily surmount that challenge.
Below we have put together some beautiful speeches that you can deliver on the birthday celebrations of the wonderful people in your life. You can use these fine orations the way they have been published here or pick ideas from them to write your own.
Table of Contents
Birthday Speech for a Friend
Whether it's your best friend or a friend from middle school that you haven't seen for years, you'll find what you need here.
You've been my best friend since 6th grade. I'll never forget you walking into my math class and sitting right next to me like you knew we were meant to be best friends. Ever since that day, I have had the privilege of watching you grow as a person. I've made plenty of mistakes in my life, but I've always had a safe place to go where I wouldn't be judged. So, thank you for always being on my side for the last 10 years. Thank you for being my best friend. Happy Birthday.
Thank you for thinking of me on your special day. We haven't seen each other for years, but it's amazing how we talked today like no time went by. I hope you are having a great time. I know I am. You've grown so much as a person since we last saw each other. I'm so excited to get to know you again and pick up where we left off back in the day.
(NAME), your ability to keep me out of trouble has been one of the greatest attributes I admire a lot about you. I still remember back in the days when we were kids and how you used to keep the adults very busy with your amazing antics, just to make sure I never got spanked for my mischievous doings.

On special days like today, I think we should make merry and let the whole world know that we are celebrating the most important day of the year. I pray for many days like today for you, but I hope you know that more birthdays come with more wrinkles on your face. Anyway, I know you love birthdays and wouldn't mind having many wrinkles on your face just to celebrate another birthday. May this anniversary bring joy and happiness to you, (NAME).

Being a truly special day today, ladies and gentlemen, I'd like to use this opportunity to invite you all to become wildlife supporters so that we can all have a fabulously wild party!
It affords me much pleasure to have the privilege to deliver this speech in honor of the birthday celebration of a dear friend of mine. (NAME), I will like to take advantage of this outstanding day in your life to let you know how much your presence in my life means to me. I might not say it to you very often, but you mean the world to me. (NAME), you and I have been the best of friends since we were little. I know you inside out and you know me inside out. But you are really more than just a mere friend to me; you are my brother/sister and inspiration.

All my life I've never seen anyone that is as loving and caring as you. And in addition to that you have an excellent sense of humor, which makes you the more wonderful. I wouldn't trade your company for all the gold in the world. How blessed I am to have a magnificent person like you whom I call my friend and brother/sister.

On this special day of your life, I wish you all the good fortune in the world. May this anniversary celebration mark the beginning of breathtaking accomplishments in your life. You deserve it. You have really come a long way and achieved a great deal in many spheres of your life despite the challenging circumstances and obstacles that stood in your way.  I'm so proud and honored to be counted among your closest friends. Have a gloriously happy birthday celebration and a long life accompanied by good health, happiness and peace.
Funny birthday speeches
This category could fit anyone in your life. So, if you want to stand out and make them laugh, this is for you.
Happy birthday to one of maybe 3 people that I don't need Facebook to help me remember that you're aging. We're all here to celebrate you, and you should really appreciate that. I mean, I gave up my evening of doing absolutely nothing to be here with you. But seriously, you're the family member I'm least ashamed of being related to. So, thank you for that and enjoy your day.
Well, I was going to joke about you getting older, but then I remembered that every year you get older, I also get older. So, I had some wine and thought about it. Age really does get better with wine. Anyway, here's to one year closer to being that crazy cat lady, talking to ourselves and being the only ones laughing at our own jokes. Oh wait, we're already there.
Dearest (NAME), I congratulate you and wish you a happy birthday for growing a year older. It is always nice to be in your company because you are such a fun loving person.  It amazes me how you are able to perfect the art of putting smiles on faces of people around you. Indeed, you should be contesting for the award of the "The World's Funniest". On Sundays. In April. In leap years.
Birthday speech for Mom
Whether you're best friends with her, or just love your mom dearly, this list is for her:
Thank you for being my best friend and confidant for so many years. Not everyone is blessed to have a caring, loving mom like I am. And I want you to know that I am truly thankful. I have always been able to come to you with anything, and that has helped me become the confident person that I am today. So, thank you, and I wish you all the best on your special day and every day after.
Mom, I haven't known you for my entire life, but I struggle to remember a time that you weren't there. Thank you for accepting me as yours. Blood isn't everything and you have shown that by taking me in and treating me like your own child. I know I'll never be able to repay you for that, but just know that today and every day, I appreciate it.
Birthday speech for Dad
This category is for your dad, whether it's a father figure or your actual father.
Hey Dad, today is your special day and I want to make sure you know how much I appreciate you. Every time I needed advice about life, or my car was making a funny noise, I always knew I could come to you. Thank you for teaching me how to take care of myself. Although I still might have to call you when something breaks, you have taught me how to be a good person above all.
I know you weren't there when I was born, and you didn't see me take my first steps. But you will always be my dad. You have come into my life and taught me how to be a self-sufficient person. You taught me what love really is, and I want you to know that I wouldn't trade you for the world. Thank you for choosing me and never giving up on me. Happy Birthday dad.
50th birthday speech
The easy joke is calling you over the hill or halfway there, but the truth is that you've been on this earth for half of a century. That sounds like a long time, but it's really not. Life is so short. Time truly flies. But I'm so lucky to have known you for some/all of those 50 years.
You've been alive for 50 years, and you are still the kindest person that I know. You have grown with such grace and empathy. Some people get cold as they get older, but after being here for 50 years, you are still just as kind as the day we met. I wish you continued happiness on your journey.
60th birthday speech
Although you're 60 today, it continues to amaze me how much you still want to learn and grow. This age is the perfect time to try something new. So, let's try yoga or go horseback riding. Either way, if I'm there with you, I know it'll be a blast. It has been an absolute pleasure knowing you, and I wish you an even better year than the last.
Today, you're 21,915 days old. Sure, that sounds like a lot, but you have truly used all of those days to do your best. For 60 years, you haven't stopped giving, caring and loving those around you. You always make sure the people around you know that you care about them and what they have to say. So, today is for you. We're celebrating, giving, caring and loving you today because you deserve it.
Birthday Speech for Your Husband
To my darling husband, (NAME), on your birthday, I say, "Thank you from the bottom of my heart for always being by my side to love, support, encourage and protect me". You not only make my heart happy but also my entire body as a whole. God really blessed me abundantly the day He brought us together.

You are such a phenomenal friend and husband to me. Honey, not even all the words in the dictionary will be sufficient to express to you the amount of love that this heart of mine has for you. Such is the depth of my love for you. Thank you for every beautiful thing you have done for me.


Prior to meeting you, I always wondered who would ever feel the great vacuum in my life, but then you came into my life and not only filled that emptiness in my but whisked me to paradise. Having an amazing friend and husband like you is worth more than all the diamonds and money in the world. I truly love you from the bottom of the deepest cores of my heart and soul.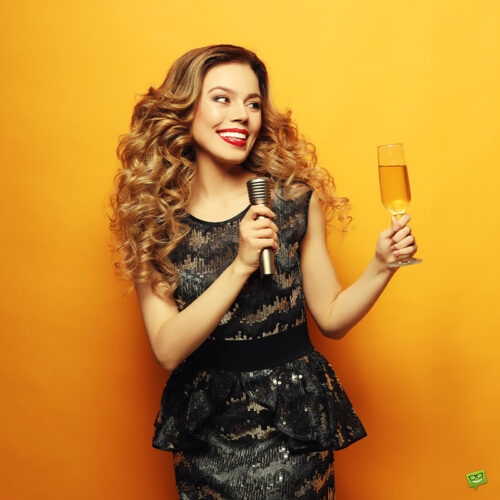 Birthday Speech for Your Wife
To all the beautiful people here, who took time off their busy schedules to attend the birthday celebration of my beloved wife, I say, "Thanks for being so wonderful to us". I can forget everything in my life, but never will I forget the birthday of my beloved (NAME), who is not only my sweet wife but also my best friend and mentor.

On your anniversary, honey, I have a confession to make. When you go to bed, what you don't know is the fact that very often I wake up in the middle of the night and stare at you as you sleep peacefully finding it hard to believe that a wonderful woman like you chose me to be her husband. How I became so lucky to have you in my life is something I will never understand. You are indeed the greatest treasure of my life – there's absolutely no two ways about it!

(NAME), thank you for being an incredibly caring, loving and supportive wife to me. Thank for touching my life in a way that no other has and will ever do. From the deepest part of my heart, I wish you a long, happy life. May every desire of your heart that hasn't yet materialized begin materializing in grand style from today onwards. I love you so much, honey. Thank you for being my superwoman and the love of my life. Happy birthday!
21st Birthday Speech from Mother/Father to Daughter
We've come a long way from the Cinderella-themed parties when you were young. Now I am suddenly looking across the table at an adult. I'm not sure where the time went, but I am so proud of the sweet, intelligent, beautiful girl you've become. As you explore adulthood, I just hope you are happy, safe and stay true to yourself no matter what.
For 21 years, I have watched you grow, learn, struggle and overcome, but one thing I was always so proud of is your determination. That fire inside of you has been there for your entire life. Whether it was learning to walk or to drive, you always had that fire in your eyes, and I can't wait to see where that determination takes you. I'm endlessly proud of you.
Birthday Speech for Your Daughter
My sweet angel, as you turn a new age today, know that there's nothing in this world that I wouldn't do to put happiness in your heart and smiles on your beautiful face. You are my rainbow and everything I treasure in this world.
Sweetheart, I only have one advice for you today. Work hard and never stop having faith in yourself. If you do this, all you big dreams will always come to fruition and you will certainly be all the things you want to be.
You are a beautiful young woman who brings glory to me all the time, and for that I shall forever be thankful to my lucky stars. Sunshine, may the good Lord be with you every moment of your life and guide your every step. Happy birthday, my dearly beloved daughter. I love you so much.
Birthday Speeches for Your Son
Son, you are one of the biggest reasons I wake up with a smile on my face every morning. You make me exceedingly proud to be a father/mother every second of my life. I couldn't have asked God to bless me with a better son. For as long as I live, I shall support you physically and spiritually. I shall always be there for you through the good times, the not so good times, and the bad times.

Before I take my seat, I'd like to take this opportunity to ask everyone here to kindly join me to wish my dear son and friend a super duper happy birthday! I love you so much, son.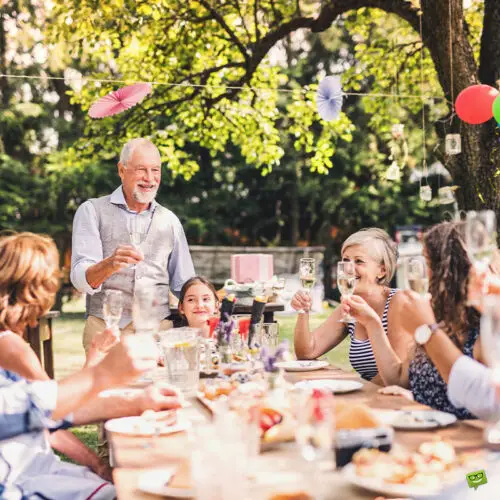 Birthday Speeches for Your Brother
Happy birthday to the best brother in this world!  I know I can always count on your support during difficult and pleasant times. You are someone who always seeks to have a positive impact on everyone who comes into your life, which I believe is the reason why you have attracted so many good friends. Planet earth will be a very wonderful place to be if everyone had a brother like you who is so selfless and very tolerant as well.

(NAME), we have had many amazing moments together and I can remember our childhood days when we used to do a lot of wild and crazy stuff. Growing up was really fun with you around. I want you to know that I cherish every moment that I spend with you. Brother, you are the reason I am who I am today and this is because you always inspire and encourage me to seek greater heights in life.

Today, being a very important day in your life, I want to use this moment to express my sincerest gratitude to you for all your support, care and above all the extraordinary love that you have shown me. My prayer for you is to have a life that overflows with joy, happiness, and good health. Happy birthday, dear brother!
Birthday Speech for Your Sister
Happy birthday, lovely sister! I truly think that you deserve an award for the "Best Sister of the Year", and to be honest this is not because you have been an amazing person to me, but your exceptional qualities as a person and a woman for that matter needs to be applauded.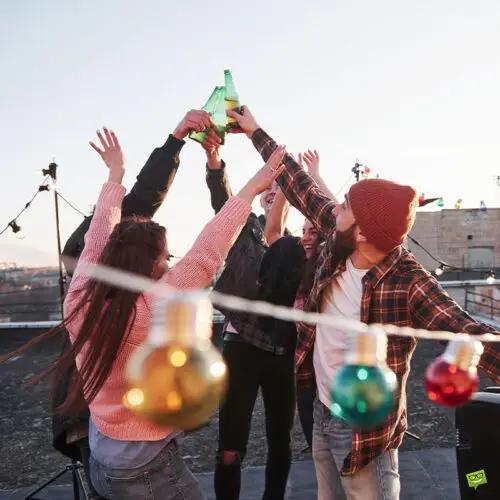 Sweet sister, whenever the thought of you crosses my mind (which it often does), it brings memories of very exciting moments that we have shared together. You are caring, smart and full of fun, which always makes me feel that I am the luckiest sibling on this earth, knowing that I have someone very special like you in my life.

(NAME), I can't thank you enough for all the awesome things that you have done for me. You have been my best friend, and I can't imagine how my world would be without you. I want to congratulate you on adding another year to your life and I hope that this birthday brings you an abundance of happiness and joy. Happy birthday, dear sister!
Birthday Speech for Your Boss
Hi everyone! I always count myself to be one of the luckiest persons in this world to have such an extraordinary boss like you. Your relationship with your employees transcends the usual. To me, you are a best friend and a brother as well. I will be forever grateful to you for all the support you have given me and most importantly for giving me the opportunity to be a part of this wonderful Company.

Your leadership style is one of the best one can think of. You are always on the lookout for the best in terms of the welfare of your employees and the Company as a whole. Professionally, I consider you to be the best boss I have ever met. You have made the workplace one of the most enjoyable places to be.

I can't thank you enough for having a good impact on the lives of all your employees. I want to use this special day to wish you all the best in life. I pray that the Almighty Lord will keep on blessing you with many more exciting days like your birthday today. Once again, I wish you a fantastic birthday, dear boss!
Birthday Speeches for Your Working Partner
To me and this business, you have proven to be a valuable asset. Words cannot express how much pleasure it gives me to work with such a dedicated person like you. I am really amazed and impressed by the professional way you go about your work, especially in solving very tedious problems. Your exceptional decision-making skills have yielded awesome results for this business. You deserve a standing ovation for the professionalism you bring to this business.

Again, (NAME), words cannot sufficiently express how grateful I am to you for all the sleepless nights and backbreaking tasks that you had to go through just to make sure that the business is on the right path. Your loyalty to this partnership has always been true and you are indeed the ideal person to do business with.

This business has been successful, and I believe that it will only get better because of a special partner like you who has always been there through thick and thin. I want to use this moment to let you know that you are my inspiration and I am thankful for having you in both my professional and personal life. I wish you all the best as you commemorate this special day which marks your birthday.
---
You may also like:
#MySpecialDay | 199 Birthday Instagram Captions
99 Clever and Funny Birthday Wishes to Make your Greetings Stand Out