Embracing those we love with uplifting words can be a beacon in their times of illness, gently lighting the way through moments of struggle with the soft glow of our caring and prayers. Our well wishes become more than words, they transform into silent, spiritual hugs, offering comfort and a tender, healing touch to the soul traversing the bumpy roads of recovery. And when our sentiments are imbued with religious hope, they cradle the receiver in a special, divine warmth.
Hey, why not let your comforting words sail through a beautifully crafted vessel? At our online store, we've fashioned Get Well Soon cards that enrobe your healing prayers in tangible warmth, ready to touch hearts and soothe spirits. Let's weave a tapestry of healing, love, and light together!
Table of Contents
Spreading Love and Healing with Religious Get Well Wishes
In the delicate dance of convalescence, every heartbeat, every whisper of love and every tender wish becomes a step toward healing. Our religious get well wishes are like softly sung lullabies for the soul, intertwining the spiritual with the physical, cradling the ailing in a quilt of faith and affection, ensuring they never feel alone in their journey back to health. Let's shower them with celestial blessings and earthly love, affirming that in every step of the way, they are embraced by the Almighty and cherished by us.
Praying for your fast recovery. Anything you need, I'm here.
Sending gentle prayers your way, may God's love be a comforting blanket in your time of healing.
Get well soon! Remember, God is with you every step of the way.
Wishing you strength in faith, comfort in love, and tranquility in healing.
Your journey of healing is enveloped in countless prayers and endless love.
May God's peace be with you. Hope to see you healthy soon!
May angels of health and happiness visit your bedside, bringing gifts of healing from the Heavens above.
Every sunrise brings new hope. May God's loving light heal you with every dawn.
With every heartfelt prayer for your recovery, hear my whispered promise: stay strong, for I am here.
May the Lord gently hold you in His healing hands, mending all that is hurt and replenishing your spirit.
In His love, find healing. In His grace, find peace. Get well soon.
With sacred prayers for your healing, know that my shoulder is always here for you to lean on.
Your strength inspires us, and your faith guides us. Praying for your swift and serene recovery.
Prayers ascending, love descending. Wishing you a tranquil journey back to health.
In every prayerful whisper, may you find God's healing echoing softly, assuring you of better days ahead.
Bathed in celestial love, may each day bring you closer to wellness and joy.
Praying that God gives you strength and good health. I'm here for you during this difficult time and always. How can I assist you?
With every prayer and every wish, may your path to recovery be illuminated with His divine light.
Rest, recuperate, and relish in the healing power of prayers and love sent your way.
God bless you with good health soon, dear friend. During this hard test, remember that I'm here for you and always will be.
I pray that the Lord lifts you from sickness to sound health soon. Remember, in times of need, I'm here for you in every possible way.
Sacred Sentiments: Crafting the Perfect Religious Get Well Wishes
Navigating the path of healing, our dear ones often find solace not only in the divine but also in the unwavering support of earthly angels—us, their loved ones. Crafting religious get well wishes then becomes a sanctified act of intertwining divine blessings with a human promise of steadfast presence. In the sacred space where heavenly love and our earthly care converge, let's mold wishes that not only whisper of spiritual healing but also affirm our unyielding support, gently holding them in a dual embrace of celestial and terrestrial love.
May you bask in His healing grace, knowing my arms are always open for you in support.
Sending you healing thoughts and a little sunshine today.
Beside every prayer for your healing, is my promise to be here for whatever you need.
May each prayerful wish bring divine healing and remind you of my constant presence.
Hoping for your smooth recovery. May God light your way.
My prayers for your divine healing are always accompanied by my steadfast support.
I send you sacred wishes for healing, and with them, a promise that through every step, I am here for you.
Stay strong, dear friend, for through every prayer and wish, the Divine and I are both here for you.
Enclosed in my prayers is a sacred wish for your healing and a pledge that I am here for you, always.
Dear friend, in this difficult time, I'm praying that the Lord grants you all the strength and a speedy recovery.
Praying for you during this difficult time. May God bless you with all the strength and healing. Please let me know if you need anything.
I hope and pray for your quick recovery. Sorry to hear about your tough times. Remember, I'm here for you in any way you need.
Keeping you in my prayers. Call if you need anything, okay?
In this difficult time, may God grant you good health and speedy recovery. I'm here to support you. Please tell me if you need anything.
In your sickness, dear friend, may the Lord lift you into better health and peace. Know I'm here, ready to assist in any way you need.
Sending love and prayers your way. Rest and take it easy!
Sending prayers your way, dear friend, with hopes of sound health and brighter days. I'm here to offer my unwavering support in any way you need.
Short and Heartfelt Wishes to Write in a Card
When words of comfort are written from the heart, they become a soft, soothing melody to the soul traversing through times of illness. Each of these succinct, heartfelt wishes is a tiny, yet powerful capsule of warmth, designed to be easily tucked into a card, infusing it with a gentle embrace of healing, faith, and unwavering support in every penned letter.
Sending healing prayers your way! Can I help with anything?
May Jesus guide you to quick recovery and happiness.
Praying that the Lord bestows his healing touch upon you.
I hope you feel better soon, enveloped in God's healing love
Sending you hope and well wishes for a speedy recovery.
Healing prayers coming your way! Here if you need me!
Never lose hope; remember, God's healing is powerful and true.
Wishing speedy healing from the Lord.
Praying for your quick return to health.
Hold onto faith; your healing is on the way! I'm always here for you, can I help with anything?
May God's blessings be upon you as you recover. Take care!
May God's healing touch be upon you. Rest and get well.
God is with you in every healing moment. Get well soon
Thinking of you and praying for your speedy recovery.
"Get Well" Bible Verses
A joyful heart is good medicine, but a crushed spirit dries up the bones. Proverbs 17:22
He gives power to the faint, and to him who has no might he increases strength. Isaiah 40:29
Fear not, for I am with you; be not dismayed, for I am your God; I will strengthen you, I will help you, I will uphold you with my righteous right hand. Isaiah 41:10
Have I not commanded you? Be strong and courageous. Do not be frightened, and do not be dismayed, for the Lord your God is with you wherever you go. Joshua 1:9
The Lord is my strength and my shield; my heart trusted in him and I am helped. Psalm 28:7
God is our refuge and strength, a very present help in trouble. Psalm 46:1
He sent out his word and healed them, and delivered them from their destruction. Psalm 107:20
Worship the Lord your God, and his blessing will be on your food and water. I will take away sickness from among you… Exodus 23:25
For I know the plans I have for you, declares the Lord, plans for welfare and not for evil, to give you a future and a hope. Jeremiah 29:11
For I will restore health to you, and your wounds I will heal. Jeremiah 30:17
Beloved, I pray that all may go well with you and that you may be in good health, as it goes well with your soul. 3 John 1:2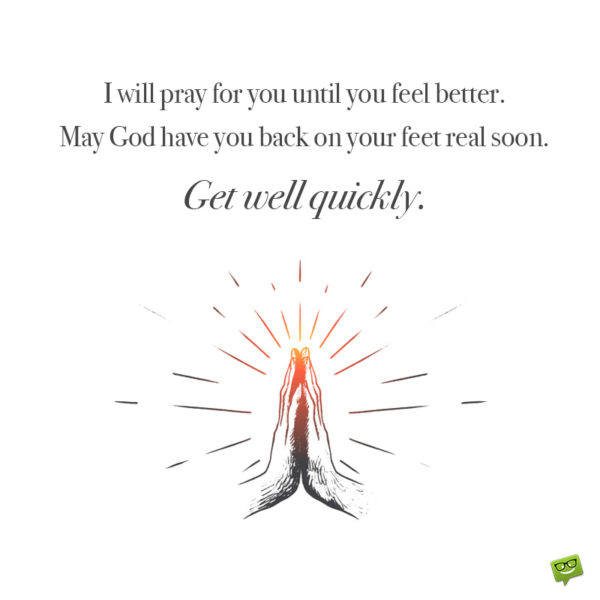 Expressing Compassion through Religious Get Well Wishes
In your hardest test, may prayers whisper strength into your spirit and God bless you with swift healing.
Dear friend, God bless you with all the strength needed for a speedy recovery during this difficult time. I'm here, praying.
May God's love heal you. Sending warm thoughts your way!
I'm so sorry to hear about your ordeal. Praying that the Lord brings you through to brighter days and good health.
Dear friend, I'm so sorry to hear about your illness. Praying for your speedy recovery and good health. Is there something I can do for you?
I'm praying for your speedy and complete recovery. May God bring you good health, peace and brighter days soon. Can I do something to help?
I'm so sorry for your pain and here for you through it all. Need anything? May the Lord bless you with healing and better days ahead.
Praying that you feel better soon and that the Lord gifts you strength and good health. I'm consistently here, wishing and praying for your quickest recovery.
Uplifting and Supportive Religious Get Well Wishes
Infused with the steadfast power of prayer and a genuine offer of help, these religious get well wishes become a gentle whisper of hope, solidarity, and divine assurance in your dear friend's ear, reminding them they're neither alone in their journey nor unsupported in their path toward recovery.
Sending sweet words of prayer your way, dear friend. May God usher you into a space of better health and swift recovery. How can I support you during this time?
Wishing you healing from the Lord. Want company sometime?
May Jesus's love envelop you, bringing peace amid the sickness, and know, dear friend, I'm steadfastly here for you, praying for your rapid recovery.
May that faith guide you through recovery. Wishing you God's healing and peace in every moment.
Praying that you feel better soon and that the Lord gifts you strength and good health. I'm consistently here, wishing and praying for your quickest recovery.
Your resilience and faith inspire all who know you. May God's love be the constant, uplifting wind beneath your wings, guiding you back to health.
May the Lord bring you strength and healing. Thinking of you!
May each word be a comforting balm, healing not just the body, but caressing the soul with tender care and celestial warmth. Let's weave a tapestry of healing with words that are both a prayer and a promise of unwavering friendship.
A kind word can be a little lantern in someone's darker days, and our faith-filled wishes can light up their path toward recovery, don't you think? It's all about sending that love, strength, and a virtual hug wrapped up in a card that says, "I'm here for you." And because we know how much your heartfelt words mean to the people you care about, our online store is sprinkled with a variety of get well soon cards, each one ready to carry your blessings and good vibes straight to their mailbox. So, come take a peek, pick the perfect one, and let's send a wave of love and healing prayers together! Your words, teamed with faith and our cards, are sure to bring a bright spot to their healing journey. Thanks for sharing the love and light with us – keep shining!
Pin this Image to Save this Post for Later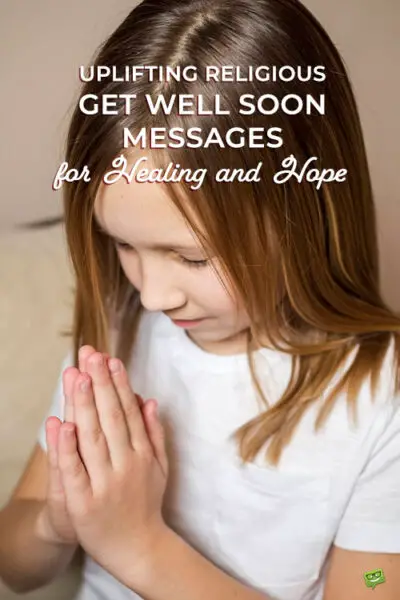 You May Also Like:
Get Well Soon Messages for a Coworker
"Happy Birthday and Get Well Soon" Wishes