When someone you know isn't feeling well, what this person most likely wants more than anything is to feel good again. Though all of us want a fast recovery when we are sick, we don't always get what we want. The body seems to heal itself at its own pace, so we must be patient and look at the bright side as we recover. We must grab every ray of sunshine that comes our way and embrace it, especially each ray that comes to us in the form of a get well wish.
If you know someone who isn't feeling well, consider sending this friend, co-worker, or family member a wish for wellness. The ray of sunshine you send their way will make them smile and brighten up their day. It could even help them feel better, so don't hesitate to send that person your get well wish. Send one of the following get well soon greetings if you are at a loss for words.
Get well soon messages for a friend

These get well soon wishes can be sent to wish a quick recovery to a friend.
Please feel better fast, my dear friend. I haven't been able to smile since you got sick. Take care and feel well again ASAP!
When good friends like you get sick, it upsets good friends like me very much. Please feel better soon so I can feel better too. I wish you a speedy recovery!
Can't wait to see you back to your old normal self. I hope you recover from your illness fast so that I can see my good friend up and about again. Get well quickly!
Nothing would make me happier right now than to know you're feeling well again. I hope these get well wishes help put you back on your feet as quickly as possible. Feel better soon!
Your illness may have confined you to a bed, but it hasn't stopped me from missing you, my dear friend. It hasn't stopped me from sending you these wishes for a fast recovery.
May these get well wishes be stronger than any bug you caught. May you feel better fast. Get well soon, my friend.
Know that you are a dear friend who has a good friend like me wishing you well. I hope that by the time you receive this message you're already feeling better. Sincere get well wishes!
The sky has been a lot less sunny since you've been sick in bed. Get well, come back, and make us smile again with your joyful personality.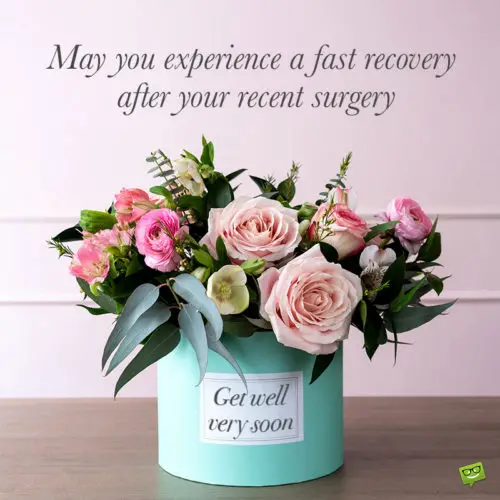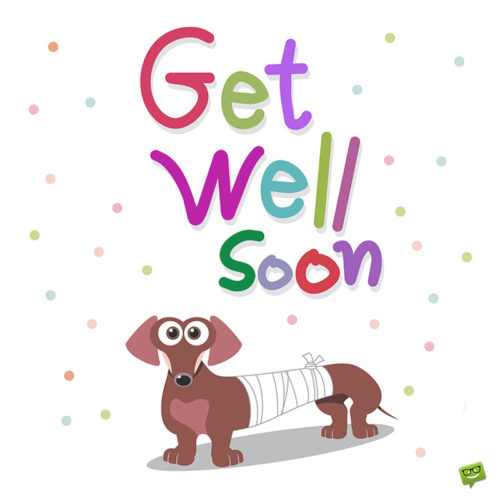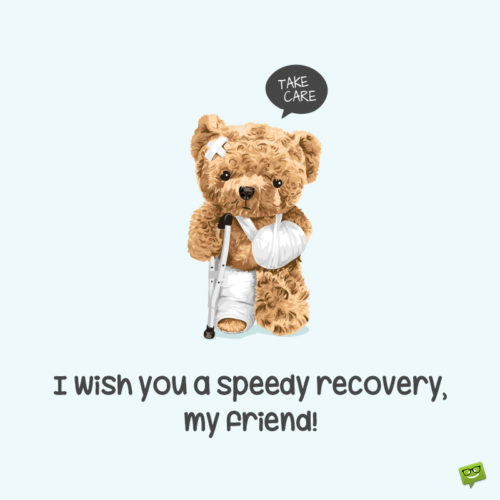 So sorry to hear you're not feeling well. Please get well fast. You're too dear a friend to be sick.
Sending you warm wishes for a quick recovery and good health.
You seemed strong every time we visited, but we definitely prefer you being 100% well! We love you!
Health resumed, smiles returned. That's a great photo! We wish a prompt recovery!
My wishes for your speedy recovery are as strong as my friendship. Be well, my friend. Get well fast!
Good friends like you should never get sick. Please make a speedy recovery and call me when you feel up to it.
I always count on the brave fighter in you. Get well soon!
Get well wishes after surgery

These are appropriate get well soon wishes for someone recovering from surgery.
May you experience a fast recovery after your recent surgery. Hope you get well very soon.
So sorry to hear about your surgery. So happy to hear it went well and you're on the mend. Best wishes for a speedy recovery!
Surgery is never pleasant, but with get well wishes like the one I'm sending you, you should be feeling great in no time.
Surgery is frightening, but the worst is over, and you should be well soon. Hope your complete recovery comes sooner than expected.
You just had surgery. How awful. Hope these get well wishes have you feeling better fast and enjoying all the things you like to do.
Being stuck in the hospital for surgery is no picnic, but I hope your recovery is a walk in the park! Feel your best soon!
Since you've been in the hospital for surgery, I feel lost without you. Heal and hurry home so we can be together again.
Now that you had surgery and your doctor's job is done, it's time for you to work on getting back on your feet. Now is the time for you to start feeling well again. Hope you're feeling your best very soon!
Your surgery was a shock as well as a surprise to me. Now that it's over, surprise me with an unusually fast recovery. Get well soon!
So happy to hear your surgery was successful and without complications. Feel better fast as you recover from your illness, and remember that I'm here for you should you need anything.
You had your surgery and it went well. Now rest and feel better, but do it fast because we miss you.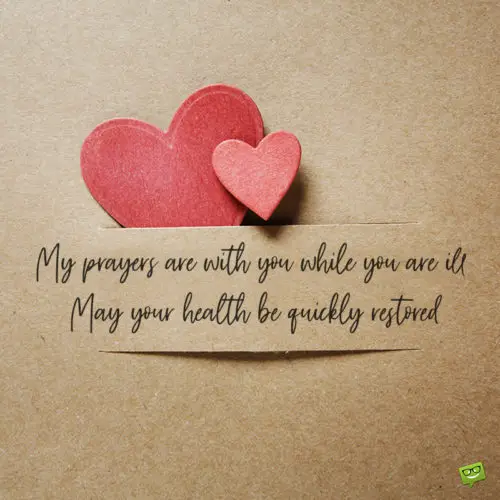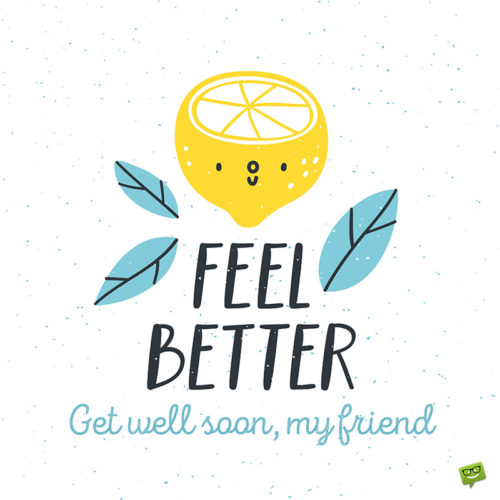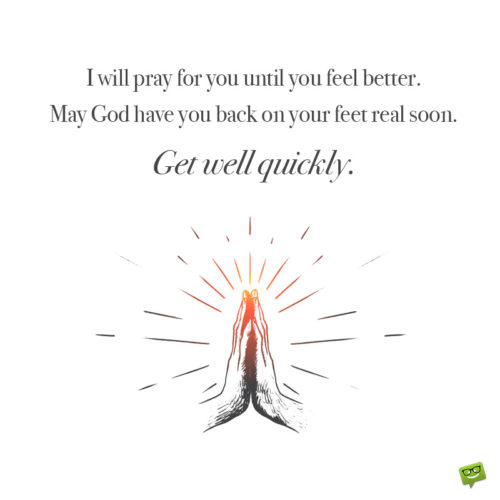 Inspirational Get Well Messages
If you're struggling to find the right words to share with someone who is under the weather, consider some of these inspirational messages.
You mean so much to me, and I was so sorry to hear that you're sick. You are held tightly in a special place in my heart, and every day I'm sending loving, healing thoughts your way.
When you're indisposed, my world seems upside-down. I am so used to looking to you for strength and encouragement that being on the other end feels completely backwards. I realize now how much I take your presence for granted, and hope much I need you. I hope with all my might that you soon regain your strength.
Knowing that you're feeling so unwell breaks my heart. I would do anything I could to make you feel better, and my one wish for you during this difficult time is relief from your suffering and a swift recovery.
Being laid up in bed is no fun! I wish I could free you from your prison of illness so you could get back to all those wonderful things you enjoy doing. I hope very much that you are soon fully recovered.
The thought of you being sick seems completely unfair. With your vibrancy and love of life, the world deserves your smile. May you get well soon, because we all miss you!
Friends like you make life so much more interesting and joyful. I feel at a loss knowing that you're under the weather, and there's nothing I can do. You should know that you are so loved, and that things are not quite the same without you.
Get Well Soon Poems
When someone you love is feeling unwell, a short, cheerful rhyme can lift their spirits, letting them know you care.
If I only had magical powers,
the whole world I would scour
to find you a potion–
I just have a notion
you'd be well in a matter of hours.
A little bird told me,
while chirping from a tree,
that you're confined to bed.
This well-wishing note,
to recover, I wrote,
to soothe your poor sick head.That little bird, I hope,
when next within my scope,
will say you're on the mend.
But if, perchance, that bird
has not a cheerful word,
another note I'll send!
My dear friend, it saddened me
to learn that you are impaired.
I wish there were more I could do,
but I want you to know I care.My dear friend, do let me know
if there's anything you require.
I'll happily run for what you need,
or anything your heart desires!My dear friend, I wish you peace
and a very speedy recovery too.
But for as long as you're laid up,
tell me if there's anything I can do!
To my sweet and wonderful friend,
who is feeling a little bit frail:
I hope that you're soon on the mend
and looking a great deal less pale!A friend as good and as kind as you
deserves only the very best care.
With this poem, I send all my love,
because, sadly, I cannot be there.
If I were a witch, I'd cast a spell,
or concoct a healing liqueur.If I were a hummingbird, butterfly, or bee,
I'd fly to your side in a blur.If I were a mermaid, I'd call upon Triton,
or dive for sunken treasure.If I were lavender, or an orchid or rose,
I'd blossom for only your pleasure.If I were a fairy, I'd dance in a ring,
or ask my queen for a boon.If I were an empress, I'd give up my crown,
if only you'd get well soon!
Darling, your courageous smiles that inspire me to cover miles
Your soft speech that melts the stoniest heart and gives hope to the earth
Your liveliness, alongside your loveliness
I dearly miss them all, which makes me to reach out and call…
I call forth your speedy recovery, sweet heart.
I cry when you cry, my love
I laugh when you laugh, my dove
And, because you're sick, I'm also sick
That's why I'm saying, dear, get well quick
Religious Get Well Wishes

Religious get well wishes can also be appropriate
I will pray for you until you feel better. May God have you back on your feet real soon. Get well quickly.
As you struggle to get back on your feet and restore your health, know that I'm praying for you every step of the way. Wishing an amazing recovery without delay.
You're in good hands. The doctors are taking care of you, and I'm praying that you have a speedy recovery. With blessings from above, may you be well soon!
May blessings from above heal you. May my prayers reach God's ears and make you well again. Wishing that your health is quickly restored.
My prayers are with you while you are ill. Have faith in the almighty and in his ability to make you well again. May your health be quickly restored!
As you fight for better health, know that God is on your side, and that I'm praying for your complete recovery. I hope you get stronger with each new day.
May you feel God's presence as you recover from your illness, and may the security of his embrace fill you with the hope of feeling well again.
Trust in the Lord, and he will make you well again. Have faith in the power of prayers as I pray that you recuperate quickly and experience good health once more.
As you recuperate from your illness, I'm sending prayers to God for you. Your complete recovery and good health is what I'm praying for. May your health be restored soon.
May God's angels comfort you with the gentle breeze from their wings, and may they help you feel better without delay.
Your battle with illness makes me realize how precious good health is, and how important loved ones are. As you lay there helpless, please take comfort in knowing I'm praying that your health is restored quickly.
Your good health is all that matters to me right now, which is why I pray for you every day. May your health rapidly improve.
"Get Well" Bible Verses
A joyful heart is good medicine, but a crushed spirit dries up the bones. Proverbs 17:22
He gives power to the faint, and to him who has no might he increases strength. Isaiah 40:29
Fear not, for I am with you; be not dismayed, for I am your God; I will strengthen you, I will help you, I will uphold you with my righteous right hand. Isaiah 41:10
Have I not commanded you? Be strong and courageous. Do not be frightened, and do not be dismayed, for the Lord your God is with you wherever you go. Joshua 1:9
The Lord is my strength and my shield; my heart trusted in him and I am helped. Psalm 28:7
God is our refuge and strength, a very present help in trouble. Psalm 46:1
He sent out his word and healed them, and delivered them from their destruction. Psalm 107:20
Worship the Lord your God, and his blessing will be on your food and water. I will take away sickness from among you… Exodus 23:25
For I know the plans I have for you, declares the Lord, plans for welfare and not for evil, to give you a future and a hope. Jeremiah 29:11
For I will restore health to you, and your wounds I will heal. Jeremiah 30:17
Beloved, I pray that all may go well with you and that you may be in good health, as it goes well with your soul. 3 John 1:2
Get Well Soon Images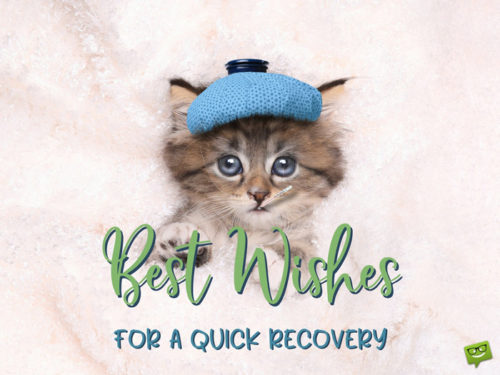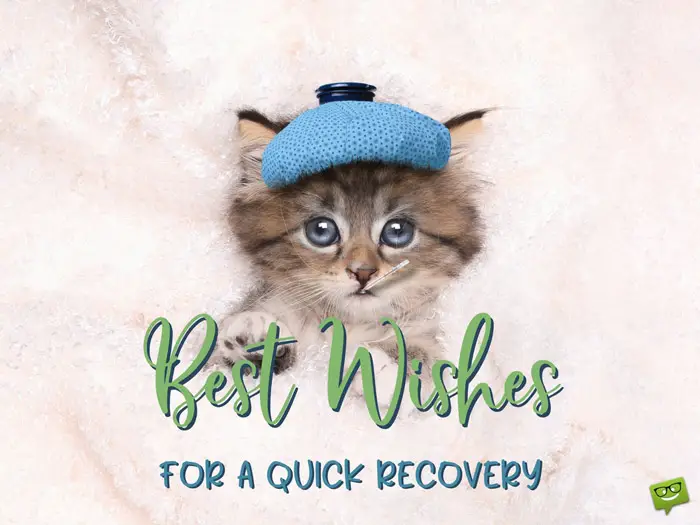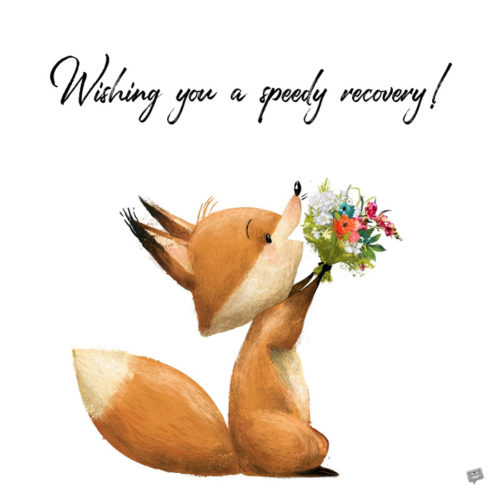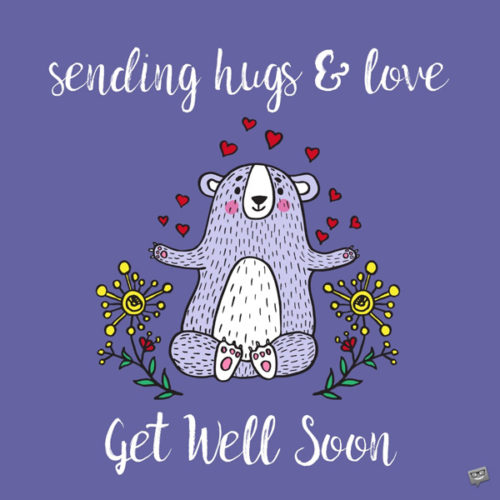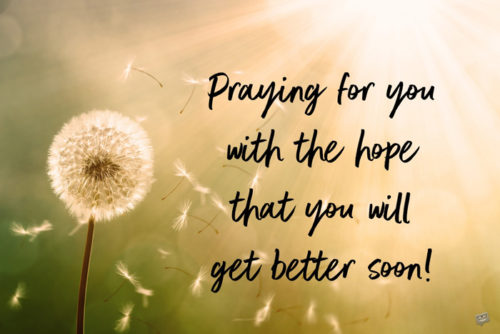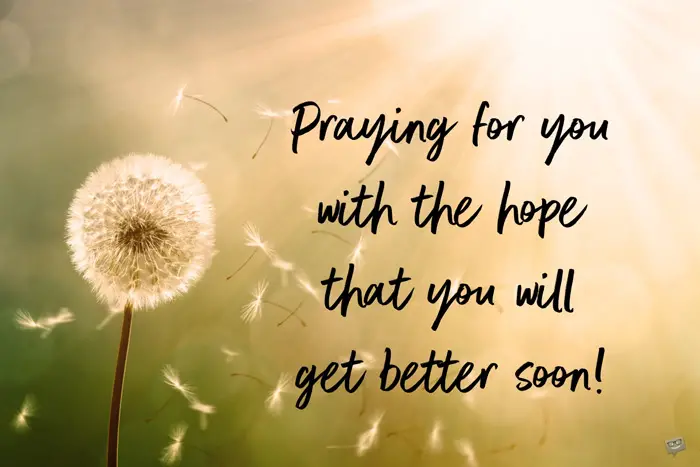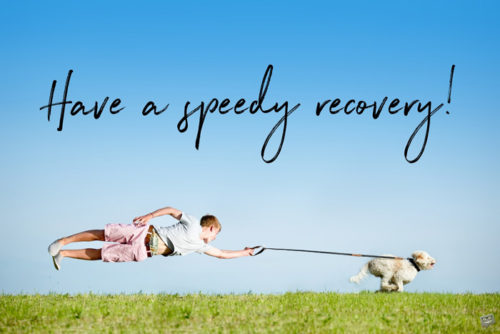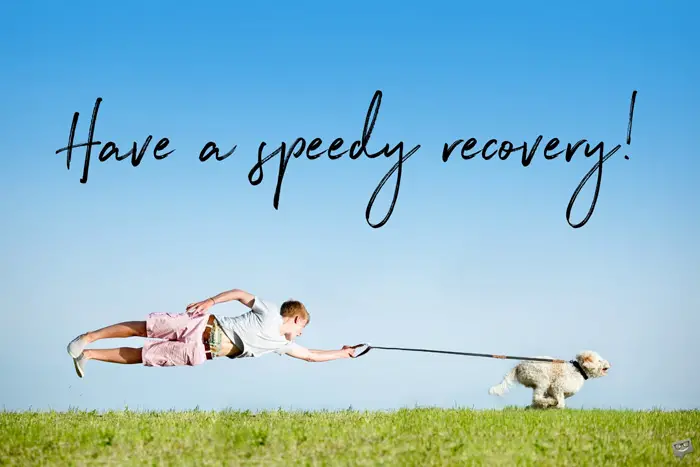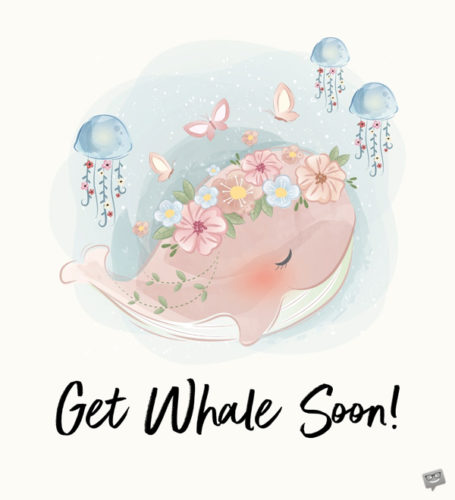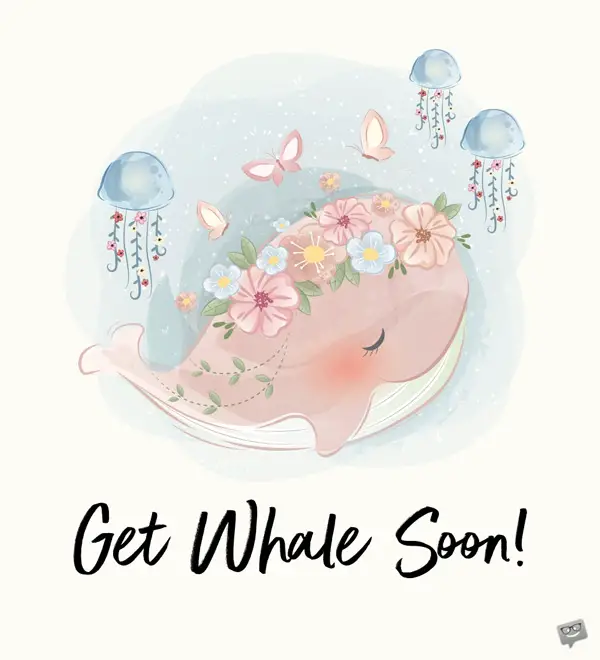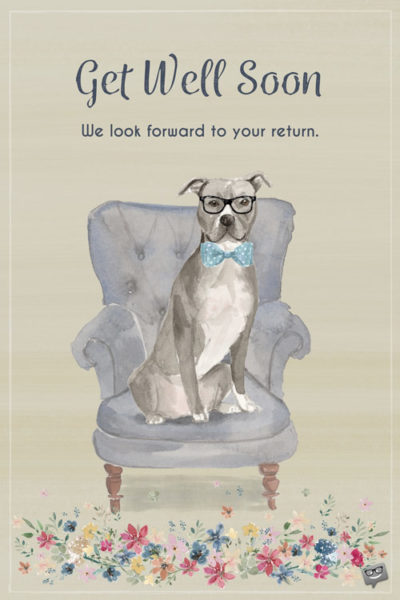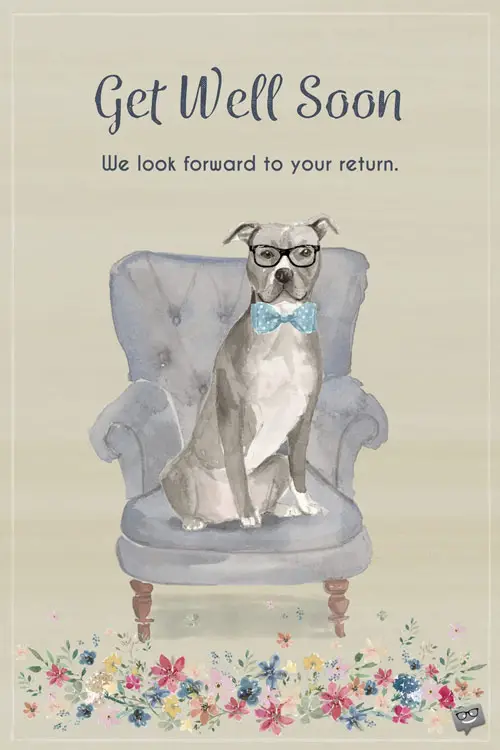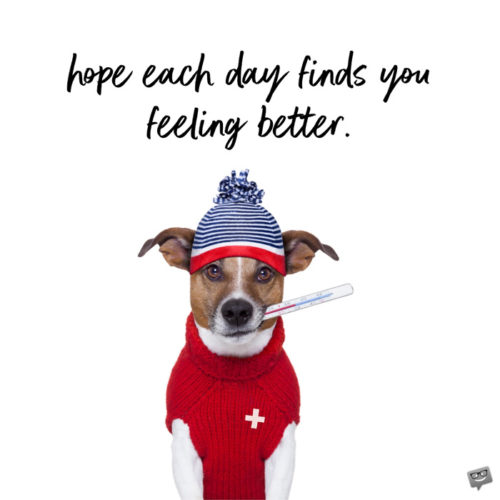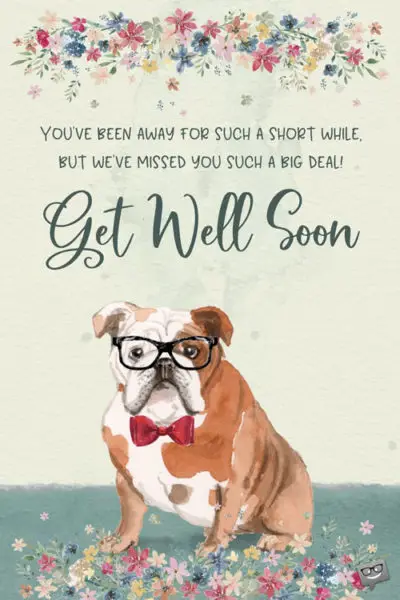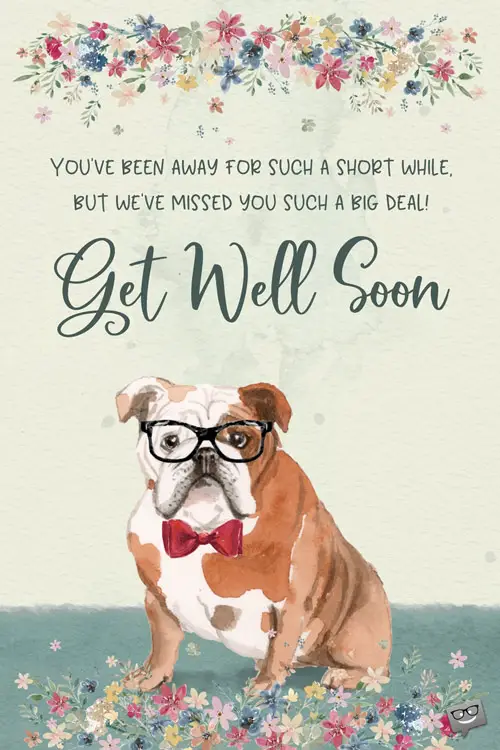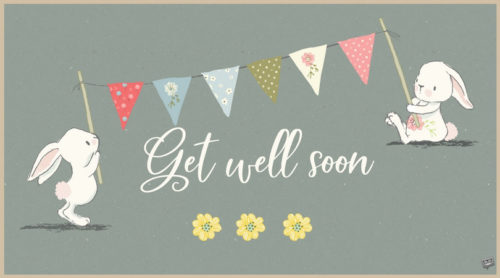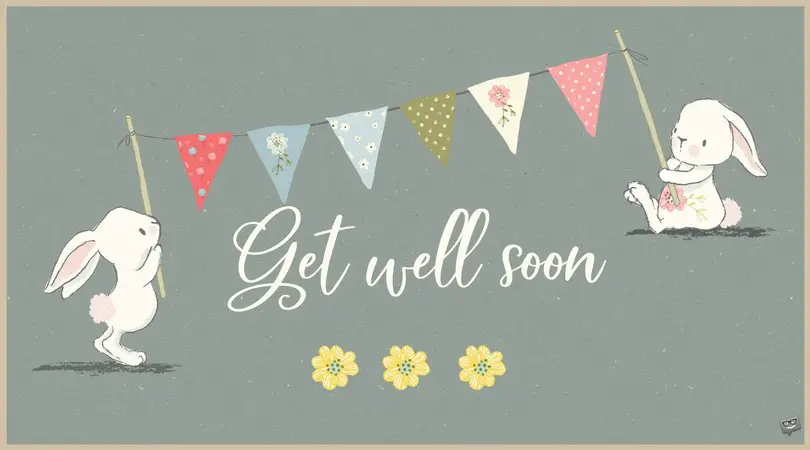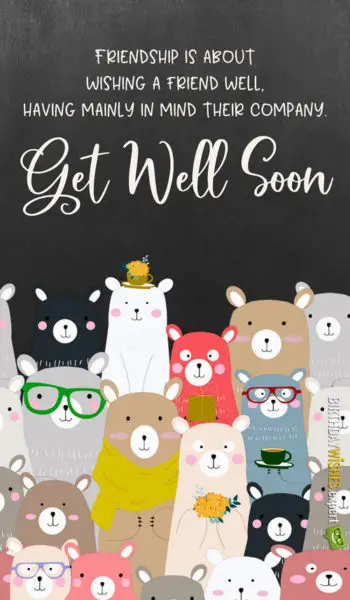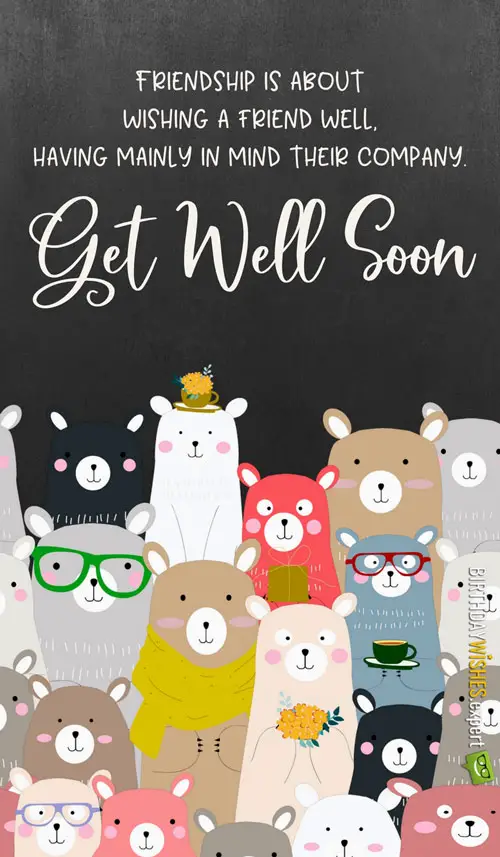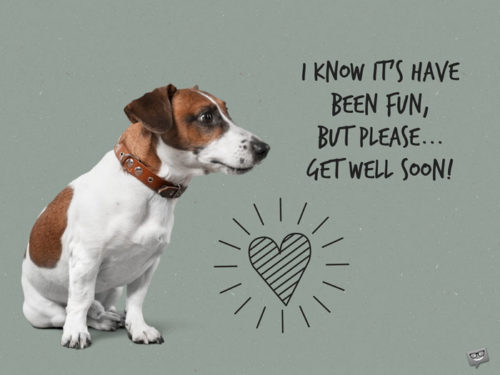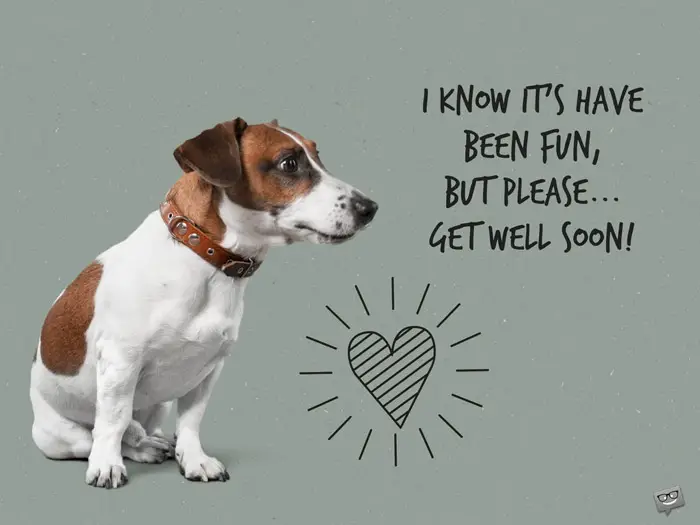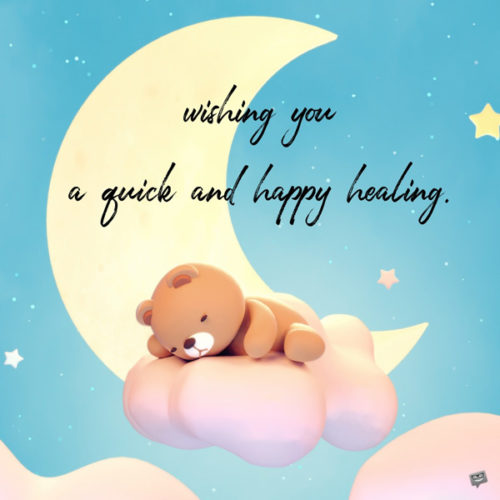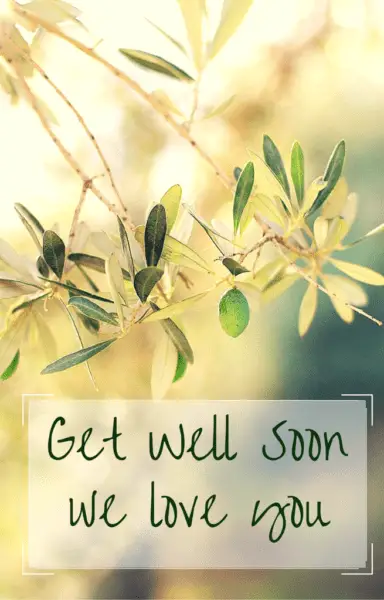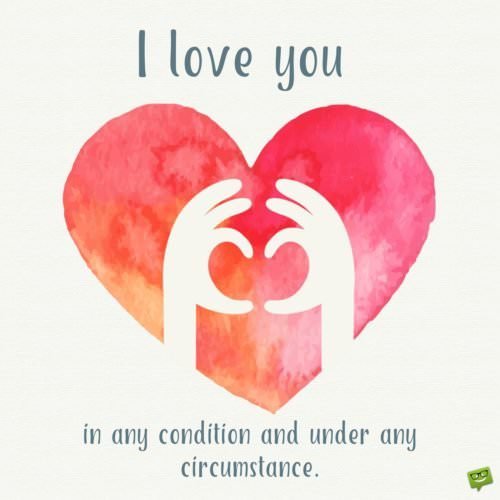 Get Well Soon Flowers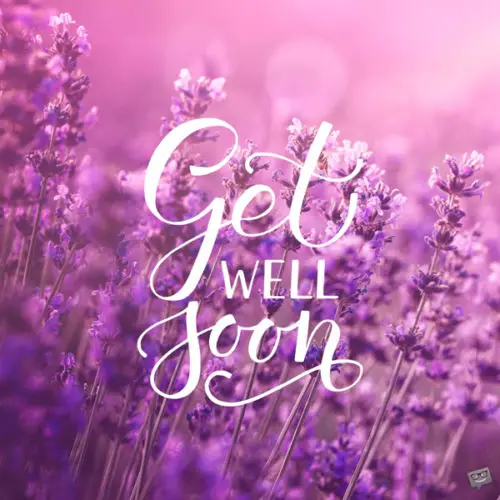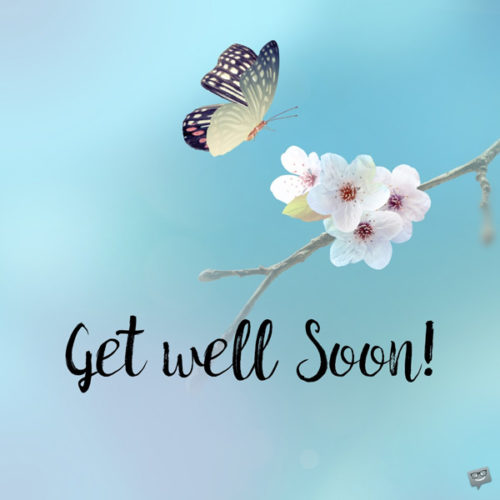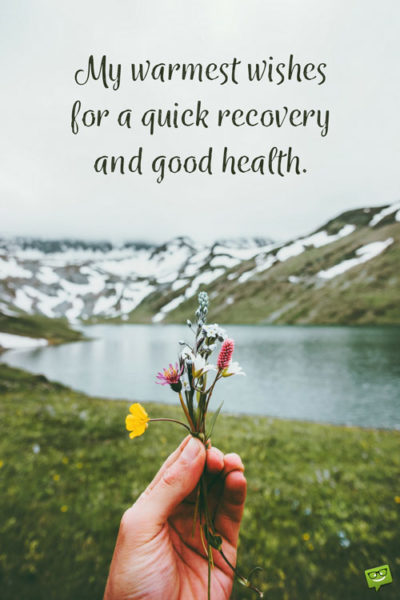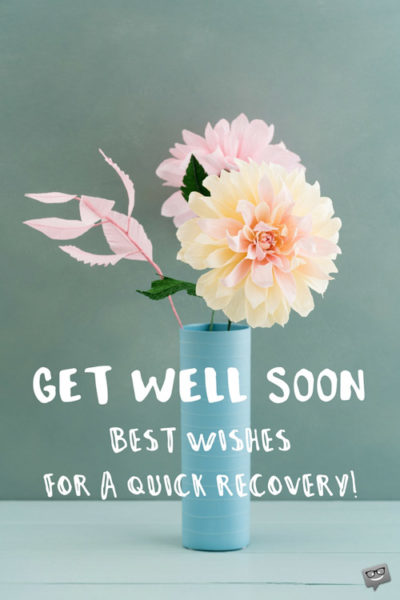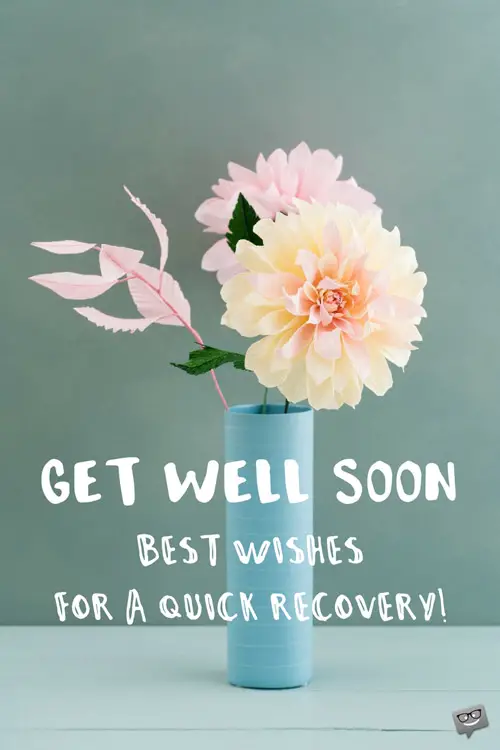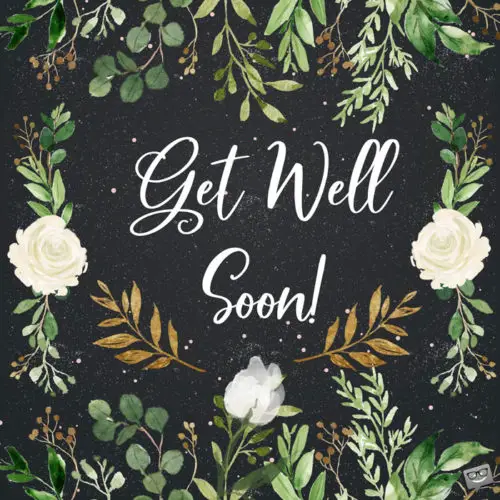 Funny "Get well soon" wishes

Here are some get well soon wishes designed to make the recipient laugh:
Use your illness as an excuse to lay back and do nothing, get served, and have everyone worry about you. Get well fast. I'm tired of your excuses, and the litter box needs to be changed.
Do you realize how much your loved ones worry about you when you're sick? Stop being so self-centered and get well now.
Get well so you can start cooking again, cleaning again, shopping again, and doing all the chores. Oh, I guess I just figured out why it's taking you so long to recover. Get well fast, please.
Do you know drinking alcohol lowers your immune system? So, because I care about you and want to make sure you get better as quickly as possible, I'll do you a favor and drink up all of your whiskey. Now that should make you feel better fast.
You've always said it would be nice to have breakfast in bed, but did you really have to get sick to get it? Pancakes are so much tastier than cold pills. Make every effort to feel better soon, and let me serve you pancakes in the morning.
Get well soon?? I'd much prefer get well immediately. Thinking of you!!
So…I guess like everybody else, the flu finds you irresistible. I hope its a short-lived romance & you feel better soon.
So now that you're sick, get well already. The dog won't poop, the cat won't eat, and I almost burned the house down trying to heat up a TV dinner.
You've been sick in bed for so long I'm surprised the memory in your mattress hasn't faded. Better hurry up and get well before it gets Alzheimer's.
If you can't get well soon, feel better as soon as possible. I'm down to my last pair of clean socks, and the hamper is ready to explode. Hurry before it's too late!
You'd better get well fast and go home. I hear your husband is just a little too excited about cooking dinner for your mother.
I think you should know your dog keeps rubbing his butt on your white shag carpet. Feel better fast and get home soon before his behavior gets totally out of hand.
Please feel better and come back to work as soon as you're feeling fine. There are phones to answer, papers to file, and no one here makes coffee as good as you do.
Get well, feel better, and tell me you're okay, please. Just save me a few germs so I can take a vacation too.
Doctors told us you've been a great patient. We told them we knew since the beginning. Get well soon!
The weather forecast said you're going really well already. We knew it! 😉
While you were a patient, we were very impatient! Get well soon, we missed you!
Missing you a lot back home! Your family misses you, your dog misses you and your cat… well… eats some of your food every day. A meow and woof recovery!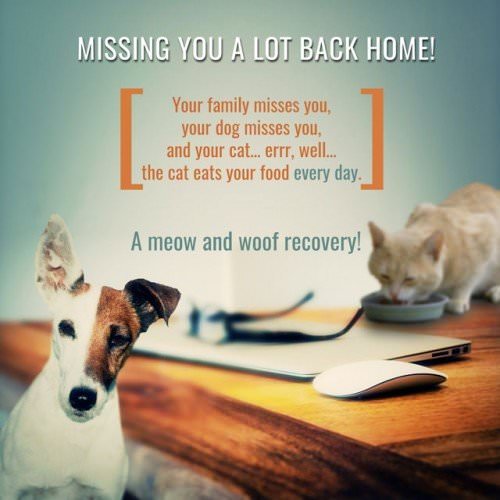 Get Well Soon Memes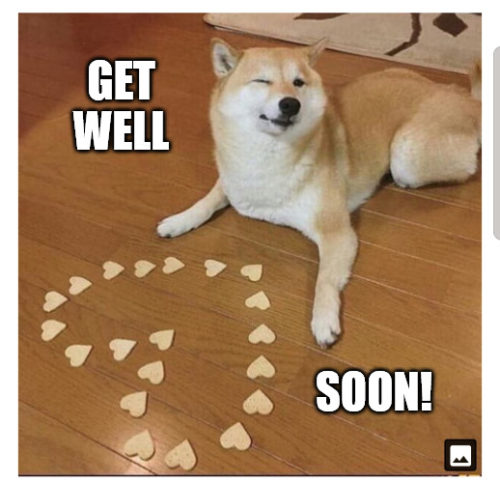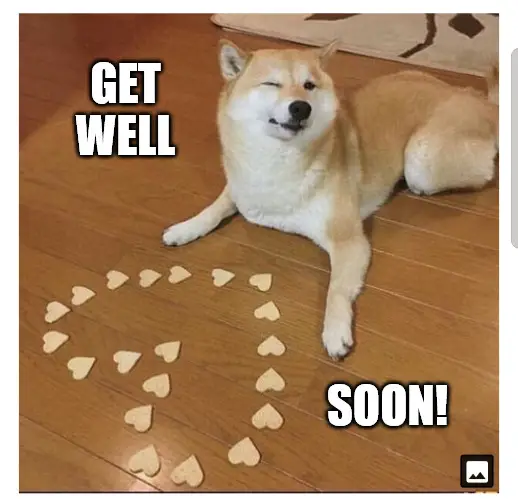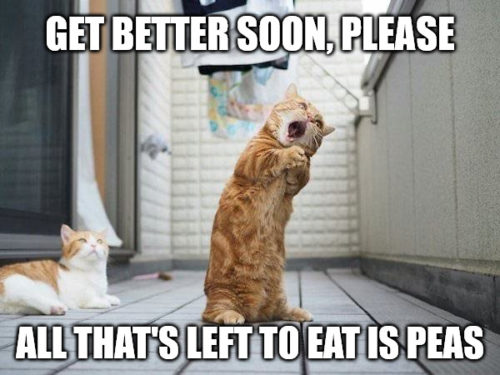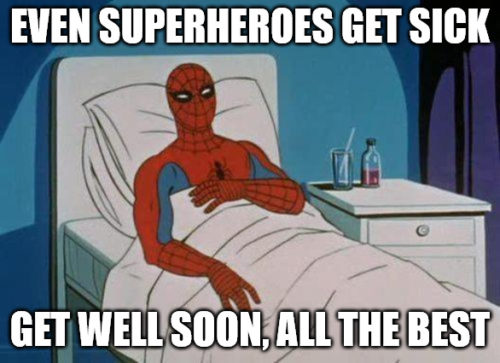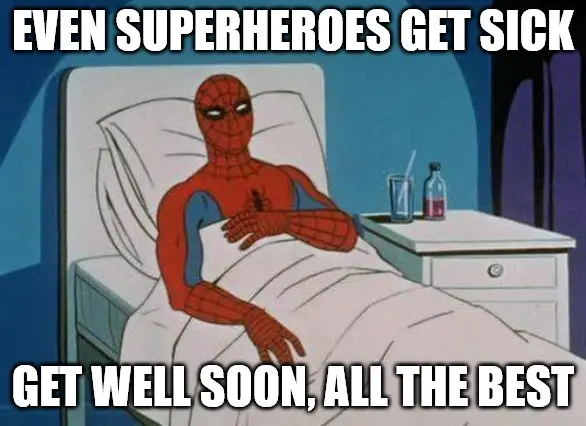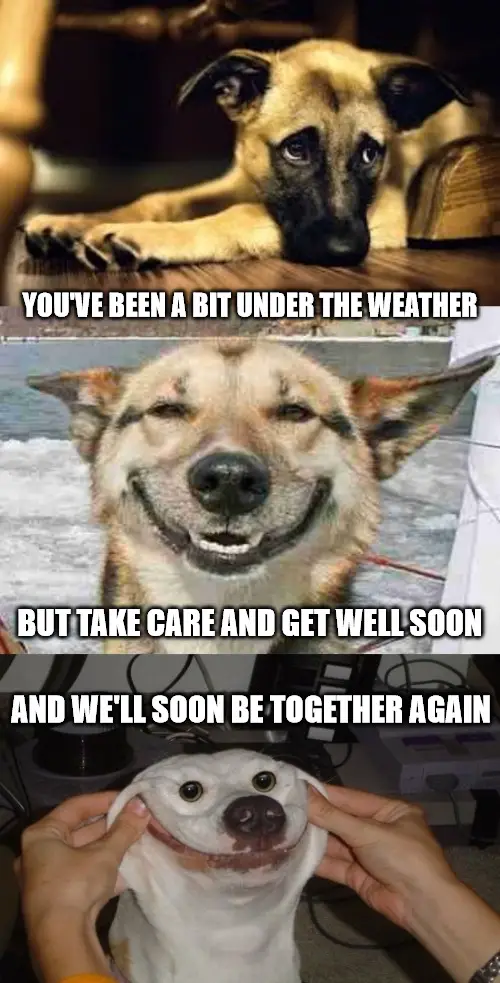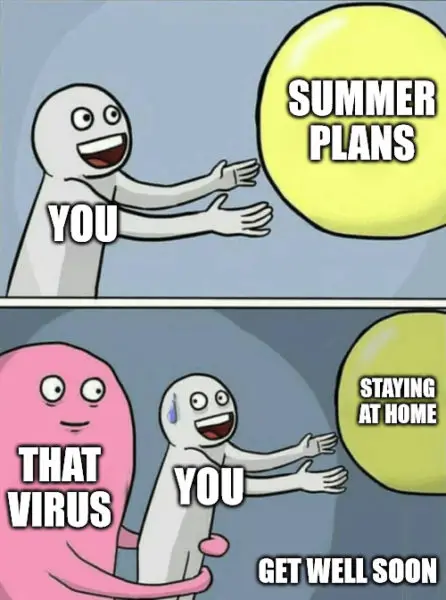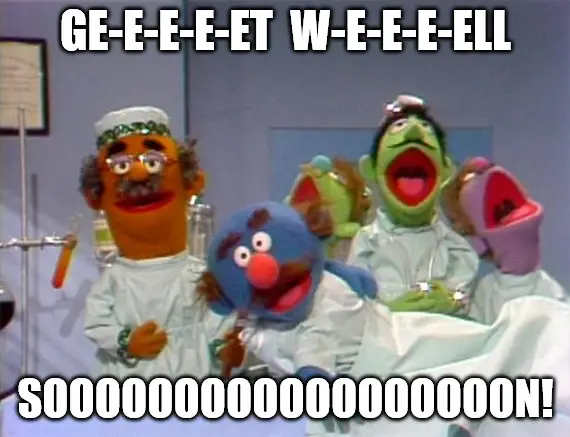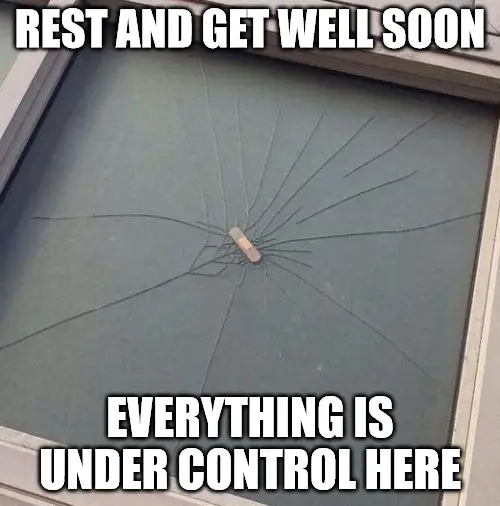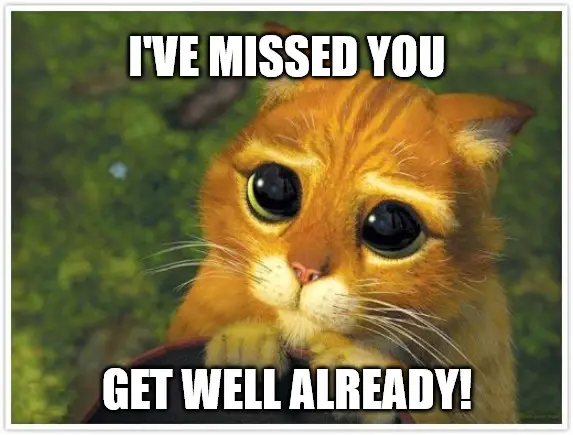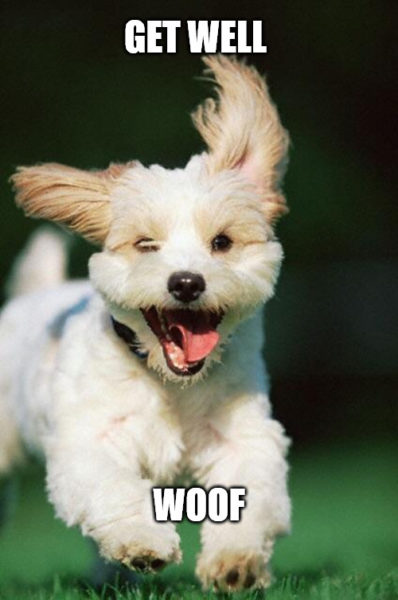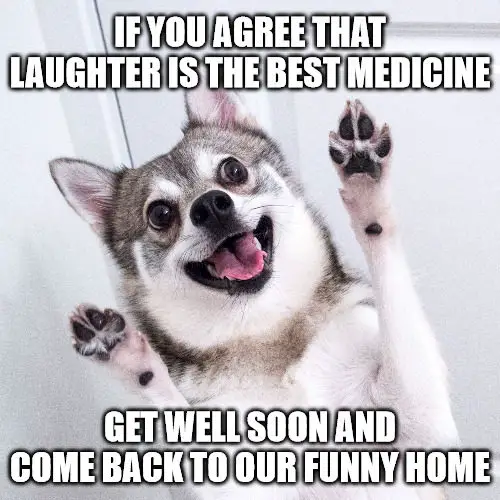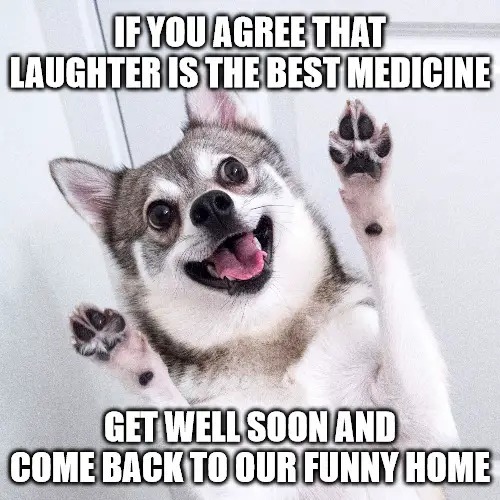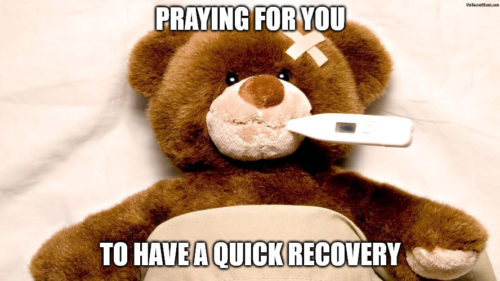 You may also like:
We Miss You! | Get Well Soon Messages for a Coworker
64 Feel-Good Quotes That Will Help You Feel Better
Get Well Soon Prayers | 32 Short Prayers for Healing and Recover