The importance of professional thank you letters in the business world can never be overstated. Besides expressing gratitude to the recipient(s) for whatever favor they've done you, a thank you letter brings the sender a wide variety of benefits. For example, a thank you letter after a job interview has the potential of significantly setting you apart from the other applicants fighting for the position you are gunning for, thereby increasing your chances of getting the job.
There are various kinds of professional appreciation letters for different groups of people in the corporate world. So without further ado, let's look at samples of these letters and some of the important writing tips you should have at your disposal when writing such a letter.
Tips for Writing Professional Thank You Letters
Here are some important things you need to take into consideration whenever you are penning a professional letter of appreciation:
Speed is of the essence. It is imperative that you send the thank you letter to the recipient as soon as possible. Don't wait until several days or weeks after the favor has been done you before sending your appreciation. The earlier you send the letter, the better the recipient's memory is of what they did for you to warrant a thank you.
Always start with a salutation. It is never advisable to begin your letter with the person's name as this can be seen as very rude. While there are a number of salutations you can use in beginning a letter, the best salutation to use for professional-related correspondence is the word "dear". For example, "Dear Sir" or "Dear Mr. Bolton". In the event you don't have a contact person you are writing to at the company or organization, you can use any of the following general salutations: "Dear Sir or Madam", "To Whom It May Concern", "Dear Human Resources Manager" or "Dear Hiring Manager". FYI: The latter two salutations are only used if you are dealing with employment-related correspondence.
State the reason(s) for saying thank you. Try to make it as clear as possible what you are thanking the recipient for. For example, if the recipient took time out of their busy schedule to interview you for a job, state it and thank them for their time.
Sincerity is the name of the game. Always be sincere when expressing your gratitude. Insincerity can be easily detected. So be mindful of that.
Don't write a novel. The last thing you want to do in an appreciation letter is to make it lengthy. Always endeavor to keep your thank you letter as concise as possible. Two or three short paragraphs would do just fine.
Close your letter. This is basically your last sign off. All letters need to be closed. Some of the most common traditional terms used in closing professional letters include "Yours truly", "Sincerely", "Yours sincerely", and "Best regards". Having used any of these terms, you should follow it with a comma, sign your signature (if you are sending a hardcopy letter) and add your full name. However, if you're going to be sending your letter as an email, you can forgo the signature part and type your full name beneath the closing. FYI: A closing is one of the most important elements of every letter! Never send a letter that is devoid of one. Having said that, it's worth taking note of the fact that not all closings are appropriate for a professional letter. Some of the inappropriate closings you should never use include: "Cheers", "XOXO", and "Love". These terms are perfect for closing a letter you are writing to someone whom you are very close to but certainly not a business letter.
Edit and proofread it multiple times. Don't just send your letter to your recipient the moment you are done writing it. Take your time to thoroughly proofread it a number of times before sending it. The proofreading process will see you checking important things such as typos, spellings and grammar. After you are done proofreading your letter yourself, you can even take things a step further by asking a close friend to proofread it again. That way you will be 100% sure that you have in your possession an absolutely perfect letter free of errors.
Types of Thank You Letters
The following are some of the most popular types of professional thank-you letters:
Thank you letter after job interview
These letters are sent to your potential employer(s) after they have interviewed you for a job. These letters are considered one of the most important elements of any job-hunting strategy that you embark on. Since more often than not, you are not going to be the only applicant being interviewed for a job, it is imperative that you do whatever you can to stand out from the crowd. And that's where a thank-you letter becomes very useful In addition to acting as a medium to express your gratitude, this follow up letter allows you to build a closer relationship with your interviewer(s) while helping you separate yourself (in a positive way) from the rest of the candidates chasing after the vacant position.
Interview thank you letter tips
Start by thanking whoever interviewed you.
Since this is a letter to show appreciation, it doesn't necessarily need to be formal. It should just be sincere, thoughtful and nice.
Slightly talk about the reasons why you feel you are the best applicant for the job. However, in doing so, remember not to stress too much on that. Remember that you're just writing to show your appreciation, not to market yourself.
Try as much as possible to reiterate your interest in the vacant position. This is very important.
If there was something very important you forgot to mention during the interview, this letter is the best place to put that additional information.
End by sincerely thanking the interviewer(s) once again for their time and offer to supply them with any additional information they might need from you.
With thank-you letters, the more you write from your heart, the better your letter is going to be. So try doing that.
Your letter shouldn't be very lengthy. Experts say writing a couple of paragraphs would do just fine.
Proofread your letter again and again. This can't be said enough. Double check your grammar, spellings, punctuation, etc. Also make sure that you have spelled the recipient's name correctly.
So all in all, no matter which angle you to choose to look at it from, job interview thank-you letters can help you make a good impression, set you apart from the competition, and increase your likelihood of being considered for a job if you take your time to write them well, considering the fact that only a tiny fraction of applicants bother to send thank you letters.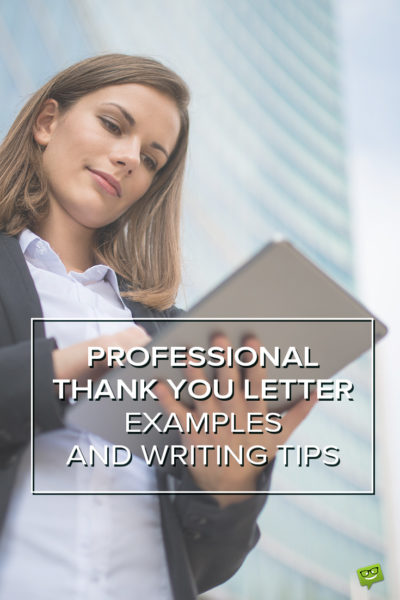 Example of an Interview Thank-you Letter
Dear [Interviewer's Name],
I write to thank you for spending a significant amount of your valuable time yesterday interviewing me for the position of an accountant at ABC Corporation. With all sincerity, it was a pleasure conversing with you and your team of interviewers.
I must say that the details of the job sounded really interesting and make me very eager and excited to take on the role of an accountant. Also, considering my skills and abilities, I feel confident and believe that I will work with all ingenuity to become a very valuable asset to this esteemed company.
Looking forward to hearing from you with bated breath. And please do let me know if there is any further information you would need from me. I'd be more than happy and willing to present it to you anytime.
Hope to hear from you soon and thank you once again for everything!
Yours sincerely,
[Your Name]
Thank you letter for references
A professional reference is someone such as a former employer, a professor, or a colleague who can vouch for important things such as your character, qualifications and abilities in relation to a particular position you are aiming to get or for an admission to a school. Anyone who is kind enough to give you reference would undoubtedly be delighted to receive a letter from you showing your appreciation for what they've done for you.
When writing a reference thank-you letter, you should have the following tips at the back of your mind:
Include a salutation.
Show sincere appreciation.
Go straight to the point and keep it brief.
Include a closing.
Ensure that the recipient's name is spelled correctly.
Check your grammar, spellings and proofread very well.
Sample of a thank-you letter for a Reference
Dear Dr. Ferguson,
Please, accept my deepest thanks for acting as my referee during my application for the position of a public relations account executive at XYZ Company Limited.
I feel so elated to announce to you that your comments raised my stock as an applicant, which in turn helped me land the job!
Words cannot express how grateful I am for your support, advice and mentorship. Thank you so much.
Best regards,
[Your Name]
Thank you Letter for Employer
This is a letter you send to your boss thanking him/her for something good he/she has done for you. And since this letter is also a professional letter, it should contain all the key elements of a professional letter. When you say thank you to your boss, not only does the person feel appreciated, but he/she would also be motivated to assist you again in future.
Sample Thank you Letter for Employer
Dear [Name of Employer],
I write to express my deepest gratitude to you for believing in my abilities and giving me a promotion. Giving me the opportunity to take on a managerial role in this company means a great deal to me.
I promise to continue to work to the utmost best of my God-given abilities in my new role to never let you down.
Once again, I sincerely say, "Thank you" for putting your faith in me and giving me this unique opportunity of a lifetime to grow. I promise to never stop fulfilling all your expectations of me.
Yours truly,
[Your Name]
Thank you Letter for Employee
Besides fatter paychecks and bonuses, one of the most effective ways to boost the morale of employees is by simply acknowledging and appreciating their good work. The more you say thank you to your employees for their efforts, the more productive and committed they become at the workplace.
In writing this letter, we recommend you do the following:
Clearly state in the letter what you are thanking the employee for.
Try your best to be sincere and ensure that you maintain a very friendly tone throughout.
Make sure you have spelled the employee's name correctly.
Sample Thank You Letter for Employee
Dear [Employee's Name],
I'd love to use this letter to congratulate you and wholeheartedly thank you for the outstanding work you did in closing that deal. You have no idea the good your incredible accomplishment has brought us.
Words aren't strong enough to tell you how much I appreciate all the wonderful things you do here at the workplace. You are a loyal, hardworking and very diligent worker, who makes a very vital part of this company. It means so much to me that you constantly put the interests of this company before yours. The business world truly needs more of such remarkably selfless and industrious workers like you.
Thank you for constantly contributing to the success of this company. Well done and keep up the fantastic work. Congratulations!
Yours sincerely,
[Name]
Thank you Letter for a Colleague
A thank-you letter will never stop being appreciated by your colleagues who go out of their way to offer you a helping hand. When you sincerely appreciate what your colleagues from work do for you, not only does that put a smile on their faces and boost their morale, but it also makes them feel inclined to rush to your aid in future while enhancing your working relationships.
Sample Thank you Letter to a Coworker
Dear [Colleague's Name],
Here is to thank you for the invaluable assistance I received from you while working on my recent assignment. Though you have a very tight schedule (for which I am a witness), you sacrificed a significant part of your time to help me.
Without your aid, I certainly wouldn't have been able to complete the task in time and in such an excellent fashion. You're indeed a savior!
Also, I want to use this opportunity to let you know that working with you has taught me many valuable things in both my professional and private lives. I couldn't have asked for a better coworker.
Thank you again for being a good colleague to me and an even more amazing friend.
Sincerely
[You name]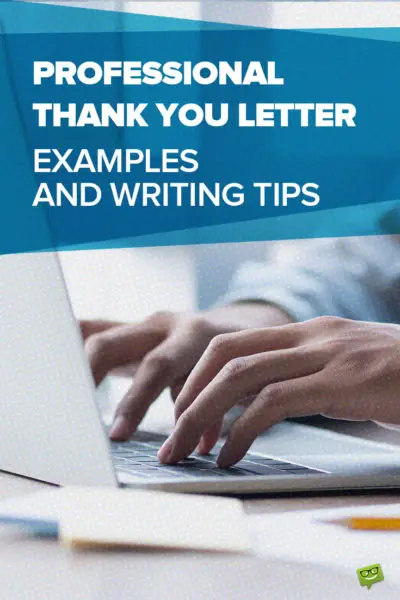 Thank you Letter for a Client
One of the most important assets of a business is its customers and clients. A business can never survive without its customers – especially the loyal ones. This is the reason why client appreciation is very important in business. Letting your clients know that they are valued and appreciated keeps them coming and keeps you in business.
In writing your appreciation to your clients/customers, try adopting the following important tips:
The thank you should be timely. The sooner you send the appreciation, the better.
Let the client know exactly why you're being thankful to them.
Keep your letter brief, clear and straight to the point.
Make sure your gratitude is sincere. It is very easy to detect an insincere gratitude.
Last but not least, proofread your letter before dispatching it.
Sample Thank You Letter for a Client
Dear [Client's Name],
We would like to say thank you for your recent patronage of our [Name Product/Service]. We deem it a great privilege to serve you and can't wait to have the opportunity to do business with you again soon. It is amazing and dedicated clients like you that make our business successful. We could never have made it this far without you.
If there's anything else you need, don't hesitate contacting us. We are always happy to assist you.
Once more, from the entire management and staff of ABC Limited, we say, "Thank You" for the trust you have in our company and for choosing to do business with us.
Yours truly,
[Name]
---
You may also like:
Professional Thank You Messages for All Things Done Well
Good Luck Messages for Professionals