It's time to show your appreciation for the incredible friends and family who attended your baby shower! Taking time out of their day to celebrate with you is such a unique way to bring all your loved ones together. To thank them for their thoughtful presents, warm wishes, and kind sentiments, here are 25 heartfelt messages and notes that you can include in a card or share with your guests after the shower. Whether you're looking for something funny, sweet, or sentimental – there's an option here for everyone!
5 Tips to Help You Choose the Best Wording for a Baby Shower Thank You Card
If you're looking for the perfect way to thank your friends and family for their incredible baby shower presents, here are 5 tips to help someone choose the best wording for a baby shower thank you card:
Show your gratitude. Make sure to include a heartfelt expression of appreciation and let them know how much their thoughtfulness meant to you and your family.
Be specific. Mention the gift they gave, or talk about the time they spent with you during the baby shower.
Keep it simple. Opt for a concise and meaningful message that expresses your gratitude without being too long-winded.
Be sincere. Let them know how much their kind gesture touched you, and why you are so grateful to have them in your life.
Be cute. A light-hearted joke or pun can be a great way to add some extra fun to your thank you cards!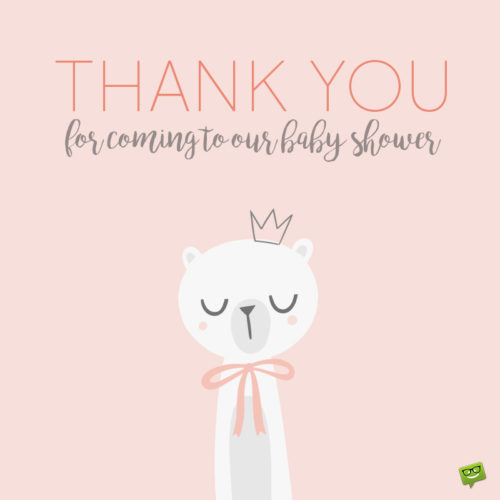 Thank You for Coming to my Baby Shower

Friends and family cannot get enough of new babies and are always eager to celebrate this new life with you and your family while showering you with fun and practical gifts, words of encouragement and support.
Thank you so much for coming out to help us celebrate our growing family. With a new little one coming, we are immensely grateful that you took the time to come and celebrate our bundle of joy and contributed to our excitement. As our lives change to make room for a new member of our family, we are so thankful for your support.
As we prepare to bring a new baby into our family, we want to extend our sincerest thanks to those who came to celebrate such an important milestone with us. We know that we have all the love and support we could possibly need as our family grows and your presence at our baby shower was so kind and thoughtful. Many thanks for spending the day with us.
Now that the party is over, we are overwhelmed with the support we've received from those closest to us. Bringing a new baby into the world is a big event, and we thank you for joining in on the celebration and fun of our baby shower. Thanks for coming and sharing this special part of our lives with us.
What a wonderful time we had celebrating our newest family member with all of our favorite people. We wish to extend our sincerest thanks to you for joining us at our baby shower and bringing so much love and fun while we created new memories and prepared to expand our family. Our family is so blessed to have people like you in our lives and I know our little one is excited to meet you.
We truly appreciate you spending time with us as we prepare for our new bundle of joy. Thanks for coming to our baby shower and helping us to usher in new life while having fun and making memories with our closest friends and dearest family members. It takes a village to raise a child, and we are so thankful you are a part of that community with your love and support.
Don't forget to read our list of Birth Announcement Wording Ideas too!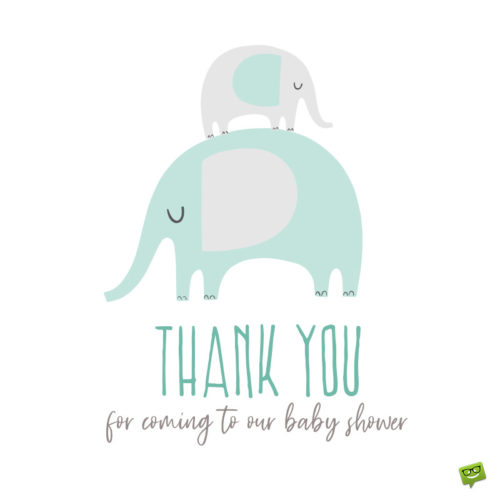 Thank you Messages for Baby Shower Gifts received
Sometimes your guests have shown such thoughtfulness and generosity with their baby shower gifts that you want to give them an extra special you. Here are 5 heartfelt messages to show your gratitude for the presents received:
We can't express how grateful we are for your incredible gift! We really appreciate your thoughtfulness.
We are so grateful and overwhelmed by your generosity! Thank you for the thoughtful baby shower gift. It will be treasured by parents and little ones alike. 😉
Your generous present was so thoughtful and meant so much to us. Thank you!
We were overwhelmed by your kindness and love. Thank you for the beautiful gift!
Thank you so much for taking the time to celebrate this wonderful occasion with us. Your gift is greatly appreciated!
The best part of our baby shower was having all of our favorite people around us – including you! Your lovely present will be truly treasured.
Check out our collection of gender reveal quotes if you enjoyed this article.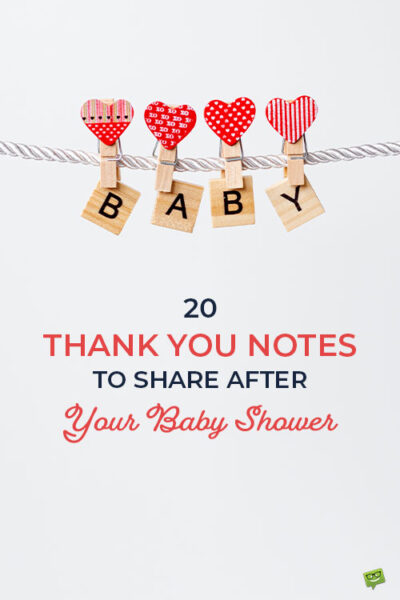 You may also like:
25 Thank You Notes for Beautiful and Unexpected Gifts
A Bundle of Joy in the Family | Baby Shower Wishes