Are you a cat lover? Celebrate another year of life with these purr-fect birthday wishes for all the cat enthusiasts out there! From funny and humorous messages to sweet and sincere words, we have something to suit every style. Whether you're looking for inspiration for your own birthday greetings or searching for the perfect message to send to a special someone – look no further than this list of 30+ creative and cute birthday wishes for cat lovers.
Invoke some gorgeous felines into your celebrations and find the perfect way to make this special day even more memorable! So, get ready to enjoy some furry four-legged fun with these delightful birthday wishes just waiting to be shared.
Heartwarming Birthday Wishes for Cat Lovers
Here's a list of birthday wishes designed especially for cat lovers:
Cats are beautiful creatures, but you have them beat because you look prettier with every year that passes. Have a wonderful birthday, pretty kitty!
Don't be as stubborn as a cat and hide. Go out and celebrate your birthday. You're another year older, but who can tell. Best wishes on this special day!
What's the matter, did the cat get your tongue? Did you think I wouldn't notice it's your birthday? Wrong. Birthday wishes are sent your way.
Okay, the cat's out of the bag. I know it's your birthday, and I couldn't be happier to send you my best wishes. Enjoy this special occasion.
I hope your birthday is filled with lots of furry moments and kitty licks. Wishing you a fabulous birthday!
On your birthday, I want you to relax like a cat, purr like a kitten, and live like you have 9 lives. Wishing you a birthday filled with good health and happiness.
Always land on your feet like a cat when birthdays get you down. Enjoy your birthday and treat yourself special today.
Gather your cats together and make some birthday wishes. I'm praying all of them come true. Have a heavenly birthday!
On your birthday, I hope someone pampers you the way you pamper your cat. May hugs, kisses, and treats brighten your day. Happy Birthday!
May your birthday be as delightful as a basketful of kittens. Have a wonderful birthday. Have a wonderful year!
Cats don't get wrinkles, and neither do you. What's your secret? Do you sleep all day, too. Oops. Sorry if I interrupted your catnap, but I just had to send you some birthday wishes.
Funny Birthday Wishes for Cat Lovers
This is a list of birthday wishes that are sure to make any cat lover laugh:
One more cat and you won't be the crazy cat lady anymore. You'll be the craziest cat lady. Sending you heartfelt wishes on your birthday.
Scientists have revealed being a cat owner has health benefits. As long as you don't piss your cat off, you'll probably live a long and healthy life. Celebrate this good news and your birthday. All good wishes!
It's your birthday! On this special day, I hope your cat gives you a good massage, or at least makes you biscuits without kitty litter in them. Best Wishes.
If your cat brings you a present for your birthday, graciously accept it. Excuse your kitty for not wrapping it. It probably couldn't find any wrapping paper. Wishing you the best on your birthday!
Unlike a cat, you wouldn't appreciate getting an empty box to sleep in as a gift. Hope every box you get on your birthday contains a wonderful surprise. Cheers!
Celebrate your birthday like a cat with a case of the zoomies, but wait until everyone leaves the house so no one thinks you've lost your mind. Sending many good birthday wishes to my favorite cat lover.
May your birthday bring you the kind of happiness a cat feels when it's in a yarn shop. Best birthday wishes!
Cats don't care about aging, so why should you? Be happy for another year of waking up to find your cat's favorite toy mouse in your slipper, on your bed, on the stairs, or somewhere else a toy mouse shouldn't be. Be happy you're celebrating another birthday. Happy Birthday!
Have a nice birthday with your cat. Share a fish dinner, and ignore everyone the way your kitty does. Wishing you all good things on your birthday.
Come on, let's throw a party for your birthday tonight! I know we're not so soft and fluffy as your kitty, but we're good company!
Let's admit it: your cat is a life companion, but (s)he can't prepare any birthday cake for your birthday!… Or can (s)he?!
As I'm wishing you "Happy Birthday", I'm starting to suspect that one more good reason that you love your cat is that (s)he doesn't know your age! #meaow!
Belated Birthday Wishes for Cat Lovers
Send one of these belated birthday wishes after someone's birthday has passed.
I'm late with your birthday greeting. Please forgive me. Accept my belated birthday wishes, kiss your cat, and have a day filled with cozy cuddles.
I'm a little behind with sending you this birthday greeting. Forgive me. Since you own cats, you should know a lot about little behinds. Hope your birthday was the cat's meow!
My birthday greeting is late, and I'm ashamed of myself for forgetting. I think I'll hide under the bed like your cats do. Happy belated birthday!
Sorry this birthday wish is late. If I give you a head bunt, will you forgive me? I hope your birthday was awesome, and I wish you the best!
I woke up from a catnap and realized you had a birthday. Excuse me for having a fuzzy brain. I'm sure you understand. You should know a lot about fuzz. Happy belated birthday!
Did you ever wonder what a cat's brain is like on catnip? It probably goes missing every once in a while like mine does. Sorry I forgot your birthday. Hope it was magnificent!
Don't you feel sad when your cat coughs up a hairball? If you answered yes, you probably don't feel as bad as I do about forgetting your birthday. Please accept my belated birthday wishes.
I hope you pampered yourself on your birthday, just like you pamper your cat. Happy belated birthday wishes! So sorry these wishes are late.
I'm sorry I forgot your birthday. Just think of me as a cute little pussycat begging for forgiveness. Meow. Am I forgiven? I hope you enjoyed your birthday!
Like it? Pin it to save it for later!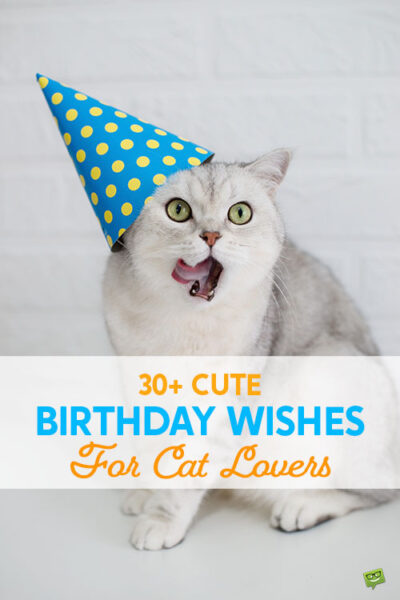 You may also like:
Purry Happy Birthday! | 95 Cute Cat Birthday Wishes
How Should We Call Our Furry Ball? | 100 Great Names for Cats