We all know that birthdays are important. People want to be noticed and acknowledge on their special day. This is especially true for people who are sexy and gorgeous.
Wishing an extremely attractive person a happy birthday can be challenging. Most of us just don't know the right thing to say. However, you don't have to worry: that's because we offer this collection of messages that can be used to amaze a gorgeous person on their birthday. Keep reading to find out the wonderful things that you can say to that gorgeous one.
Table of Contents
Happy Birthday Gorgeous to your Love
If you have a gorgeous wife, husband, girlfriend or beau, then these birthday texts are for them.
Roses are red, violets are blue, your sexy butt is getting hugs and money, and lots of affection too. Happy B-day boo.
Surprise, gorgeous. It's your special day. So, you're entitled to free shopping, a free massage and free birthday party fun.
You rock. I rock. And tonight, I'm gonna show your sexy ass how much we can rock together. Happy B-Day sexy.
Party like a rock star. You deserve to on your special day. I love you, sexy girl.
I'm married to the sexiest man alive and it's his birthday. Tonight, you're getting the best gift ever. That's me wrapped in a ribbon and bow. You go boy.
1, 2 – boy I love you. 3, 4 – I will always want you more. 5, 6 – I love being your chick. 7, 8 – tonight is going be great and 9, 10 – it's your b-day, so let the fun begin. Happy b-day gorgeous.
A candle, a cake, a gift and me. Let's make this the best birthday you ever had. You foxy thing.
To my gorgeous lady on her birthday. May your pretty face never wrinkle, and your amazing love never grow old.
Birthday Wishes for a Gorgeous female friend
Female friends are important for guys. Even though they are not dating them, that doesn't mean they can't do something special for their birthday.
Happy b-day gorgeous. If you didn't friendzone me, we would travel to Paris to honor your special day. So, I just got you a gift instead. From your pal (name goes here).
Aw sexy, you got what I need. But you say I'm just a friend. But you say I'm just a friend. And as your friend, I just want to say happy birthday.
Happy b-day my little chick magnate. It's good to have a sexy friend like you. I can always get more chicks with you at my side.
Hey gorgeous, just because I'm not your boyfriend, doesn't mean I don't care that it's your birthday. Happy birthday from your bud (name goes here).
Oh, sexy lady. I got you something that you're going to like for your birthday. Me and the gang are taking you out for drinks and a night of debauchery at an all-review.
I like being friendzoned by you. It means that I don't have to give you anything special for your birthday. Aren't you glad you have a guy friend like me? Just joking, happy birthday.
You're my pal, not my girl. But tonight, I'm going to treat you right. Get ready for a good time and some exciting fun my gorgeous birthday bud.
Best Birthday Messages for a Gorgeous Male Friend
Females appreciate their male friends and when it's their birthday, they try to show how much they care.
Hey bro. Heard it was your birthday. Me and my chicas want to give you a party in style and to make your cute butt smile. Get ready for the best, birthday ever.
Hey sexy man, you definitely are in the friendzone but that doesn't mean that you and I still can't fun for your birthday. Tonight, we're going to party till the sun comes up.
You are one sexy dude but unfortunately, you're like the little brother I always wanted. Still, we're going to make your birthday a special time.
Your birthday has arrived stud. And as my sexy friend, I'm going to make it a night for you to remember. Let's have a good time.
You might not be my man, but that doesn't mean you won't get special treatment for your b-day. Looking forward to tonight sexy guy.
Birthdays are the best when you share them with a hot sud like you. Happy birthday (name goes here).
Heard it was birthday, my dude. Tonight, my girls and me are treating you to some strip club fun. Happy b-day.
Hey gorgeous, you have always been a good friend. I just wanted to give you a gift, to let you know how I care. From your sexy friend (name goes here).
Say Happy Birthday Gorgeous to a Daughter
Some dads and moms really appreciate the fact that they made a beautiful daughter. They sometimes show it on their birthday.
Sometimes, I don't believe that I made such a gorgeous looking child. But I did. Happy birthday my beautiful daughter.
Wow, you are an amazing, intelligent and beautiful girl. You take after your mom. Happy b-day.
You always make me wonder how you turned out better than me. Love you and I'm glad it's your special day.
I know it's birthday baby girl. Your dad and me are really glad to celebrate it with you. Best birthday wishes to my beautiful daughter.
Your birthday reminds me about the life we made with you. You're gorgeous and smart. What a birthday girl.
Hey party girl, your mom and me are going to give you that special gift you wanted. Thanks for being a pretty and loving daughter.
Your birthday has arrived again. I'm glad to have a precious and cute girl like you calling me mom. Have the best birthday ever.
The best birthdays are for pretty little girls that love their parents. We got you a very special gift, to honor your special day.
Young one, you might get on my nerves at times, but I love your pretty smile. Have a great b-day. Glad you are my kid.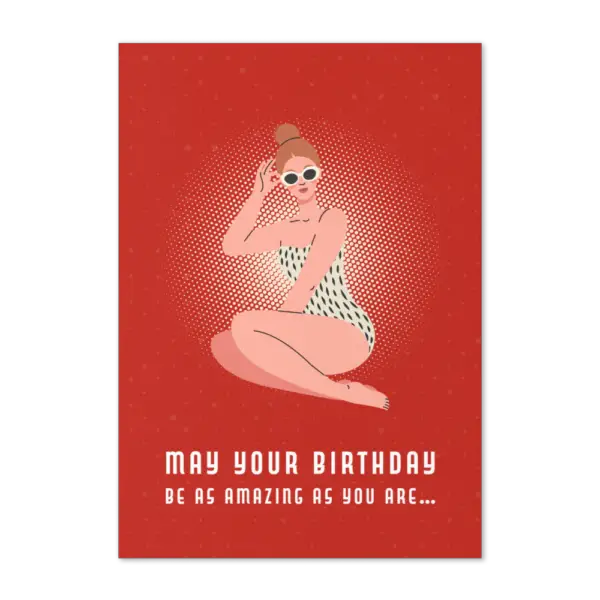 Birthday Quotes to Say Happy Birthday Gorgeous to Your Sister
Siblings love their sisters. They might not show it all the time, but they do care.
Sis, you are pretty amazing and I just want to let you know how much I care on your b-day. From your bro (name goes here).
I really want to punch you in your cute face. But instead, I'll give you a gift. What are brothers for.
You might be pretty to other guys. But to me you're just my annoying and irritating sister. Happy birthday chump.
Hey girl, it's your birthday and I want to take you out to celebrate. We're sisters and we should be celebrating together. So, let's go paint the town red with fun.
Birthday fun for our gorgeous sister. Your siblings love you and we want you to have fun, no matter how much you suck. Happy birthday.
You may also like:
Happy Birthday, Beautiful! | Wishes for those Good-Looking People
Happy Birthday, Princess! | Messages of Pure Love