In the world of dancers, birthdays are an opportunity to pirouette into the spotlight and celebrate another year of grace, rhythm, and passion for movement. Whether you're searching for original, heartfelt, or downright hilarious birthday wishes, this post has got you covered with a versatile collection of birthday wishes tailored to delight and inspire the dancer in your life.
From creative ideas for celebrating their special day to funny messages that will have them twirling with laughter, we've curated a one-stop-shop for making your dancer friend's birthday truly unforgettable. So, let's dive into the art of birthday wishes for dancers and make their day dance-tastic!
Table of Contents
How Do You Wish a Happy Birthday to a Dancer? 10 Alternative Original Ideas
Besides sharing wishes, this list provides creative and thoughtful ways to wish a happy birthday to a dancer in your life, celebrating their passion for movement and rhythm. From dance-themed cards to surprise performances, these ideas are sure to make their special day even more unforgettable.
Send a Dance-Filled Video Message:
Record a fun and lively video message showcasing your best dance moves to wish them a happy birthday.
Dance-Themed Card:
Choose a birthday card featuring dancers or dance-related imagery and write a heartfelt message inside.
Personalized Playlist:
Create a playlist of their favorite dance songs and share it with them as a birthday gift.
Dance-Inspired Gift:
Consider giving them a gift related to dance, such as dance classes, dancewear, or tickets to a dance performance.
Dance Party:
Host a virtual or in-person dance party in their honor, complete with their favorite music and lots of dancing.
Choreographed Surprise:
Organize a surprise dance performance or flash mob for them, showcasing their favorite dance style.
Dance-Themed Cake:
Order or bake a birthday cake with a dance design, like ballet shoes or a disco ball, and celebrate with a slice of sweetness.
Dance Quotes:
Share inspiring dance quotes and wishes that celebrate their passion for dance.
Personalized Dance Poster:
Create a custom poster featuring their name and a dance-related quote or design.
Attend a Dance Event:
If possible, take them to a dance show or performance to celebrate their special day in a dance-filled way.
Happy Birthday Wishes for a Dancer
Happy birthday, and may you be dancing to the rhythm of life for countless years to come!
May you have a blessed birthday and a life as smooth and graceful as you are on your feet.
I want to just glide across this room, plant a big kiss on your cheek and wish you the happiest birthday ever!
Congratulations for making it to a new age! May the grace and beauty you possess forever serve inspiration to others.
Fit, talented, graceful, inspirational – those are all words that accurately describe you during this special day.
Your footwork through the challenges of life has thus far been outstanding, and I know you will impress even more from here. Happy born day.
I have met many a dancer throughout my life, but none as exceptional as you. Keep up the amazing work.
Happy Birthday. Have Fun, Dance, Be Happy.
10 Funny Birthday Wishes for a Dancer Friend
Get ready to tap into the rhythm of laughter with these 10 hilariously fun birthday wishes for your dancer friend!
Wishing you a birthday filled with moves so smooth, even your cake will start dancing!
Another year older, but don't worry, you're still the reigning dance floor champion in our hearts!
Happy birthday to the person who can turn any situation into a dance party – even waiting in line at the DMV!
May your birthday be as fabulous as your dance recitals, and as graceful as a swan in ballet class!
You're so good at dancing, they should rename it to 'Your Name Dance.' Happy Birthday, Dance Maestro!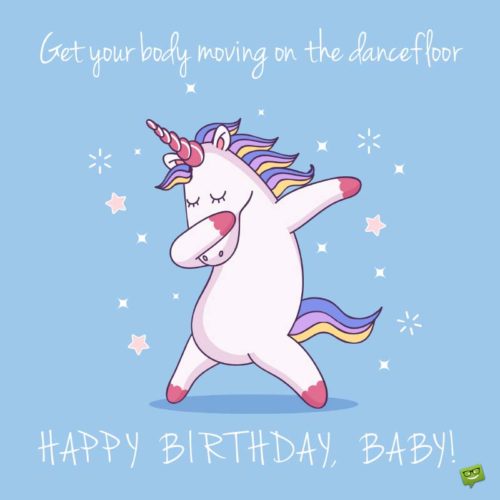 They say age is just a number, but in your case, it's more like a dance move – the 'Cha-Cha-Cha years!'
Here's to the one who can't resist doing the moonwalk when the floor is freshly waxed. Happy birthday, Smooth Criminal!
On your special day, may your dance moves be as legendary as your ability to find lost car keys!
You're another year older, but remember, age is just a dancer's way of counting how many moves they've nailed!
Happy birthday to the friend who dances through life with such enthusiasm that even the cake is doing the cha-cha!
Like it? Pin it to save it for later!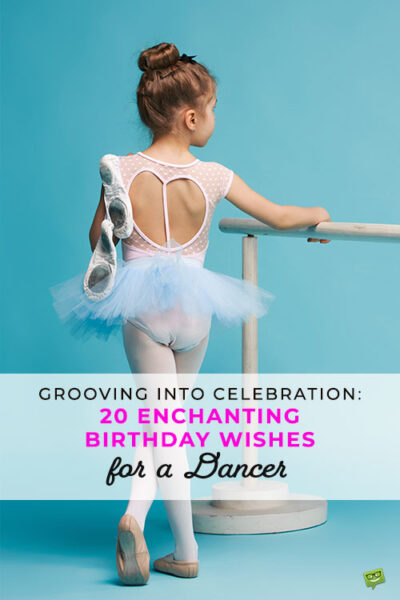 You may also like:
Birthday Wishes According to People's Professions
50+ Heartfelt Birthday Wishes Our Female Friends Would Love to Hear
Energy Within | Happy Birthday to the Fitness Freaks