Welcome to the party, or should I say, the word party! If you've ever found yourself staring blankly at the inside of a birthday card, pen in hand, desperately searching for the right words to express your sentiments, then you're in the right place. Here, we leave no birthday card uninspired, no pen un-inked, and no friend or family member unappreciated. This is a judgment-free zone where writer's block has no power, and every birthday card can become a masterpiece of heartwarming sentiments, cheeky humor, or casual coolness.
Picture this: It's your loved one's birthday, and you're prepared. You've got the cake, the balloons, and even the embarrassing childhood photos for a mid-party giggle. You have the perfect gift, and the accompanying card is… blank. Fear not, dear reader! This blog post is your knight in shining armor, your secret weapon against the dreaded empty card. Whether you're a wordsmith or a word-struggler, we've got your back. Buckle up and get ready to dive into the world of birthday card writing, where every word counts and every message sparks a smile!
Table of Contents
Cheerful, and Personal: Short Birthday Messages That Light Up Any Celebration
A touch of cheer and a dash of personality can transform a simple birthday wish into something memorable. Here are some short, uplifting messages that can make any birthday card stand out.
Celebrate, glow, and enjoy your day. Happy Birthday!
Wishing you a birthday as fabulous as you are and a prosperous year ahead!
Happy Birthday! Continue to spread your awesomeness.
Enjoy the cake, cherish the laughter, and make this birthday unforgettable.
Here's to a year full of dreams coming true. Happy Birthday!
Live it up on your special day. Happy Birthday!
Happy Birthday! Keep living, keep inspiring.
On your birthday, remember: age is just a number, and you're only as old as you feel!
Wishing you a day of celebration and a year of joy. Happy Birthday!
Happy Birthday! Embrace the magic that a new year of life brings.
These crisp and cheerful wishes encapsulate the essence of a birthday celebration – joy, cheerfulness, and a touch of personal warmth. Use them as they are or add your personal twist to make them even more special for the birthday person.
Best Buddies Unite: Unique One-Liner Birthday Wishes for Your Lifelong Pal
You light up the world just by being you – keep shining, Birthday Star!
Distance is no match for us – cheers to your special day from miles away!
Wishing you a sea of dreams and a joy-boat to sail them on this birthday.
Another year of you being an incredible friend – Happy Birthday!
May your birthday be as warm, bright, and kind as your spirit.
Adding a touch of magic to my everyday, you make birthdays worth celebrating!
Our tapestry of memories keeps getting richer – Happy Birthday to my co-weaver!
Time for the world to pamper the person who spreads joy like confetti – Happy Birthday!
Our friendship is the symphony of life, and today we celebrate its melody – Happy Birthday!
Despite the miles, our friendship stays close to the heart – enjoy your day of cheer!
These one-liner wishes express the warmth, joy, and respect that you share with your best friend. Use them as they are or put your unique spin on them to match your unique friendship. Your friend's birthday deserves a heartfelt message as special as they are.
A Guide to Writing Memorable Milestone Birthday Card Messages
Crafting milestone birthday wishes can seem daunting. You want to convey the right mix of heartfelt sentiment, nostalgia, celebration, and fun. But how do you make it memorable? Here are a few quick tips to help you pen that perfect birthday message:
1. Reflect on the Relationship: Consider the unique bond you share with the birthday celebrant. Personalize your message by recalling shared experiences, inside jokes, or qualities you admire in them.
2. Emphasize the Milestone: Without explicitly mentioning the age, highlight the significance of the birthday. Phrases like "leveling up," "new chapter," or "another trip around the sun" can be great ways to do this.
3. Inject Humor: Light-hearted jokes or puns related to age can add a fun element to your message. Just ensure it's in line with the celebrant's sense of humor.
4. Be Encouraging: Reassure them that age is just a number and that they still have exciting times ahead. You could mention upcoming adventures, goals, or experiences you both look forward to.
5. Wish Well: Don't forget the actual birthday wish. Express your heartfelt wishes for happiness, health, love, and success.
6. Be Genuine: Most importantly, be authentic. Your words should reflect your genuine feelings towards the birthday person.
Remember, writing a birthday message is all about celebrating the individual and the milestone they've reached. Keep it personal, positive, and full of well-wishes. Below are some example wishes that embody these guidelines:
Congratulations on completing another trip around the sun! Can't believe you've done it [insert age] times already. You're a real superstar, and not just because of your orbiting skills!
Happy level [insert age] day! You're not getting older, you're just leveling up. Now, go eat cake like the gaming champion you are.
Some say age is just a number, but [insert age] seems like a pretty great score to me! Sending all the cheat codes for happiness your way on your special day.
You've now been my favorite person for [insert age] years! I'm forever grateful the universe placed you in my game of life.
On your [insert age] birthday, here's my warm wish for you – may your day be as fun-filled and exciting as a party in a bounce house… just don't overdo the bouncing!
Happy Birthday! I wanted to come up with a clever joke about your age, but I decided to take it easy on you… after all, you are [insert age]! Ready to celebrate?
At [insert age], you've officially become too old to count all the candles on your cake. But who's counting? Today, may you eat cake until your heart's content!
Roses are red, violets are blue, you're [insert age] years old, but party like you're 22!
These creative and light-hearted birthday messages are perfect to bring a smile to your friend's face on their big day. Remember to insert the age at the appropriate place to customize these wishes.
Related: Belated Birthday Wishes and Messages
Birthday Card Messages for Complex Relationships and Delicate Situations
Navigating the waters of complex relationships can be challenging, especially when a birthday comes around. You may wish to acknowledge the day, but it's essential to strike a careful balance – being genuine without crossing any boundaries. This section provides birthday wishes suitable for those tricky circumstances. Whether it's an estranged family member, an ex-partner, or a complicated friendship, these messages aim to convey kindness and thoughtfulness, while maintaining a respectful distance. They'll help you send your good wishes without reigniting any tensions or stirring up emotions. After all, every birthday is a celebration of life, irrespective of the situation.
Warm wishes for a truly great birthday.
May your special day be filled with all your wishes.
To a wonderful day filled with joy and celebration.
Wishing you a lovely and unforgettable birthday.
Here's to your special day, filled with joy and delight.
Wishing you a blessed birthday, filled with happiness.
May your special day be abundant with sunshine, smiles, and laughter.
May your birthday be a wonderful day filled with joyous celebration.
May your special day be such a pleasure, filled with delightful moments.
Warmest wishes for a day filled with blue skies and bright smiles on your birthday.
Adding Your Touch: What to Write in a Birthday Card with Multiple Messages
Joining in on a group birthday card can often feel like trying to make your voice heard in a chorus, especially when you're working with limited space. This section is dedicated to helping you find the perfect, concise sentiment to add to a birthday card that's already brimming with well-wishes. Whether it's for a colleague, a friend, or a beloved family member, these succinct suggestions will inspire you to craft meaningful birthday messages that are personal, heartfelt, and memorable.
Wishing you a very happy birthday!
Hope today brings you all the happiness you deserve!
Happy Birthday! May the year ahead be filled with joy.
To our best friend, happiest of birthdays!
May your special day be as lovely as you are.
Here's to great memories we've shared and many more to come. Happy Birthday!
A real friend like you deserves a truly special day. Celebrate!
Wishing you a birthday filled with love and joy.
May this birthday bring you endless joy and lasting memories!
Hoping your birthday is as amazing as you are to all of us.
Did you Forget your Boss' Birthday? Check our our Collection with messages to help you make up and say Happy Belated Birthday Boss!
Bring on the Laughs: Crafting Funny Birthday Card Messages
Who said birthdays can't be a laughing matter? You're in the right spot for some hilarity! We're about to embark on a journey through the art of crafting a funny birthday messages.
To the nation's best kept secret: Your true age. Happy birthday!
Aging is like underwear… it creeps up on you!
Remember, you're not old. You're just a little less young.
Birthdays are like boogers. The more you have, the harder it is to breathe.
Don't worry about your age, you get a new one every year. Happy birthday!
Happy birthday! You've now reached the age where 'happy hour' is a nap.
Birthdays are like glasses of wine. We should have more of them.
Birthdays are nature's way of telling us to eat more cake. Don't disappoint nature.
Happy birthday! May you live to be so old, even the mere act of breathing is considered exercise.
Remember, humor can be subjective, so make sure these funny lines will be appreciated by the birthday person!
Pro Tips for Writing Professional Birthday Messages
Crafting professional "happy birthday" messages for a card can be a balancing act of sincerity and formality. Here are a few ideas and tips to help you send birthday wishes that hit the perfect tone.
Keep it Warm yet Professional: While "Happy Birthday" messages in professional settings should maintain a level of formality, don't forget to add a touch of warmth to show your genuine wishes.
Positive Future Outlook: In professional birthday cards, it's a good idea to wish colleagues a wonderful year ahead. This can symbolize growth and future success in their professional journey.
Concise is Key: In professional settings, concise, clear messages often have the most impact. Keep your birthday wishes succinct yet meaningful.
Sample Professional Happy Birthday Wishes To Write in a Card
Wishing you the happiest birthday! Your dedication and hard work make you such an amazing person to work with.
Sending you the warmest birthday wishes! May this day bring you as much joy as you bring to our team.
Wishing you the best birthday filled with laughter and cheer. Your professionalism truly makes you a special person in our organization.
May your birthday cake be as sweet as the success you bring to our team. Have a lovely birthday.
Such a joy to celebrate you on your special day! Hope your birthday is filled with moments that make you smile.
To an amazing colleague, happiest of birthdays!
May your special day be filled with success and cheer!
Your dedication is inspiring. Have a wonderful birthday!
Wishing a productive year ahead to a wonderful person.
Enjoy the cake! You've earned every slice. Happy Birthday!
To a special person on our team, enjoy your day to the fullest.
May your birthday be as bright as your ideas. Cheers!
Hope your birthday brings joy and laughter to your day!
May your birthday be as impressive as your work. Best wishes!
To the star of our team, have a stellar birthday!
Finding what to write in a birthday card doesn't need to be a challenge. From simple birthday messages to humorous one-liners, this guide should provide you with a myriad of ideas for what to write in a birthday card. Whether you're celebrating a milestone or sending warm wishes in complex relationships, remember that authenticity always shines. So, harness these tips, let your own words flow, and create a memorable birthday card that will brighten any special day. Happy writing!
Like it? Pin it!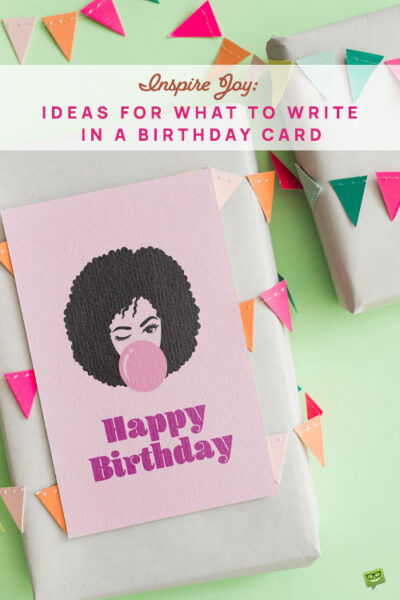 You May Also Like:
The Best Birthday Messages to Make Someone's Day Special
145 Wishes to the One Who Shows the Way : Happy Birthday, Boss!
101 Unique 'Happy Birthday Best Friend' Messages for Your BFF's Special Day