Being a leader is not always easy, but it can be rewarding. Success with clients and respect from employees are both vital to continued success in the job. It is important to let your boss know he/she is appreciated and that you are happy to be working together, especially on his/her birthday. Today, wish your boss the happiest of birthdays! Not only will this friendly gesture brighten your boss's day, but it may even make your day better, too.
So, go ahead and give your thanks for the dedication, persistence, and leadership of your boss.
Happy Birthday Wishes for your Boss
To the true leader, confidant, and visionary of our department, happy birthday! Your support each day means the world to us.
Happy birthday to the one who keeps us in line all day!
You are the one who always has our backs. Happy birthday, boss!
This year has been eventful and your support has been especially important. Thanks for all you do for your employees and our company.
Happy birthday to the top dog!
You are a shining example of all that is good in this company. Each day, I see you making decisions that benefit both the company and our clients. You are a great role model to us all.
A good boss is a treat. A great boss is a blessing! Thank you for being a blessing in our lives.
Business is booming because of you! My very best wishes!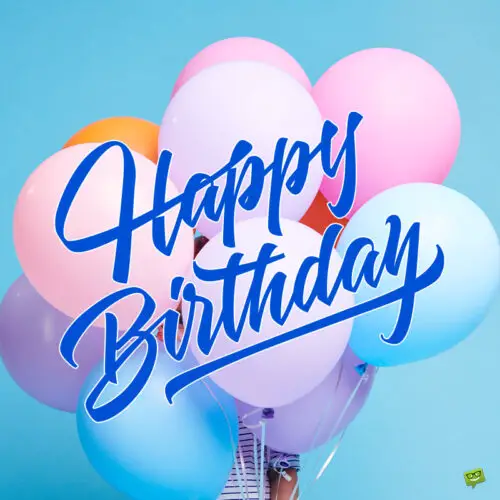 Some bosses lead with force, others with micromanaging, while yet others (like you!) lead with inspiration. Your confidence in us is not only motivating but has also created strong company loyalty among us all. You are fabulous.
Happy birthday to the one who gets us through each day with minimal bumps and tons of laughter!
Today is the day to celebrate you and your wonderful leadership!
Clearly, you are the man/woman of the hour! Happy birthday and here's to many more fabulous years having you in leadership!
Did we mention we can't imagine our work days without you? It's true! You're the best boss around.
Every day, I'm thankful you are around. You make 8 hours of work feel like 8 hours of fun.
For once in my career, I feel like I am on the path to somewhere great. And, it is all because of you and your care for each of us. Happy birthday to the best leader around!
Great bosses like you are hard to come by. Please don't ever leave.
Having a boss like you makes it worth coming to work. You are awesome.
Also read: 50 Belated Birthday Wishes for Boss to Make Up for Forgetting
I wasn't sure I would ever say I was thrilled with my boss. Over the years, I have had some doozies. But, now that you have come along, I can happily say I really enjoy working for you. Thanks for all you do and Best Wishes.
Jump for joy! It's your day! Happy birthday, boss!
They say, "Knowledge is power." Happy birthday to the most powerful leader I know!
Looking forward to many more years working with you. Happy birthday!
Many people do not have the joy of working for someone they admire and respect. Thankfully, I am not one of those people. Your work ethic and way of treating people are commendable. Happy birthday, chief!
Never let it be said that you are not the most awesome boss ever, because you are!
Only certain people can lead others with respect. Thank you for doing that for us.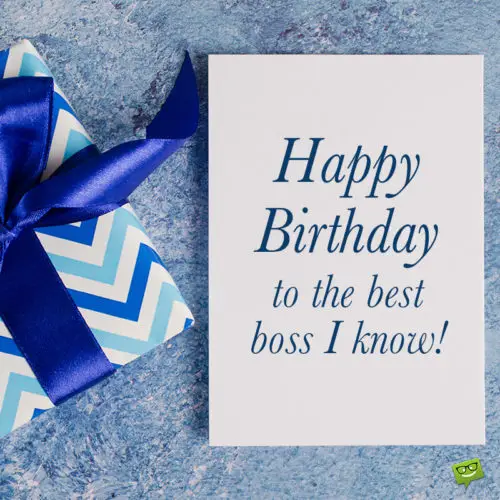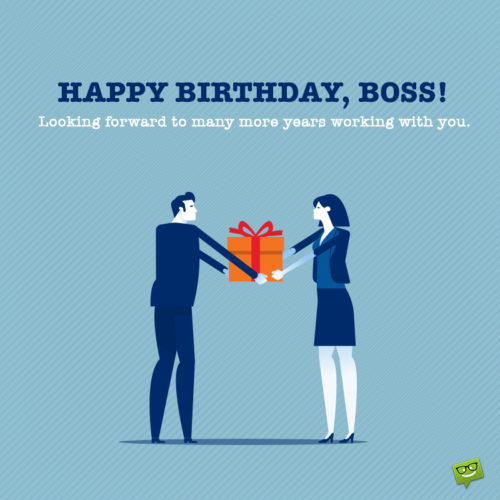 Right now, the whole world should be celebrating your greatness. You have done amazing things for your employees and this company as a whole.
Proud to have you as my boss! Surely, there is no boss as fantastic as you.
Today, I celebrate your leadership as my boss and sincerity as my friend. Happy birthday to a wonderful person!
Under your leadership, we have all succeeded more than we could have ever imagined. Thanks and happy birthday!
Happy birthday! Victory is ours in the business world with a boss like you!
Why work for just anybody when I can have a boss like you? You are the best leader around! Happy birthday, chief!
Wishing you a day filled with no reports, deadlines, or stress. You deserve a relaxing day for all of your hard work!
Here's to the most deserving person in the office. May you have all the happiness you desire today. Happy birthday, boss!
You may be my boss, but you are also my friend. You are great at both!
Compared to others, you are second to none. You are the best leader around. Happy birthday to the best boss I know!
A little motivation goes a long way. You are daily motivating me to greatness and I thank you for that.
Replacing a boss like you would be an impossible task. Please stick around forever.
Working with you is like storing a fine wine, better every year.
You are a daily inspiration to all of us. Not only do you work hard at your job, but you also keep your priorities straight, first God, then family, and lastly work. Thank you for being someone we all strive to be.
You are a symbol of loyalty and dedication to us all. Happy birthday to one awesome person!
Your smartest decision was the day you hired me. Happy birthday to one intelligent boss!
A management style like yours is a blessing for us all. You are on your way to bigger and better things for yourself and us each day.
Dear Boss, you are sincere in your efforts to grow your team. You are sincere in you efforts to motivate us and teach us to lead. We are sincere in wishing you a pleasant and wonderful birthday. Best wishes, from your team.
A great leader inspires his or her followers to be leaders. Happy Birthday, Boss!
You are a great boss who deserves the grandest of celebrations. We celebrate you, not because it's courteous, but because we sincerely wish to see you smile on your special day. Happy Birthday.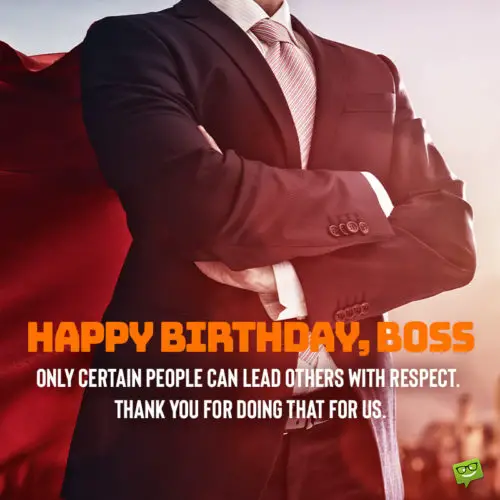 Dear Boss: Cut off the phone. Turn off the emails. Today is the day you should not stress about work, but enjoy the things that matters most. Enjoy your birthday!
Wishing you much success and happiness. I hope lots of good surprises await you in your future. Have a great birthday, boss.
Happy Birthday, Boss! I got you the best gift not only because you're worth it, but because it's evaluation season.
Dear Boss. I remember your criticisms every day and they motivate me to achieve high performance. On this day, I am hoping that you achieve happiness and joy. Happy Birthday to you.
Life brings many successes and many disappointments. When it comes to you, boss, I just hope I'm not one of those disappointments. Enjoy your birthday celebration.
You are kind and considerate, supportive and firm in your instruction, inspiring and encouraging. These are just a few of the reasons I'm convinced that you're the best boss in the world. Thanks for everything! Happy Birthday.
Happy Birthday to the best boss I've ever had. I hope all of your wishes come true for you.
On this day, you should take some time off, relax, and do something you love to do for once. Today is your day so you should enjoy it. Happy Birthday.
You're the best boss ever. I hope you enjoy your day surrounded by loved ones. Keep the tasks of this job far from your mind. You deserve it.
We had some good days and some bad days, some disappointing days and some great days. I wouldn't change anything about my journey on this job. I've had the support of a great boss! Best wishes to you on your birthday.
You get an A for commitment and an A+ in your superior leadership skills. Happy Birthday, Boss.
I consider myself one of the lucky ones to have a gracious and relatable boss like you. Wishing you all the best on your birthday.
Happy Birthday to you, Boss. I will never forget all the years of encourage and patience in training. All of my successes I owe in large part to you.
In return for all of the guidance and wise instruction, we are wishing you lots of happiness and good health. With Regards, your team.
We are a great team because we have a great leader. Thanks for all you do.
Never think for one second that your hard work and dedication goes unnoticed. We are thankful for a superstar boss like you. Have a special birthday.
Happy Birthday, Boss. May your days be filled with love, happiness, and sweet memories. Treasure every moment and make it count!
It's great to have a boss like you to get through all of the rough projects. Happy Birthday.
Dear Boss. It's true. We are more like family. We see each other almost daily and share many fun memories. Have a great birthday.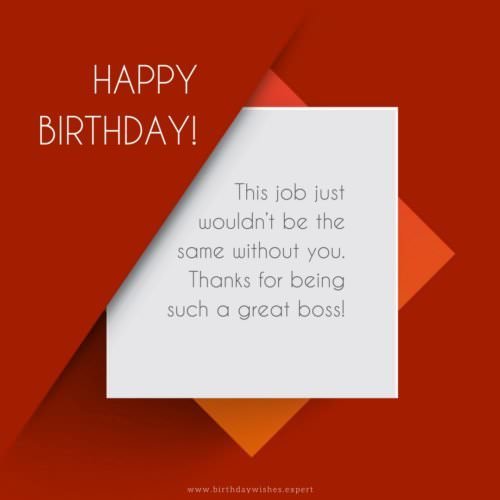 You bring out the best in me. Happy Birthday to you, Boss!
It's been a fine year with a great boss like you. How fortunate am I to have a boss to grow with, laugh with and learn with. Happy Birthday to you!
Wishing you a happy birthday and many more to come.
This job just wouldn't be the same without you. Thanks for being such a great boss! Happy Birthday.
I hope you don't mind us taking the time to stop work for this very special occasion. We wish you a very blessed birthday.
No task is too hard for you. No project is too big for you. You're the boss that can do it all. Happy Birthday.
Happy Birthday, Boss. My wish for you is less stress and more play time.
There is never a dull moment with someone with your high spirits and personality. Wishing you a very fun-filled day today. Happy Birthday, Boss!
Thanks for making Monday morning a little less dreadful. Happy Birthday, Boss!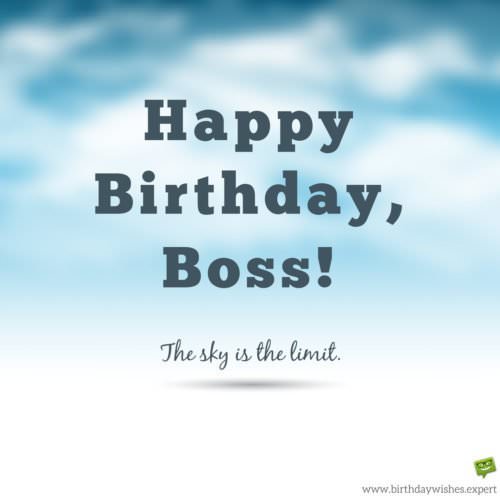 Happy Birthday to the greatest boss in the world. I say this not just to earn brownie point, but because I truly mean that from the bottom of my heart.
It's nice to have a boss that builds me up the way your do. You are the best! I wish you a great birthday.
I know you weren't expecting anything but I couldn't forget to celebrate you on this day. Happy Birthday.
You are more than a mere supervisor. You are a mentor and a leader. You encourage and you inspire. You lead by example and that is the best kind of leader. Have a wonderful birthday!
Your passion and dedication for your career has taken you far and will continue to take you to higher heights and new adventures. I certainly appreciate your enthusiasm for the job.
You're perfectionist habits and your meticulous critiques used to drive me crazy. But I finally realized that there is a method to your madness. Happy Birthday.
Happy Birthday and thanks for choosing to share your birthday celebration with us. I hope to celebrate many more with you.
There has never been a boss as humble and decent as you. It is a pleasure to work with you.
You the best! There is only one person I know who possesses as much quality and skill in their performance…ME! Happy Birthday from your favorite team member.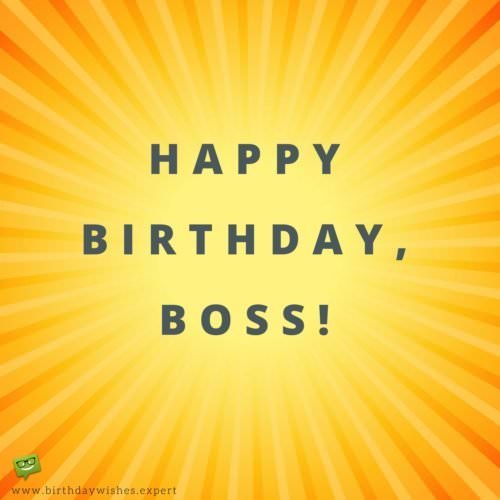 Funny Birthday Wishes for your Boss

Happy birthday to the one who thinks s/he can tell me what to do every day. Oh wait, you can! Here's to you, boss lady / man.
I wanted to be the first to wish you the happiest of birthdays. Knowing how thoughtful I am makes you want to give me an extra day of vacation time, right?
I thought I'd give you a day off from so much "bossing" by not coming in today.
I got you a card with a picture of a frog on it to thank you for teaching us how to jump into our work each day. Today, be sure and lounge on your lily pad and let us all do the work. Happy birthday, sir! Ribbit!
Happy birthday to my first boss other than my mom and dad. At least here I get free donut holes for breakfast!
Countdown…10, 9, 8, 7, 6, 5, 4, 3, 2, 1… Happy birthday, boss! You're so old that you remember the days when employees actually showed up on time to work.
Once I told everyone it was your birthday today, we all decided the best gift was to give you the day off. You can't be a boss without employees here. We'll be at the movies – you're welcome! Happy birthday, boss!
Knock knock! Who's there? Boss! Boss who? Boss who deserves a break! Happy birthday today!
Once in a while, people are lucky enough to have a boss that amazes them in every possible way, with their leadership skills, future vision, and employee support. And then there are those of us who got you. Oh well. Just kidding! Happy birthday to our super awesome, spirited, fun, and wonderful leader!
With a face like that, no wonder you have a door on your office. Happy birthday, boss!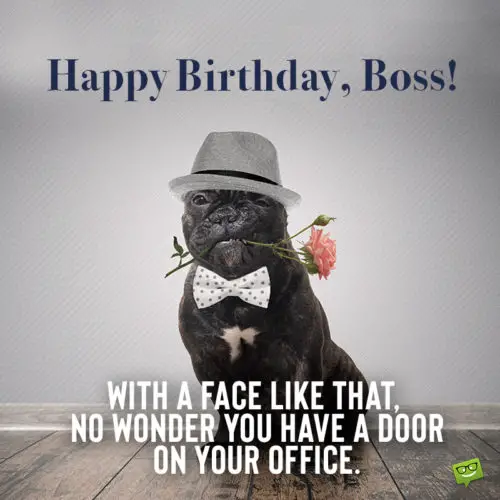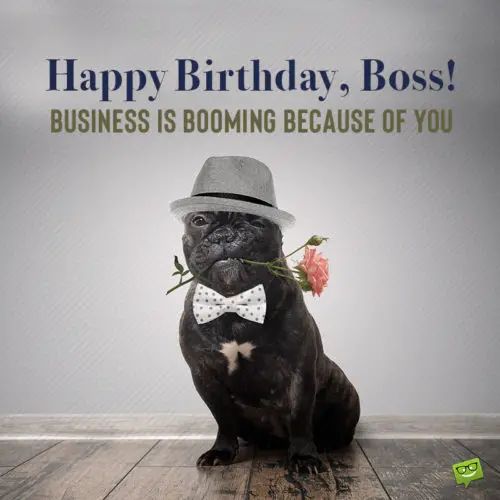 You know that rule you have about not drinking in the workplace. Well as its your Birthday we thought we'd break it. Have a great one! I know we will!
Wasn't sure if we were doing presents or not, so mine might be a little late, I know what you're thinking: "Typical"! Happy Birthday.
We may have failed to get that contract you wanted, but we did manage to get you that cake you love! You see the world has a way of balancing things out. Happy Birthday.
In the spirit of celebration I've decided to take all of my holiday leave for the next couple of weeks. Cheers and Happy Birthday!
I tell all my friends I have the best boss in the world, you know why? It's not just because you rarely shout, it's not just because you give us all easy time off when thing get rough and it's not just the fact that you're a great mentor. It's mainly because you fill us all with hope, I mean if you can do it, anyone can! Happy Birthday.
Alan from accounts said the company provided us a budget we could put behind the bar tonight! But we all agree you need to cut back, so instead we thought we'd donate the fund to a charity you would love in your name. Your photo of a Panda should arrive in mail soon, enjoy! Happy Birthday.
To the best Boss the world has ever seen! From the world's greatest suck up. Happy Birthday.
We''ll TRY and spare you from as much bad news as we can today. But you know how it is… Happy Birthday!
If I had to get fired by anyone, I would want it to be you.
"Oh captain my captain", I think that's the line. We would follow you anywhere, and bend over backwards to heed your call to arms, let's give them hell this year! But before all that, tonight let's just get ruined and paint the town!
Formal Birthday Wishes for your Boss

Happy birthday, sir / madam! Words cannot express how your dedication and leadership has positively impacted all of us here. We are forever grateful for you.
Without you, we would not be enjoying work as much as we do. You are one amazing person. Happy birthday, boss!
You are the reason I am happily celebrating another year with our company this year. Here's to another year together working hard. Happy birthday, boss!
As someone who was rooting for you to get your job as manager, I am happy to be celebrating your birthday with you. You deserve the happiest of days. Have a blessed birthday!
Loving and caring wishes for you on this your special day. Have a wonderful birthday!
Here's to you on this perfect of birthdays – free of work and out on the golf course. Happy birthday, boss!
Before I started working for you, I had no idea that a boss could be so helpful and positive. Out of everyone on Earth, I know you to be the most deserving of a happy birthday. Have a wonderful day!
Dearest boss, thank you for everything you do for us every day. Happy birthday to our valued employer!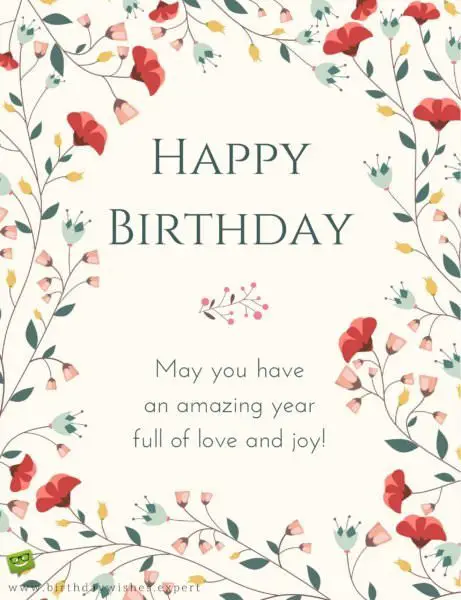 Every morning, I wake up eager and ready to work. It is because of you that I have such great feelings about my job and my future with this company. You are so helpful and deserving of every good thing life has to offer. Happy birthday, boss!
First things first. Happy birthday to the best boss I have ever known! Now, let's go get the birthday cake!
Great, respected, intelligent, valuable, understanding… just a few words to describe you. Happy birthday, boss!
I love having you as my boss. You making coming to work easy.
My favorite thing about this job is having you as my boss. It is because of you that I have focus on where this job is taking me. Happy birthday to you!
May you be greatly blessed this year, just as we have all been this past year having you as our boss.
Wishing you a day filled with peace, joy, and good snacks from the vending machine. Happy birthday, boss!
Wishing you a day of relaxation, no meetings, and getting out of work on time. Happy birthday, boss!
Birthday Wishes for a Retired Boss
We sure wish you were still working with us in this office. You impacted us all so positively. Happy birthday, boss!
Not a day goes by when we do not think of you in some way. Whether it's a funny story you always told or a standard you put in place, it seems you are still here. We hope you have a wonderful day today and wish we could be with you to celebrate.
Happy birthday, boss! Please come back. It's just not the same without you here.
I wasn't sure if I could survive here once you left. And, although I wish you were here, I am so thankful for all of the lessons you taught me to be able to continue to thrive in this position. You truly changed my life.
Wishing you a day of relaxation and enjoyment now that you are retired.
May blessings be showered upon you day in and day out. You are most deserving.
Only you are the kind of boss who retired years ago, but are still remembered so fondly. Have a blessed day and a very happy birthday!
God definitely knew what he was doing when he made you our boss. We're not so sure he thought it through when he let you retire. We miss you. Happiest of birthdays to you!
Today is a day worth celebrating and enjoying. It is your day, after all.
You may not realize what an impact you made while you worked here. Trust us, though. We are better, wiser, and more capable employees because of you. You are always in our hearts.
Sweet Birthday Wishes for your Boss
The last few years have been some of the best of my life, my work and my lovely boss have been a major part of that. Happy Birthday.
Although you might yell and scream when things get tough, we all know the most important side of you comes out when we are all together at the bar enjoying a drink, that's the real you, and the side we all love. Happy Birthday.
When I first got this job, you were the person I admired most. The reason I'm here is to chase the dream of being where you are one day, you inspire us all. Happy Birthday.
We challenge, we argue, we fight and we hunt glory together, today we will do none of those things. Today we will simply celebrate your existence and the fact that the world is a better place with you in it! Happy Birthday.
You don't treat us like pawns on a chessboard or workers in a factory, you treat us like friends you are happy to work beside, and that makes you the most precious kind of Boss there is. One worth saluting. Happy Birthday.
We all look up to you here, and we wish you the very best Birthday a person can have, every one of us believes we owe you something, so today we are going to do our best to try and balance the books! Happy Birthday.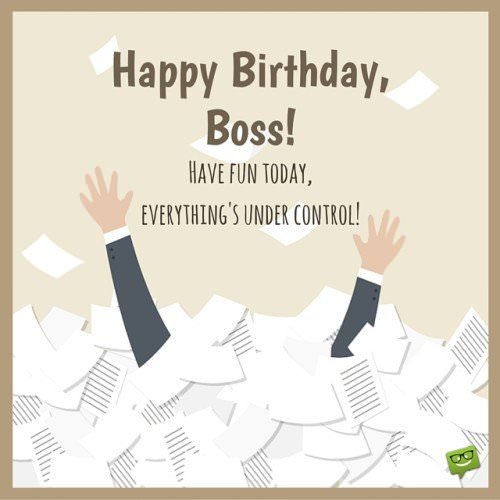 I never thought I would ever be able to say this, but it's been a real pleasure keeping you well supplied with teas and coffees since I've joined here, thank you for being the best! Happy Birthday.
It's about time someone sorted this place out, so I'm so very glad you came on-board to help us! I hope we have all managed to help you fit in and make your days here smoother than you expected, if not I'm sure we'll do our very best to make up for it starting today! Happy Birthday.
I know what you might be thinking, if only we could stay young forever. Just remember what life is really about, and consider the fact that to so many other people your life has been more fulfilled than most could ever dream of. I hope that helps make you feel at least a little younger, Happy Birthday!
It must be strange at times, being so young while employing so many people older than you. Just keep in mind no matter how backward the world gets, I'll be more than happy helping to keep your caffeine levels high, your desk clear and your errands neatly handled. Don't forget me when you reach the top! Happy Birthday from the best assistant in the world!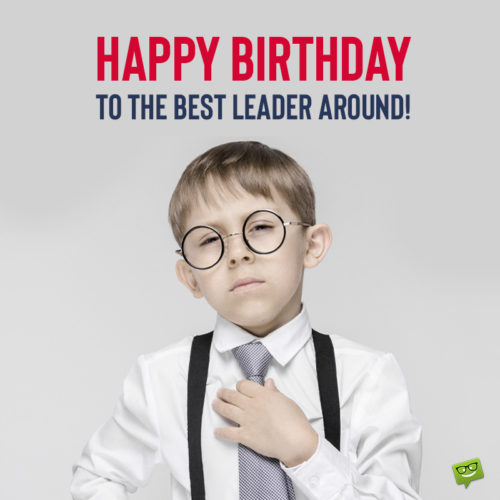 Short Birthday Wishes for your Boss
Not many people are as lucky to have a boss as caring as you. Happy Birthday.
Does this mean we all get half the day off? If that's the case, Happy Birthday!
If I could have a Boss like you through my entire career, I'll live a very happy life. Happy Birthday.
If I get you the best present out of everyone does that mean I get a raise? Happy Birthday.
We were all so glad you were given the role. If anyone deserved it, it was you by a country mile. Happy Birthday.
Happy Birthday. mate! There's no shame in pulling a sickie today, even if the place does fall apart without you!
Happy Birthday! From your favorite, most reliable and most loyal employee!
Most bosses leave all the work to the minions, but you sir are a cut above the rest. Happy Birthday! You deserve it!
Happy Birthday Boss Images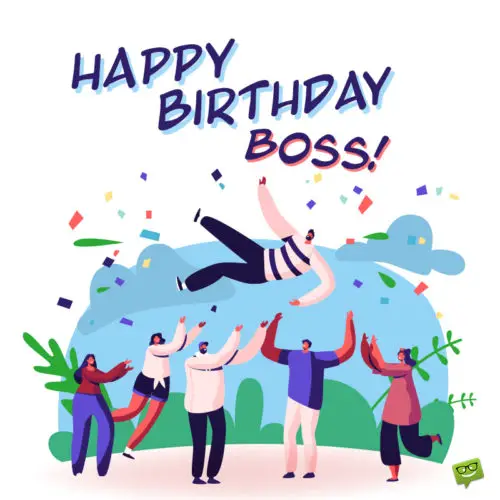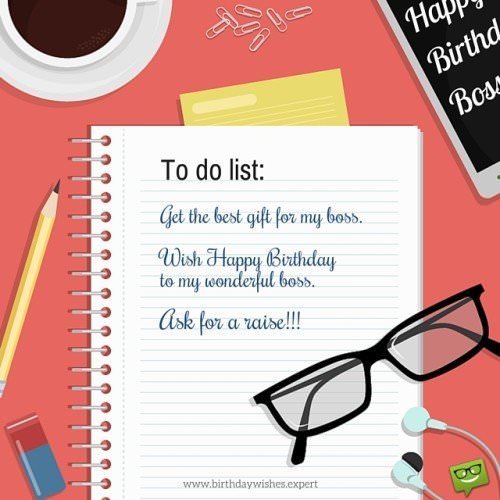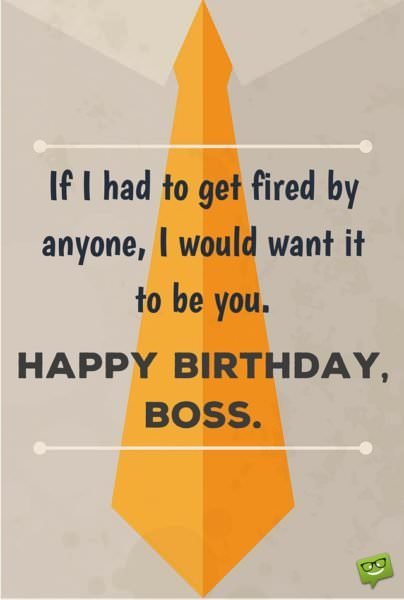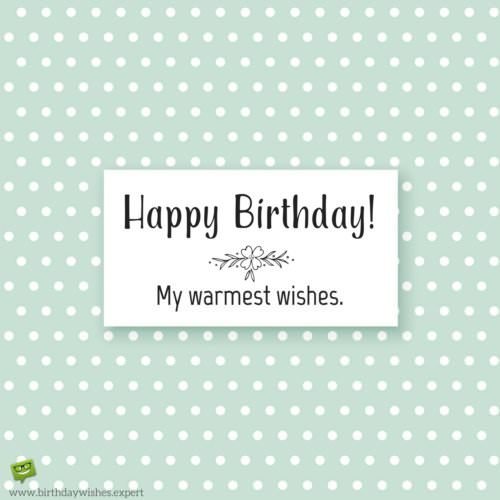 You may also like:
A Business Celebration: 50 Professional Birthday Wishes
The Essential One in the Office! Birthday Wishes for your Secretary
200 of the Best Birthday Messages to Make Someone's Day Special